TALISMANIC OBJECTS (24)
By: Ed Skoog
June 20, 2017
One in a 25-part series of nonfiction stories about objects of talismanic significance. This is the second volume in the PROJECT:OBJECT series. Please subscribe to the P:O newsletter; and purchase P:O apparel and accessories — all profits will be donated to the ACLU!
*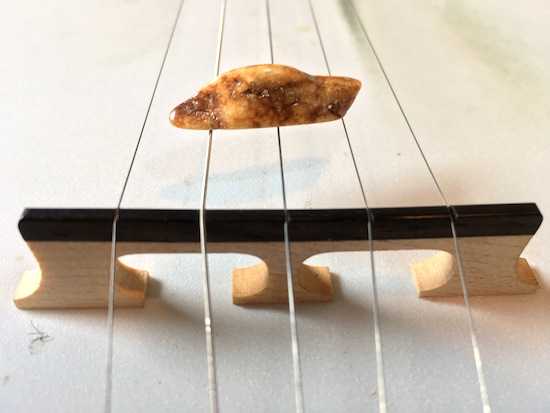 I keep a shard of mammoth ivory in my banjo case, cached among spare strings, finger picks and a few other good-luck items, a two-dollar bill and a dried crawfish claw, but only the ivory reconjures my initiation into the harsh and ragged spaces of banjo.
When I was 23 and drowning in the kind of loneliness a new town pours over you, and I didn't know anyone, or what I was going to do with my life, I happened upon a bluegrass jam session held in the high-ceilinged Top Hat bar in Missoula, Montana. I just stood by the door, too intimidated to indicate I was listening, let alone enthralled. I'd been playing banjo a few years, by myself or with some friends. But here the musicians — burnouts, fishing guides, ceramicist stoners, folkies and probable wolfmen — dragged their chairs into a circle above floorboards worn down to nails and sour with beer last night's dancers had spilled.
The next week I came back with two instruments, my banjo and a mountain dulcimer, tried them both. We played "John Hardy" and "Little Maggie" and "Banks of the Ohio," and then I took a break to gulp down a shame beer. A mountain man with a thundercloud beard said I sounded pretty good: he was the first stranger to tell me anything like that. I didn't catch his name, but he liked the dulcimer, and offered to trade for it. His hands were ruined from a work accident, he explained, and couldn't play guitar anymore, but you only need to press a dowel to the strings at one end, and strum with the other. He showed me a few pieces of fossilized mammoth ivory he claimed to have found up around the ghost town of Garnett. We made the deal.
I never saw him again, though I kept coming to the jam session the rest of my time there, and in every city since have found people to play with, leading to important friendships and journeys. For twenty-five years, the ivory has stayed with the banjo, orbiting it, and like the moon it has strange pulls on me too. It might be that I still play banjo because getting rid of the banjo would require getting rid of the ivory, which doesn't feel permissible. As ridiculous and useless as it is to be bound to a banjo, as reasonable as it would be to quit, to disburse the banjo, I won't; it would void some contract of self, which although I signed too early to understand, underpins much of my thinking, the figures my mind makes, the stays against chaos. When I play banjo, I know things that I otherwise do not. But the banjo is just a field of interest, a means. The ivory is its claw.
*
TALISMANIC OBJECTS series: INTRODUCTION | Veda Hille on CROCHET SHEEP | Gary Panter on DINOSAUR BONES | Jami Attenberg on SELENITE CRYSTAL | Annie Nocenti on MINIATURE DICE | Wayne Curtis on CLOCK WINDING KEY | Judith Zissman on SPINDLE WHORL | Amy Fusselman on BOX OF PENCILS | Josh Glenn on MONKEY WHIMSEY | Mike Watt on DASHBOARD TOTEMS | Gordon Dahlquist on CLAY FOX | Mark Kingwell on ZIPPO | Jennifer Schuessler on BEER-CAN CHAIR | Anne Gisleson on WISDOM TEETH | Ben Ehrenreich on CHROME LUMP | Matthew De Abaitua on HATCHET | Ty Burr on INFLATABLE KING KONG | Jacob Covey on ARGUS COIN | Jessica Helfand on PILL BOTTLE | Shelley Jackson on IMPUNITY JANE | Jennifer Krasinski on LEO'S LIGHTER | Molly Heintz on EVIL EYE | Mark Frauenfelder on MARTIAN FINK RING | Amanda Fortini on PRAYER CARD | Ed Skoog on MAMMOTH IVORY | CONTEST-WINNING STORY: Seth on PEANUTS PAPERBACK.
POLITICAL OBJECTS series: INTRODUCTION | Luc Sante on CAMPAIGN PAMPHLETS | Lydia Millet on PVC POLAR BEAR | Ben Greenman on MATCHBOX CAR | Rob Baedeker on PRESIDENTS PLACEMAT | L.A. Kauffman on WHEATPASTE POSTER | & 20 MORE.
SIGNIFICANT OBJECTS at HILOBROW: PROJECT:OBJECT homepage | PROJECT:OBJECT newsletter | PROJECT:OBJECT objects (Threadless shop — all profits donated to the ACLU) | POLITICAL OBJECTS series (1Q2017) | TALISMANIC OBJECTS series (2Q2017) | ILLICIT OBJECTS series (3Q2017) | LOST OBJECTS vol. 1 series (4Q2017) | FLAIR series (2Q2018) | FOSSIL series (4Q2018). 12 DAYS OF SIGNIFICANCE | 12 MORE DAYS OF SIGNIFICANCE | 12 DAYS OF SIGNIFICANCE (AGAIN) | ANOTHER 12 DAYS OF SIGNIFICANCE . ALSO SEE: SIGNIFICANT OBJECTS website | SIGNIFICANT OBJECTS collection, ed. Rob Walker and Josh Glenn (Fantagraphics, 2012) | TAKING THINGS SERIOUSLY, ed. Josh Glenn (Princeton Architectural Press, 2007) | TAKING THINGS SERIOUSLY excerpts.