TALISMANIC OBJECTS (20)
By: Jennifer Krasinski
June 3, 2017
One in a 25-part series of nonfiction stories about objects of talismanic significance. This is the second volume in the PROJECT:OBJECT series. Please subscribe to the P:O newsletter; and purchase P:O apparel and accessories — all profits will be donated to the ACLU!
*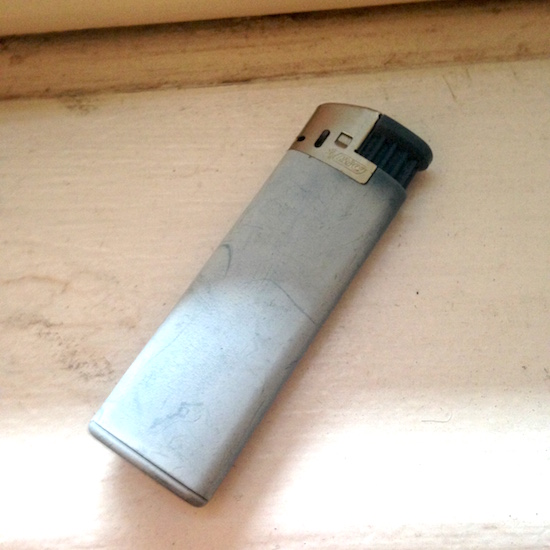 I never knew that the great art historian and critic Leo Steinberg smoked. It isn't important that I would know, or that he did and continued to do so until soon before he died at the age of ninety in 2011. (Aside: vices can't really be vices if they see you all the way to ninety, can they?) What is important to this small story is that on the windowsill next to my desk sits one of his old lighters — a faded blue-gray Bic — which for me is a priceless object, and my perfect talisman.
Like many an undergraduate student of art history, my introduction to Steinberg was his radical, seminal book The Sexuality of Christ in Renaissance Art and in Modern Oblivion. For a first-born daughter of a midwestern Catholic family, Steinberg's text was immediately thrilling because of how naughty it was. To rewrite the meaning, the mysteries, of representations of Christ's cock? This was a revolutionary act, and it was the first time I understood scholarship and thinking and writing as labors that required not only brilliance, diligence and rigor, but also in equal part bravery and irreverence. His was also one of my first lessons in how to think and see beyond and through certainty — which is an unearned condition, a dupe, for anyone spending time shadowboxing with the oddball ways of our world.
Four years ago, I began teaching in the MFA Art Writing program at the School of Visual Arts, where a couple hundred books from Steinberg's personal library make up the core of the department's own library. David Levi Strauss, the Chair, rescued these books and made them ours after the Getty took what it wanted for Steinberg's official archive. Levi and his colleague, Annette Wehrhahn, decided they would also save a boxful of his dead lighters. When I was told of this collection, I of course asked for one, and was shown the box. I rummaged around, thinking one of the many lighters would announce itself as mine. It seemed from the pile that Steinberg had no preference for his lighter's color, only that it be cheap, plastic, and disposable. I can't remember why I chose the blue-gray one, but as soon as I picked it up, I flicked it, and out shot quick lick of flame — a sign, I thought. I felt smug, to milk the obvious metaphor, that I could now think of myself as a "keeper of the flame." (It hasn't spit fire since).
*
TALISMANIC OBJECTS series: INTRODUCTION | Veda Hille on CROCHET SHEEP | Gary Panter on DINOSAUR BONES | Jami Attenberg on SELENITE CRYSTAL | Annie Nocenti on MINIATURE DICE | Wayne Curtis on CLOCK WINDING KEY | Judith Zissman on SPINDLE WHORL | Amy Fusselman on BOX OF PENCILS | Josh Glenn on MONKEY WHIMSEY | Mike Watt on DASHBOARD TOTEMS | Gordon Dahlquist on CLAY FOX | Mark Kingwell on ZIPPO | Jennifer Schuessler on BEER-CAN CHAIR | Anne Gisleson on WISDOM TEETH | Ben Ehrenreich on CHROME LUMP | Matthew De Abaitua on HATCHET | Ty Burr on INFLATABLE KING KONG | Jacob Covey on ARGUS COIN | Jessica Helfand on PILL BOTTLE | Shelley Jackson on IMPUNITY JANE | Jennifer Krasinski on LEO'S LIGHTER | Molly Heintz on EVIL EYE | Mark Frauenfelder on MARTIAN FINK RING | Amanda Fortini on PRAYER CARD | Ed Skoog on MAMMOTH IVORY | CONTEST-WINNING STORY: Seth on PEANUTS PAPERBACK.
POLITICAL OBJECTS series: INTRODUCTION | Luc Sante on CAMPAIGN PAMPHLETS | Lydia Millet on PVC POLAR BEAR | Ben Greenman on MATCHBOX CAR | Rob Baedeker on PRESIDENTS PLACEMAT | L.A. Kauffman on WHEATPASTE POSTER | & 20 MORE.
SIGNIFICANT OBJECTS at HILOBROW: PROJECT:OBJECT homepage | PROJECT:OBJECT newsletter | PROJECT:OBJECT objects (Threadless shop — all profits donated to the ACLU) | POLITICAL OBJECTS series (1Q2017) | TALISMANIC OBJECTS series (2Q2017) | ILLICIT OBJECTS series (3Q2017) | LOST OBJECTS vol. 1 series (4Q2017) | FLAIR series (2Q2018) | FOSSIL series (4Q2018). 12 DAYS OF SIGNIFICANCE | 12 MORE DAYS OF SIGNIFICANCE | 12 DAYS OF SIGNIFICANCE (AGAIN) | ANOTHER 12 DAYS OF SIGNIFICANCE . ALSO SEE: SIGNIFICANT OBJECTS website | SIGNIFICANT OBJECTS collection, ed. Rob Walker and Josh Glenn (Fantagraphics, 2012) | TAKING THINGS SERIOUSLY, ed. Josh Glenn (Princeton Architectural Press, 2007) | TAKING THINGS SERIOUSLY excerpts.