TALISMANIC OBJECTS (21)
By: Molly Heintz
June 8, 2017
One in a 25-part series of nonfiction stories about objects of talismanic significance. This is the second volume in the PROJECT:OBJECT series. Please subscribe to the P:O newsletter; and purchase P:O apparel and accessories — all profits will be donated to the ACLU!
*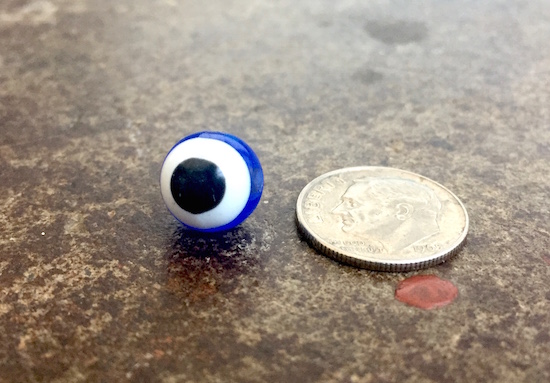 If you buy a piece of jewelry in Greece, you may later discover a strange blue and black bead in the box, nestled against your gold bracelet or necklace. You should not return the bead or throw it away. This miniscule glass orb is for you, and your life may depend on it.
The Evil Eye, that ancient curse delivered via menacing glare, is intended to bring harm or even death to another human being. A special edition of this curse, the Evil Eye of Envy, goes beyond general bad vibes and acts as a kind of cosmic comeuppance. Any good fortune publicly displayed in the form of a new house, healthy children, or diamond earrings makes a prime target for Envy, who is always on standby to ruin the year of one of Fortuna's favorites.
The Greeks have long believed that the best protection against the potent Evil Eye of Envy is its own image. Personal amulets intended to be apotropaic — able to turn away evil — often bore elaborate scenes of threatening animals like ferocious lions and pointy-beaked cranes attacking a giant eye. Over the years, this iconography was streamlined and reduced to the simple image of the Eye itself, always in blue. (In the Mediterranean region, the rare blue-eyed person may be an unwitting carrier of Evil Eye powers.)
My own Evil Eye bead sits in the coin section of my wallet and monitors the daily cycles of my personal wheel of fortune, where dollar bills come in and out, credit cards approach their limits, and taxi receipts accumulate in direct proportion to delusions of grandeur. About a third the size of a marble, the Eye is at once present and discreet. I received it from a superstitious friend around the time my son was born, and I've carried it with me ever since, as a form of free, otherworldly insurance.
If I downsize my gear for a weekend afternoon and transfer some essentials to a smaller coin purse, the Eye comes along, too. I cannot prove it's functioning, but even on tough days, when I glimpse its bright blue flash or touch its smooth surface while digging for an elusive dime, I think, "Who knows how bad it could have gotten without the Eye?"
*
TALISMANIC OBJECTS series: INTRODUCTION | Veda Hille on CROCHET SHEEP | Gary Panter on DINOSAUR BONES | Jami Attenberg on SELENITE CRYSTAL | Annie Nocenti on MINIATURE DICE | Wayne Curtis on CLOCK WINDING KEY | Judith Zissman on SPINDLE WHORL | Amy Fusselman on BOX OF PENCILS | Josh Glenn on MONKEY WHIMSEY | Mike Watt on DASHBOARD TOTEMS | Gordon Dahlquist on CLAY FOX | Mark Kingwell on ZIPPO | Jennifer Schuessler on BEER-CAN CHAIR | Anne Gisleson on WISDOM TEETH | Ben Ehrenreich on CHROME LUMP | Matthew De Abaitua on HATCHET | Ty Burr on INFLATABLE KING KONG | Jacob Covey on ARGUS COIN | Jessica Helfand on PILL BOTTLE | Shelley Jackson on IMPUNITY JANE | Jennifer Krasinski on LEO'S LIGHTER | Molly Heintz on EVIL EYE | Mark Frauenfelder on MARTIAN FINK RING | Amanda Fortini on PRAYER CARD | Ed Skoog on MAMMOTH IVORY | CONTEST-WINNING STORY: Seth on PEANUTS PAPERBACK.
POLITICAL OBJECTS series: INTRODUCTION | Luc Sante on CAMPAIGN PAMPHLETS | Lydia Millet on PVC POLAR BEAR | Ben Greenman on MATCHBOX CAR | Rob Baedeker on PRESIDENTS PLACEMAT | L.A. Kauffman on WHEATPASTE POSTER | & 20 MORE.
SIGNIFICANT OBJECTS at HILOBROW: PROJECT:OBJECT homepage | PROJECT:OBJECT newsletter | PROJECT:OBJECT objects (Threadless shop — all profits donated to the ACLU) | POLITICAL OBJECTS series (1Q2017) | TALISMANIC OBJECTS series (2Q2017) | ILLICIT OBJECTS series (3Q2017) | LOST OBJECTS vol. 1 series (4Q2017) | FLAIR series (2Q2018) | FOSSIL series (4Q2018). 12 DAYS OF SIGNIFICANCE | 12 MORE DAYS OF SIGNIFICANCE | 12 DAYS OF SIGNIFICANCE (AGAIN) | ANOTHER 12 DAYS OF SIGNIFICANCE . ALSO SEE: SIGNIFICANT OBJECTS website | SIGNIFICANT OBJECTS collection, ed. Rob Walker and Josh Glenn (Fantagraphics, 2012) | TAKING THINGS SERIOUSLY, ed. Josh Glenn (Princeton Architectural Press, 2007) | TAKING THINGS SERIOUSLY excerpts.