TALISMANIC OBJECTS (17)
By: Jacob Covey
May 22, 2017
One in a 25-part series of nonfiction stories about objects of talismanic significance. This is the second volume in the PROJECT:OBJECT series. Please subscribe to the P:O newsletter; and purchase P:O apparel and accessories — all profits will be donated to the ACLU!
*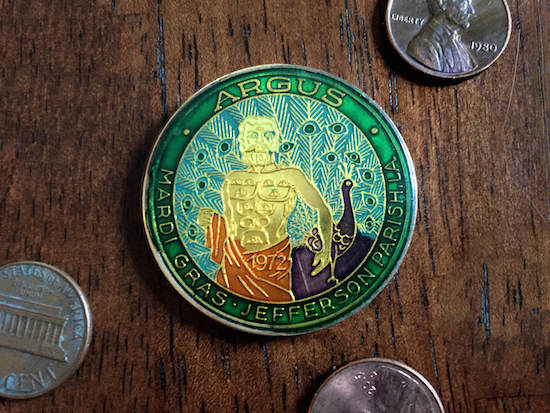 Sometime after my Dad's funeral I bought the Argus coin in pursuit of my own mythologies and seeking strength as a new father.
In the years leading up to his death, Dad obsessively collected Packard hood ornaments, burrowing into eBay for every incarnation of The Swan, The Goddess, or The Sliding Boy. Derived from Greek mythology, these figureheads were the mascots of his childhood spent in a garage. He marveled at their artistry but then surrounded himself with only the lesser pieces of his collection, certain thieves would come for "the good stuff" if he let down his guard. His favorite ornament was a sweeping, 13-pronged Art Deco bird with lighted plumage, which he secreted away. He'd step onto his pleather office chair and slip his favorite treasures under the Styrofoam ceiling tiles of my childhood home.
Despite this expensive hobby, Dad's working-class outrage kept him from paying for health insurance. In the months before his cancer diagnosis, my wife and I urged him to get medical coverage but his response was sharp and nihilistic: If he got sick, he didn't care what happened; it was on the rest of us to care. His brother died with similar conviction in his trailer home, only telling anyone he had cancer once it was too late, and never receiving treatment.
I carry the Argus coin in defense of the cynicism that's come before me and might be kept from my daughters. Argus was a benevolent giant of Greek myth, a guardian with one-hundred eyes. When he died, those eyes were put into the peacock's tail to live eternally on glorious display — so unlike the fate of the elegant bird my dad kept hidden in paranoia, even on his deathbed.
Each morning I transfer the coin from one pair of pants to another, a conscious daily ritual. It's a talisman steering me clear of the Siren song of fear and indifference, and encouraging me toward meaningfulness.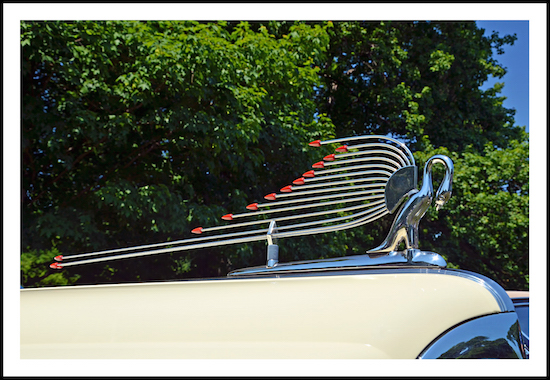 *
TALISMANIC OBJECTS series: INTRODUCTION | Veda Hille on CROCHET SHEEP | Gary Panter on DINOSAUR BONES | Jami Attenberg on SELENITE CRYSTAL | Annie Nocenti on MINIATURE DICE | Wayne Curtis on CLOCK WINDING KEY | Judith Zissman on SPINDLE WHORL | Amy Fusselman on BOX OF PENCILS | Josh Glenn on MONKEY WHIMSEY | Mike Watt on DASHBOARD TOTEMS | Gordon Dahlquist on CLAY FOX | Mark Kingwell on ZIPPO | Jennifer Schuessler on BEER-CAN CHAIR | Anne Gisleson on WISDOM TEETH | Ben Ehrenreich on CHROME LUMP | Matthew De Abaitua on HATCHET | Ty Burr on INFLATABLE KING KONG | Jacob Covey on ARGUS COIN | Jessica Helfand on PILL BOTTLE | Shelley Jackson on IMPUNITY JANE | Jennifer Krasinski on LEO'S LIGHTER | Molly Heintz on EVIL EYE | Mark Frauenfelder on MARTIAN FINK RING | Amanda Fortini on PRAYER CARD | Ed Skoog on MAMMOTH IVORY | CONTEST-WINNING STORY: Seth on PEANUTS PAPERBACK.
POLITICAL OBJECTS series: INTRODUCTION | Luc Sante on CAMPAIGN PAMPHLETS | Lydia Millet on PVC POLAR BEAR | Ben Greenman on MATCHBOX CAR | Rob Baedeker on PRESIDENTS PLACEMAT | L.A. Kauffman on WHEATPASTE POSTER | & 20 MORE.
SIGNIFICANT OBJECTS at HILOBROW: PROJECT:OBJECT homepage | PROJECT:OBJECT newsletter | PROJECT:OBJECT objects (Threadless shop — all profits donated to the ACLU) | POLITICAL OBJECTS series (1Q2017) | TALISMANIC OBJECTS series (2Q2017) | ILLICIT OBJECTS series (3Q2017) | LOST OBJECTS vol. 1 series (4Q2017) | FLAIR series (2Q2018) | FOSSIL series (4Q2018). 12 DAYS OF SIGNIFICANCE | 12 MORE DAYS OF SIGNIFICANCE | 12 DAYS OF SIGNIFICANCE (AGAIN) | ANOTHER 12 DAYS OF SIGNIFICANCE . ALSO SEE: SIGNIFICANT OBJECTS website | SIGNIFICANT OBJECTS collection, ed. Rob Walker and Josh Glenn (Fantagraphics, 2012) | TAKING THINGS SERIOUSLY, ed. Josh Glenn (Princeton Architectural Press, 2007) | TAKING THINGS SERIOUSLY excerpts.