TALISMANIC OBJECTS (12)
By: Jennifer Schuessler
May 2, 2017
One in a 25-part series of nonfiction stories about objects of talismanic significance. This is the second volume in the PROJECT:OBJECT series. Please subscribe to the P:O newsletter; and purchase P:O apparel and accessories — all profits will be donated to the ACLU!
*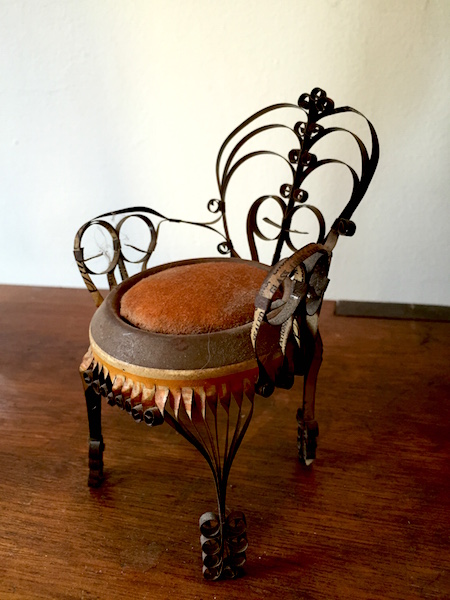 I found this miniature chair made out of an old National Bohemian beer can about 15 years ago in a vintage furniture shop off of Fourth Avenue in the East Village. This was in the days when that five-block remnant of an avenue still had a lot of old furniture shops, if only a few of the used bookstores it had once been famous for. I was browsing with a friend who had a far sharper eye — and more patience — for picturesque junk than I do, who spotted it on a shelf.
I vaguely recall paying $40 for it, which she thought was too much. But something about the perfectly rusted patina, the delicately bent ribs, the slightly lumpy suede cushion and the faint trace of the Natty Boh slogan — "Brewed in the Land of Pleasant Waters" — around the edge of the seat made it too exquisite to leave behind. A lot has been written about the connections between architects' chairs and their buildings. What kind of fantastical city might the designer of this chair have dreamed up?
My friend who spotted the chair died a few years later, not long after turning 50. Her ashes were packed into dozens of cheap Japanese-print tins and given to her friends, with the instruction to scatter them in interesting places. My empty tin lives on the mantel in my bedroom, not far from the beer-can chair, which sits mostly undusted. A few weeks ago, while browsing in an upscale shop not far from where I found the chair, I bought a specialty German brush for cleaning books. (It also cost too much.) I'm not sure what country on earth exports the appropriate tool for cleaning miniature beer-can chairs, but I've got my eyes peeled.
But perhaps the accumulating dust is an appropriate if heavy-handed comment on the ghostly layers of the chair's history, or my imagined version of it at least. It's the remains of some long-gone person's afternoon beer, turned into an exquisite oddity by an unknown artist, washed up in a junk shop that no longer exists, on an avenue that many people in Manhattan may not realize is even there, where it was spotted by someone who died before seeing as much of the world as she wanted. My friend is no longer here, but I'm still saving her a seat.
*
TALISMANIC OBJECTS series: INTRODUCTION | Veda Hille on CROCHET SHEEP | Gary Panter on DINOSAUR BONES | Jami Attenberg on SELENITE CRYSTAL | Annie Nocenti on MINIATURE DICE | Wayne Curtis on CLOCK WINDING KEY | Judith Zissman on SPINDLE WHORL | Amy Fusselman on BOX OF PENCILS | Josh Glenn on MONKEY WHIMSEY | Mike Watt on DASHBOARD TOTEMS | Gordon Dahlquist on CLAY FOX | Mark Kingwell on ZIPPO | Jennifer Schuessler on BEER-CAN CHAIR | Anne Gisleson on WISDOM TEETH | Ben Ehrenreich on CHROME LUMP | Matthew De Abaitua on HATCHET | Ty Burr on INFLATABLE KING KONG | Jacob Covey on ARGUS COIN | Jessica Helfand on PILL BOTTLE | Shelley Jackson on IMPUNITY JANE | Jennifer Krasinski on LEO'S LIGHTER | Molly Heintz on EVIL EYE | Mark Frauenfelder on MARTIAN FINK RING | Amanda Fortini on PRAYER CARD | Ed Skoog on MAMMOTH IVORY | CONTEST-WINNING STORY: Seth on PEANUTS PAPERBACK.
POLITICAL OBJECTS series: INTRODUCTION | Luc Sante on CAMPAIGN PAMPHLETS | Lydia Millet on PVC POLAR BEAR | Ben Greenman on MATCHBOX CAR | Rob Baedeker on PRESIDENTS PLACEMAT | L.A. Kauffman on WHEATPASTE POSTER | & 20 MORE.
SIGNIFICANT OBJECTS at HILOBROW: PROJECT:OBJECT homepage | PROJECT:OBJECT newsletter | PROJECT:OBJECT objects (Threadless shop — all profits donated to the ACLU) | POLITICAL OBJECTS series (1Q2017) | TALISMANIC OBJECTS series (2Q2017) | ILLICIT OBJECTS series (3Q2017) | LOST OBJECTS vol. 1 series (4Q2017) | FLAIR series (2Q2018) | FOSSIL series (4Q2018). 12 DAYS OF SIGNIFICANCE | 12 MORE DAYS OF SIGNIFICANCE | 12 DAYS OF SIGNIFICANCE (AGAIN) | ANOTHER 12 DAYS OF SIGNIFICANCE . ALSO SEE: SIGNIFICANT OBJECTS website | SIGNIFICANT OBJECTS collection, ed. Rob Walker and Josh Glenn (Fantagraphics, 2012) | TAKING THINGS SERIOUSLY, ed. Josh Glenn (Princeton Architectural Press, 2007) | TAKING THINGS SERIOUSLY excerpts.