Diego Rivera
By: William Nericcio
December 8, 2012
If we have a soft spot for Frida Kahlo (and who does not?), we might primarily think of DIEGO RIVERA (Diego María de la Concepción Juan Nepomuceno Estanislao de la Rivera y Barrientos Acosta y Rodríguez, 1886–1957) as the fat philanderer who slept with his wife's sister and confidante Cristina. True, everything about this Mexican artist was big, from his belly to his given name, to his murals, and to his sexual appetite. But he was more than a womanizing grosero. Rivera's passionate painterly eye re-visioned the history of the Americas, and, most importantly, the erased/elided bodies of indigenous America; like some painterly fusion of Dickens and Marx, he told bold stories of workers, the so-called unwashed masses. Along with Dali and Picasso, Rivera was one of the first celebrity/artists — famous not just for his art, that is, but for his being. He was too bold and sexy and Red for his New York patrons — especially after he laced the ground-floor wall of Rockefeller Center with "Man at the Crossroads," a mural featuring Lenin front and center; Nelson Rockefeller had it erased.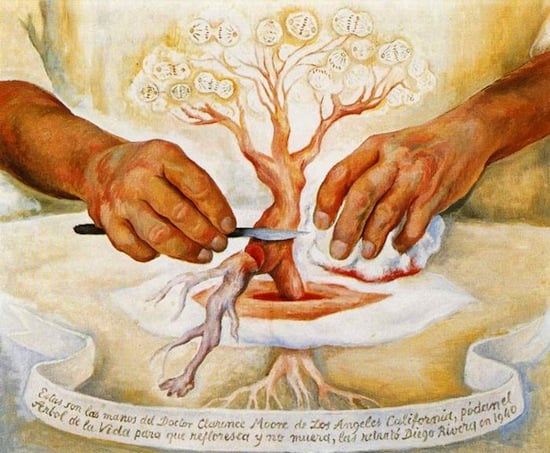 The Rivera painting I like best — Hands of Dr. Moore (1940) — happens to live in a museum here in San Diego. I love the way it fuses Rivera's artistic muse with that of his obsession/nemesis/love Frida Kahlo — as if they painted it together or, better, as if they painted it whilst inside the other's body. Placed side by side with Kahlo's homage to Luther Burbank, you encounter twin Mexican artists ruminating on the great cycle of life: man and nature, life and death — shared legacies/destinies writ large on small painterly canvases.
***
On his or her birthday, HiLobrow irregularly pays tribute to one of our high-, low-, no-, or hilobrow heroes. Also born this date: E.C. Segar and Jimmy Smith.
READ MORE about members of the Modernist Generation (1884–93).