Pablo Picasso
By: Ingrid Schorr
October 25, 2009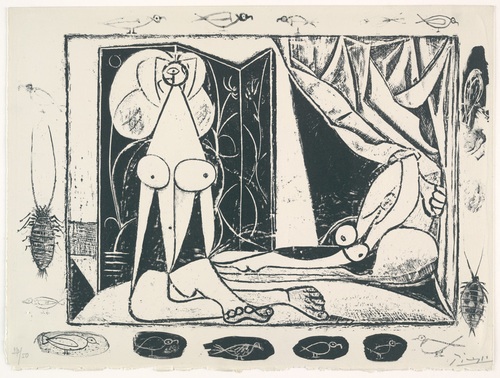 Those who question or resist PABLO PICASSO (1881-1973) are overthinking. No need. The man did all the thinking for you. He could have been an immensely appealing sentimental artist, but he forced himself to be an awkward one. Look at his Two Nude Women, a series of twenty-one increasingly abstract images made from a single lithographic stone. In the final state [shown above], he twists the women — one watching, one sleeping (a classical tableau he returned to over and over) — into an equipoise of something vegetal and animal, barbed and sensual. To paraphrase Frank O'Hara, you look at a Picasso and you know how wonderful the 20th century can be.
***
On his or her birthday, HiLobrow irregularly pays tribute to one of our high-, low-, no-, or hilobrow heroes. Also born this date: | Pierre Lallement | Zadie Smith | Claude Cahun | Katy Perry |
READ MORE about members of the Psychonaut Generation (1874–1883).