HYPOCRITE IDLER 1Q2022
By: Joshua Glenn
March 25, 2022
To idle is to work on meaningful and varied projects — and to take it easy. The title of the series refers to this self-proclaimed idler's inability to take it easy.
HILOBROW is a noncommercial blog! The info below should not be construed as a vulgar advertisement for SEMIOVOX, MIT PRESS's RADIUM AGE SERIES, LOST OBJECTS, THE ADVENTURER'S GLOSSARY, GO WEST, or any of my various more-or-less profitable projects. It is merely an update on my doings and undoings — in this case, during 1Q2022.
MORE HYPOCRISY: 2010 | 2011 | 2012 | 2013 | 2014 | 2015 | 2016 | 2017 | 2018 | 2019 | 2020 | 2021 | 2022.
Also see: HILOBROW 1Q2022.
***
---
BRAND CONSULTING
---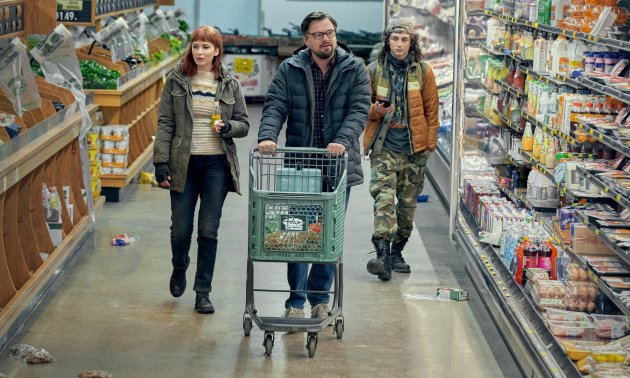 I'm cofounder of the semiotics-fueled brand consultancy SEMIOVOX. Our methodology provides insight and inspiration — to marketing, design, innovation, and consumer insights teams, as well as to agencies and other stakeholders — regarding the unspoken "codes" that shape perceptions and guide behavior around product categories and/or sociocultural territories. We often augment our projects — whether local or global — with research directed by our sister agency, Consumer Eyes.
During 1Q2022, our projects included the following.
RTD COFFEE PACK STRUCTURE across markets including China, Japan, the UK and the USA, on behalf of a European coffeeshop chain. A complex audit that also included semio-informed consumer research in all markets. We relied on our global network of semiotic agencies — in this case, Labbrand, Salt, and Visual Signo — for local insights. Packaging structure optimization.
The LUXURY JEWELRY CATEGORY in China, on behalf of one of the world's largest jewelry companies — via our friends at a UK branding agency. We relied on the semiotic agency Labbrand for local insights. Brand elevation and marketing optimization.
The BUSINESS INSURANCE CATEGORY (US brand comms and pack design), on behalf of a European underwriter — via our friends at the UK agency Creative Semiotics. Brand elevation and marketing optimization.
The PERSONAL CARE & BEAUTY BENEFITS SPACE (US brand comms), on behalf of one of the world's largest oral care companies — via our friends at a UK brand and marketing agency. New brand innovation.
ITALIAN COFFEE BRAND ASSETS — analyzing an Italian coffee brand's semiotic assets (through the lens of a global study we'd undertaken last year) on behalf of the multinational beverage company that has acquired it. Positioning strategy and portfolio optimization.
After a COVID-slowed year or two, it's good to be back at work….
---
RADIUM AGE SERIES
---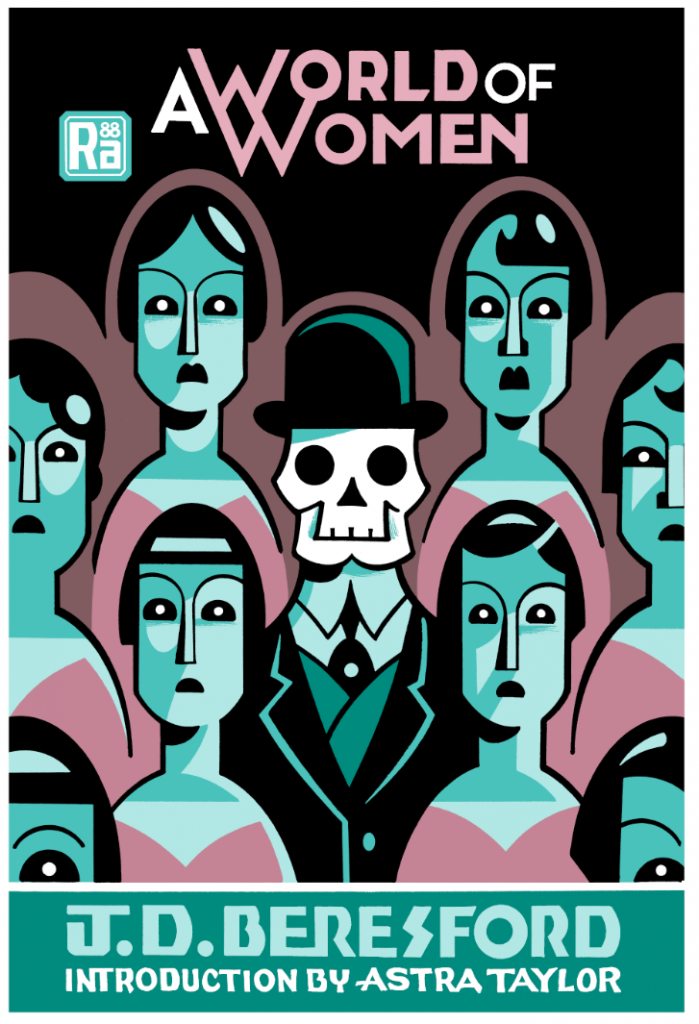 In 2019, I started collaborating with The MIT Press on a new and improved version of the RADIUM AGE series of reissued proto-sf adventures — including some titles that I published via HiLoBooks back in 2012–2013.
In March, the first two titles in MITP's series hit bookstore shelves:
Voices from the Radium Age, a collection of stories by Rokeya Sakhawat Hossain, William Hope Hodgson, E.M. Forster, W.E.B. DuBois, and others, selected and introduced by yours truly. "For early SF buffs, this will be a substantial delight." — Publisher's Weekly
J.D. Beresford's 1913 novel A World of Women, with an introduction by Astra Taylor. "Even a century after its first appearance, A World of Women remains highly readable and still sadly pertinent…" — Michael Dirda, The Washington Post
We'll publish two more titles this spring, another three in the fall, then two next spring. (Take a look.) Not yet officially announced, but in the works: three Fall 2023 titles, plus four or five 2024 titles — including a Bangla proto-sf novel that we'll be the first to translate into English.
---
LOST OBJECTS
---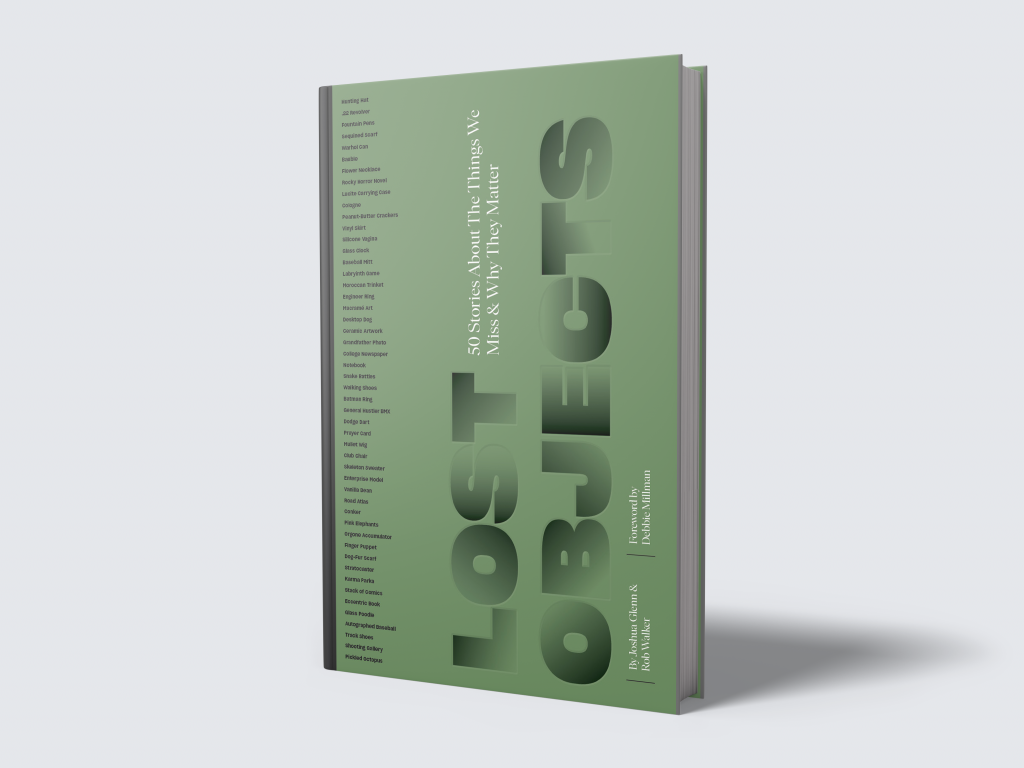 On March 14, Hat & Beard Press announced LOST OBJECTS, a print version of Project:Object's series of that title. (The series was first published here at HILOBROW.) This gorgeous book — on which Rob Walker and I have been collaborating since March 2021 — will be published later this spring. You can pre-order copies of the book, along with limited-edition posters, here.
"Nothing is worse than losing a prize possession," says Steven Heller, design author and co-chair of SVA's MFA Design program, in an endorsement of the book. "Nothing is better than reading witty, intelligent, elegant writers elegizing and celebrating those prizes."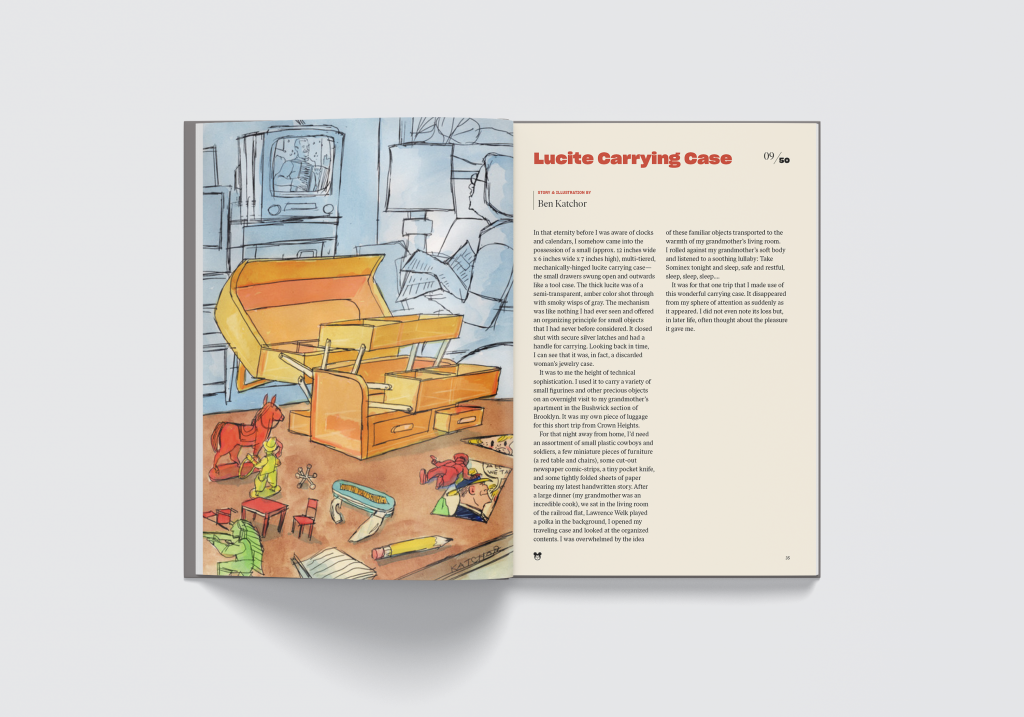 Nearly 100 talented writers and/or artists have contributed to this book, including in no particular order: Geoff Manaugh | Theo Ellsworth | Laura Lippman | Ben Katchor | Neil LaBute | Miranda Mellis | Adam Goldberg | Chris Piascik | Anita Kunz | Matt Wuerker | Lydia Millet | Berta Valló | Ben Greenman | Clara Selina Bach | Leah Hennessey | Dean Haspiel | Kathryn Davis | Charles Glaubitz | Seth | Mark Dery | Paola Antonelli | Margaret Wertheim | Armando Veve | Allison Bamcat | Lucy Sante | Kate Bingaman-Burt | Nina Katchadourian | Matthew Sharpe | Amanda Clarke | Gary Panter | Amy Thielen | Oliver Munday | Rick Pinchera | Joe Alterio | Chelsey Johnson | Rubi McGrory | Susannah Breslin | Seth Mnookin | Linzie Hunter.
Rob Walker and I are the book's editors; and design/branding guru Debbie Millman (author most recently of Why Design Matters: Conversations with the World's Most Creative People) contributed an introduction. The book is being designed by my frequent collaborators at Leone Design Associates.
*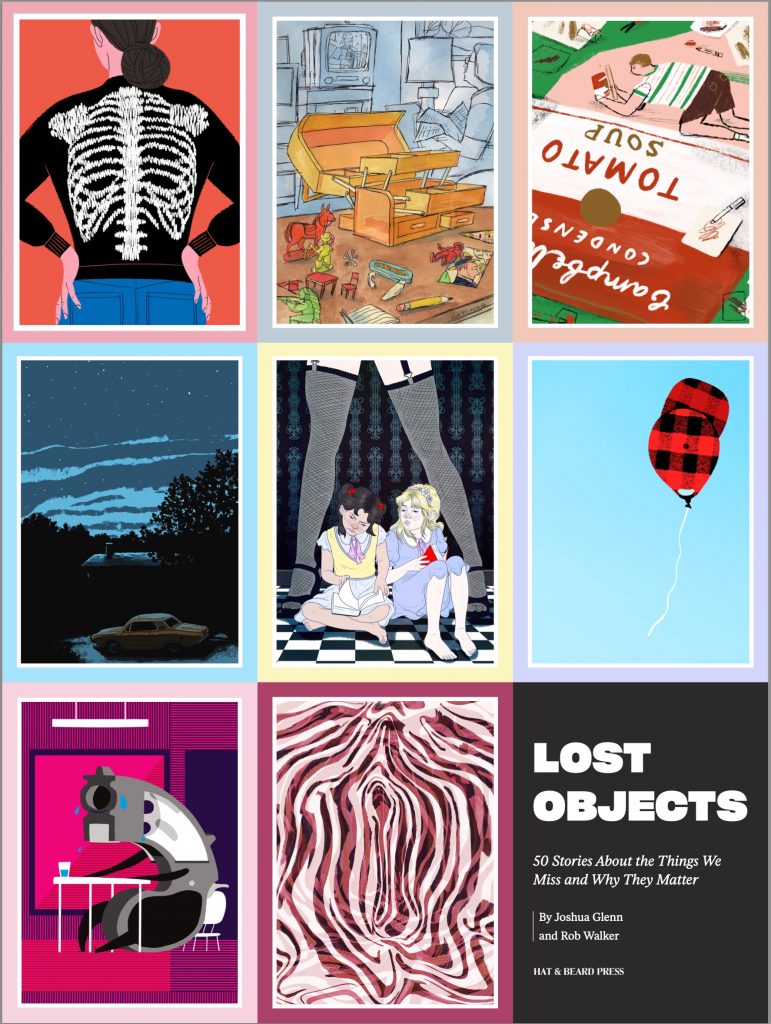 We're grateful to the folks at the agency FEATURE for designing several limited-edition LOST OBJECTS posters. (Act now!)
---
HILOBROW
---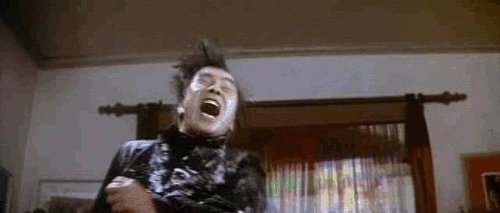 HILOBROW is published by King Mixer LLC; I'm the editor. To see what we've published lately, please check out the HILOBROW 1Q2022 post. Here, I'll just mention four 1Q2022 series that I edited.
KICK YOUR ENTHUSIASM is devoted to our favorite sidekicks, whether real-life or fictional. Here's the lineup: Annie Nocenti on RATSO | Barbara Bogaev on TRIXIE | Sara Ryan on SWIFT WIND | Carlo Rotella on BELT BEARERS | Adam McGovern on JACKIE McGEE | Josh Glenn on RAWHIDE | Gabriela Pedranti on KUILL | Douglas Wolk on VOLSTAGG | Serdar Paktin on CATO | Deirdre Day on TRAMPAS | Dean Haspiel on TIN MAN | Flourish Klink on THE APOSTLE PETER | Miranda Mellis on FAMILIAR | Peggy Nelson on COSMO | Beth Lisick on MARTHA BROOKS | Bishakh Som on CAPTAIN HADDOCK | Stephanie Burt on SAMUEL TAYLOR COLERIDGE | Greg Rowland on SPOCK | Adam Netburn on SENKETSU | Mimi Lipson on ROBIN QUIVERS | Jonathan Pinchera on GUTS | Tom Nealon on TWIKI | Mandy Keifetz on DR. EINSTEIN | Judith Zissman on IGNATZ MOUSE | Anthony Miller on DOCTOR GONZO.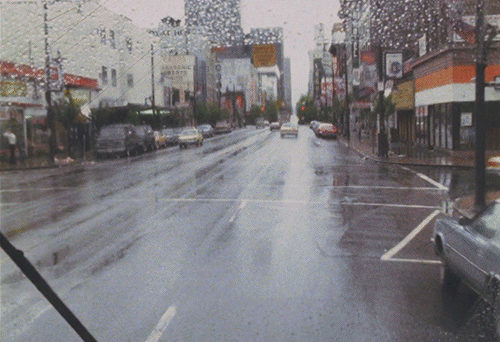 Also…
RAIN ARCHIVE is a series contributed by HILOBROW friend _blank (Blanca Rego) that features excerpts from her cinematic rain archive.
LINOCUT 2021 features prints created last year by HILOBROW friend Lawry Hutcheson.
ISOLATION JAMS showcases selected excerpts from a lockdown-era video series by HILOBROW friend Mark Ramos Nishita (aka Money Mark).
What's coming up, here at HILOBROW? Check it out: SNEAK PEEK 2Q2022.
---
EMANATIONS
---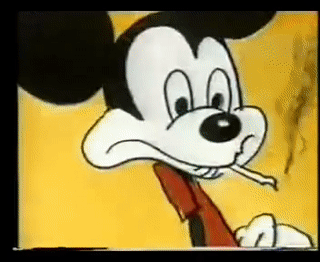 In 2019 the documentarian Jeff Malmberg (Marwencol) interviewed me — in my capacity as a cultural semiotician and historian — about the evolving meaning of Mickey Mouse, i.e., as a symbol. At the prompting of Jeff and one of the documentary's producers, Meghan Walsh, I did some research into and analysis of MM… which I later repurposed for the 2020 HILOBROW/SEMIOVOX series TAKING THE MICKEY.
On March 20, Malmberg's documentary Mickey: The Story of a Mouse premiered at the SXSW Film Festival. The film "explores Mickey's significance, getting to the core of what Mickey's cultural impact says about each of us and about our world," according to the SXSW teaser. The movie's debut on the Disney+ platform will happen later in the fall.
*
Since the RADIUM AGE series was announced in March, our publicity efforts have begun to ramp up. For example: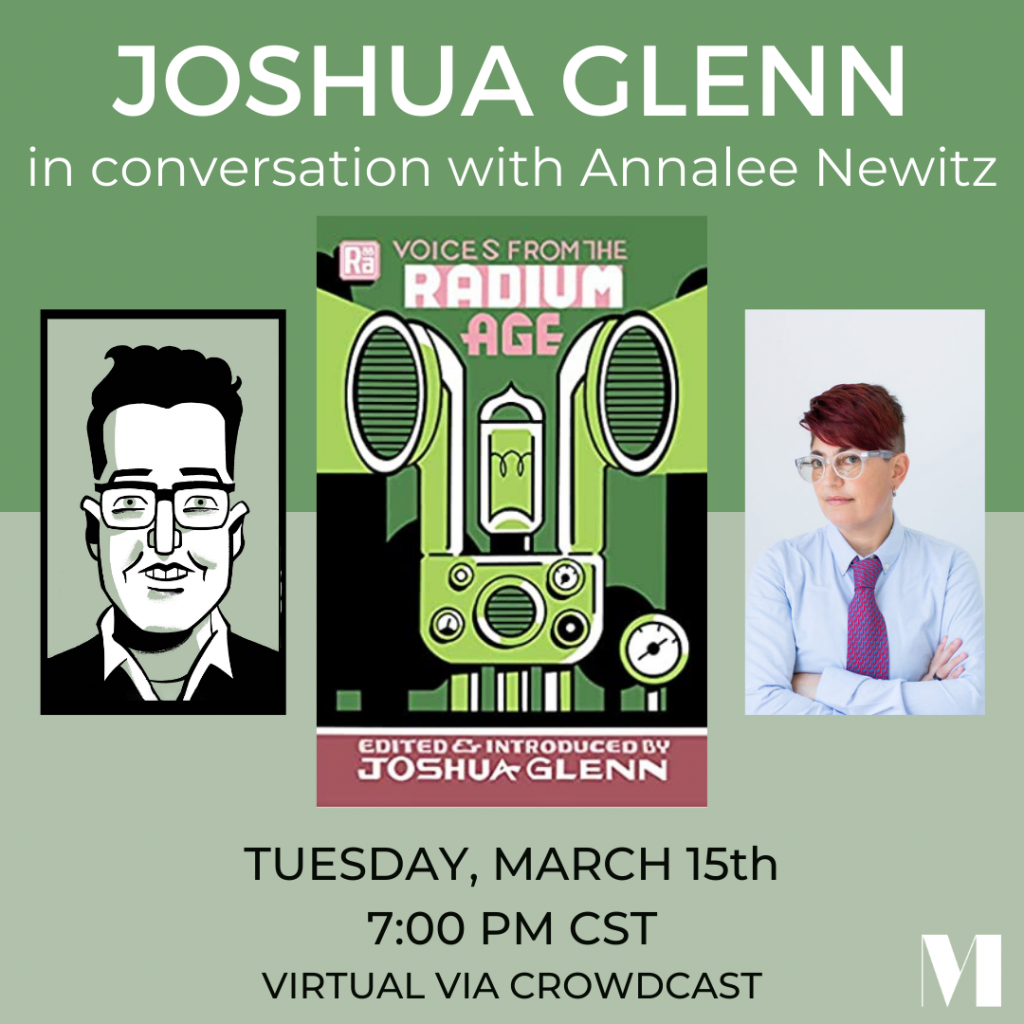 Andrew Liptak of Transfer Orbit dedicated the entire March 8 issue of his sf newsletter to the series. "[Glenn has] made a huge effort to help define a new era of science fiction," he writes.
On March 15, Annalee Newitz (who has contributed an Introduction to one of the Spring 2022 Radium Age series titles, and who serves on the series' panel of advisors) and I chatted about MITP's new series — in a virtual event hosted by Chicago's indie bookstore Madison Street Books.
Michael Dirda reviewed our edition of A World of Women and the Radium Age series for the March 24 issue of The Washington Post. Excerpt:


Insightfully introduced by Astra Taylor, A World of Women opens with a complacent civilization in collapse. The cause? A deadly virus, albeit one that attacks only men. […] Beresford envisions a new society, based on communitarian principles, without the trammels of religion, class and female subservience to men.
More 1Q2022 publicity info here.
*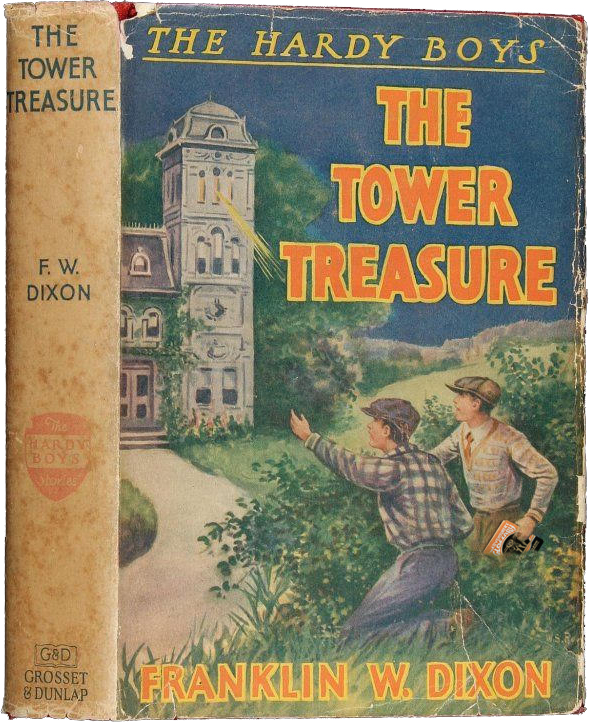 THE ADVENTURER'S GLOSSARY, my third collaboration with the philosopher Mark Kingwell and the cartoonist Seth, was published in September by McGill-Queen's University Press.
We received some nice publicity during 4Q2021, and more reviews have come in since then. For example:
In January, the Times Literary Supplement (the London-based weekly literary review) had a few nice things to say about the book. Excerpt:


With this recent volume… [the authors] drag the reluctant reader into the world of the curly wolf and discourage them from being a half-stepper. Stand ready, they say, to chance your arm or chance the ducks. Be on the look-out for gonnifs and goons — and have the savvy to cry sauve-qui-peut and punch out or vamoose, as required.

It was fun to see the book get a Twitter shout-out from Alastair Humphreys, National Geographic Adventurer of the Year, and a guy whose motto is "Living adventurously, and wondering what that means."
PS: I don't think Humphreys realizes it, but he is quoted in the AG.
*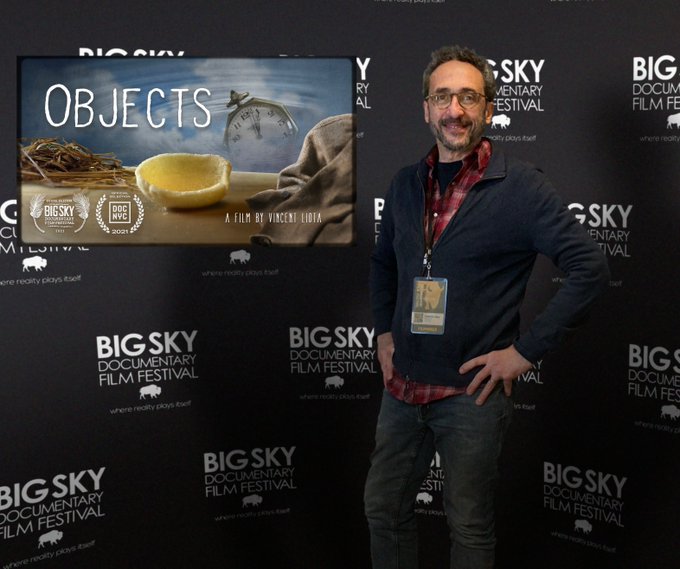 As previously mentioned, Rob Walker and I make a brief appearance or two in the 2021 documentary Objects, directed by Vin Liota (above). The film's premiere was at DOC NYC this past November; in February, Objects was screened at BigSkyDocFest in Missoula.
---
WRITING
---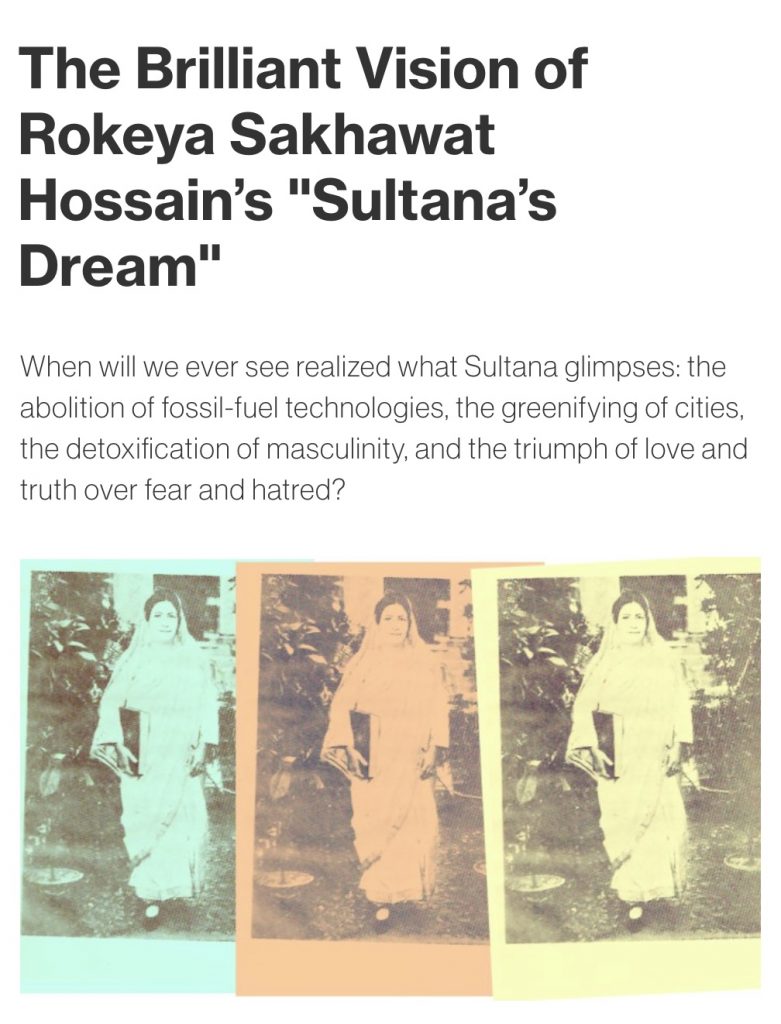 At the request of the MIT Press Reader, in March I wrote an essay on "The Brilliant Vision of Rokeya Sakhawat Hossain's 'Sultana's Dream'". (It was republished by the Indian science news website The Wire Science.) "Sultana's Dream" is one of the stories collected in Voices from the Radium Age; this essay is an expanded version of what I wrote in my introduction to that volume.
Also during 1Q2022, I wrote an introduction to a second Voices from the Radium Age collection; as well as an afterword to the edition of Arthur Conan Doyle's The Lost World and The Poison Belt that we'll publish in 2023.
*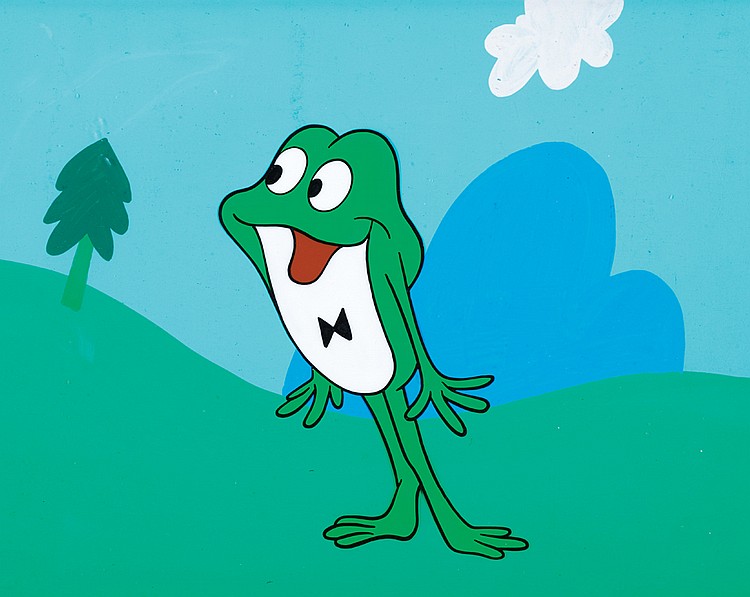 Since January 1, I've contributed the following posts to HILOBROW:
KICK YOUR ENTHUSIASM series introduction. Excerpt: "A 100% biddable companion is a goon, a flunky, a lackey, a yes-man… which is not the same thing, exactly, as a sidekick. Many sidekicks are to a greater or lesser degree refractory, obstreperous, willful."
A four-part installment (BUMPTIOUS FROGS | RAPSCALLION FROGS | FREE-SPIRIT FROGS | PALIMPSEST FROGS), in Matthew Battles' BESTIARY series, on how pop-culture frogs have evolved over the course of the twentieth century. Excerpt: "An anthropomorphic frog is cute, to be sure… but also creepy, freaky, even monstrous. Too much! But too much in what way? How has the frog's deployment as a symbolic representation of human too-muchness evolved over time?"
RAWHIDE, an installment in the KICK YOUR ENTHUSIASM series (on favorite sidekicks). Excerpt: "Portrayed by Clancy Brown in the 1984 cult film The Adventures of Buckaroo Banzai Across the Eighth Dimension, Rawhide is the most omnicompetent and stalwart of the Hong Kong Cavaliers."
I also contributed several installments to HILOBROW's new 75 BEST HADRON AGE SCI-FI ADVENTURES series (see below); and I wrote an introduction to HILOBROW's 2Q2022 "enthusiasm" series, KOJAK YOUR ENTHUSIASM, which will appear here on April 1.
---
SEMIOVOX.COM
---
I'm not only the cofounder of the commercial semiotics consultancy Semiovox, but editor of the eponymous website, SEMIOVOX.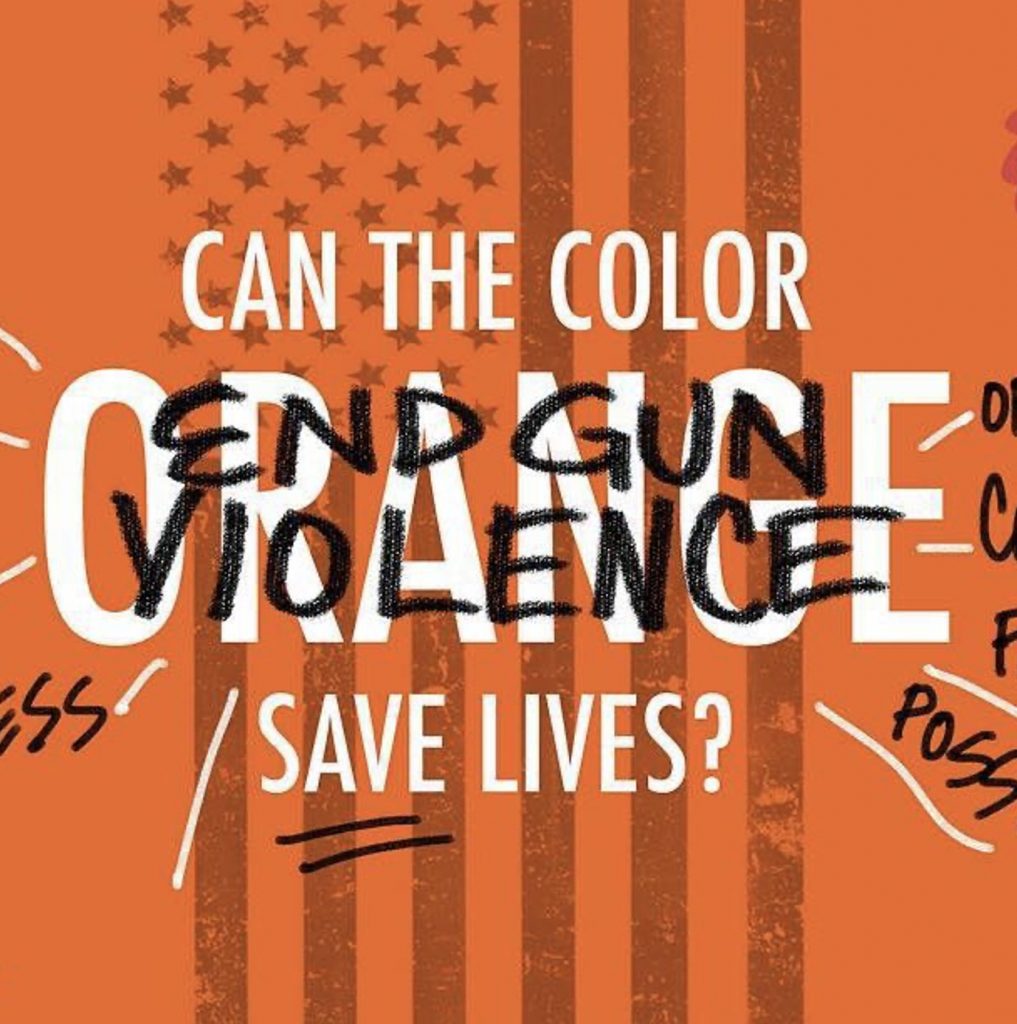 During 1Q2022 SEMIOVOX continued to offer glimpses into various audits we've done — via installments in the series CODE-X. Recent CODE-X installments include: IN IT TO WIN IT | THOUGHT STARTERS | LESSONS LEARNED | BIG PICTURE | NETWORK BUILDING | STORY TELLING | PARADIGM SHIFT.
---
BEST ADVENTURES
---
1Q2022 saw the beginning of a new phase in the BEST ADVENTURES project, via which I've now spent years identifying my 10 favorite adventures from each year of the 20th century, as well as my favorite sf adventures from the era.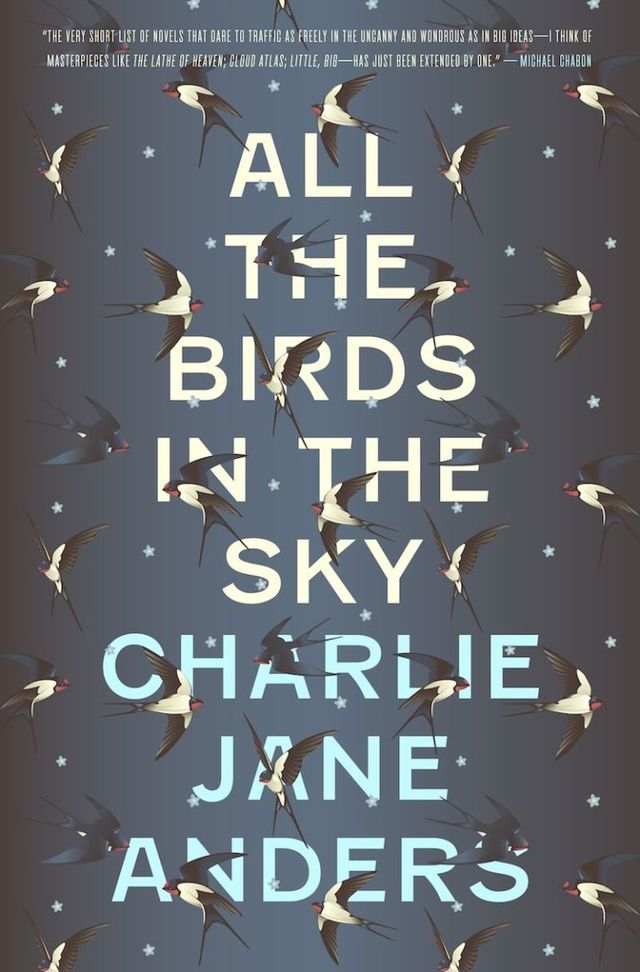 Since January 1, I have posted one installment per week to a series dedicated to identifying the 75 BEST HADRON AGE SCI-FI ADVENTURES — which is to say, from 2004–2023. The 1Q2022 series lineup includes the following installments:
Iain M. Banks' THE ALGEBRAIST | Matthew Sharpe's JAMESTOWN | Becky Chambers' THE LONG WAY TO A SMALL, ANGRY PLANET | Nnedi Okorafor's LAGOON | Matthew De Abaitua's THE RED MEN | Ann Leckie's ANCILLARY JUSTICE | Annie Nocenti's THE SEEDS | Charles Stross' GLASSHOUSE | Michel Fiffe's COPRA | Charlie Jane Anders' ALL THE BIRDS IN THE SKY | China Miéville's EMBASSYTOWN | Annalee Newitz's AUTONOMOUS | Iain M. Banks' SURFACE DETAIL.
Please let me know what your favorite post-2003 sf novels are!
---
GO WEST
---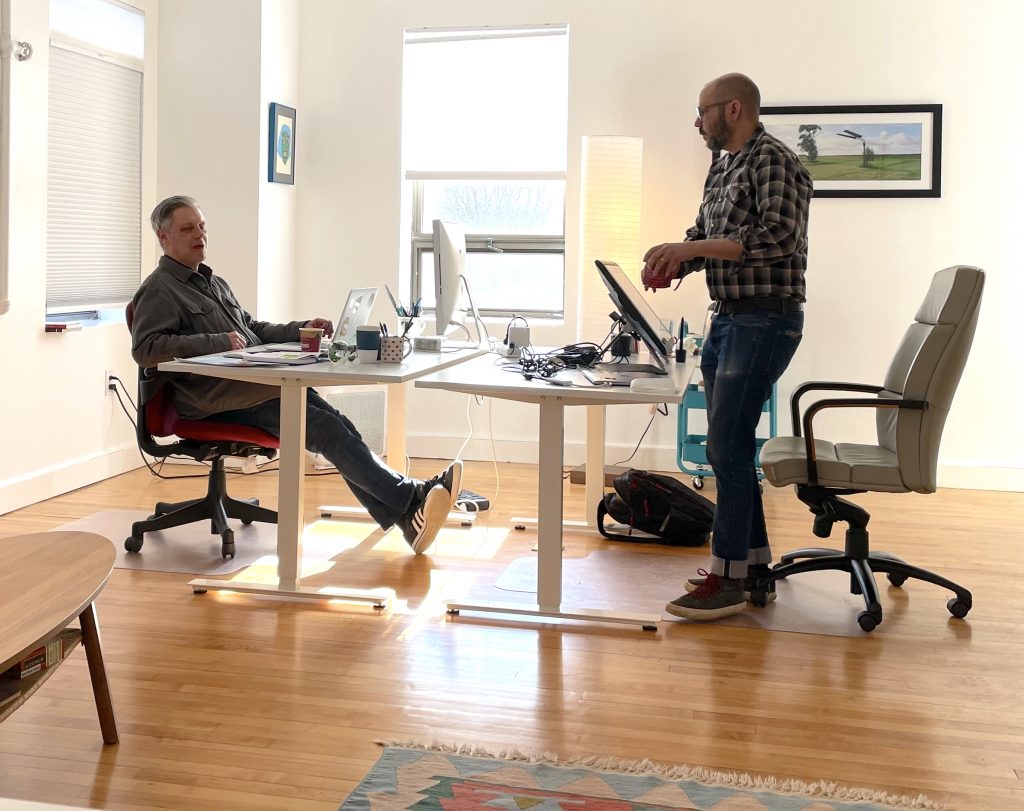 I continue to manage operations at GO WEST, the coworking space that I co-founded in Boston's West Roxbury neighborhood. COVID has been a tricky period, but at the moment we are back to full capacity!
This spring, I was thrilled when my friends and frequent collaborators Tony Leone and Rick Pinchera (above) returned to the office on a full-time basis.
---
TAKING IT EASY
---
There was less taking it easy than usual, this winter, because of my mother's stroke (she's recovering nicely) and the necessity of moving her out of her home, then emptying it of 55 years' worth of possessions — talk about a "significant objects" project. But…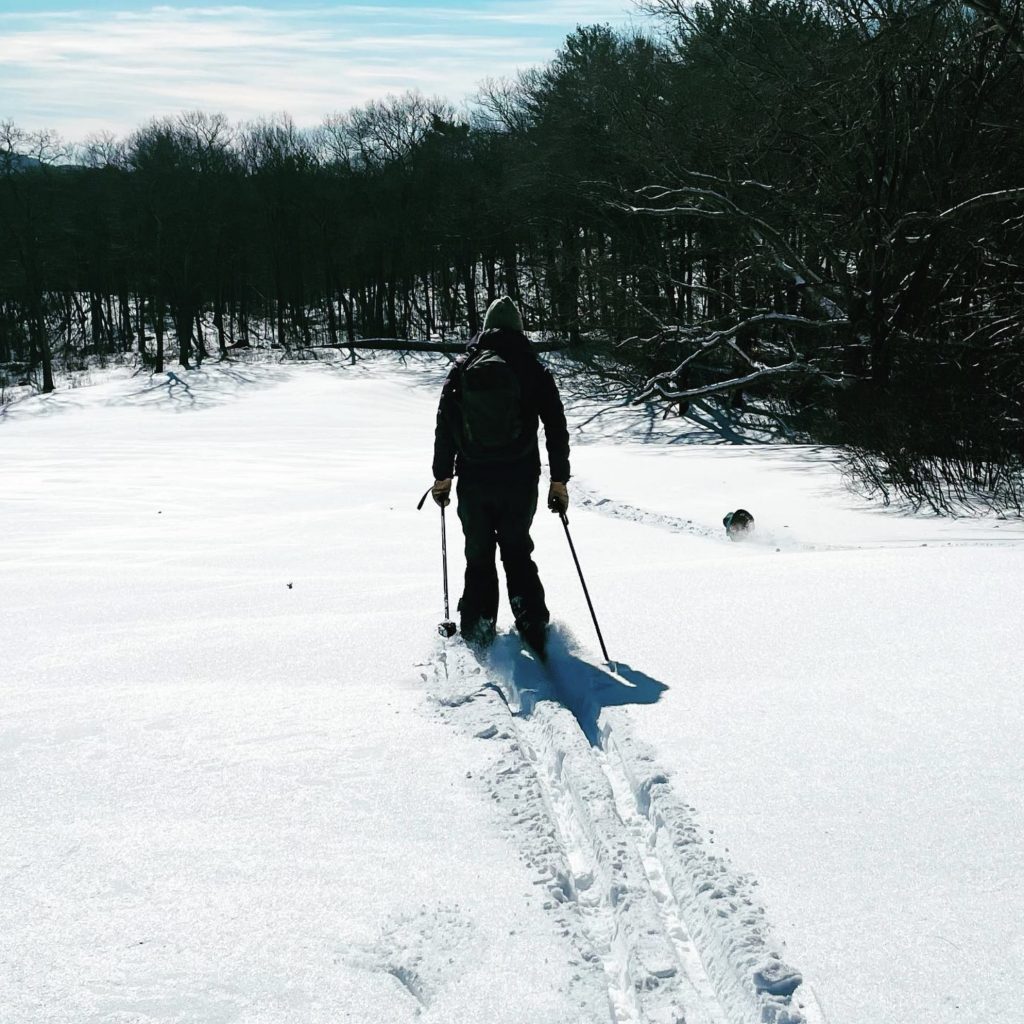 We had a lovely winter, here in New England. In January, Susan and I enjoyed x-country skiing with Tito and friends on nearby golf courses.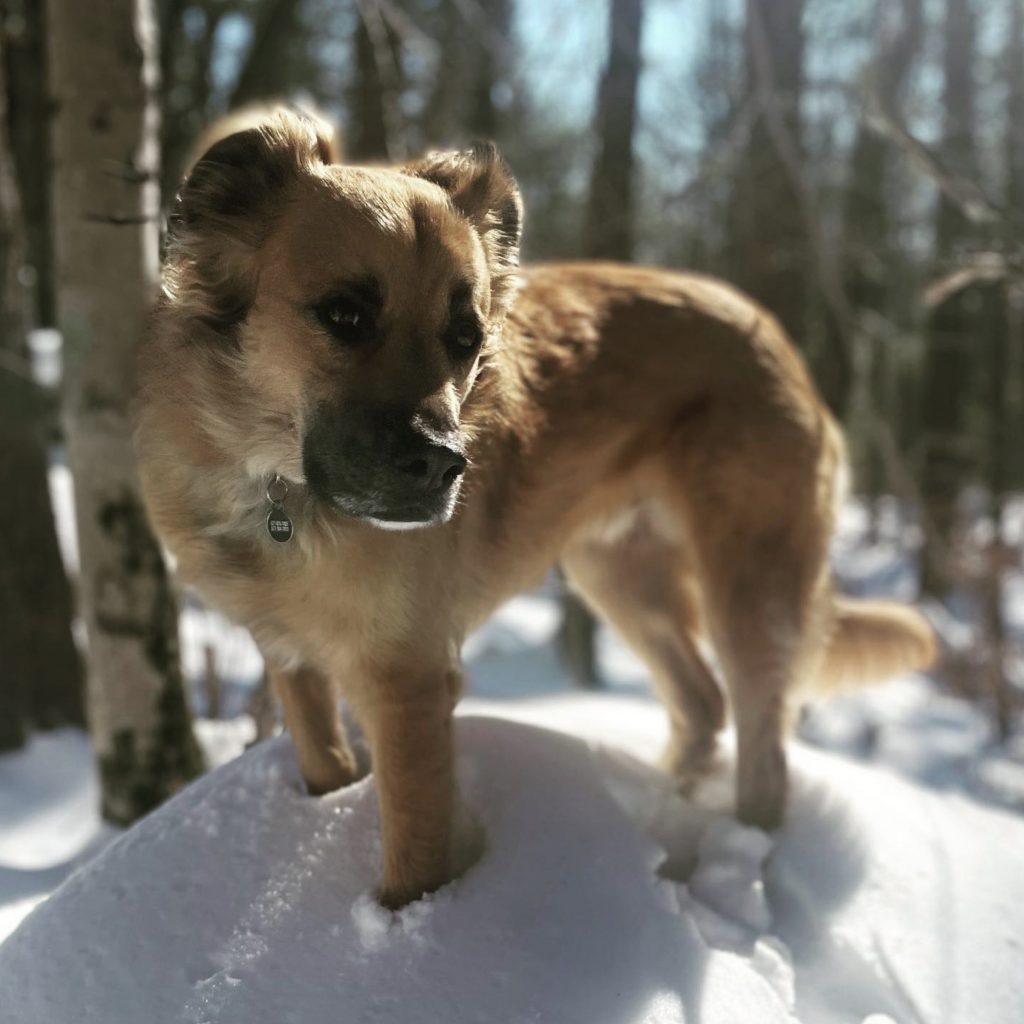 We also did a lot of snowshoeing, in Massachusetts and New Hampshire. Here's Tito in Rocky Woods Reservation (Medfield) in February.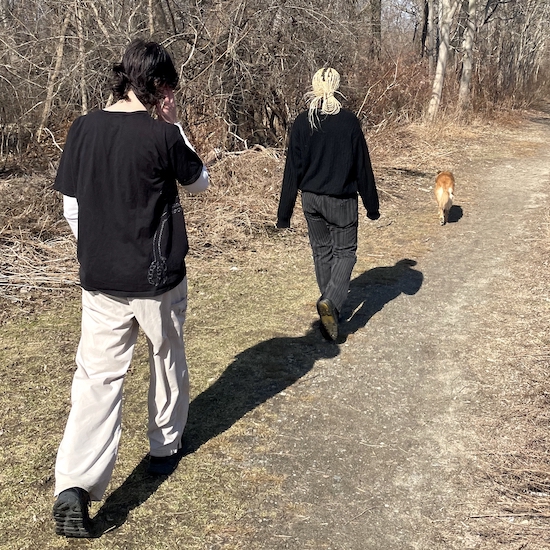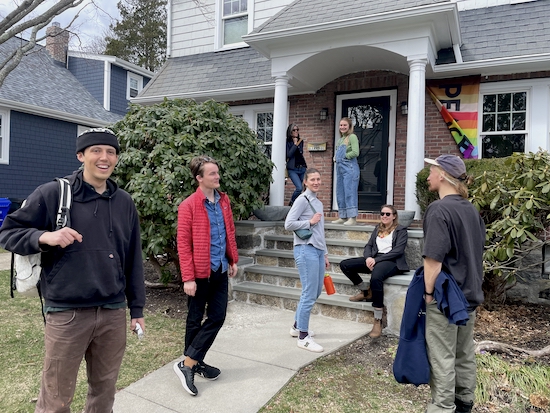 We loved hosting our sons and their significant others — and various friends, too — at our home in March. It made things feel… normal!
***
On to 2Q2022…
MORE HYPOCRISY: 2010 | 2011 | 2012 | 2013 | 2014 | 2015 | 2016 | 2017 | 2018 | 2019 | 2020 | 2021 | 2022.