HADRON AGE SF (8)
By: Joshua Glenn
February 22, 2022
One in a series of posts about the 75 best sf adventures published during the genre's Hadron Age era (from 2004–2023, according to HILOBROW's periodization schema). For Josh Glenn's Hadron Age Sci-Fi 75 list (a work in progress), click here.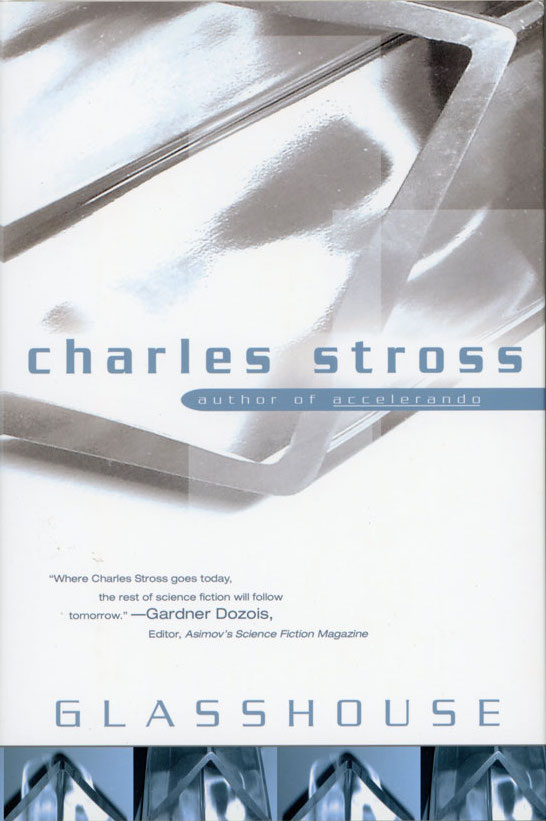 Charles Stross's Glasshouse (2006).
"When people ask me what I did during the war, I tell them I used to be a tank regiment. Or maybe I was a counter-intelligence agent," explains our protagonist, Robin. "I'm not exactly sure: my memory isn't what it used to be." It's the far future, and Robin has just finished up a course of radical memory surgery; while in recovery, he starts a romantic relationship with another memory-altered human, Kay. It's the twenty-seventh century, and we find ourselves in the Invisible Republic, a splinter-polity recovering from the Censorship Wars. (There's quite a bit of Hard SF stuff going on here, involving molecular-reconstructing "gates" that — having been infected by a virus — alter people's understanding of civilization itself.) Robin, he'll eventually discover, played a crucial role in freeing humanity from this virus; but now he's being targeted for assassination. So he and Kay agree to take part in an experiment which will assign them new identities and bodies, and place them into a more-or-less accurate simulation of a late twentieth/early twenty-first century Euro-American society. As a housewife, now named "Reeve," our protagonist encounters the sexism and cultural conformity of humankind's so-called Dark Ages; meanwhile, s/he begins to recover Robin's memories. What's the true purpose of this "glasshouse" (19th century British slang for a glass-roofed military detention barracks based in Aldershot — that is to say, for a panopticon)? And what did Reeve/Robin used to know that makes her/him so dangerous? A fun read, particularly for well-read sf fans who will catch all sorts of references.
Fun facts: In an interview about Glasshouse, which won the Prometheus Award, Stross recalled: "I'd been reading up on the Stanford Prison Experiment and Stanley Milgram's studies on how to make ordinary folks commit atrocities. And I got this crazy idea: what if you ran the Zimbardo prison study protocol in something not unlike [sf author John] Varley's Eight Worlds universe, with gender roles instead of prisoner/guard roles?"
***
JOSH GLENN'S *BEST ADVENTURES* LISTS: BEST 250 ADVENTURES OF THE 20TH CENTURY | 100 BEST OUGHTS ADVENTURES | 100 BEST RADIUM AGE (PROTO-)SCI-FI ADVENTURES | 100 BEST TEENS ADVENTURES | 100 BEST TWENTIES ADVENTURES | 100 BEST THIRTIES ADVENTURES | 75 BEST GOLDEN AGE SCI-FI ADVENTURES | 100 BEST FORTIES ADVENTURES | 100 BEST FIFTIES ADVENTURES | 100 BEST SIXTIES ADVENTURES | 75 BEST NEW WAVE SCI FI ADVENTURES | 100 BEST SEVENTIES ADVENTURES | 100 BEST EIGHTIES ADVENTURES | 75 BEST DIAMOND AGE SCI-FI ADVENTURES | 100 BEST NINETIES ADVENTURES | 75 BEST HADRON AGE SCI-FI ADVENTURES.