HADRON AGE SF (11)
By: Joshua Glenn
March 14, 2022
One in a series of posts about the 75 best sf adventures published during the genre's Hadron Age era (from 2004–2023, according to HILOBROW's periodization schema). For Josh Glenn's Hadron Age Sci-Fi 75 list (a work in progress), click here.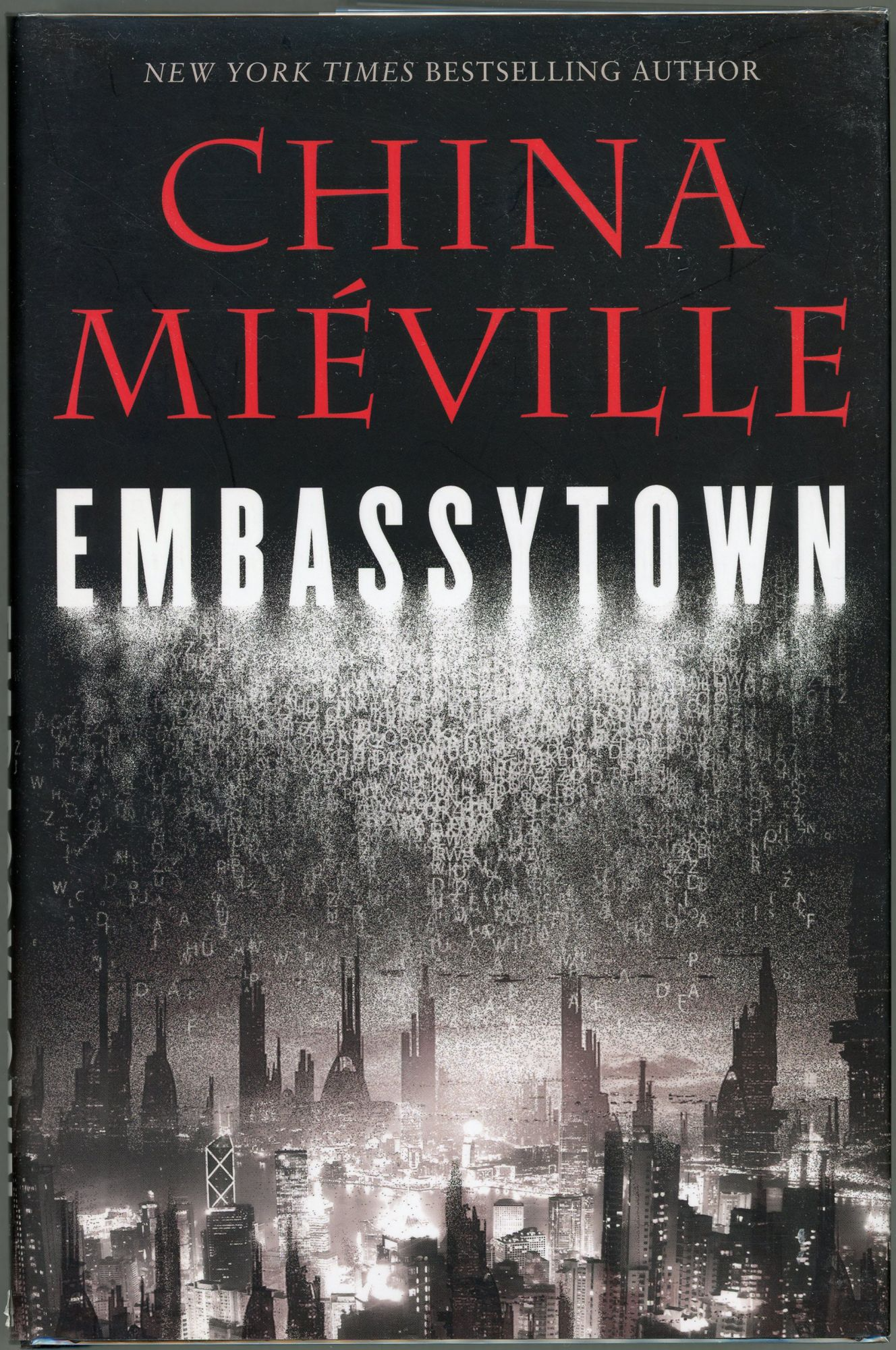 China Miéville's Embassytown (2011).
Human colonists on a far-distant planet, which is accessible only by "sailing" through the immer (hyperspace, depicted as an oceanic medium complete with monsters), interact with the natives — known as Ariekei — in the colonial city of Embassytown. The Ariekei are capable of speaking two words at once, which is expressed in this narrative via fractional notation; anyone wishing to negotiate for their valuable biotech must communicate in their language, which they call simply "Language." What's more, the Ariekei are extremely literal, and don't traffic in metaphors or similies. (They recruit individuals to perform literal similes — bizarre ordeals that can then be alluded to. Miéville adapted this fun idea from Gulliver's Travels.) When Ez ⁄ Ra — a human capable of speaking Language, but in a subtly unusual fashion — arrives on the planet, the Ariekei become addicted en masse to his intoxicating speech-forms… with potentially catastrophic results. In order to avert disaster, Avice, a recently returned immer traveler, who has gained the trust of the Ariekei by acting as a human simile (specifically, "the girl who was hurt in the dark and ate what was given to her") for them, attempts to train a group of them to use metaphors… and to lie! Which changes hearts and minds…
Fun facts: Embassytown won a Locus Award for Best Science Fiction Novel. In an interview, Miéville would explain that "the book is not so much about actually existing linguistics necessarily so much as it is to do with a certain kind of more abstract kind of philosophy of language of symbols, and of semiotics, and indeed some of this crosses over into theological debates." I've included Miéville's sf/fantasy/horror hybrid novels Perdido Street Station (2000) and The Scar (2002) on the Diamond Age sf list; this is his first sf-only novel.
***
JOSH GLENN'S *BEST ADVENTURES* LISTS: BEST 250 ADVENTURES OF THE 20TH CENTURY | 100 BEST OUGHTS ADVENTURES | 100 BEST RADIUM AGE (PROTO-)SCI-FI ADVENTURES | 100 BEST TEENS ADVENTURES | 100 BEST TWENTIES ADVENTURES | 100 BEST THIRTIES ADVENTURES | 75 BEST GOLDEN AGE SCI-FI ADVENTURES | 100 BEST FORTIES ADVENTURES | 100 BEST FIFTIES ADVENTURES | 100 BEST SIXTIES ADVENTURES | 75 BEST NEW WAVE SCI FI ADVENTURES | 100 BEST SEVENTIES ADVENTURES | 100 BEST EIGHTIES ADVENTURES | 75 BEST DIAMOND AGE SCI-FI ADVENTURES | 100 BEST NINETIES ADVENTURES | 75 BEST HADRON AGE SCI-FI ADVENTURES.