HADRON AGE SF (10)
By: Joshua Glenn
March 7, 2022
One in a series of posts about the 75 best sf adventures published during the genre's Hadron Age era (from 2004–2023, according to HILOBROW's periodization schema). For Josh Glenn's Hadron Age Sci-Fi 75 list (a work in progress), click here.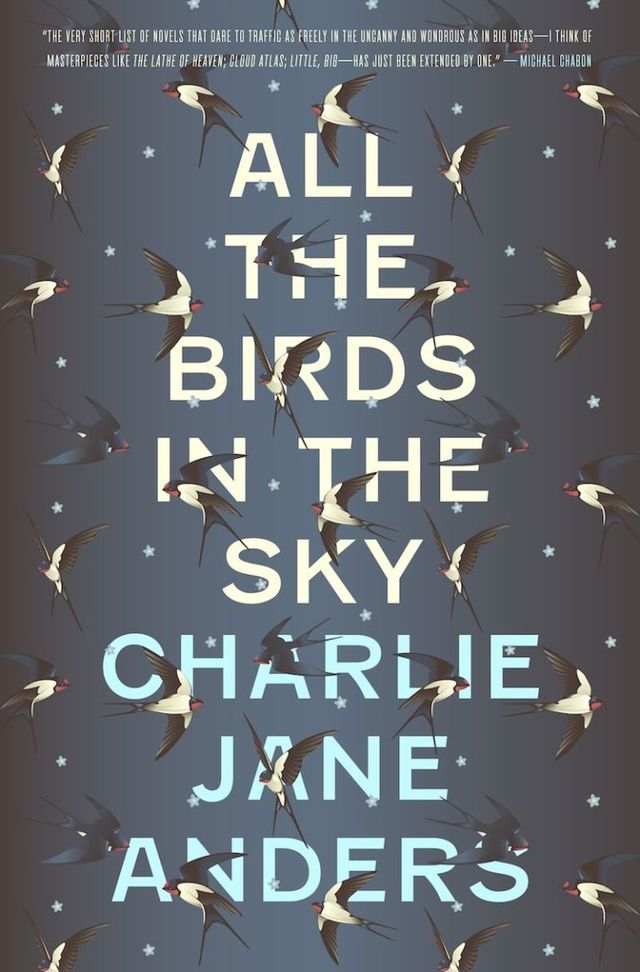 Charlie Jane Anders's All the Birds in the Sky (2016).
Anders's debut speculative fiction novel is set in a near-future Earth facing ecological and social collapse: earthquakes, superstorms, wars. Laurence, a brilliant young scientist and inventor, has developed a wormhole generator that may help ten percent of humankind escape to a new planet… but that's not acceptable to the planet's secret society of witches and wizards, who intend to repair the damage done to Nature by humankind, even if it means triggering an apocalyptic "unraveling." One of these witches, Patricia, was briefly Laurence's best friend in middle school — before a sinister guidance counselor schemed to turn them against one another. If this sounds totally epic, it is — and yet, at the same time, the world depicted here is refreshingly… real. If this genre-hybrid narrative must be described as science fantasy, then, I'd say the fantasy is descended from E. Nesbit, while the sf is MSF-ish — which is to say, plausible and more or less realistic. As avatars (in their fictional world) of magic and science, and (in our world) of the fantasy and sf genres, we root for this dynamic duo to figure out how to resolve their differences and work together…. Will you will enjoy this coming-of-age story in which Patricia and Laurence grow up, developing their outlandish abilities along the way — while being ostracized by their peers, and misunderstood by their parents? If you believe, as I do, that the best hope of the world lies in the hands of nonconformists, eccentrics, and outcasts, then this one is for you.
Fun facts: All the Birds in the Sky won the Nebula Award for Best Novel and the Locus Award for Best Fantasy Novel. Time magazine selected it as one of its 100 Best Fantasy Books of All Time. Also highly recommended is the author's 2019 cli-fi adventure The City In the Middle of the Night.
***
JOSH GLENN'S *BEST ADVENTURES* LISTS: BEST 250 ADVENTURES OF THE 20TH CENTURY | 100 BEST OUGHTS ADVENTURES | 100 BEST RADIUM AGE (PROTO-)SCI-FI ADVENTURES | 100 BEST TEENS ADVENTURES | 100 BEST TWENTIES ADVENTURES | 100 BEST THIRTIES ADVENTURES | 75 BEST GOLDEN AGE SCI-FI ADVENTURES | 100 BEST FORTIES ADVENTURES | 100 BEST FIFTIES ADVENTURES | 100 BEST SIXTIES ADVENTURES | 75 BEST NEW WAVE SCI FI ADVENTURES | 100 BEST SEVENTIES ADVENTURES | 100 BEST EIGHTIES ADVENTURES | 75 BEST DIAMOND AGE SCI-FI ADVENTURES | 100 BEST NINETIES ADVENTURES | 75 BEST HADRON AGE SCI-FI ADVENTURES.