HADRON AGE SF (5)
By: Joshua Glenn
February 2, 2022
One in a series of posts about the 75 best sf adventures published during the genre's Hadron Age era (from 2004–2023, according to HILOBROW's periodization schema). For Josh Glenn's Hadron Age Sci-Fi 75 list (a work in progress), click here.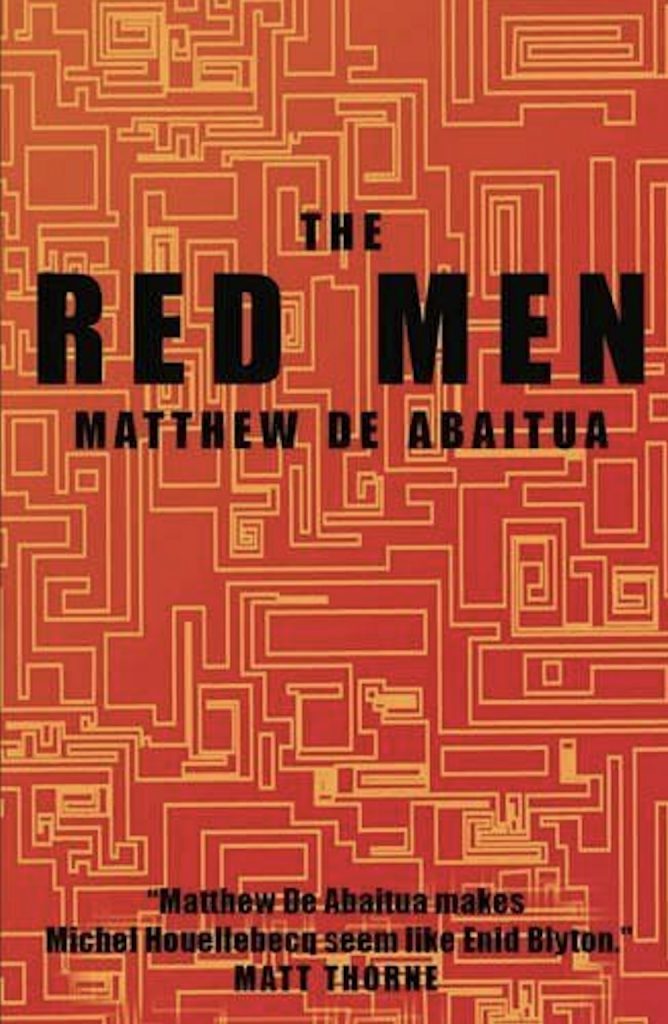 Matthew De Abaitua's The Red Men (2007).
Nelson, who formerly worked for an edgy British youth culture magazine, lives in a near-future London — the streets of which are patrolled by "Dr. Easy" androids programmed to de-escalate conflict (as can be seen in this 2013 film short based on the book). Monad, his employer, is a mega-corporation that manufactures not only Dr. Easy but virtual corporate workers known as the Red Men. Put in charge of developing Redtown — a suburb inhabited entirely by Red Men who (as artificially intelligent emulations of real people) make perfect subjects for various testing scenarios — Nelson struggles with the realization that he's participating in a neo-authoritarian effort to figure out what makes people tick. There's also a story here about the ethics of AI, and the dangers — comedic, but also chilling — of downloading an AI into a robotic form. Another strand in this ambitious novel is a gnostic/occult one involving possession by transplanted pig organs; and there are some terrific psychedelic and psychogeographic passages as well. The book is suffused with an aging hipster's cynical but never nihilistic perspective on recursive cultural forms (in this case, nostalgia for England's post-WWII moment), corporate political in-fighting and the creeping intrusion of work into one's private life, and the difficulty of ascertaining just exactly where and how you've sold out.
Fun facts: The Red Men, which was shortlisted for the Arthur C. Clarke Award, is the first installment in the loosely connected Seizure trilogy; the others are If Then (2015) and The Destructives (2016). Also highly recommended by the same author is Self & I: A Memoir of Literary Ambition (2018).
***
JOSH GLENN'S *BEST ADVENTURES* LISTS: BEST 250 ADVENTURES OF THE 20TH CENTURY | 100 BEST OUGHTS ADVENTURES | 100 BEST RADIUM AGE (PROTO-)SCI-FI ADVENTURES | 100 BEST TEENS ADVENTURES | 100 BEST TWENTIES ADVENTURES | 100 BEST THIRTIES ADVENTURES | 75 BEST GOLDEN AGE SCI-FI ADVENTURES | 100 BEST FORTIES ADVENTURES | 100 BEST FIFTIES ADVENTURES | 100 BEST SIXTIES ADVENTURES | 75 BEST NEW WAVE SCI FI ADVENTURES | 100 BEST SEVENTIES ADVENTURES | 100 BEST EIGHTIES ADVENTURES | 75 BEST DIAMOND AGE SCI-FI ADVENTURES | 100 BEST NINETIES ADVENTURES | 75 BEST HADRON AGE SCI-FI ADVENTURES.