HADRON AGE SF (13)
By: Joshua Glenn
March 30, 2022
One in a series of posts about the 75 best sf adventures published during the genre's Hadron Age era (from 2004–2023, according to HILOBROW's periodization schema). For Josh Glenn's Hadron Age Sci-Fi 75 list (a work in progress), click here.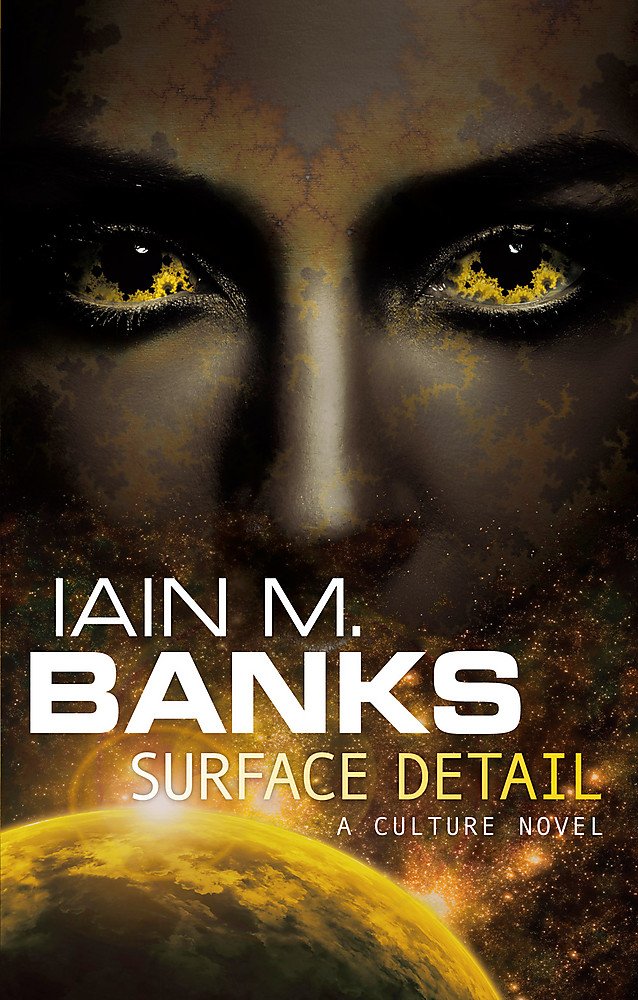 Iain M. Banks's Surface Detail (2010).
The ninth installment in the Culture series takes place, at least part of the time, in Hell. Thanks to personality back-ups and body re-growing tech, in advanced galactic societies like the Culture one never need die permanently; however, one can also opt to retire into a realistic virtual Heaven in which one's mind-state will enjoy itself for what subjectively seems like an eternity. Other galactic societies that are not so enlightened as the Culture, though, have created virtual Hells in order to control their citizens. These various Hells have fused into a Boschian nightmare-scape within which one of our characters, Vatueil, a policy-setting soldier in the war between the pro- and anti-Hell societies of the galaxy, must fight. (He turns out to be more than that, too.) A second character, Veppers, is a sociopathic, fabulously wealthy tech bro who seems to have something to do with these Hells; and a third, Lededje Y'breq, is a slave whom Veppers killed — but who has come back to life and seeks revenge. In this, she is aided by the Falling Outside The Normal Moral Constraints, a powerful if deranged warship — which, as is always the case in the Culture, is an Artificial Intelligence. Meanwhile Yime, a Culture agent who assists those entities who have died and been "revented," is tasked with preventing Y'breq from killing Veppers. Why? Another complex, fun epic from Iain M. Banks.
Fun fact: "The idea of the hells came from thinking over the approach from one of the other novels, Look to Windward, in which there's a mention of a civilisation that has a kind of Valhalla-ish virtual world for their fallen dead," Banks said in an interview. "At the time that was treated as something very special. Then I began to think, if that was possible then it's the kind of thing that civilisations would do as a matter of course…."
***
JOSH GLENN'S *BEST ADVENTURES* LISTS: BEST 250 ADVENTURES OF THE 20TH CENTURY | 100 BEST OUGHTS ADVENTURES | 100 BEST RADIUM AGE (PROTO-)SCI-FI ADVENTURES | 100 BEST TEENS ADVENTURES | 100 BEST TWENTIES ADVENTURES | 100 BEST THIRTIES ADVENTURES | 75 BEST GOLDEN AGE SCI-FI ADVENTURES | 100 BEST FORTIES ADVENTURES | 100 BEST FIFTIES ADVENTURES | 100 BEST SIXTIES ADVENTURES | 75 BEST NEW WAVE SCI FI ADVENTURES | 100 BEST SEVENTIES ADVENTURES | 100 BEST EIGHTIES ADVENTURES | 75 BEST DIAMOND AGE SCI-FI ADVENTURES | 100 BEST NINETIES ADVENTURES | 75 BEST HADRON AGE SCI-FI ADVENTURES.