HADRON AGE SF (1)
By: Joshua Glenn
January 5, 2022
One in a series of posts about the 75 best sf adventures published during the genre's Hadron Age era (from 2004–2023, according to HILOBROW's periodization schema). For Josh Glenn's Hadron Age Sci-Fi 75 list (a work in progress), click here.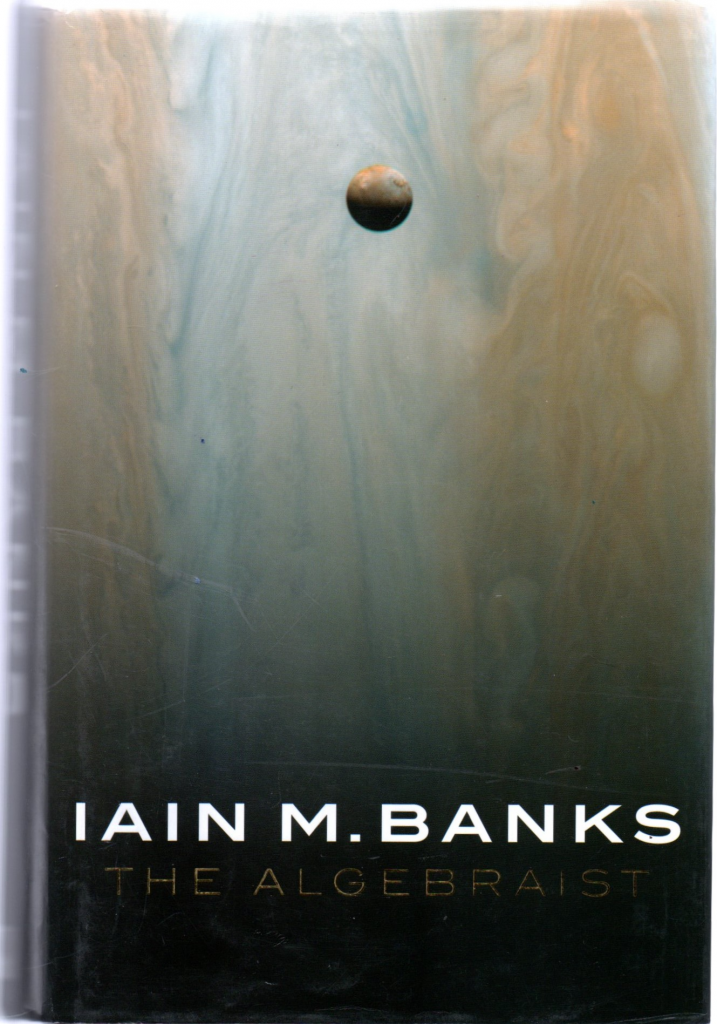 Iain M. Banks's The Algebraist (2004).
Two thousand years from now, humans have spread outward from Earth across the galaxy — which is largely ruled by the hierarchical Mercatoria empire. Fassin Taak is a Slow Seer, a scholar who has devoted his life to studying the eccentric Dwellers, fabulously long-lived, slow-existing non-humanoids who inhabit gas-giant planets… in this case, Nasqueron. Some years ago, Fassin's star system was cut off from the rest of the galaxy when their wormhole portal was destroyed… presumably by the Beyonders, space marauders may or may not be as bad as they're made out to be. What they're after, we're given to understand, is the fabled Dweller List of coordinates for their own super-secret system of wormholes. Now Fassin must revisit the anarchic, semi-absurdist Nasqueron Dwellers in search of this MacGuffin… while wrestling with his conscience, which tells him not to turn the list over to the Mercatoria. There are a lot of villains in this fast-paced, complex, mind-expanding yarn… including a (literally) devilish warlord, whose fleet of crack soldiers is moving rapidly toward's Fassin's homeworld (Ulubis), not to mention one of Fassin's oldest friends, a sociopathic industrialist. There's also a backstory, here, about the Mercatoria's persecution of Artificial Intelligences — which becomes, by the end, the main story. The space battles are epic, the Dwellers are weird and wonderful, and Fassin emerges as an inspiring figure — a middle-aged former radical who finds himself still willing to risk everything for a good cause.
Fun facts: This is Banks's third science fiction novel that isn't set in The Culture… though in some ways it feels like a prequel to that series. His earlier two non-Culture sf novels are Against a Dark Background (1993) and Feersum Endjinn (1994).
***
JOSH GLENN'S *BEST ADVENTURES* LISTS: BEST 250 ADVENTURES OF THE 20TH CENTURY | 100 BEST OUGHTS ADVENTURES | 100 BEST RADIUM AGE (PROTO-)SCI-FI ADVENTURES | 100 BEST TEENS ADVENTURES | 100 BEST TWENTIES ADVENTURES | 100 BEST THIRTIES ADVENTURES | 75 BEST GOLDEN AGE SCI-FI ADVENTURES | 100 BEST FORTIES ADVENTURES | 100 BEST FIFTIES ADVENTURES | 100 BEST SIXTIES ADVENTURES | 75 BEST NEW WAVE SCI FI ADVENTURES | 100 BEST SEVENTIES ADVENTURES | 100 BEST EIGHTIES ADVENTURES | 75 BEST DIAMOND AGE SCI-FI ADVENTURES | 100 BEST NINETIES ADVENTURES | 75 BEST HADRON AGE SCI-FI ADVENTURES.