HADRON AGE SF (6)
By: Joshua Glenn
February 9, 2022
One in a series of posts about the 75 best sf adventures published during the genre's Hadron Age era (from 2004–2023, according to HILOBROW's periodization schema). For Josh Glenn's Hadron Age Sci-Fi 75 list (a work in progress), click here.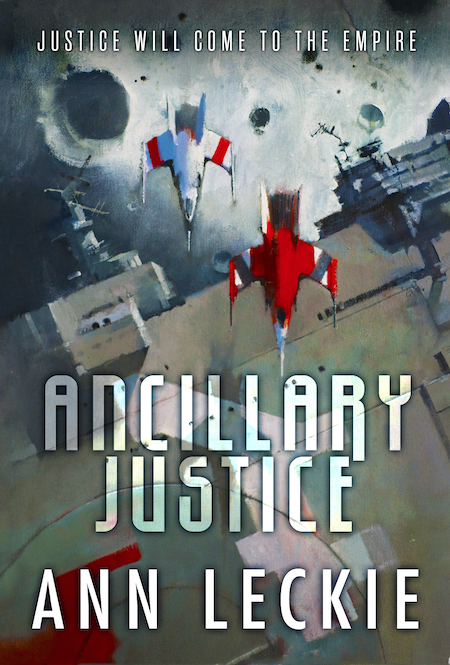 Ann Leckie's Ancillary Justice (2013).
In the distant future, the Radch — a tyrannical empire that has conquered the galaxy — employs centuries-old AI technology linking sentient starships with ancillaries… which is to say, individual soldiers, with reanimated human bodies, who have been "slaved" to a ship's hive-mind and are considered disposable, replaceable pieces of equipment. If at first we have trouble making sense of our protagonist, Breq, a badass whom we encounter on an ice planet, it's because — we'll discover — she is the sole surviving ancillary of Justice of Toren, a warship destroyed twenty years earlier by treachery. Formerly able to perceive the world through thousands of pairs of eyes and ears, she struggles with her current limitations… and seeks revenge on whoever was responsible for the treachery. The story's first-person POV is complicated, in fascinating ways, by the perspective of an intelligent warship which can carry on conversations internally with its ancillaries; another device that takes some getting used to, is the fact that everyone is referred to as "she," since members of the Radch civilization do not draw distinctions between genders. As in an Iain M. Banks space opera, we flash back and forward in time. In the present day, Breq and Seivarden, an entitled jerk who'd been an officer (not an ancillary) on Justice of Toren struggle to survive; and twenty years earlier, we catch glimpses of what happened to their warship. All of which may sound overly complex, but in fact this is a fast-paced, gripping adventure.
Fun facts: Leckie's debut novel, the first in the so-called Imperial Radch trilogy (which includes 2014's Ancillary Sword and 2015's Ancillary Mercy), is the only novel to have won the Hugo, Nebula, and Arthur C. Clarke awards.
***
JOSH GLENN'S *BEST ADVENTURES* LISTS: BEST 250 ADVENTURES OF THE 20TH CENTURY | 100 BEST OUGHTS ADVENTURES | 100 BEST RADIUM AGE (PROTO-)SCI-FI ADVENTURES | 100 BEST TEENS ADVENTURES | 100 BEST TWENTIES ADVENTURES | 100 BEST THIRTIES ADVENTURES | 75 BEST GOLDEN AGE SCI-FI ADVENTURES | 100 BEST FORTIES ADVENTURES | 100 BEST FIFTIES ADVENTURES | 100 BEST SIXTIES ADVENTURES | 75 BEST NEW WAVE SCI FI ADVENTURES | 100 BEST SEVENTIES ADVENTURES | 100 BEST EIGHTIES ADVENTURES | 75 BEST DIAMOND AGE SCI-FI ADVENTURES | 100 BEST NINETIES ADVENTURES | 75 BEST HADRON AGE SCI-FI ADVENTURES.