KICK YOUR ENTHUSIASM (11)
By: Dean Haspiel
February 7, 2022
One in a series of 25 enthusiastic posts, contributed by 25 HILOBROW friends and regulars, on the topic of a favorite sidekick — whether real-life or fictional.
*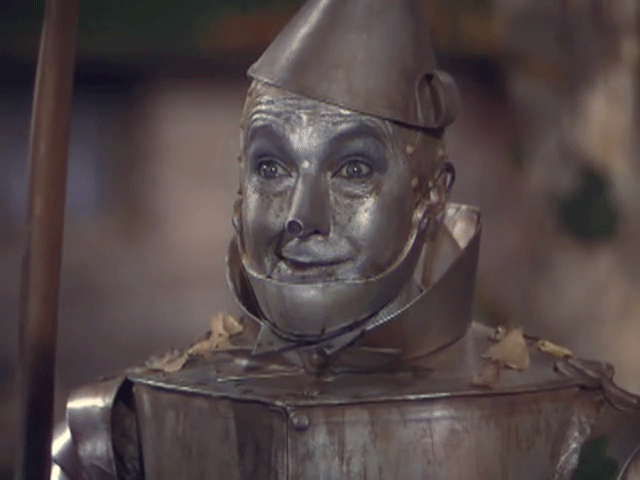 TIN MAN
Born in the late 1960s, I grew up on the Upper West Side of Manhattan watching a lot of syndicated television. I was supposed to identify with Captain Kirk, Batman, the Fonz, and the Six Million Dollar Man but my first action hero was an adolescent badass named Dorothy Gale from The Wizard of Oz.
Dorothy didn't have a phaser or a Batmobile, a cool leather jacket or a bionic eye. But she could sing, assassinate witches, and transport through time and space with the click of her red ruby heels. More importantly, she made friends with vulnerable outliers. One of her pals was an axe-wielding woodsman made out of tin who she helped resurrect from a rusty bout with self-doubt. And he was missing a heart! Jack Haley's rendition of the Tin Man in the 1939 film was emotional and charming. I had an immediate affection for the character that lingers to this day.
I played the Tin Man in my elementary school musical production of The Wizard Of Oz and, like the rust that almost kept him eternally frozen by a yellow brick road, I was paralyzed with fear to be on stage in front of my parents and peers. One could misconstrue my nervous stuttering and embarrassing dance moves with method acting, but I was simply too shy. It took many years to construct a faux bravado, a veritable tin skin to help quell public shame and anxiety.
When I wasn't putting my G.I. Joe and Star Trek action figures through imaginary rigmaroles with my late brother, Michael, I was reading comic books that often featured matters of the heart. In Jack Kirby's post-apocalyptic comic book series, Kamandi, a character named Ben Boxer had a Cyclo-Heart, a fission chamber that, upon punching his chest, altered the atomic structure of his body to protect himself from deadly radiation. Another Jack Kirby co-creation was The Fantastic Four featuring Benjamin J. Grimm, a pilot irradiated by cosmic rays and mutated into a rocky golem feared by society. But he had a heart of gold.
My empathy for other misunderstood misfits with heartfelt intentions like Mary Shelley's Frankenstein monster and Boo Radley from Harper Lee's To Kill a Mockingbird manifested in my own complicated work when I became a cartoonist and, later on, a playwright.
I created an avatar named Billy Dogma, the last romantic antihero, who is attracted to conflict and trades love bombs with his paramour, Jane Legit. Later on, I created Sam Brosia aka The Red Hook, a thief who is bequeathed the Omni-Fist of Altruism by a dying demigod who wraps his hand around his heart to insure he's good for goodness sake. In my play Harakiri Kane, a pugilist cum reluctant angel of death with amnesia uncovers the truth of his mortal demise and tries to beat death at its own game, only to fall in love with its most prized acolyte. In my upcoming play, The War of Woo, a demon recruits a posse of New Yorkers to help kidnap Satan in hopes of brokering a romantic treaty with God to merge Heaven and Hell.
What started as an infatuation with The Tin Man has turned into a lifetime of excavating the emotional truths about love, life, and death. In The Wizard Of Oz, the Tin Man tells Dorothy, "A heart is not judged by how much you love; but by how much you are loved by others."
I think it cuts both ways.
***
KICK YOUR ENTHUSIASM: INTRODUCTION by Josh Glenn | Annie Nocenti on RATSO | Barbara Bogaev on TRIXIE | Sara Ryan on SWIFT WIND | Carlo Rotella on BELT BEARERS | Adam McGovern on JACKIE McGEE | Josh Glenn on RAWHIDE | Gabriela Pedranti on KUILL | Douglas Wolk on VOLSTAGG | Serdar Paktin on CATO | Deirdre Day on TRAMPAS | Dean Haspiel on TIN MAN | Flourish Klink on THE APOSTLE PETER | Miranda Mellis on FAMILIAR | Peggy Nelson on COSMO | Beth Lisick on MARTHA BROOKS | Bishakh Som on CAPTAIN HADDOCK | Stephanie Burt on SAMUEL TAYLOR COLERIDGE | Greg Rowland on SPOCK | Adam Netburn on SENKETSU | Mimi Lipson on ROBIN QUIVERS | Jonathan Pinchera on GUTS | Tom Nealon on TWIKI | Mandy Keifetz on DR. EINSTEIN | Judith Zissman on IGNATZ MOUSE | Anthony Miller on DOCTOR GONZO.
MORE ENTHUSIASM at HILOBROW
STOOGE YOUR ENTHUSIASM (4Q2023): MOVE ON FAST | 96 TEARS | SHE CRACKED | WHAT A WAY TO DIE | PSYCHOTIC REACTION | & 20 other Sixties (1964–1973) proto-punk songs. STOOGE YOUR ENTHUSIASM (4Q2023): MOVE ON FAST | 96 TEARS | SHE CRACKED | WHAT A WAY TO DIE | PSYCHOTIC REACTION | & 20 other Sixties (1964–1973) proto-punk songs. CURVE YOUR ENTHUSIASM (3Q2023): PIZZA PURISM | BOY BANDS | THE '86 METS | LOVE ISLAND UK | ELTON JOHN | & 20 other reconsidered enthusiasms. TEEN YOUR ENTHUSIASM (2Q2023): ANDY GIBB | VALERIE BERTINELLI | KIM WILDE | ARLO GUTHRIE | MIKE PATTON | & 20 other heartthrobs from our adolescences. DOLLY YOUR ENTHUSIASM (1Q2023): WE FOUND IT | TOGETHER AGAIN | SUNDAY MORNIN' COMIN' DOWN | BAD CASE OF THE BLUES | FANCY | & 20 other Sixties (1964–1973) Country records. KILL YOUR ENTHUSIASM (4Q2022): LT. TASHA YAR | JOYCE SUMMERS | COL. HENRY BLAKE | MRS. LANDINGHAM | ALEX KAMAL | & 20 other TV deaths. BLURB YOUR ENTHUSIASM (3Q2022): LEFT-CORNER BRICK | JOY IS RESISTANCE | THE FUTURE IS PASSÉ | EVERY MINUTE AN OCEAN | SHUT UP, HE EXPLAINED | & 20 other apothegms to live by. KOJAK YOUR ENTHUSIASM (2Q2022): ARK II | WKRP IN CINCINNATI | BUCK ROGERS | THE WHITE SHADOW | POLICE WOMAN | & 20 other Seventies (1974–1983) TV shows. KICK YOUR ENTHUSIASM (1Q2022): KUILL | CATO | COSMO | TRIXIE | VOLSTAGG | & 20 other sidekicks. NERD YOUR ENTHUSIASM (4Q2021): TIME | THE POST OFFICE | ARDUIN | DOUBT | SUMMATIONS | & 20 other nerdy passions. SWERVE YOUR ENTHUSIASM (3Q2021): WARHOL'S WALT WHITMAN | 70, GIRLS, 70 | TYRAEL'S MIGHT | SHIRATO SANPEI | THE LEON SUITES | & 20 other never-realized cultural productions. FIVE-O YOUR ENTHUSIASM (2Q2021): DARK SHADOWS | MANNIX | GET SMART | THE ADDAMS FAMILY | I DREAM OF JEANNIE | & 20 other Sixties (1964–1973) TV shows. FERB YOUR ENTHUSIASM (1Q2021): STEVEN UNIVERSE | TOP CAT | REN & STIMPY | SHE-RA AND THE PRINCESSES OF POWER | DRAGON BALL Z | & 20 other animated series. CARBONA YOUR ENTHUSIASM (2020): "Sex Bomb" | "Going Underground" | "Soft South Africans" | "Typical Girls" | "Human Fly" | & 20 other Seventies (1974–1983) punk singles. KLAATU YOU (2020 weekly): ZARDOZ | METROPOLIS | DARK STAR | SINS OF THE FLESHAPOIDS | SOLARIS | & dozens of other pre-STAR WARS sci-fi movies. CONVOY YOUR ENTHUSIASM (2019): THE TAKING OF PELHAM ONE TWO THREE | ROLLERBALL | BLACK SUNDAY | SORCERER | STRAIGHT TIME | & 20 other Seventies (1974–1983) action movies. SERIOCOMIC (2019 weekly): LITTLE LULU | VIZ | MARSUPILAMI | ERNIE POOK'S COMEEK | HELLBOY | & dozens of other comics. TUBE YOUR ENTHUSIASM (2018): LOONEY TUNES | THREE STOOGES | THE AVENGERS | ROCKY & BULLWINKLE | THE TWILIGHT ZONE | & 20 other Fifties (1954–1963) TV shows. WOWEE ZOWEE (2018 weekly): UNISEX | UNDER THE PINK | DUMMY | AMOR PROHIBIDO | HIPS AND MAKERS | & dozens of other Nineties (1994–2003) albums. KLUTE YOUR ENTHUSIASM (2017): THE KILLERS | BANDE À PART (BAND OF OUTSIDERS) | ALPHAVILLE | HARPER | BLOW-UP | & 20 other Sixties (1964–1973) neo-noir movies. #SQUADGOALS (2017 weekly): THE WILD BUNCH | BOWIE'S BAND | THE BLOOMSBURY GROUP | THE HONG KONG CAVALIERS | VI ÄR BÄST! & dozens of other squads. GROK MY ENTHUSIASM (2016 weekly): THE THEORY AND PRACTICE OF LUNCH | WEEKEND | MILLION YEAR PICNIC | LA BARONNE EMILE D'ERLANGER | THE SURVIVAL SAMPLER | & dozens more one-off enthusiasms. QUIRK YOUR ENTHUSIASM (2016): "Tainted Love" | "Metal" | "Frankie Teardrop" | "Savoir Faire" | "Broken English" | & 20 other Seventies (1974–1983) new wave singles. CROM YOUR ENTHUSIASM (2015): DARKER THAN YOU THINK | THE SWORD IN THE STONE | OUT OF THE SILENT PLANET | THIEVES' HOUSE | QUEEN OF THE BLACK COAST | & 20 other Thirties (1934–1943) fantasy novels. KERN YOUR ENTHUSIASM (2014): ALDINE ITALIC | DATA 70 | TORONTO SUBWAY | JOHNSTON'S "HAMLET" | TODD KLONE | & 20 other typefaces. HERC YOUR ENTHUSIASM (2013): "Spoonin' Rap" | "Rapper's Delight" | "Rappin' Blow" | "The Incredible Fulk" | "The Adventures of Super Rhyme" | & 20 other Seventies (1974–1983) hip-hop songs. KIRK YOUR ENTHUSIASM (2012): Justice or vengeance? | Kirk teaches his drill thrall to kiss | "KHAAAAAN!" | "No kill I" | Kirk browbeats NOMAD | & 20 other Captain Kirk scenes. KIRB YOUR ENTHUSIASM (2011): THE ETERNALS | BLACK MAGIC | DEMON | OMAC | CAPTAIN AMERICA | & 20 other Jack Kirby panels.