BESTIARY (19C)
By: Joshua Glenn
January 14, 2022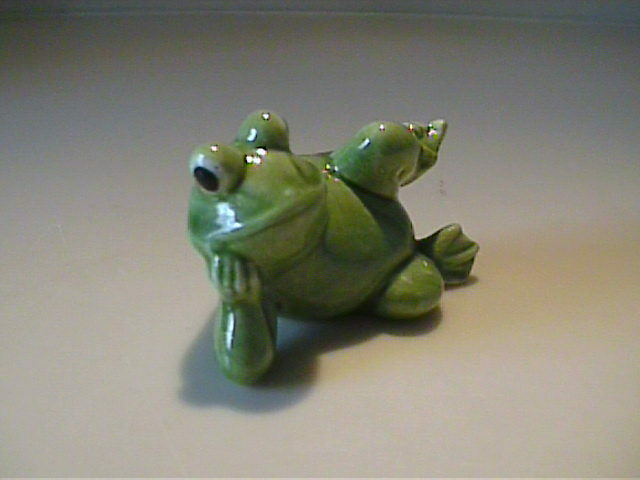 One in a series of posts — curated by Matthew Battles — the ultimate goal of which is a high-lowbrow bestiary. This particular installment is in four parts.
FROG
All "legs" of this BESTIARY installment: 1904–1933: BUMPTIOUS FROG | 1934–1963: RAPSCALLION FROG | 1964–1983: FREE-SPIRIT FROG | 1984–2003: PALIMPSEST FROG.
---
1964–1983
FREE SPIRIT
---
During the Sixties (1964–1973) and Seventies (1974–1983), we find pop-culture frogs transitioning away from the rapscallion-frog meme that we've seen from the Thirties through the Fifties. No longer a symbolic representation of entropy, anarchy, chaos, too-much-wilfulness, during this era anthropomorphic frogs instead come to symbolically represent a gentle, countercultural, laid-back free-spiritedness. The frog is now an avatar of… too-much-freakiness.
One of the things we will see happening in this "leg" of the FROG installment (within the larger BESTIARY series) is the pop-culture frog becoming a vector for psychedelia and other outré aspects of Sixties and Seventies youth culture to percolate into the mainstream. A phenomenon that we might as well dub the "rainbow connection."
THE SIXTIES (1964–1973)
Hippiedom, during this cultural decade, valorized a state of wonder and simplicity — an innocent, playful, child-like state of mind. Counterculturalists of all ages sought to live in and for the present, refusing to view their lives in terms of career or progress. Flower children during the Sixties attempted to actualize the utopian notion that one's life could be lived playfully, irresponsibly, hedonistically… forever.
The pop-culture frog, already an eccentric figure (see previous "legs" in this series installment), during this era becomes a natural fit for symbolic representations of the American counterculture's hedonism, playfulness, and laid-back aversion to pursuing the straight life.
*
FREDDIE FROG: I'm not sure when Avon first produced Freddie; I think around 1964? The work ethic is not for Freddie. Though this is not to suggest that this frog is a flower child. His straw hat suggests instead that he is a huckster, a con artist, a rapscallion; see previous "leg" in this series installment. Still, in his (literal) laid-back-ness, Freddie is a harbinger of things to come in the Sixties. He's a cusp phenomenon, a cultural production bridging two cultural decades.
*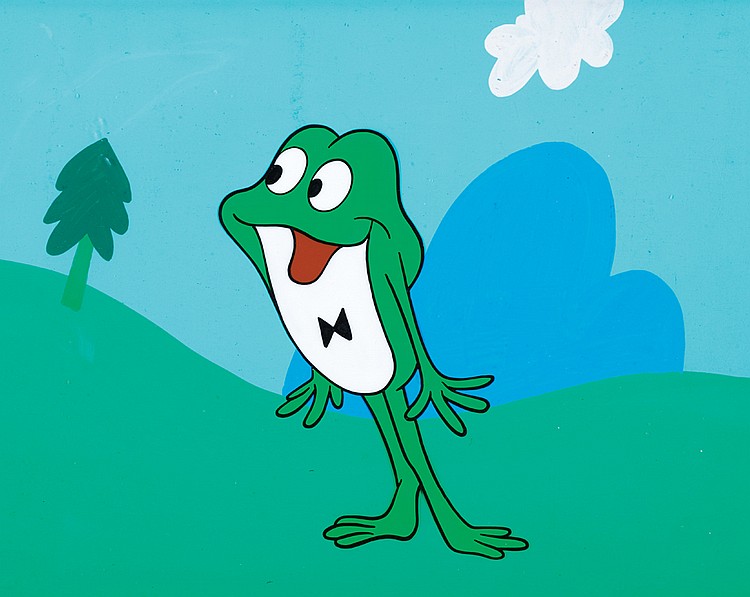 HOPPITY HOOPER: Hoppity Hooper is an American Saturday morning animated TV series produced by Jay Ward (already famous for Rocky & Bullwinkle, Dudley Do-Right, Peabody and Sherman) from 1964–1967.
Hoppity is a naive but plucky, bowtie-wearing frog who lives in Foggy Bog, Wisconsin. He and his comrades seek their fortune through various jobs or schemes, all of which end in misadventure. As with Ward's Rocky & Bullwinkle (1959–1964), this cartoon bridges the relative innocence of Fifties pop-culture and the more subversive culture of the Sixties.
*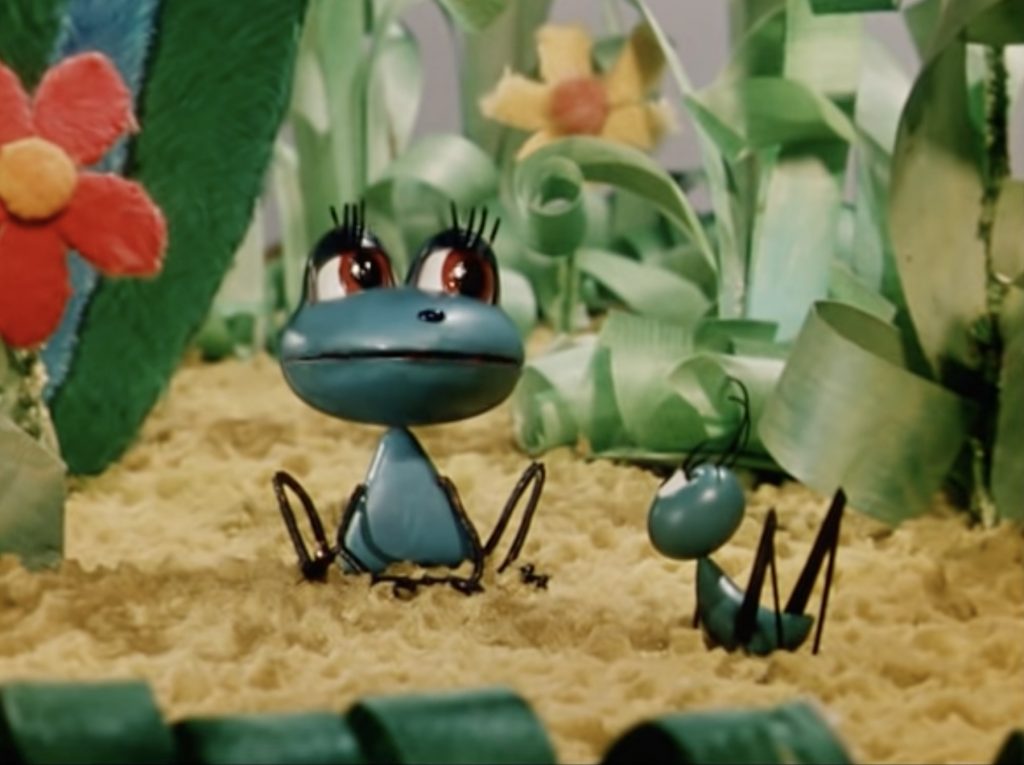 LITTLE FROG: A Little Frog Is Looking for His Father (Russian: Лягушонок ищет папу) is a 1964 Soviet stop-motion animated film by Roman Kachanov. An adorable little frog seeks a father-figure everywhere; when he can't find one, he decides to become a father-figure himself… for an even littler grasshopper.
Another cusp phenomenon, in which we can find the innocence of the Fifties… but also a parable that seems tailor-made for Sixties youth, who experienced a "generation gap" with their elders… and who would form peer-to-peer tribes to replace the nuclear family.
*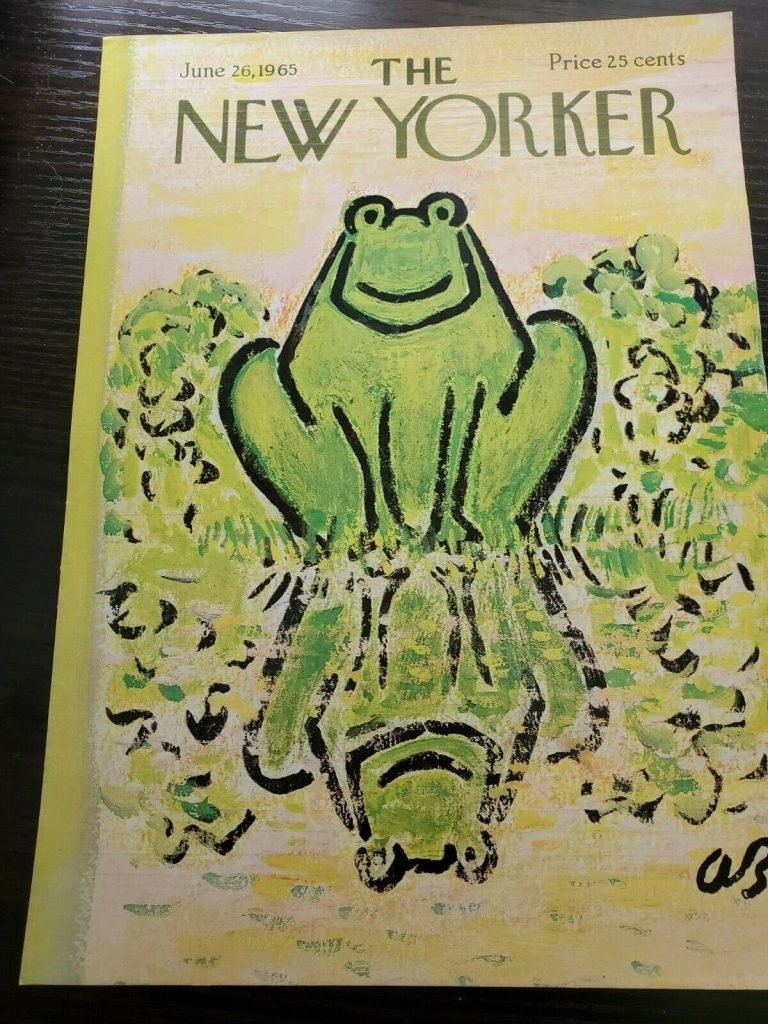 We can really feel the culture beginning to pivot here — this frog is not bumptious, nor it is a rapscallion. It's just being, man.
*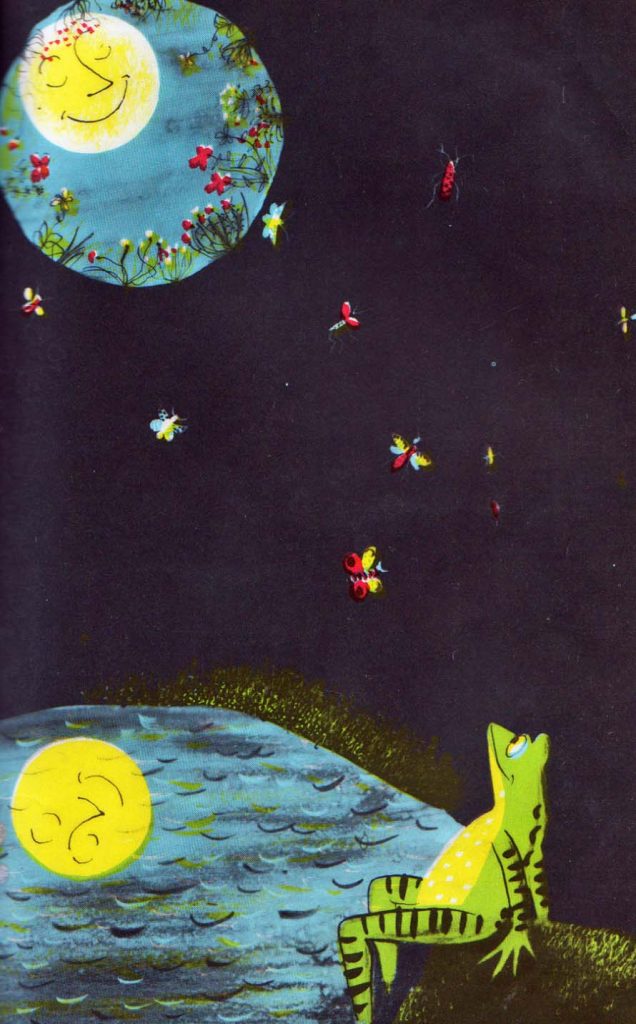 THE FROG IN THE WELL: Based on a Chinese fable, not to mention Plato's Allegory of the Cave, the lovely 1966 children's book The Frog in the Well concerns a frog who doesn't realize that the well in which he lives is not the entire world. Conquering his fear, he discovers an almost psychedelic world of trees, flowers, meadows, and strange creatures in the outside world. Written and illustrated by Alvin Tresselt and Roger Duvoisin.
*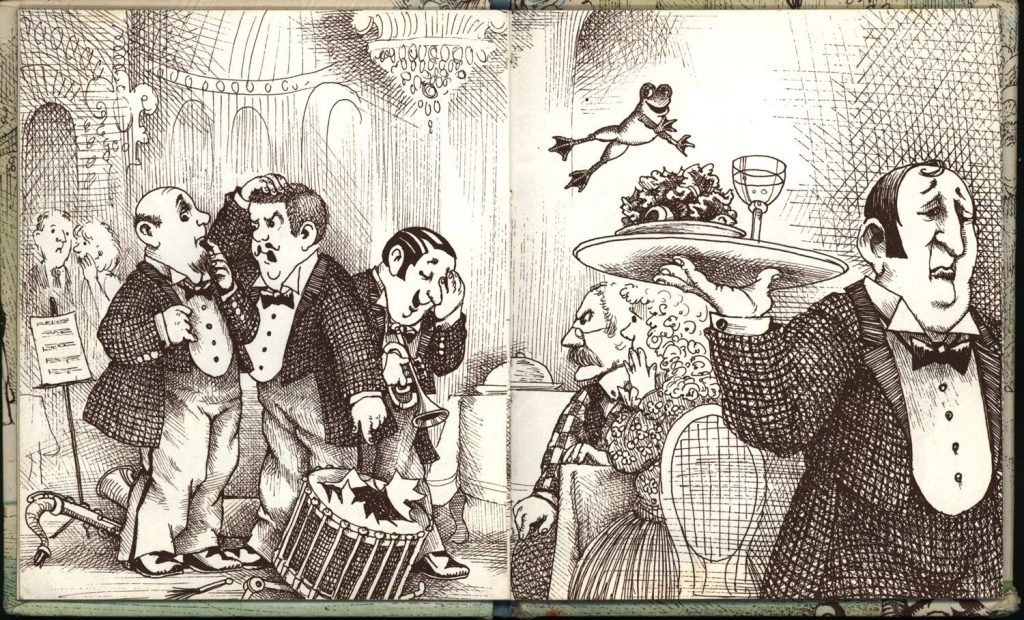 Mercer Mayer's Boy, Dog, Frog series of wordless books gives us a Fifties-style rapscallion frog. The series includes: A Boy, a Dog and a Frog (1967), Frog, Where Are You? (1969), A Boy, a Dog, a Frog, and a Friend (1971), Frog on His Own (1973), Frog Goes to Dinner (1974), and One Frog Too Many (1975).
Mayer, born 1943, is a prime example of a Boomer who — as an adult creative — nostalgically returns to Fifties-era memes.
*
Just in case you thought I was exaggerating, earlier, when I said that frogs during this period served as a crucial vector through which psychedelic flower-child culture entered into the American mainstream…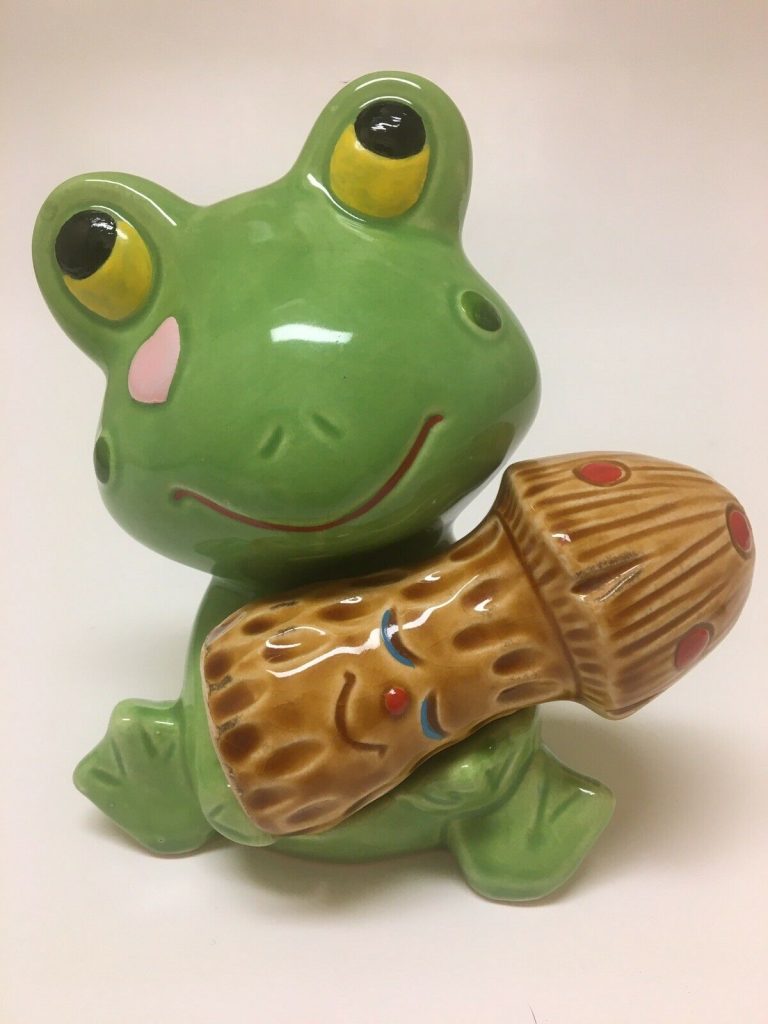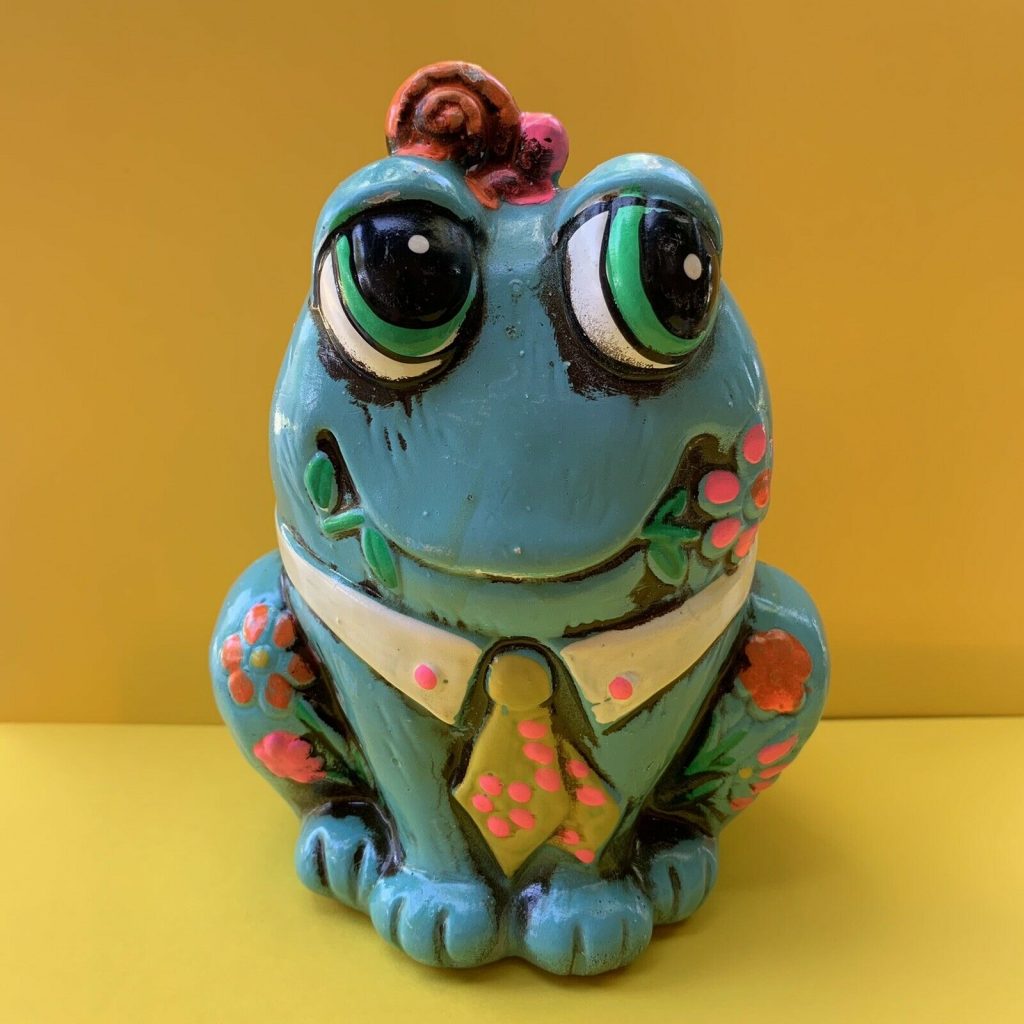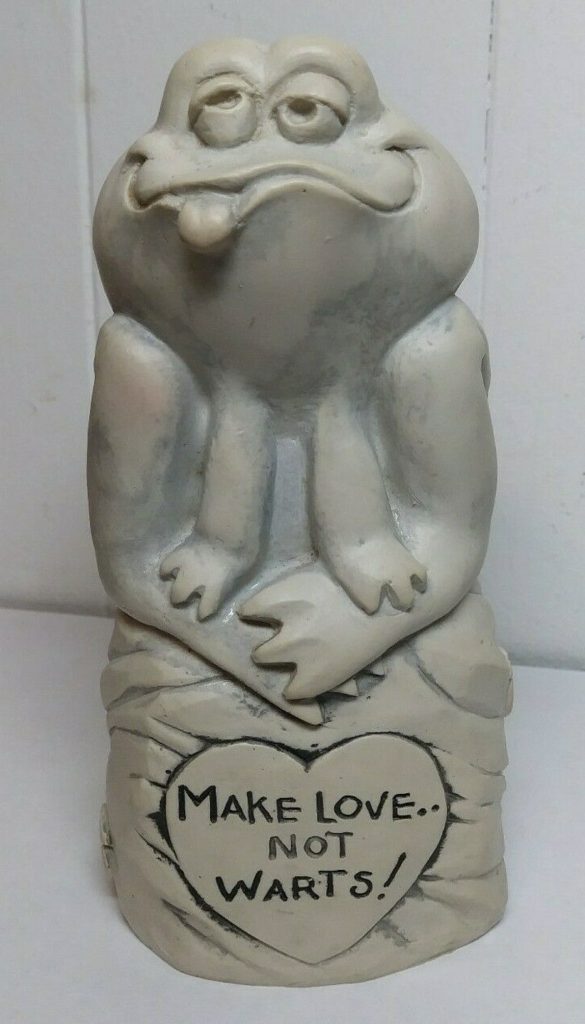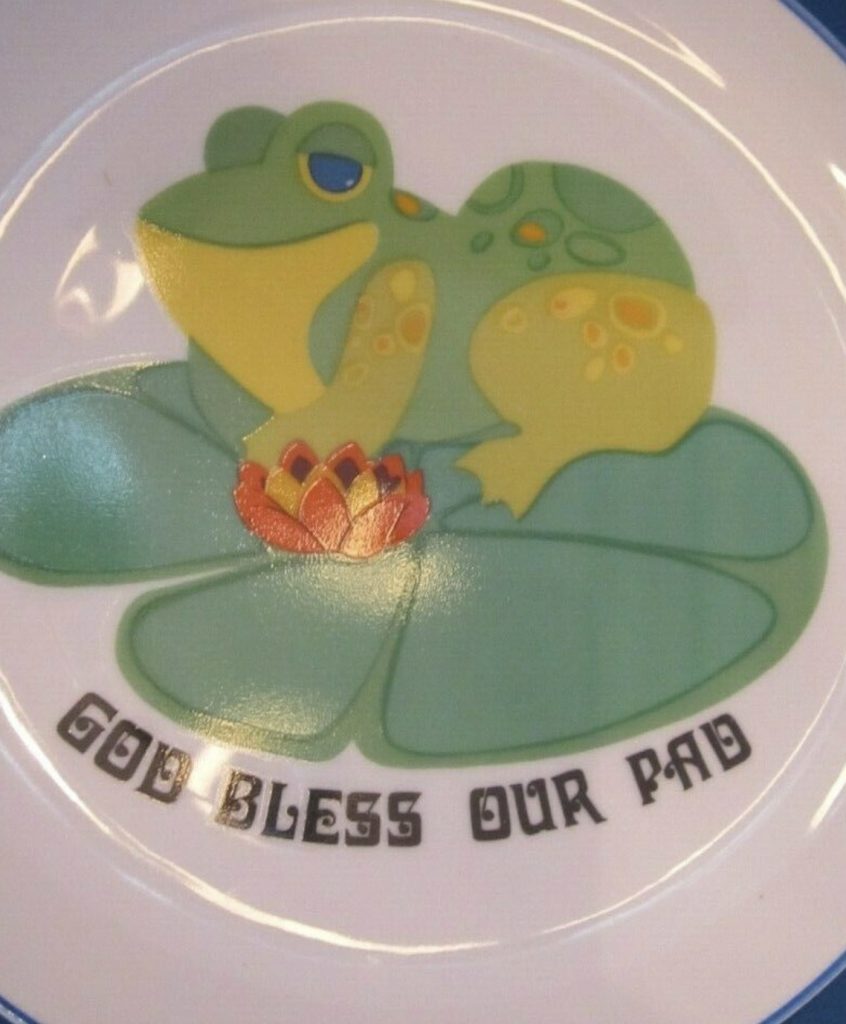 HIPPIE FROGS: Here's a sample array of flower-child frogs (c. 1968–1973), who… bedeck themselves with flowers and let snails crawl on their heads; carry around mushrooms with a look of innocence on their faces; protest the war in Vietnam (sorta); and chill in their pads.
*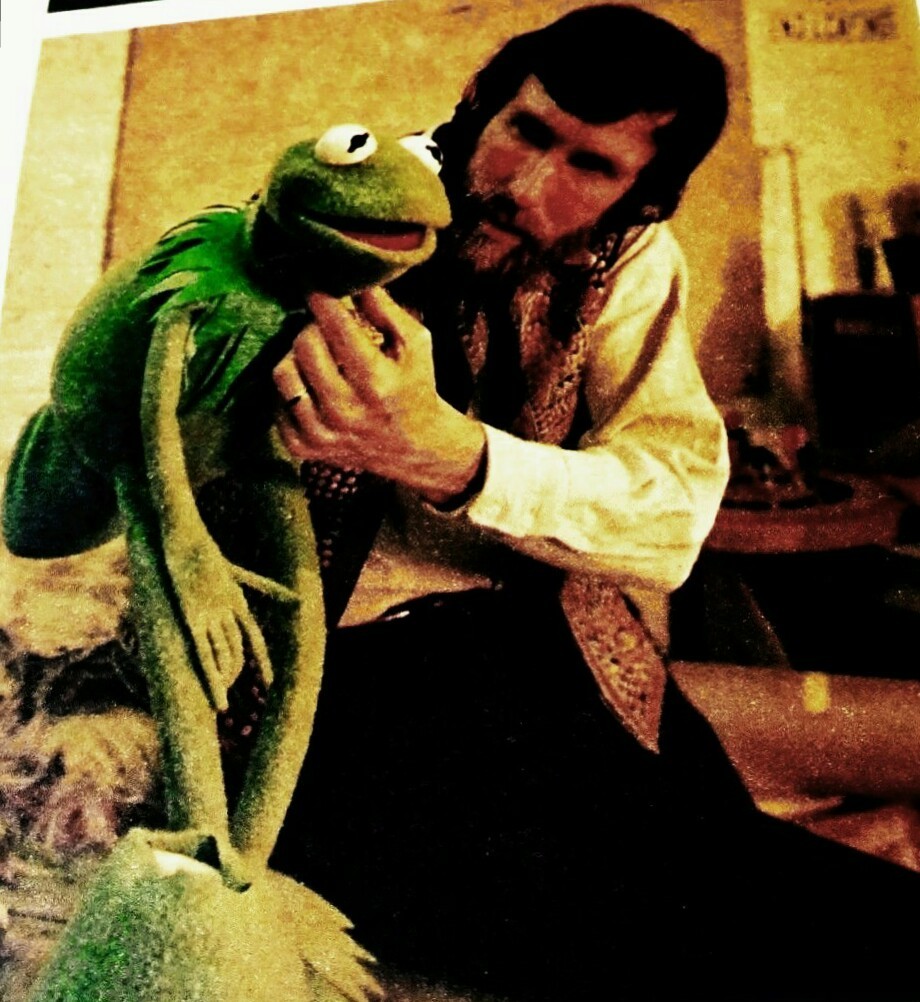 KERMIT: See previous "leg" in this series installment for Kermit's origin story. Kermit's big break came with the popular kiddie TV show Sesame Street (original run, 1969–1990). Around this same time — via the 1969 TV special Hey, Cinderella! — he officially evolved from an amorphous green creature into a frog.
Closely identified with Sesame Street, Kermit appeared as a lecturer on simple topics, a straight man to Grover or Cookie Monster, or a news reporter interviewing storybook characters. He was a gentle, innocent, idealistic character, though… as would become clear in 1970 when he first performed the song "Bein' Green."
Henson's creative partner Joe Raposo wrote "Bein' Green" for Kermit, and Henson (as Kermit) performed the song. It's a black-is-beautiful-ish anthem of self-acceptance in a judgmental world. Sample lyrics:
When green is all there is to be
It could make you wonder why
But, why wonder? Why wonder?
I'm green and it'll do fine
It's beautiful, and I think it's what I want to be
The song was included in The Sesame Street Book & Record in 1970, and was a big hit with children and adults alike.
Frank Sinatra would cover the song on Sinatra & Company (1971); Van Morrison on Hard Nose the Highway (1973; click here); Diana Ross on Live at Caesars Palace (1974); and Ray Charles on Renaissance (1975). The latter version would gain popularity with a new generation, years later, thanks to an episode of The Cosby Show.
More on Kermit later on in this "leg" of the FROG installment, but suffice it to say that he was the most influential pop-culture frog of the era.
*
JUDY FROG: I have never understood Sid & Marty Krofft's live-action, lifesize-puppet kiddie TV show H.R. Pufnstuf. The seventeen episodes were originally broadcast Saturday mornings from September through December 1969. Although it was on in reruns when I was growing up in the Seventies, I couldn't stomach the show — which was set on an island populated not only by humanoid animals but by animated clocks, candles, and so forth.
The whole thing was tongue-in-cheek; there were a lot of references to Mae West, John Wayne, and so forth. Judy Frog (voiced by Joan Gerber), for example, who dressed like Judy Garland, was a singing, dancing entertainer. Why?
*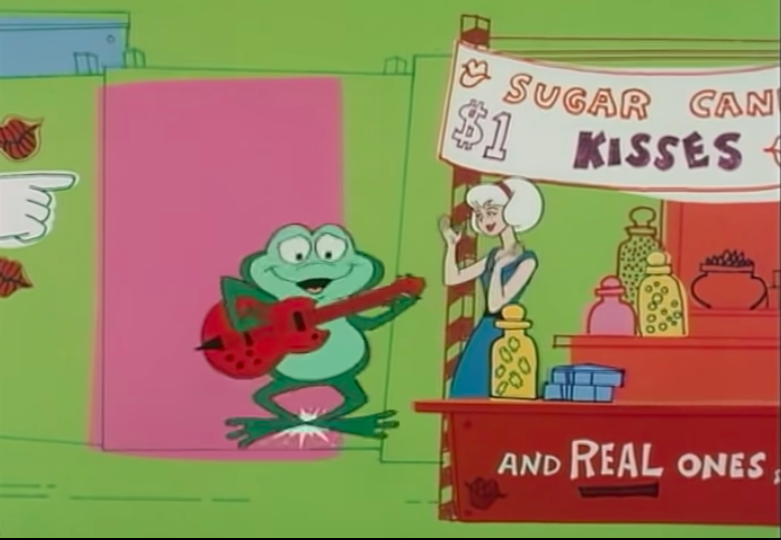 In 1969, at the apex of the Sixties, we find one of The Archies transformed into a capering frog… during what is I think my favorite music video of the era.
*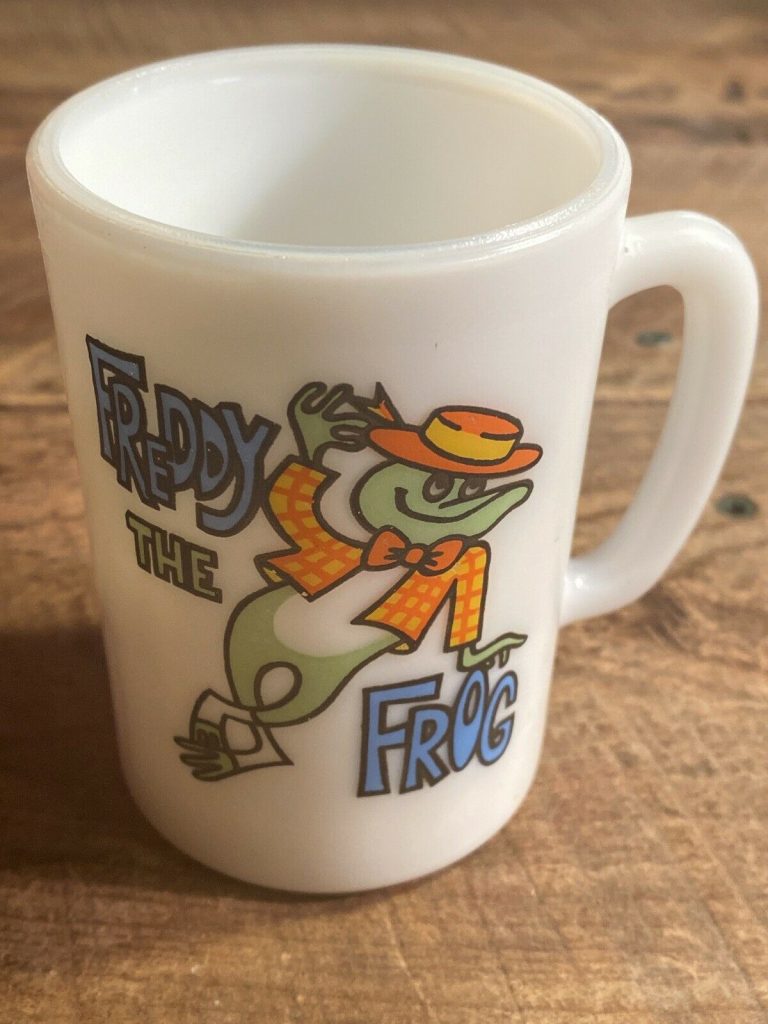 FREDDY THE FROG: Freddie the Frog, the supine, straw hat-wearing floating soap dish would reappear in 1969 with a new spelling — "Freddy" — and groovier packaging typography. In 1969 Avon also issued the Bubble Bath Mug shown above. Contra the groovy typography, Freddie as depicted on this mug is a rapscallion — a throwback to Fennimore Frog. And the cigar reminds us of Congersman Frog, too. He is not a free-spirited Sixties pop-culture frog.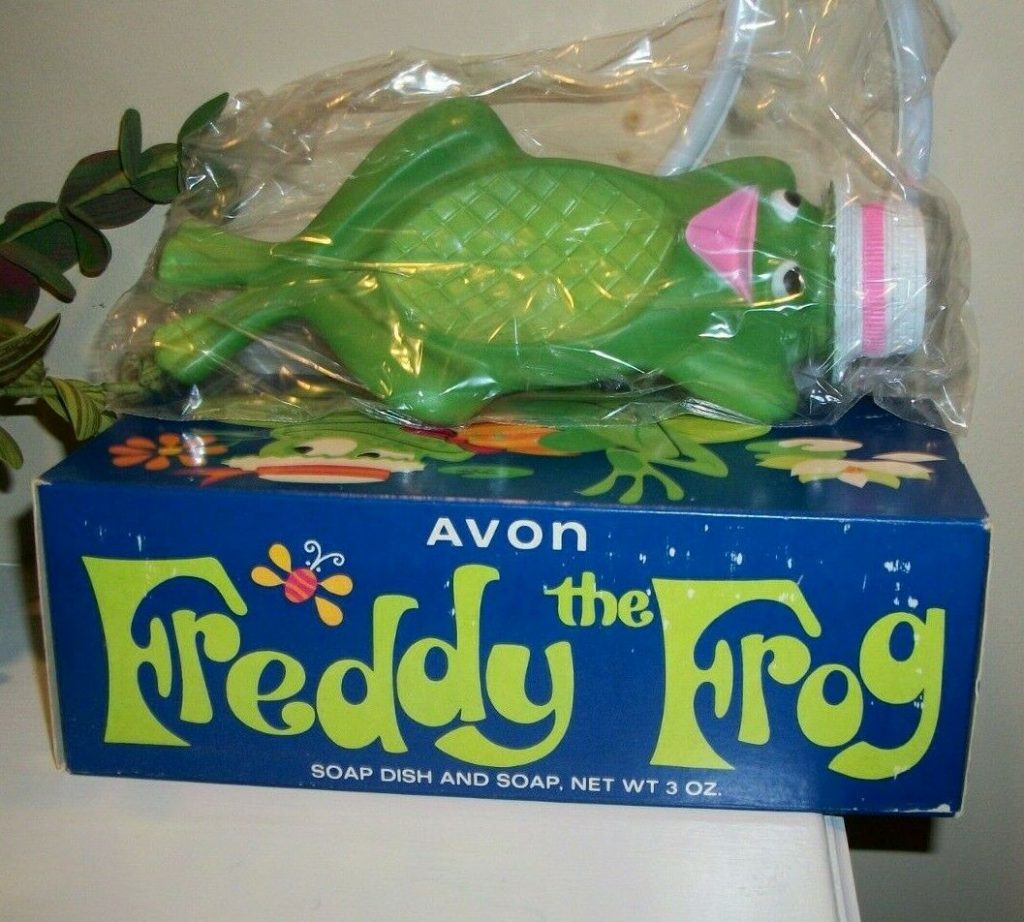 *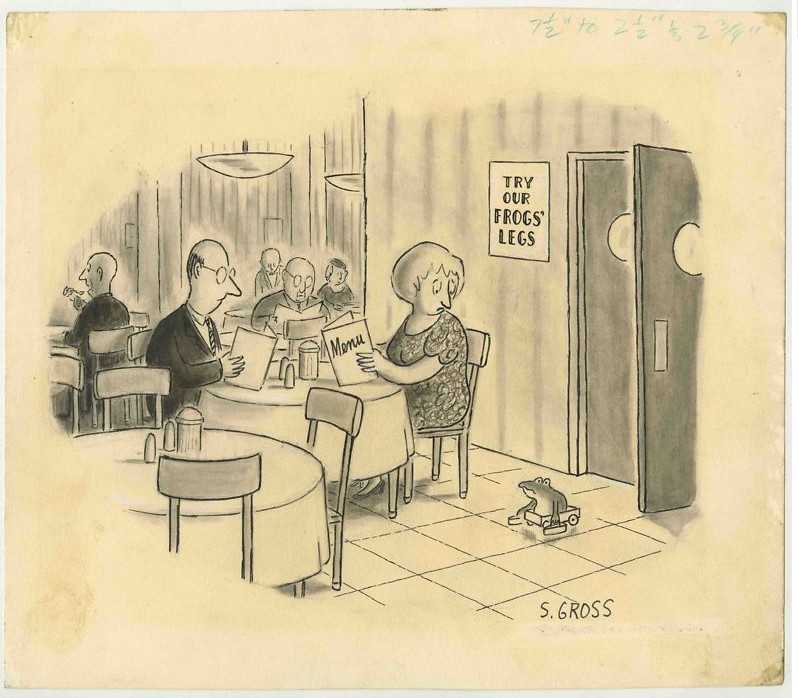 Great minds think alike? See Charles Addams cartoon sketch dated 1969.
*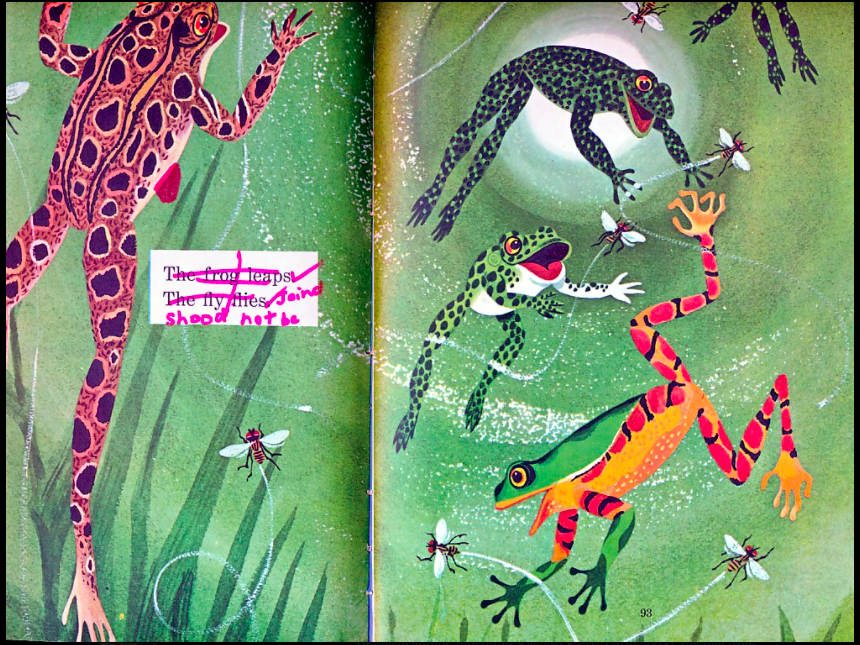 A rather psychedelic frog scene. Note that Scarry's book is a compilation of stories he'd written and illustrated from 1950–1968.
*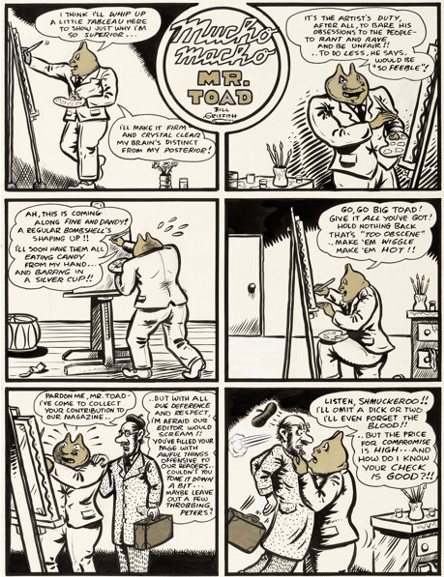 MR. THE TOAD: In 1969, Bill Griffith — then 25 years old — began publishing comix about Mr. Toad (first name "The"), an angry, violent, Establishment type whose tight-fitting tweed suit was loosely inspired by Kenneth Grahame's Toad character — in alternative publications like The East Village Other.
At the apex of the Sixties, Grahame's Toad character is reintroduced to us in a surprising manner — as a privileged, feckless asshole. Which is actually much closer to the spirit of the original book than the Disneyfied version of Toad from this installment's previous "leg."
Griffith's pop-culture frog is no laid-back flower child, quite the contrary. In fact, he is closer to what Kierkegaard called the "frog in the swamp of life" — an oblivious person who passively allows not only his actions but his perceptions and feelings to be guided and shaped by the dominant discourse of his culture. And then polices everyone else who doesn't.
Griffith headed to San Francisco in 1970, where he gained prominence in the underground comix scene with the parodic Young Lust comic, which he then followed with other titles include Tales of Toad. Many years later, Griffith has revealed, he would realize that his father had been the inspiration for Mr. The Toad.
Griffith introduced the character Zippy in a strip titled "I Gave My Heart to a Pinhead and He Made a Fool Out of Me," in the first issue of Real Pulp Comics (1970). Although he began as a mere comic foil for Mr. The Toad, Zippy would quickly become Griffith's star character.
We may have here a pop-culture Freudian Trio — Mr. The Toad as bullying, uptight superego; Zippy as instinct-driven, unpredictable id; and the neurotic character "Griffy" (a stand-in for the artist) as the ego warped by its efforts to reconcile the demands of the other two.
*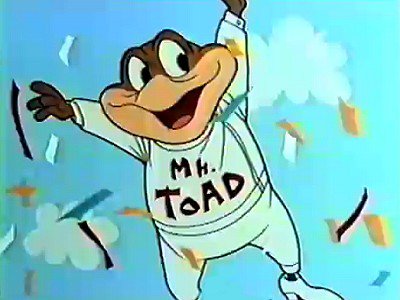 MR. TOAD (again): The Reluctant Dragon & Mr. Toad Show was a short-lived (September through December 1970) American TV show, from Rankin/Bass, based on two Kenneth Grahame characters. As mentioned above, by this point Grahame's Toad character has come to seem like a privileged asshole. They should have made Mr. Toad a groovy freak.
*
This series is about US pop-culture frogs, but it's interesting to see this example from Japan…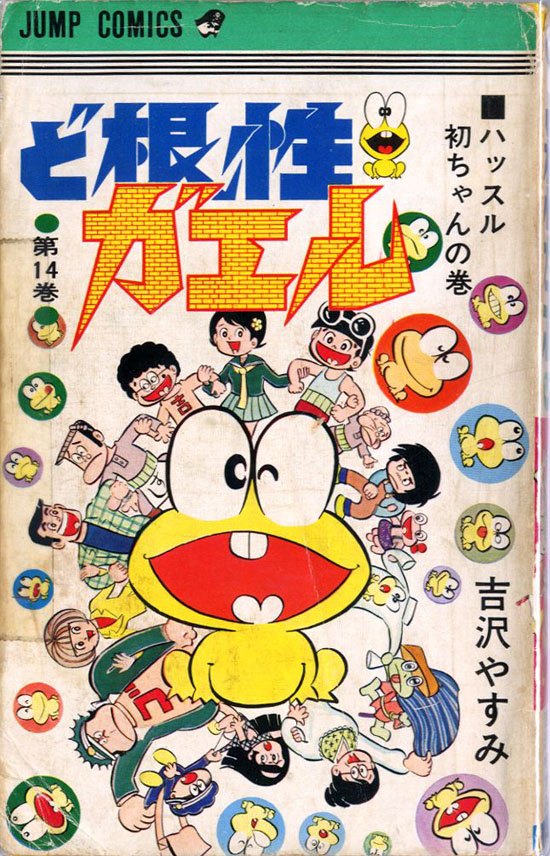 THE GUTSY FROG: Dokonjō Gaeru (The Gutsy Frog) is a comedy manga series created and illustrated by Yasumi Yoshizawa. It was serialized in Japan's weekly Shōnen Jump magazine (shown above) from July 1970 through June 1976. The titular frog lives on a t-shirt and acts as a kind of totem spirit to Hiroshi, the shirt's wearer… offering him "gutsy" encouragement.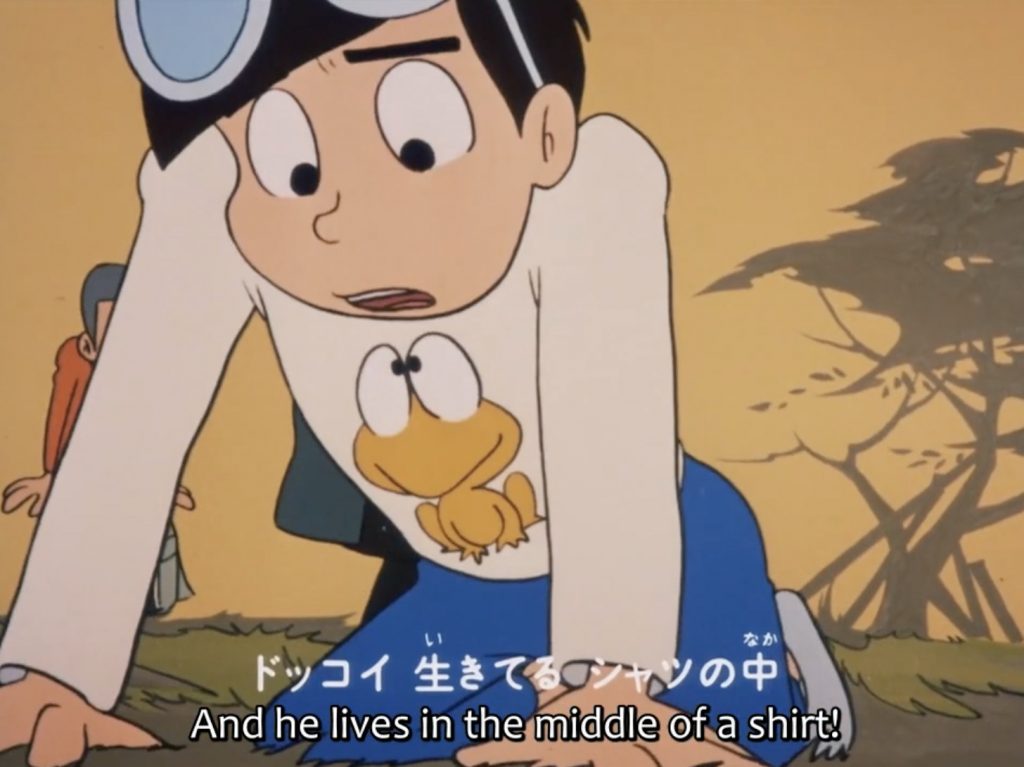 Two anime adaptations would air from 1972–1974 and 1981–1982; and there was a 1982 animated movie, too.
*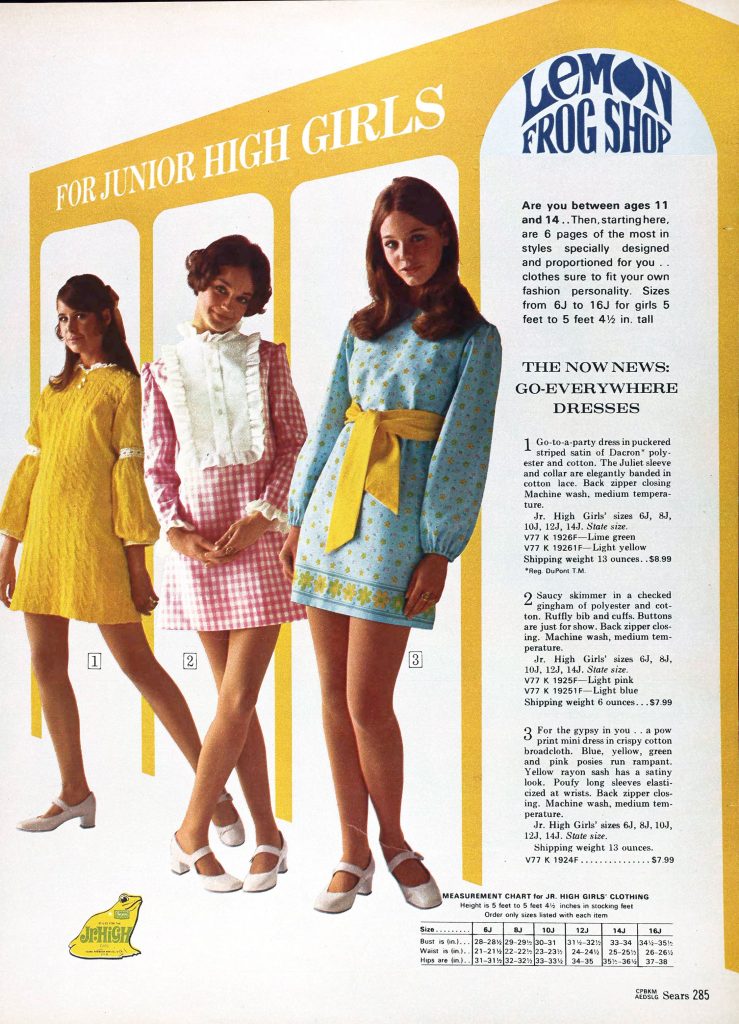 LEMON FROG: In 1970, Sears introduced a line of "now news, go everywhere" supposedly groovy clothing for adolescent girls: Lemon Frog. The typography was neo-psychedelic — pretty far-out for Sears.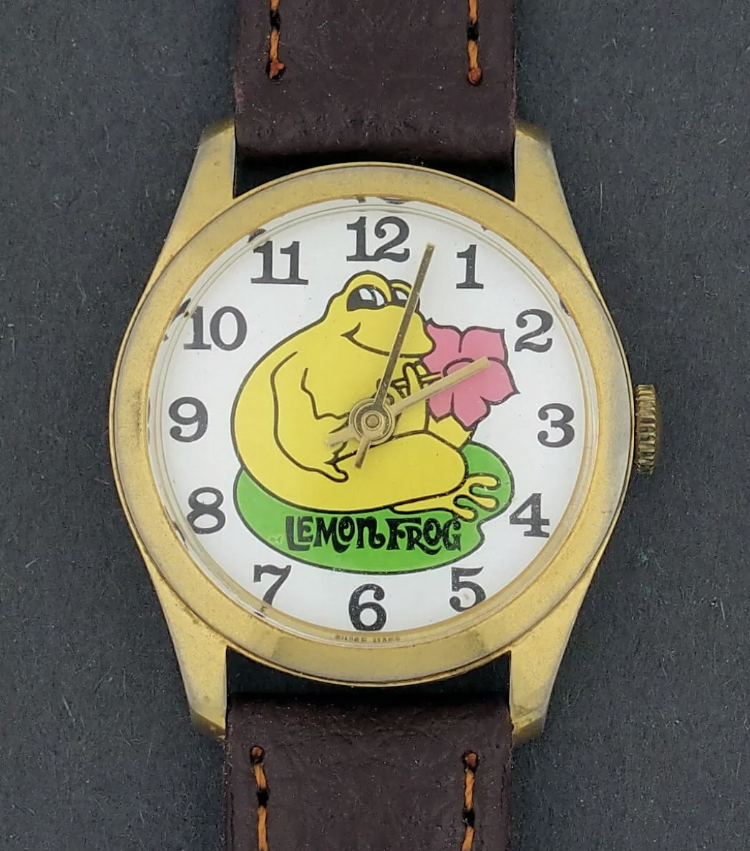 The Lemon Frog, as seen here, seems to be an Alice in Wonderland-ish Caterpillar figure, a kind of groovy guru.
*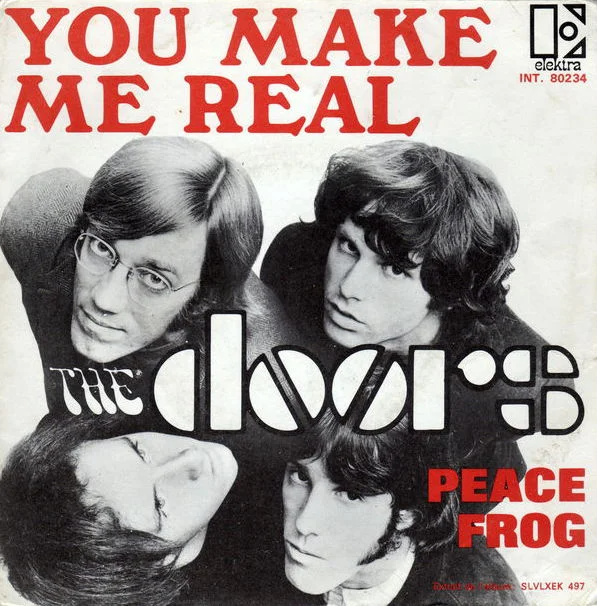 PEACE FROG: I'm not a Doors fan, but I kinda like "Peace Frog," I guess. The 1970 song appears on Morrison Hotel. Jim Morrison's lyrics — based on his poems — do not mention frogs.
Years after Morrison's death, Doors guitarist Robby Krieger — who'd written the music for the song — tried to explain the title: "I never really asked Jim about it. I think it was because of the guitar sound [sings] de-de-dep… which sounded like a croaking frog's quak-quak. I never asked Jim about his meanings or his stuff, you know, because he never answered, you know."
Sample lyrics:
Blood in the streets
In the town of New Haven
Blood stains the roofs
And the palm trees of Venice

Blood in my love
In the terrible summer
Bloody red sun of
Fantastic L.A.
Ironically, this apocalyptic song's title has inspired in recent years a sappy, kitschy Sixties-ish merch mill.
*
JEREMIAH: "Joy to the World" is a song written by Hoyt Axton and made famous by Three Dog Night. The song, which is about peace and love, is also known by its opening lyric, "Jeremiah was a bullfrog." Three Dog Night released the song on their album Naturally in 1970, and subsequently released an edited version of the song as a single in 1971.
Sample lyrics:
If I were the king of the world
Tell you what I'd do
I'd throw away the cars and the bars and the wars
And make sweet love to you

Joy to the world
All the boys and girls
Joy to the fishes in the deep blue sea
Joy to you and me
The song was No. 1 on the charts for six straight weeks in 1971, making it the top hit of the year. When I was in elementary school a few years later, we were required to sing this in Music class. (I'm guessing they bowdlerized the lyrics? I can't recall.) The song had become a classic almost overnight.
*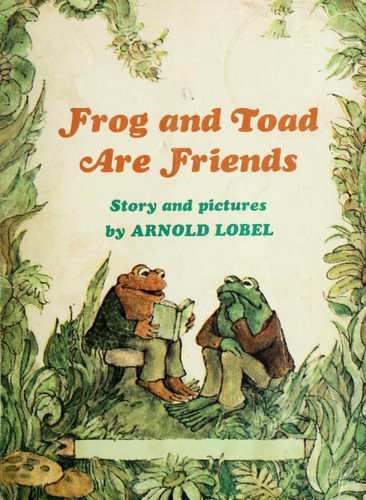 FROG AND TOAD: Arnold Lobel, a gentle soul with an endearingly timid drawing style, published the enduringly popular Frog and Toad Are Friends in 1970. Lobel would claim that "Frog and Toad are really two aspects of myself" — the adventurous, sometimes overbearing Frog and the bumbling, sweet-natured Toad. In a sense, Lobel is giving us both the bumptious frog of 1904–1933 and the gentle, free-spirit frog (in this case, toad) of 1964–1983. What's so special about these books is the yin/yang admixture of the two.
Lobel came out as gay in 1974. His daughter later speculated that the intimate friendship between the two male characters may have been a projection of what the closeted Lobel wanted for himself. But who knows for sure?
Also by Lobel: Frog and Toad Together (1972), Frog and Toad All Year (1976), Days with Frog and Toad (1979).
*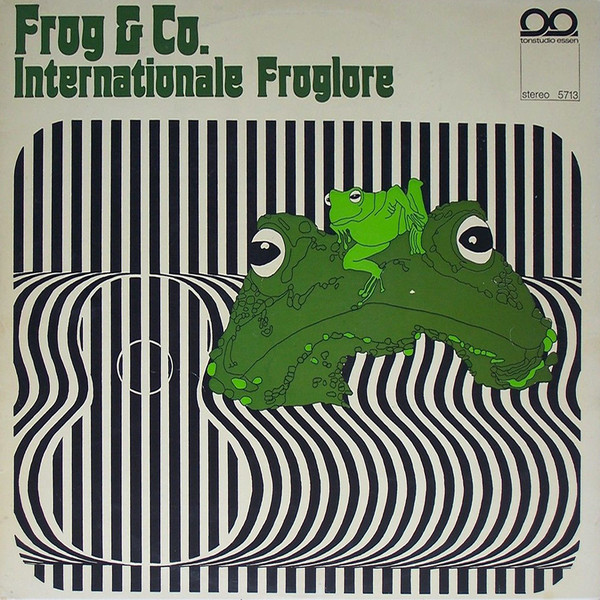 *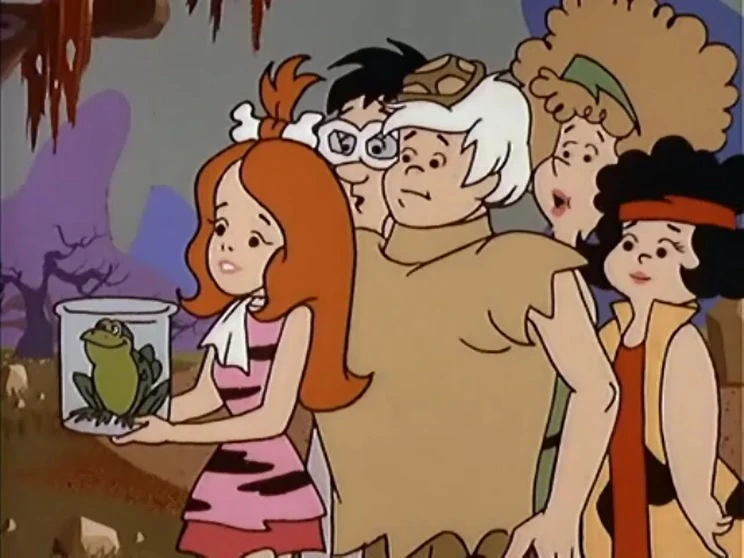 "Frog for a Day" is the third episode of The Pebbles and Bamm-Bamm Show, a spin-off of the original series, The Flintstones. It aired on September 25, 1971. In an attempt to learn about witchcraft, Pebbles accidentally turns Barney into a frog, requiring the help of an actual witch to turn him back into a human.
*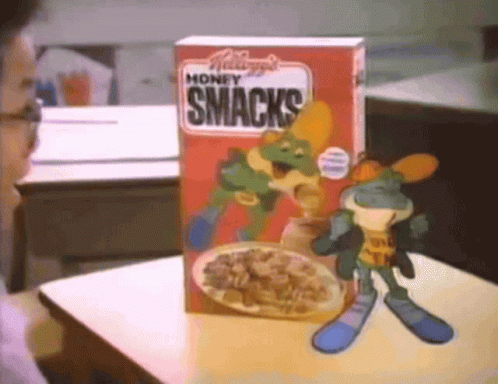 DIG'EM: In 1972, Kellogg's introduced Dig'Em as the mascot for their Sugar Smacks cereal — which in the early 1980s would be renamed Honey Smacks. Dig'Em, a fun-loving frog wearing a baseball cap, was created by James Mackey, a former Executive Art Director at Leo Burnett.
The name Dig'Em is clever — since it evokes a frog's chirrup, suggests digging into a bowl of cereal, and also references Sixties slang. However, I see Dig'Em as a throwback to the rapscallion-frog meme of the Fifties. Dig'Em himself appears to be the sort of mischievous boy who (as we saw in this series installment's previous "leg") was often depicted consorting with pet frogs. This type of recursive creativity is what passes for genius on Madison Avenue.
*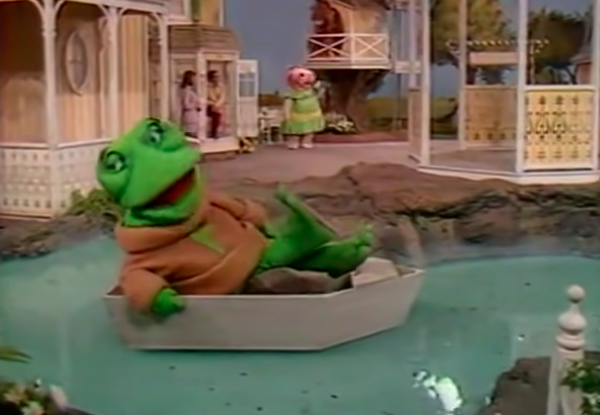 FREDDIE THE FROG: New Zoo Revue is an half-hour children's TV show that originally ran from 1972 to 1977. Freddie the Frog was one of three costumed humanoid animal characters. Voiced by Joni Robbins, Freddie is a child-like innocent — a throwback, I'd say, to Hoppity Hooper (see top of post).
*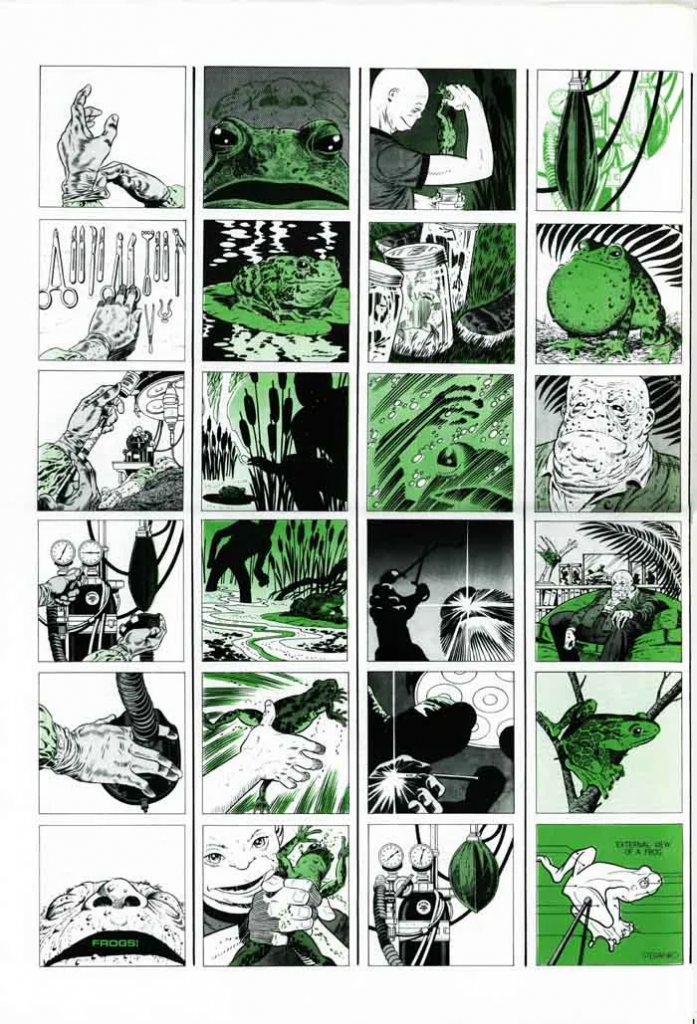 Originally published in COMIXSCENE #3 in April 1973, Frogs is an experiment in storytelling, in which legendary comic book creator Jim Steranko sets out 48 identically-sized panels. The reader is required to choose their own pattern of reading. "It's not a comic," Steranko would explain later. "Frogs was a cognitive experiment that took the traditional comicbook panel element across a cognitive threshold it had never crossed previously: a true, interactive, experiential collaboration between the artist and the user, where the latter decided on what story to tell by determining how it would be told."
A very fitting coda to this section on the Sixties. Thanks, HILOBROW pal Adam McGovern for the Steranko tip.
THE SEVENTIES (1974–1983)
During the Seventies, we begin to see a flattening-out, if you will, of the countercultural pop-culture frog. Pop-culture frogs go from being anti-careerist and living-in-the-moment to just being… supine, lazy. And they go from being free-love propagandists fighting an uptight Puritanical culture to just being… horny. It's still a mode of free-spiritedness, but it's less innocent and idealistic… more louche and wised-up.
*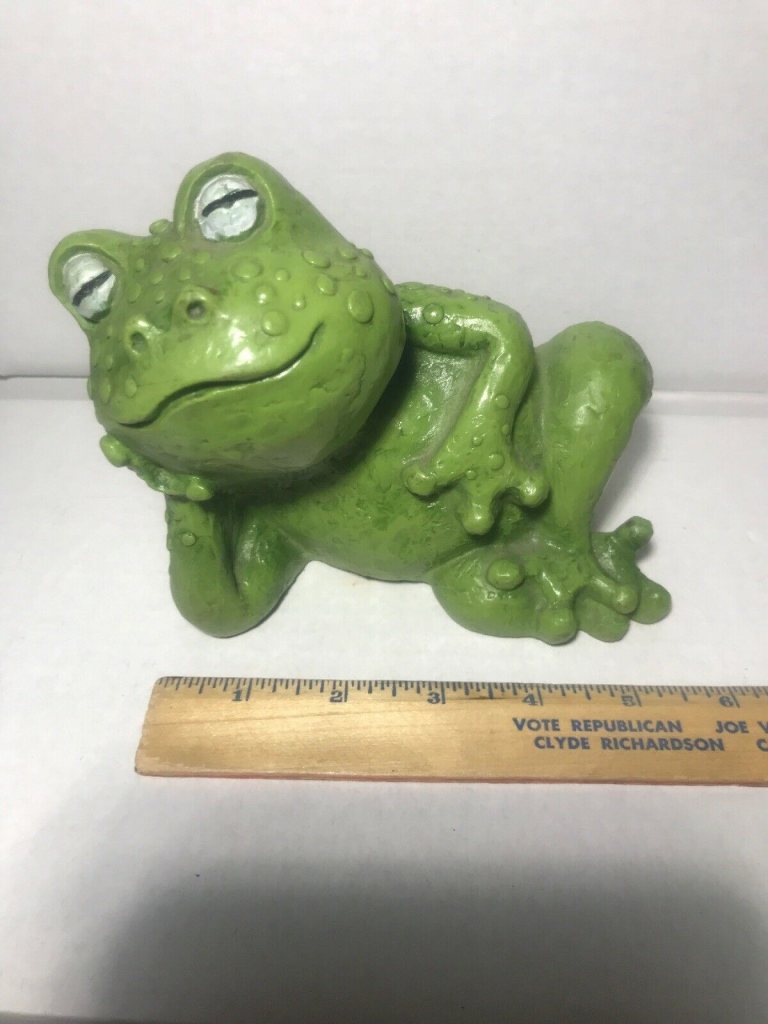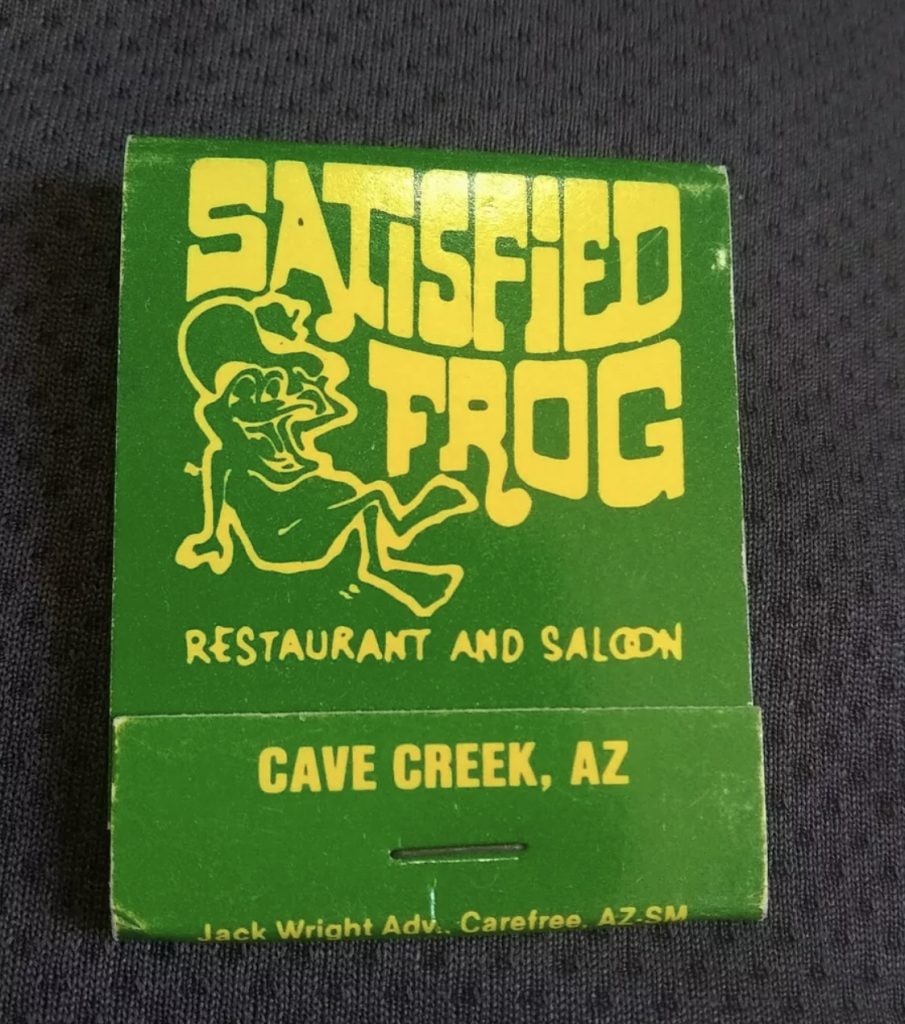 As we can see from the 1974 coin bank, and undated (but I'm guessing c. 1974) matchbook shown here, the louche frog meme is still going strong in the Seventies.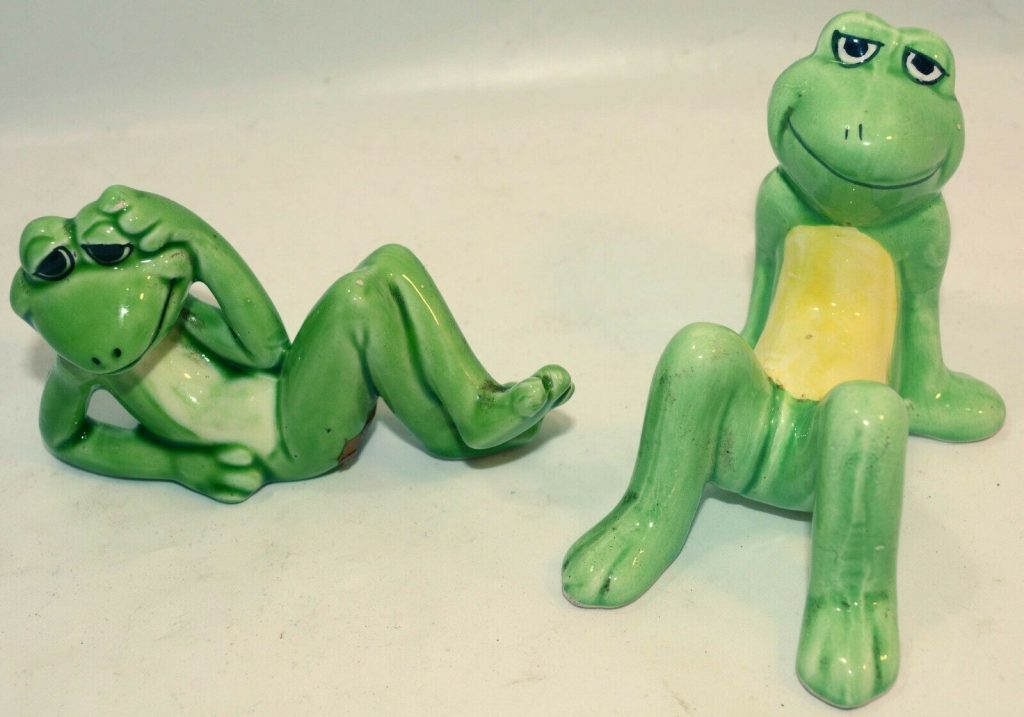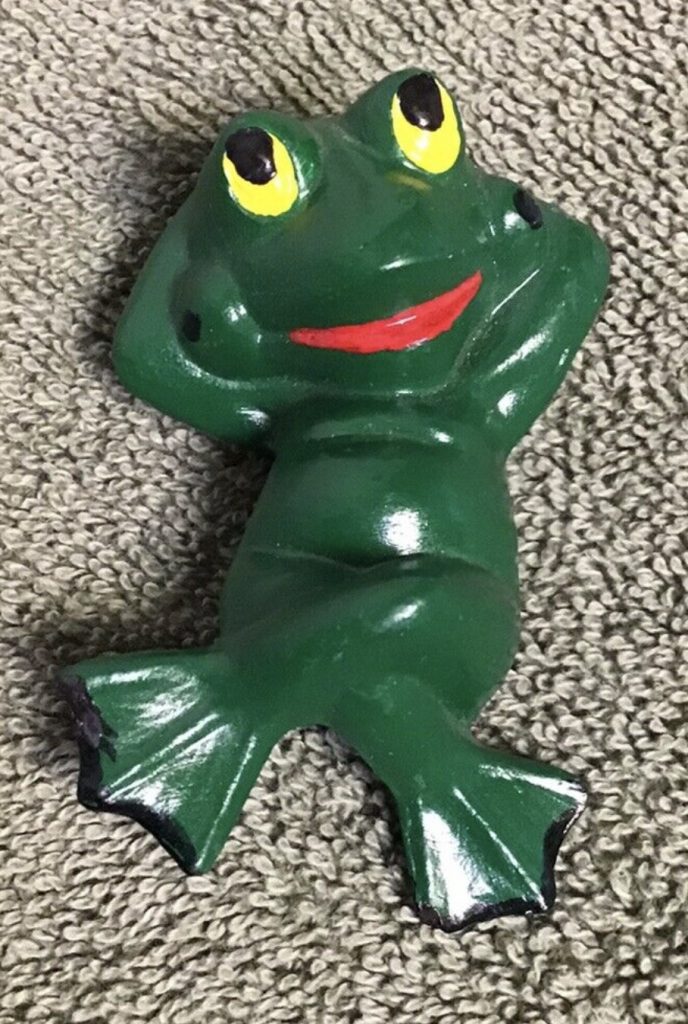 One doesn't really get a flower-child vibe from these Seventies lounging frogs.
*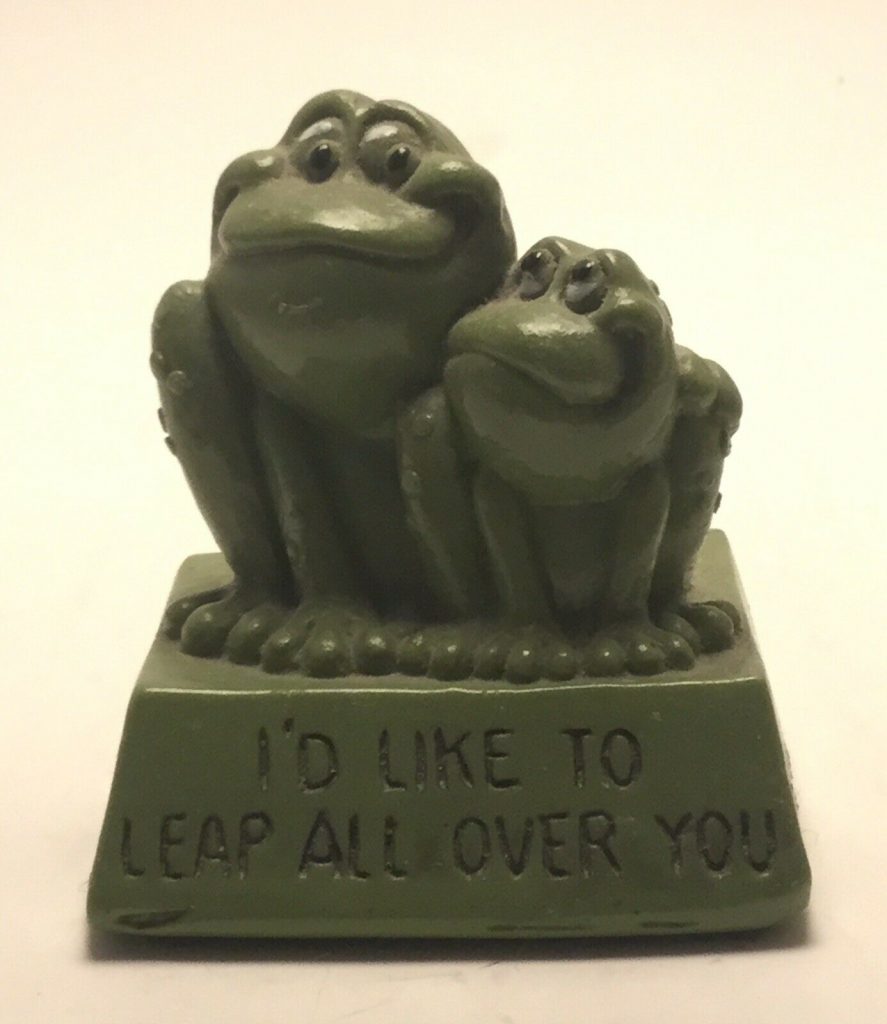 Speaking of lifestyle, although frogs have for centuries been depicted as amorous creatures (see footnote in this series installment's first "leg"), during the Seventies there is a sharp uptick in "horny" frog kitsch. More examples below.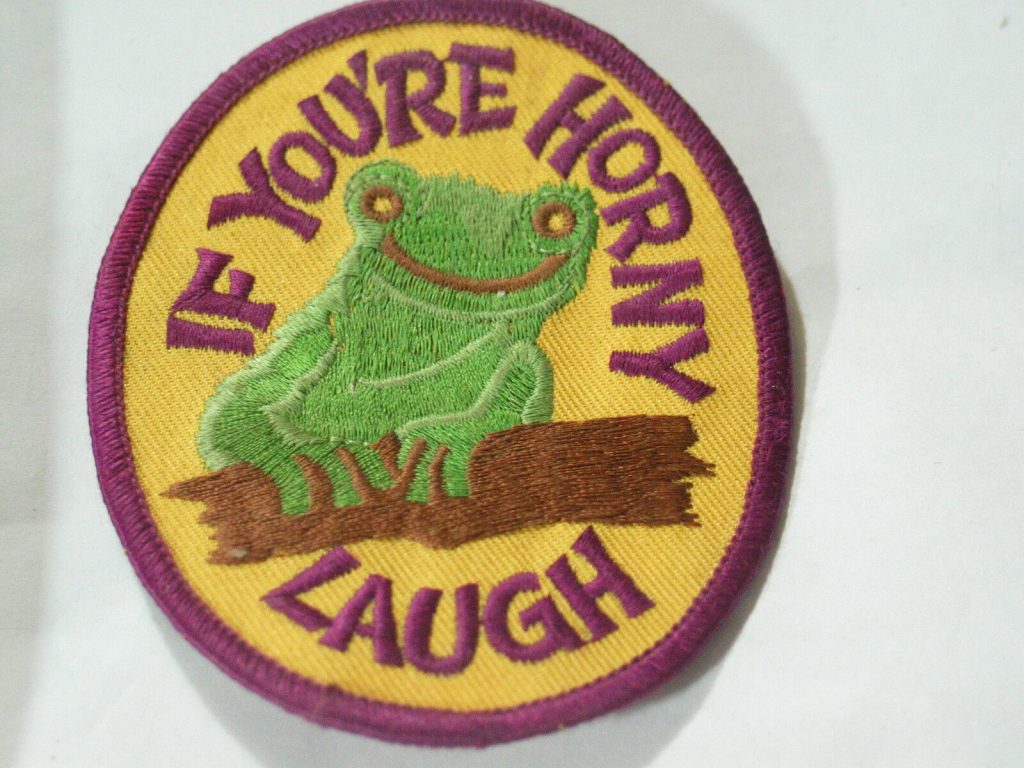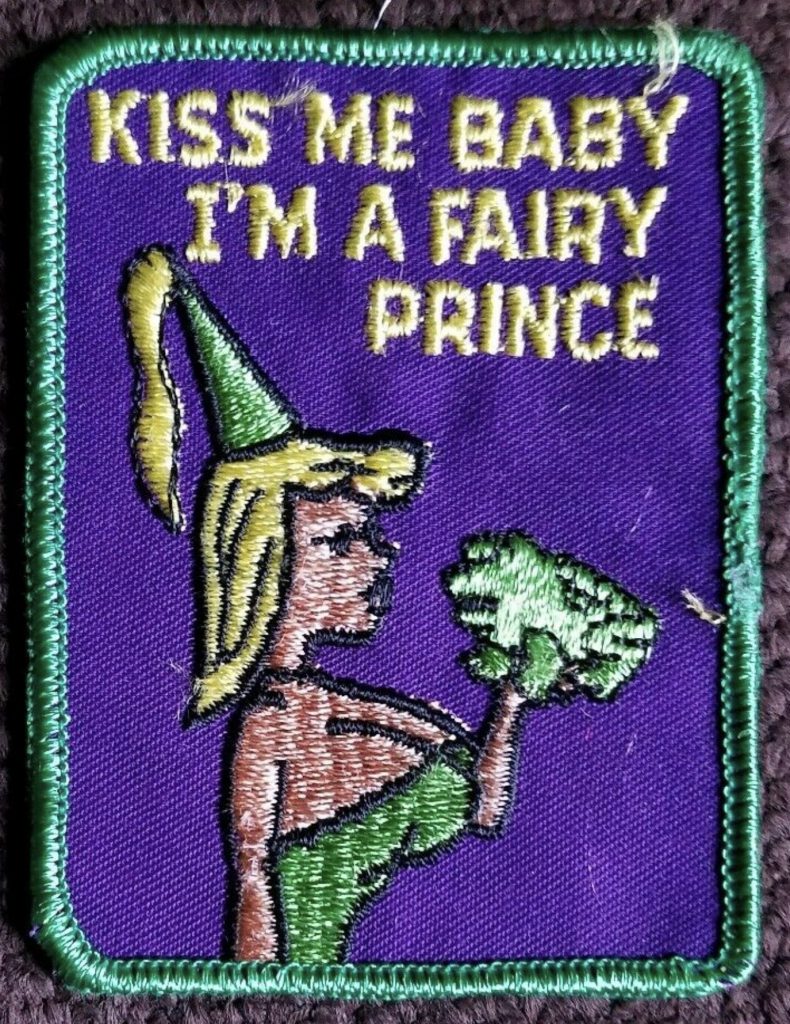 Patches advertising one's horniness — in a supposedly fun way — were ubiquitous during the Seventies.
*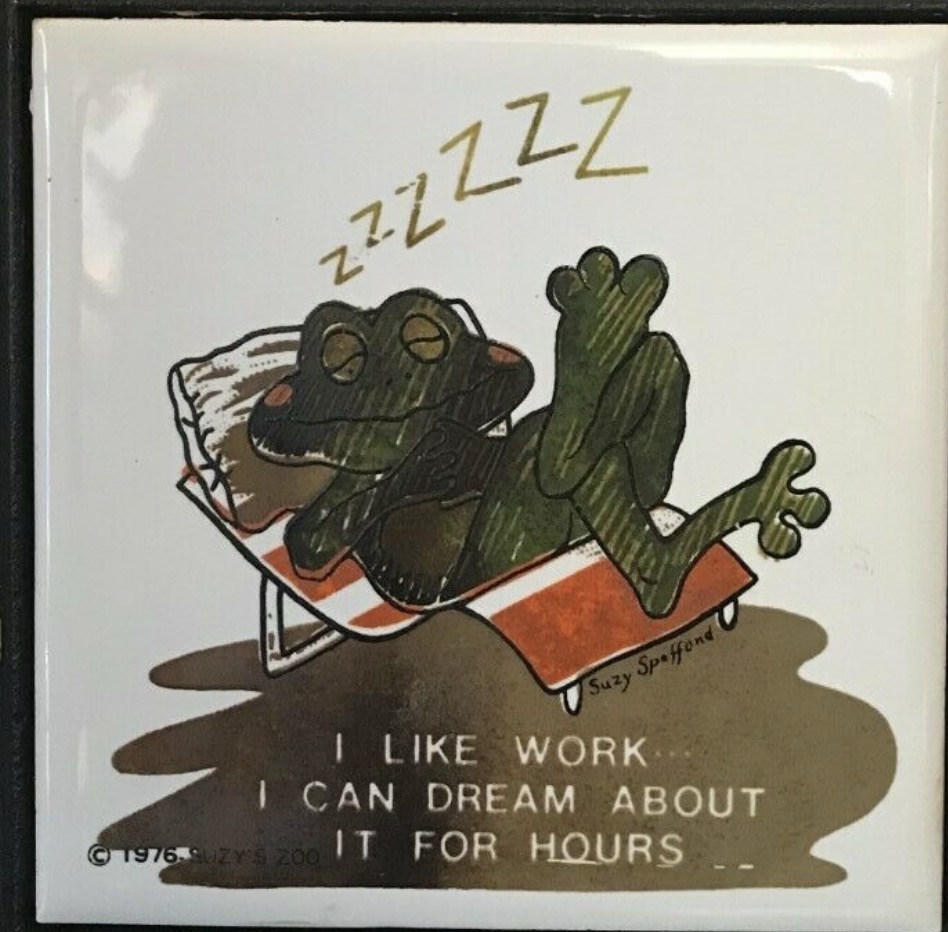 NEIL THE FROG: Sears — a barometer of when an emergent trend is middlebrow-ized, rendered edgeless and quirky — jumped on the laid-back frog lifestyle meme, c. 1976, with Neil the Frog. Here's a video that dives into the world of Neil the Frog collectibles.
PS: This woman says, "We all know about the Merry Mushrooms." I didn't!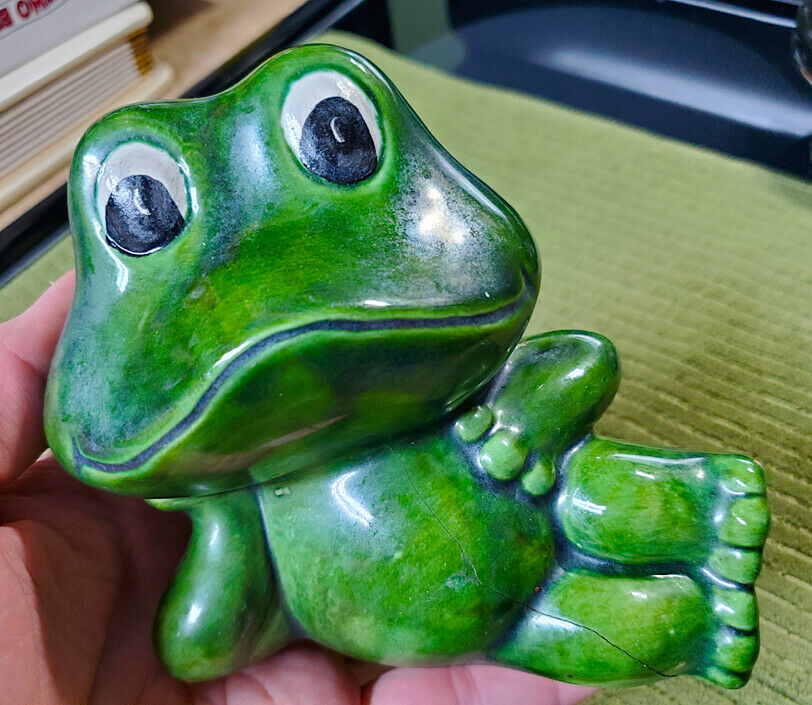 *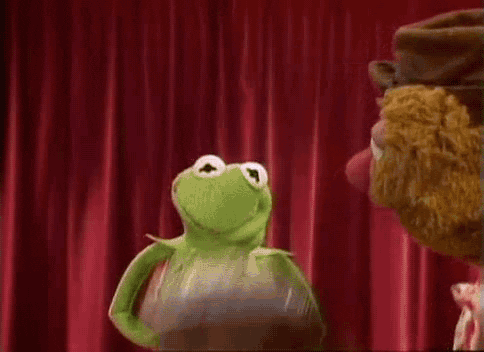 And what about Kermit, during the Seventies? He owned the era.
In 1974 and 1975, Jim Henson would produce pilot episodes — The Muppets Valentine Show, The Muppet Show: Sex and Violence — for a primetime comedy show featuring his Muppets. He was finally able to sell the conept, and The Muppet Show would run from 1976–1981 — there would be 120 episodes in all.
Kermit, in this meta-textual showcase, was the showrunner of a vaudeville theater — struggling to put on a live show each week. Locations were behind the scenes: e.g., backstage right, the dressing rooms, the canteen, the prop room, the recording studio, and the back alley. Major movie and music stars and veteran showbiz personalities appeared as special guests: Steve Martin, Rita Moreno, Dom DeLuise, Ethel Merman, Elton John, Diana Ross, Linda Ronstadt, John Denver…. The show won the 1978 Emmy for Outstanding Comedy-Variety or Music Series.
*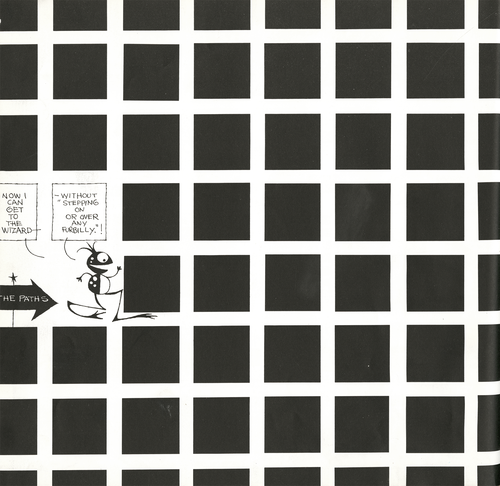 The Wizard of Op is an extraordinary, difficult-to-find 1975 book by Ed Emberley in which a prince-turned-into-a-frog is put through a series of optical-illusion experiences by the titular wizard. See pages here.
*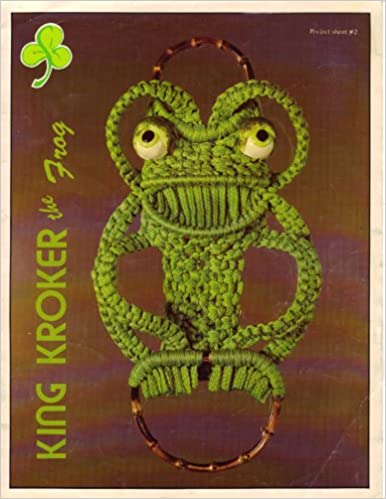 *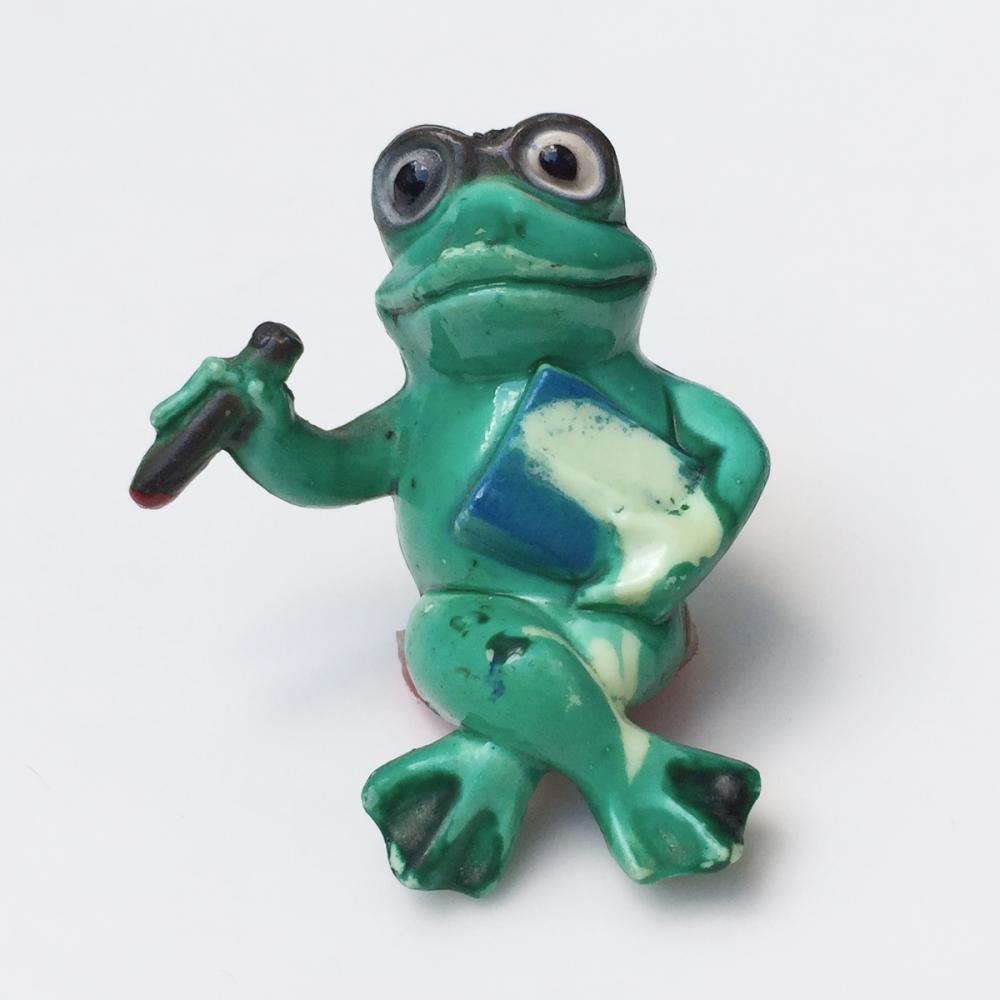 I can relate to this 1979 frog figurine.
*
The success of The Muppet Show led to The Muppet Movie (1979), which opens with Kermit (voiced by Henson) singing "Rainbow Connection" — which was written for the movie by Paul Williams and Kenneth Ascher.
"Rainbow Connection" was a hit — it reached No. 25 on the Billboard Hot 100 in November 1979, and remained in the Top 40 for seven weeks. Williams and Ascher received Oscar nominations for Best Original Song. Here are sample lyrics:
"Rainbows are visions,
But only illusions,
And rainbows have nothing to hide."
So we've been told, and some choose to believe it,
But I know they're wrong, wait and see.
Someday we'll find it,
The Rainbow Connection,
The lovers, the dreamers, and me…
Kermit would reprise the song on The Muppet Show in 1980 as a duet with Debbie Harry. The song would also be covered by everyone from Judy Collins, The Carpenters, and Willie Nelson (on his 2001 album Rainbow Connection) to — in 2021 — Barbara Streisand.
Appearing at the apex of the Seventies, "The Rainbow Connection" is a gentle, free-spirited anthem. It also seems to be just about the last gasp — except for E.T., see below — of the free-spirited frog meme.
*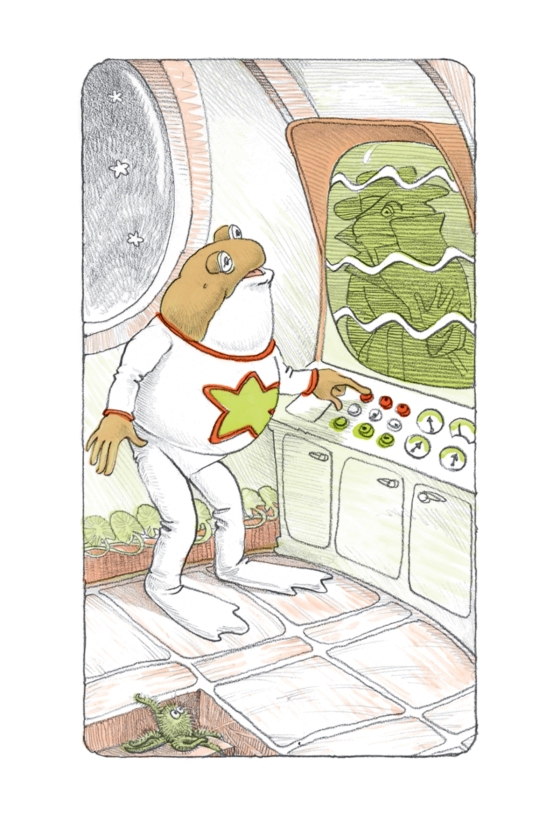 COMMANDER TOAD: Commander Toad is a series of children's books by Jane Yolen, published from 1980–1998. The series is a parody of science fiction TV shows and movies; characters include Jake Skyjumper, Deep Wader, and Star Warts, the name of Commander Toad's ship. Though parodic, this series signals the onset of an emergent bad-ass frog paradigm that we'll see become dominant in this series installment's next "leg."
*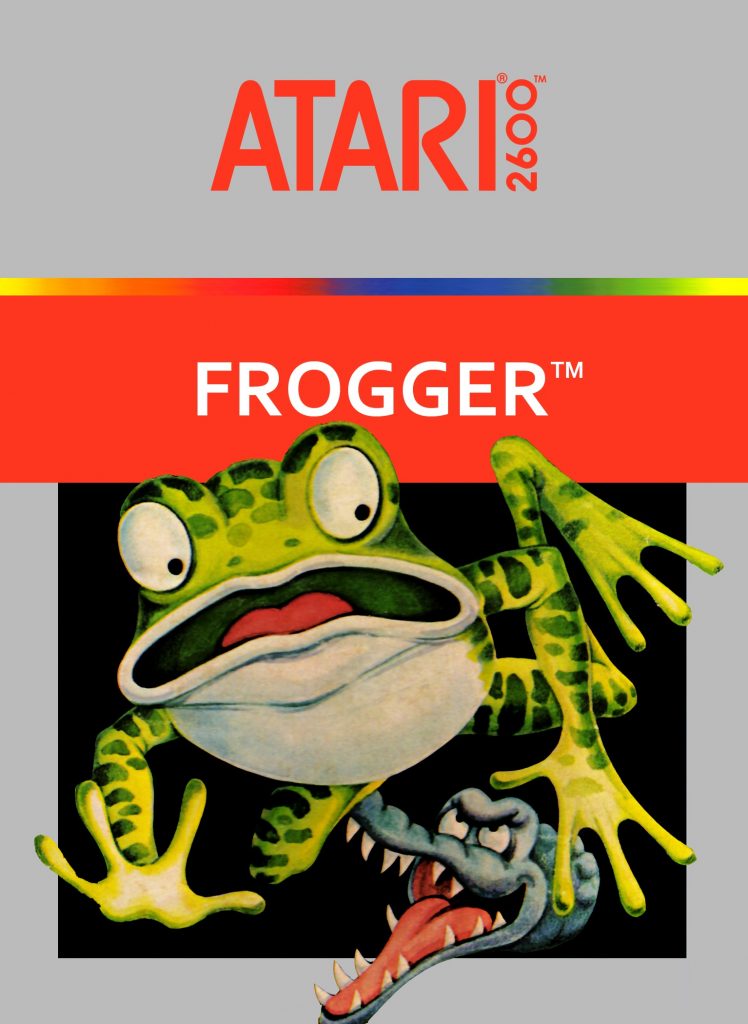 FROGGER: Frogger (フロッガー) is a 1981 arcade game created by Konami and manufactured by Sega. The player directs each frog to its home by crossing a busy road and navigating a hazardous river. Hailed as one of the greatest video games ever made, Frogger gives us a pop-culture frog who isn't a free spirit — but instead, a sort of action hero. Another prevision of the Eighties and Nineties frog paradigm.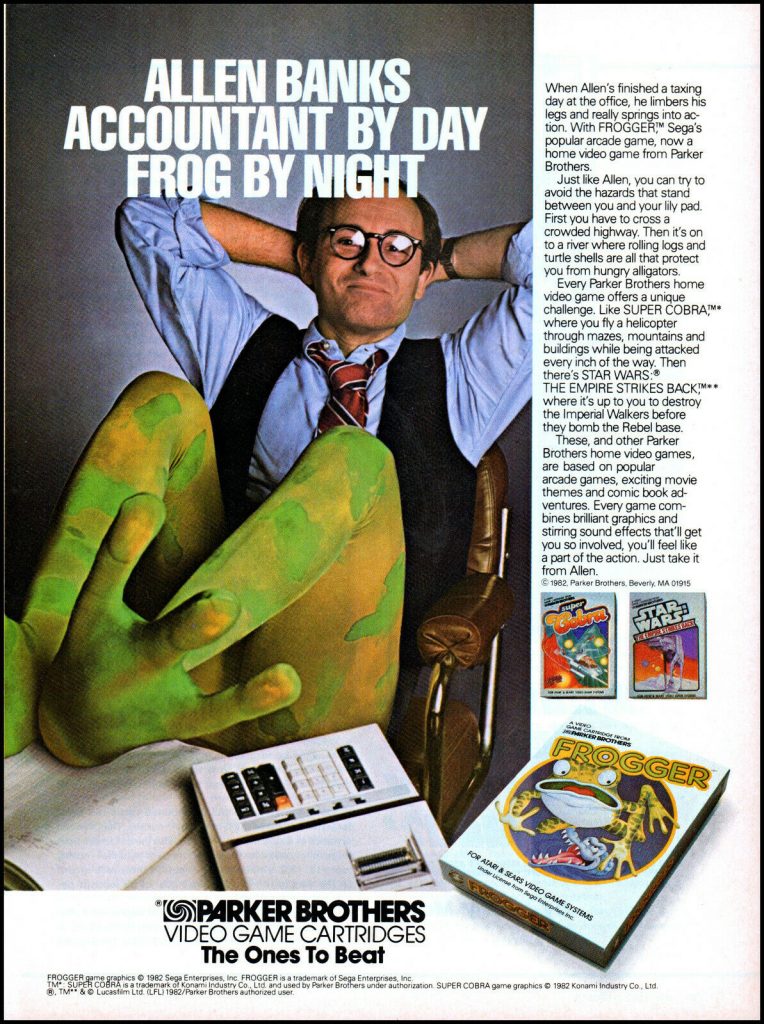 Even a desk jockey can aspire to be a Frogger-style action hero.
*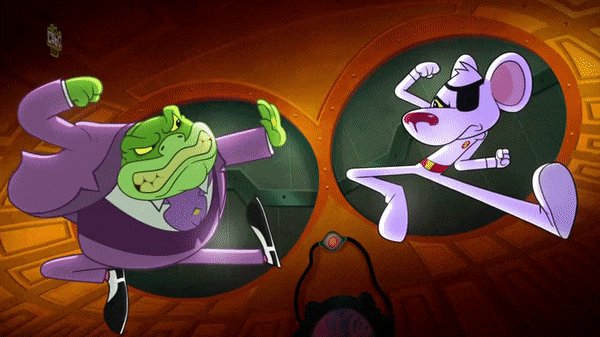 Danger Mouse, a British animated TV series that parodies British spy fiction, originally ran from September 1981 through March 1992. The recurring villain, and Danger Mouse's archenemy, is the toad Baron Silas Greenback. Grahame's Toad character has now become villainous….
*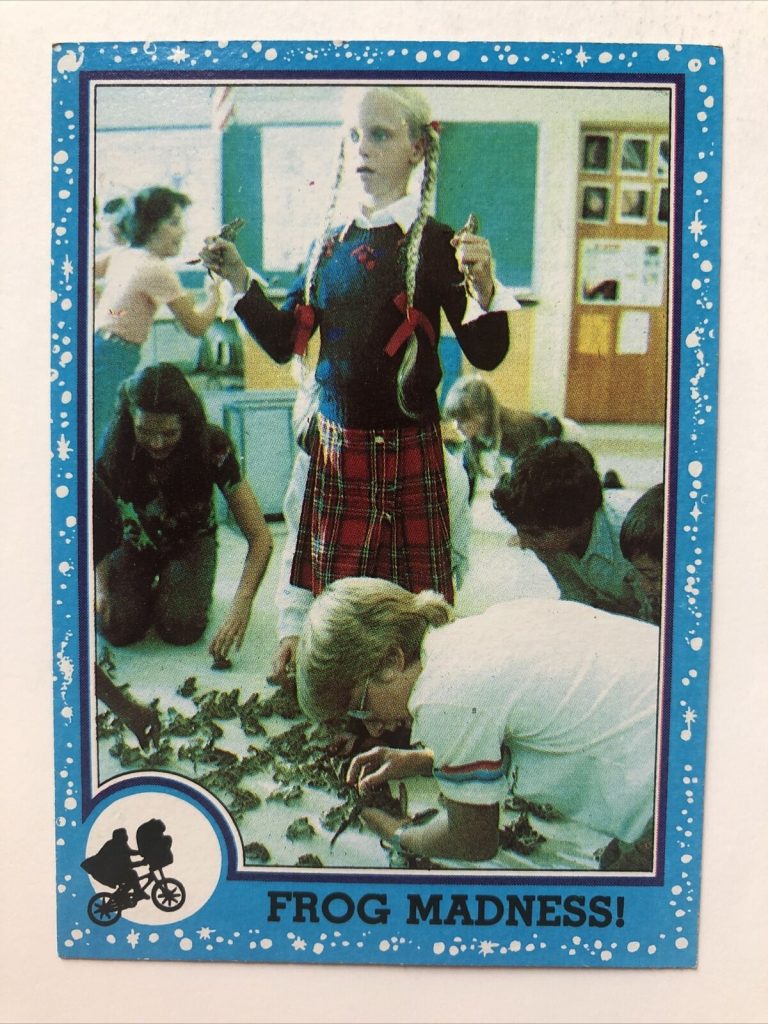 E.T.: Steven Spielberg's 1982 sci-fi movie E.T. the Extra-Terrestrial was a blockbuster, surpassing Star Wars to become the highest-grossing film of all time — a record it held for eleven years until Spielberg made Jurassic Park.
The titular alien, a gentle botanist from elsewhere in the galaxy who accidentally is left behind on Earth, is a frog-like figure —  discovered, by a young boy, Elliott (Henry Thomas) and smuggled into the family's home. Spielberg (born 1946), like so many Boomer creatives, is foisting a Fifties-era meme on us, here: E.T. is a kind of rebellious frog, who causes chaos.
In case the meme wasn't clear enough, one of the movie's best-beloved scenes takes place in a classroom — where shortly after the teacher explains that the frog hearts will still be beating as the students dissect them, Elliott rescues the frogs from their impending doom by setting them free.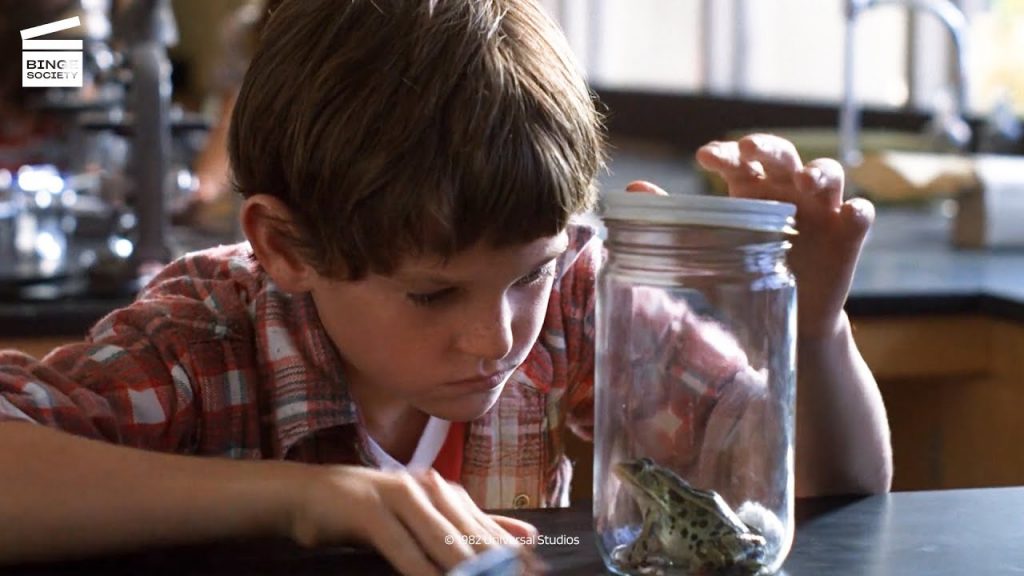 The feds seeking out E.T. in order to imprison and study him = the teacher who wants to kill frogs in order to see how they live. See the DISSECTED FROGS footnote to this series installment's first "leg."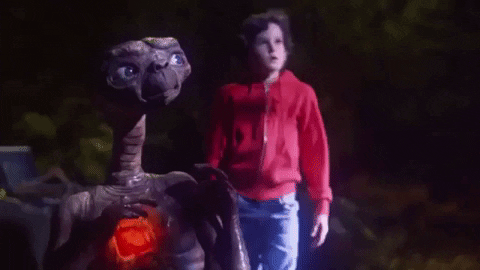 Of course, E.T. is also a free spirit — an avatar of gentleness, love, understanding, empathy. He is, perhaps, the last free-spirit frog.
****
NEXT LEG: 1984–2003.
****
INTRODUCTION by Matthew Battles: Animals come to us "as messengers and promises." Of what? | Matthew Battles on RHINO: Today's map of the rhinoceros is broken. | Josh Glenn on OWL: Why are we overawed by the owl? | Stephanie Burt on SEA ANEMONE: Unable to settle down more than once. | James Hannaham on CINDER WORM: They're prey; that puts them on our side. | Matthew Battles on PENGUIN: They come from over the horizon. | Mandy Keifetz on FLEA: Nobler than highest of angels. | Adrienne Crew on GOAT: Is it any wonder that they're G.O.A.T. ? | Lucy Sante on CAPYBARA: Let us gather under their banner. | Annie Nocenti on CROW: Mostly, they give me the side-eye. | Alix Lambert on ANIMAL: Spirit animal of a generation. | Jessamyn West on HYRAX: The original shoegaze mammal. | Josh Glenn on BEAVER: Busy as a beaver ~ Eager beaver ~ Beaver patrol. | Adam McGovern on FIREFLY: I would know it was my birthday / when…. | Heather Kapplow on SHREW: You cannot tame us. | Chris Spurgeon on ALBATROSS: No such thing as a lesser one. | Charlie Mitchell on JACKALOPE: This is no coney. | Vanessa Berry on PLATYPUS: Leathery bills leading the plunge. | Tom Nealon on PANDA: An icon's inner carnivore reawakens. | Josh Glenn on FROG: Bumptious ~ Rapscallion ~ Free spirit ~ Palimpsest. | Josh Glenn on MOUSE.