HADRON AGE SF (9)
By: Joshua Glenn
March 1, 2022
One in a series of posts about the 75 best sf adventures published during the genre's Hadron Age era (from 2004–2023, according to HILOBROW's periodization schema). For Josh Glenn's Hadron Age Sci-Fi 75 list (a work in progress), click here.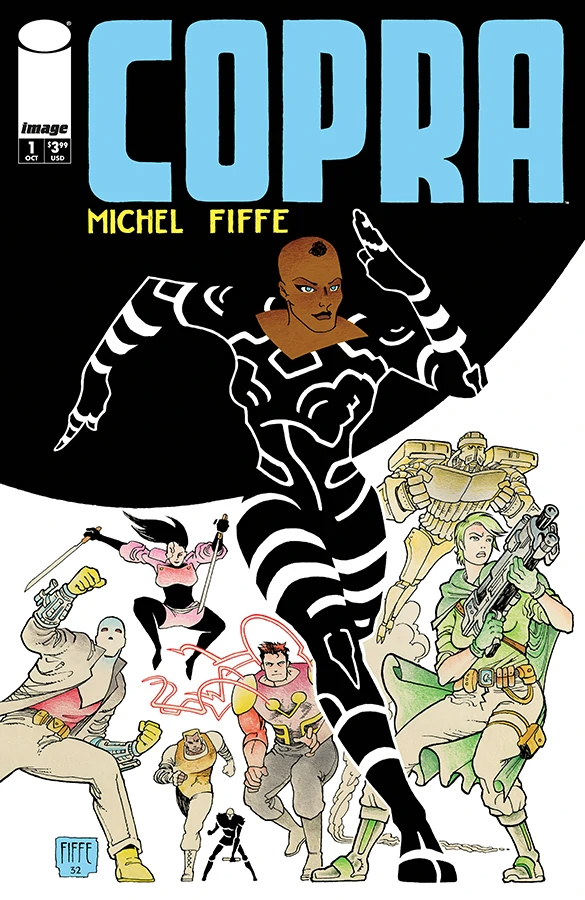 Michel Fiffe's COPRA (serialized 2012 – ongoing).
The sf action comic COPRA began as an homage to John Ostrander's 1987–1992 run on DC's Suicide Squad; the titular crew of super-powered (or just badass) mercenaries were — prior to the events of the first issue — deployed on impossible missions by a shadowy government agency. The homage is explicit: COPRA's Lloyd, for example, has the same costume and abilities as the Suicide Squad's marksman Floyd Lawton, aka Deadshot. Sharp-eyed readers will also spot versions of old-school DC supervillains Count Vertigo, Captain Boomerang, and Dr. Light, not to mention the Suicide Squad's handler, Amanda. Versions of Steve Ditko's Shade the Changing Man, as well as Ditko's Dr. Strange — imported from the Marvel universe — show up, too. But COPRA is much more than fanfic. It's a fast-paced, violent, sometimes gory tale of revenge and redemption that is written, drawn, colored, published, packaged, and shipped by the creator himself… who, back in 2012, embarked on a mission impossible of his own, when he committed to serializing a monthly, 24-page, full-color action comic. Fiffe did so, he's said, in order to break the "Kirby barrier" — that is to say, to produce so much, and so quickly, that the resulting work is eccentric, utterly unself-conscious, and even at times visionary. "I really wanted to develop different ways of drawing violence, of pacing a fight scene, of rendering the relationship from one object to another in a way that had nothing to do with the way those kind of comics are being drawn now," Fiffe has said. He has succeeded: Each page of COPRA — which, in its first few issues, introduces us to a motley crew of characters (some of whom are truly bizarre figures, though no one seems to notice), a multidimensional network, a political power struggle back in our own world, and a superweapon — is a trip!
Fun facts: COPRA began as a self-published series, and was then briefly published by Image Comics… but it has since returned to being self-published. You can support Fiffe's ongoing efforts via Patreon.
***
JOSH GLENN'S *BEST ADVENTURES* LISTS: BEST 250 ADVENTURES OF THE 20TH CENTURY | 100 BEST OUGHTS ADVENTURES | 100 BEST RADIUM AGE (PROTO-)SCI-FI ADVENTURES | 100 BEST TEENS ADVENTURES | 100 BEST TWENTIES ADVENTURES | 100 BEST THIRTIES ADVENTURES | 75 BEST GOLDEN AGE SCI-FI ADVENTURES | 100 BEST FORTIES ADVENTURES | 100 BEST FIFTIES ADVENTURES | 100 BEST SIXTIES ADVENTURES | 75 BEST NEW WAVE SCI FI ADVENTURES | 100 BEST SEVENTIES ADVENTURES | 100 BEST EIGHTIES ADVENTURES | 75 BEST DIAMOND AGE SCI-FI ADVENTURES | 100 BEST NINETIES ADVENTURES | 75 BEST HADRON AGE SCI-FI ADVENTURES.