BESTIARY (19B)
By: Joshua Glenn
January 10, 2022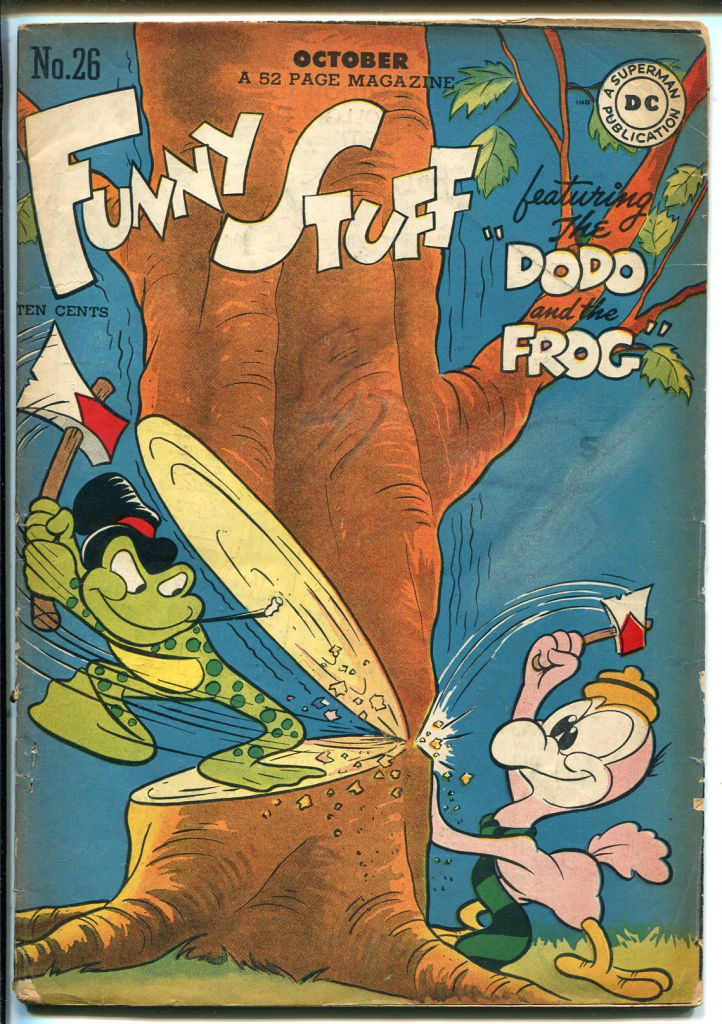 One in a series of posts — curated by Matthew Battles — the ultimate goal of which is a high-lowbrow bestiary. This particular installment is in four parts.
FROG
All "legs" of this BESTIARY installment: 1904–1933: BUMPTIOUS FROG | 1934–1963: RAPSCALLION FROG | 1964–1983: FREE-SPIRIT FROG | 1984–2003: PALIMPSEST FROG.
---
1934–1963
RAPSCALLION
---
From the Thirties through the Fifties, the pop-culture frog transitions (slowly, at first, then with increasing pace) from being a symbolic representation of pride, vanity, egotism, too-much-selfness, to being a symbolic representation of… entropy, anarchy, chaos, too-much-wilfulness.
THE THIRTIES (1934–1943)
We don't find as many bumptious pop-culture frogs, during the Thirties, as we do in this installment's previous "leg" — and those that we do find tend to be holdovers (or imitations) of earlier franchises, particularly Kenneth Grahame's Mr. Toad. We can see the bumptious pop-culture frog meme passing from dominant to residual… though, as in any diachronic study, it's always a messy process.
Meanwhile, the rapscallion-frog meme begins to poke its snout above the surface during the Thirties. The bullying bullfrog in The Frog Pond cartoon disrupts a harmonious social order, for example; however, he doesn't do so out of a sense of sheer mischief and anarchic playfulness… so he's not exactly a rapscallion. But see my notes on Rackham's Wind in the Willows artwork, below.
*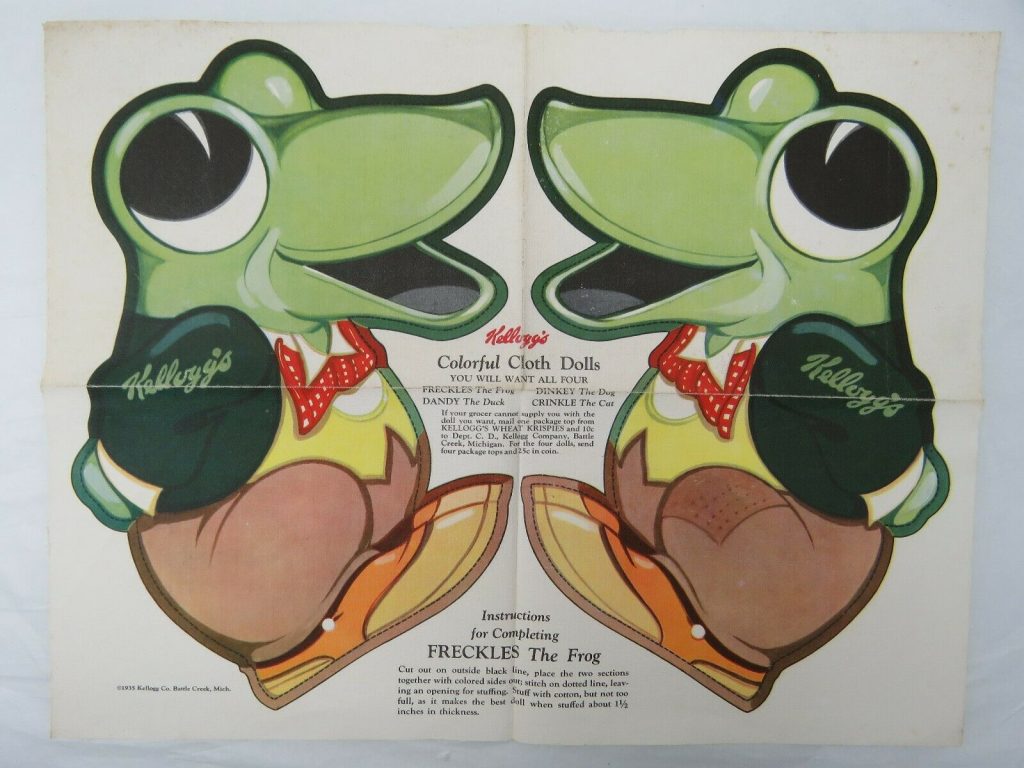 FRECKLES THE FROG: From 1932–1936, Kellogg's issued sew-and-stuff-it-yourself oil-cloth dolls (that one sent away for, with box tops) in the likenesses of Crinkle Cat, Dinky Dog, Dandy Duck, and Freckles the Frog. Freckles, as we can see, is a nattily dressed frog. A holdover, then, from the 1904–1933 era.
*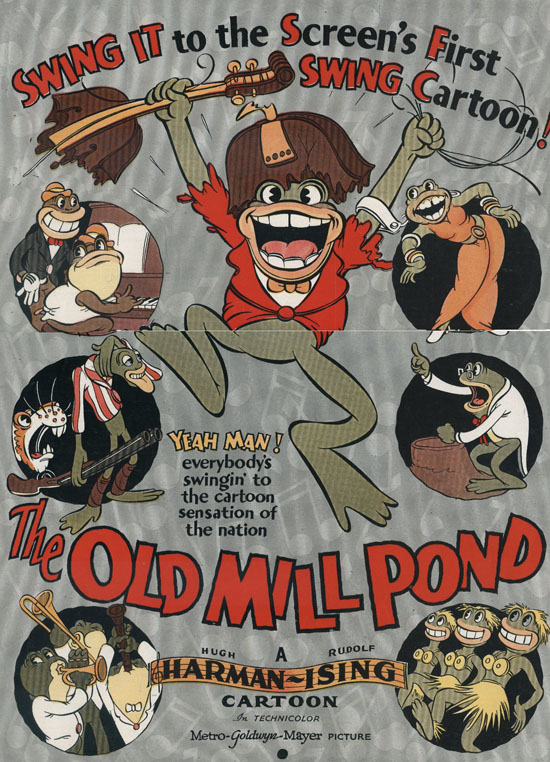 See the MUSICAL FROGS footnote, in the first "leg" in this installment, for discussion of the 1936 cartoon The Old Mill Pond. The performers are caricatures of Cab Calloway, Fats Waller, Bill "Bojangles" Robinson, Louis Armstrong, Stepin Fetchit, Ethel Waters and The Mills Brothers.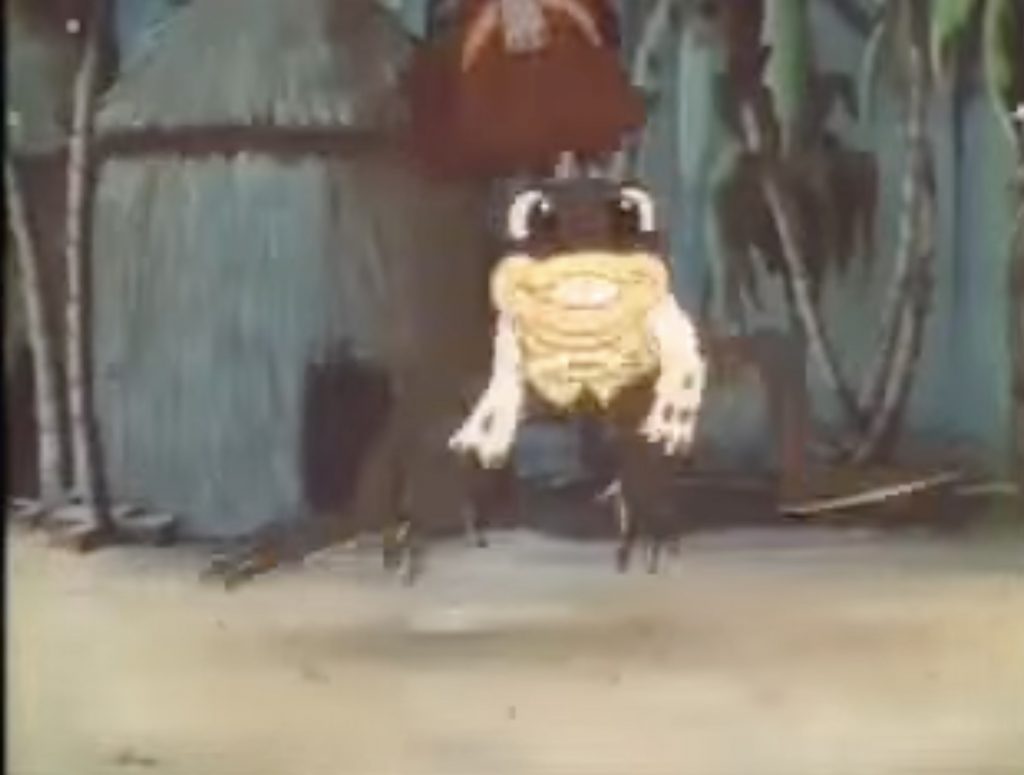 The frog driven mad by the crazy beats, who smashes his instrument at the end and frightens off the spectators, is a rapscallion of sorts…
*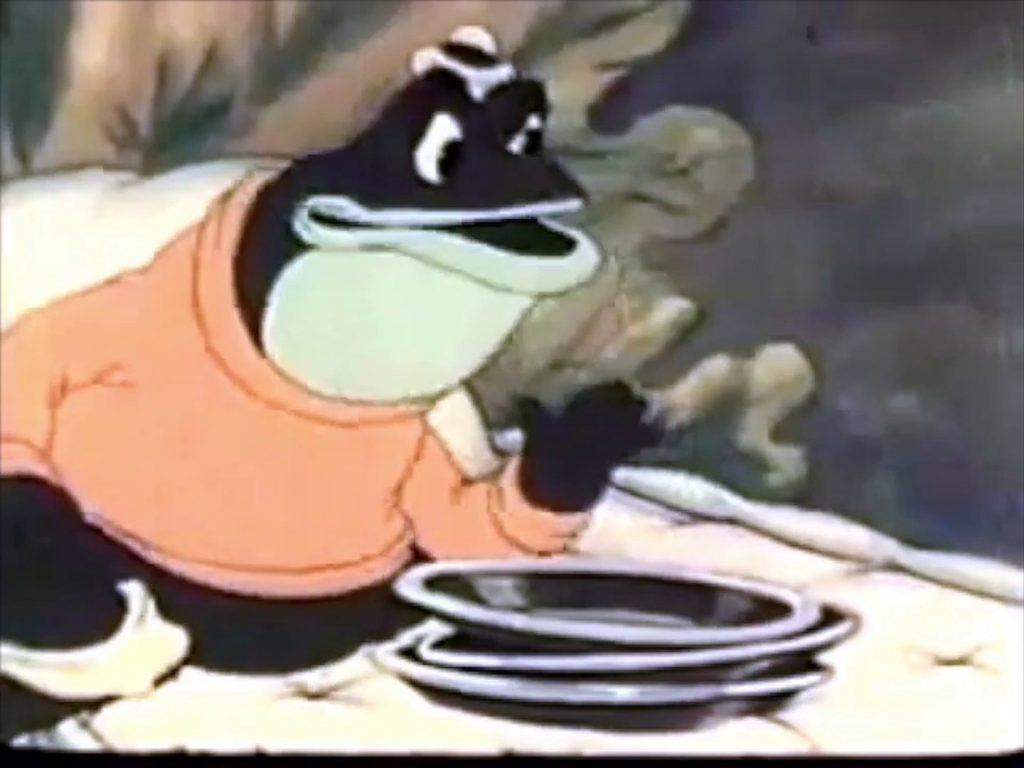 In the 1938 Ub Iwerks cartoon The Frog Pond, the tranquility of a community of singing and dancing frogs is upset when an aggressive bully shows up and takes over.
One of several Color Rhapsody cartoons made by Iwerks for Columbia/Charles Mintz studio, it starts off as an example of the musical frog meme (see MUSICAL FROGS footnote in this installment's first "leg") but turns into a timely warning about gangsterish dictators. I wouldn't call it an example of the bumptious frog or the rapscallion; instead — as with the 1942 Color Rhapsody cartoon "Song of Victory," discussed in another BESTIARY post — it's an Aesopian fable about a community pulling together against a despot.
PS: Also see Hyotan suzume, a 1959 cartoon about a community of anthropomorphic frogs that exists peacefully until it is discovered by violent foreigners. Directed by Ryuichi Yokoyama.
*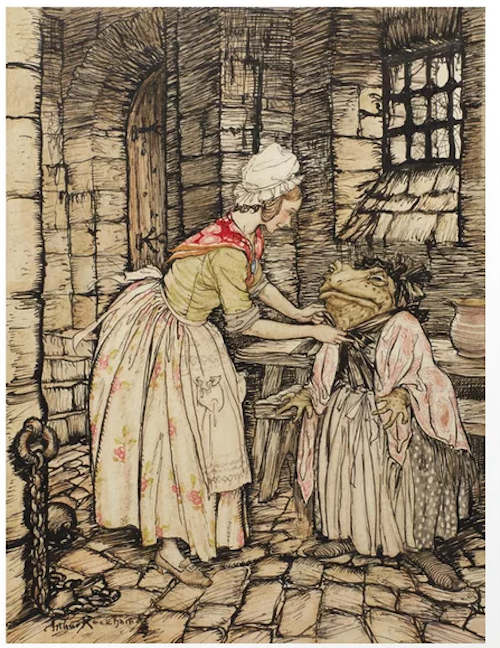 Kenneth Grahame's Toad character (introduced in this installment's first "leg") continues to exert an influence. In an edition of The Wind in the Willows illustrated by Arthur Rackham, which was issued after the artist's death in in 1940, we find not the puffed-up, nattily dressed Toad of the Teens and Twenties, but the rapscallion Toad who sports various disguises when on the run.
*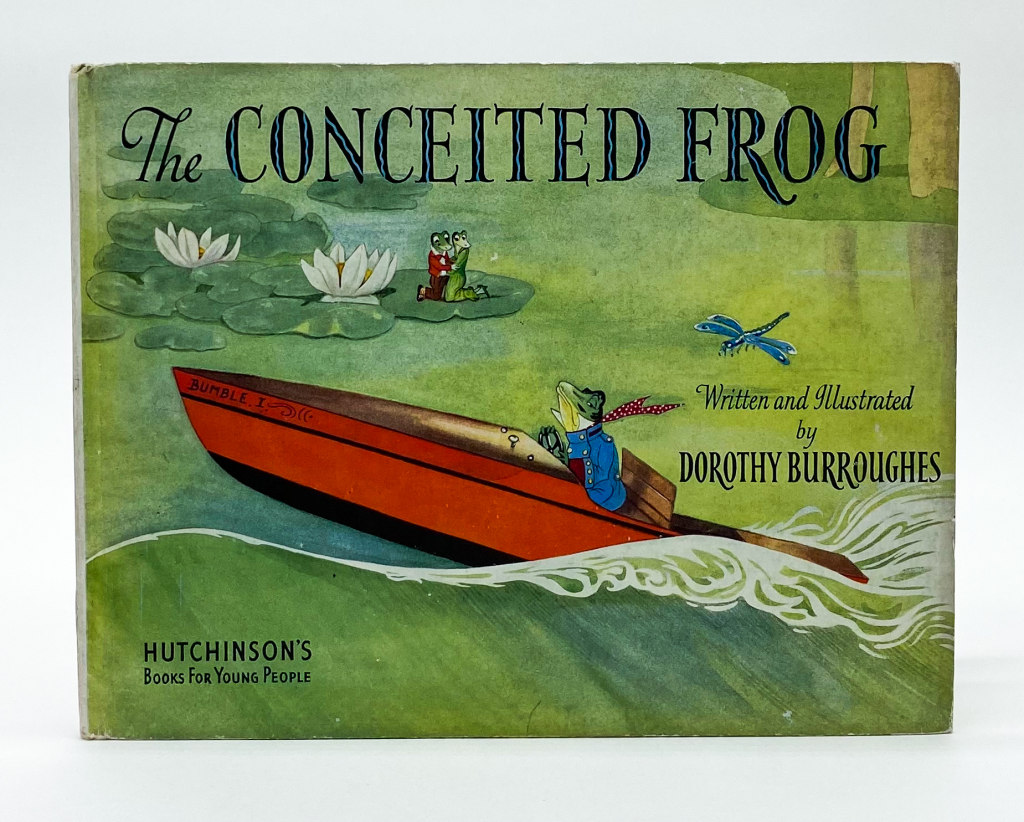 I'm interested in Dorothy Burroughes, and am curious about her books — including Jack Rabbit, Detective (1931), The Odd Little Girl (1932), and The Pigs who Sailed Away (1944). Here we see a Toad-like frog making a nuisance of himself — disrupting the peaceful order of things. He is, that is to say, not only bumptious but also a rapscallion.
*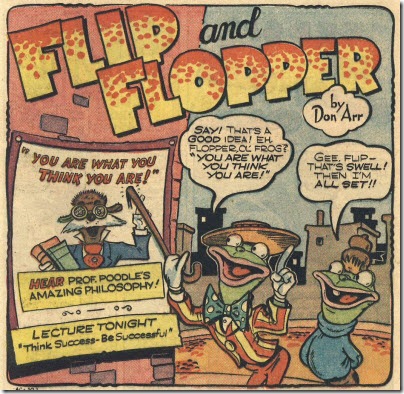 Splash panel to "Flip and Flopper" by Don Arr (Don R. Christensen) from Coo Coo comics #27. Rapscallion alert.
THE FORTIES (1944–1953)
---
The rapscallion frog meme is emergent during the Forties, and will become dominant in the Fifties.
*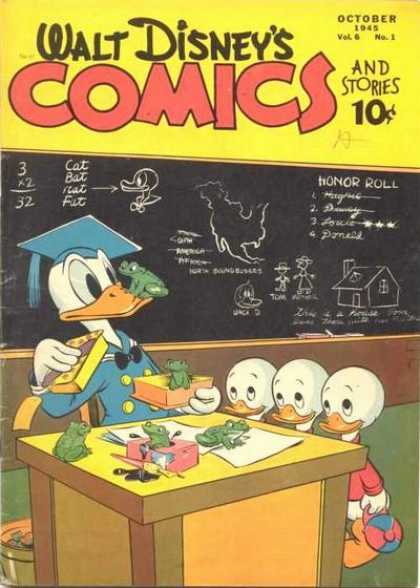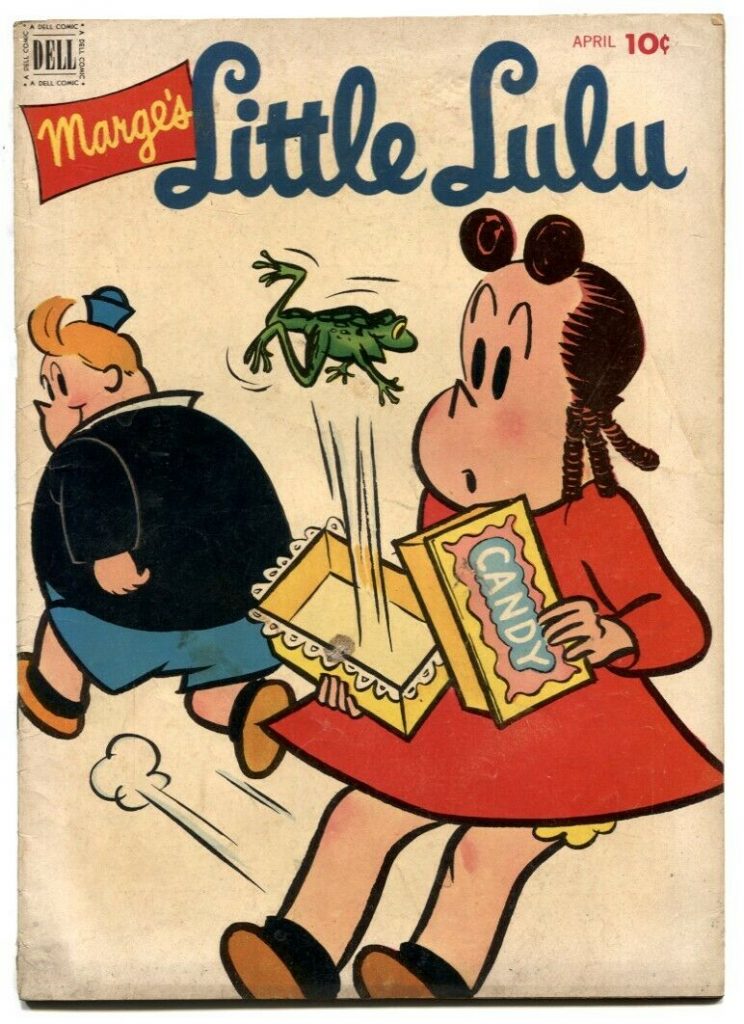 The (usually non-anthropomorphized) frog who — thanks to a mischievous child — disrupts a classroom, library, or some other space occupied by children but governed by adults, begins to show up frequently during the Forties. One assumes that this is an older meme — after all, the mischievous protagonist of Twain's Tom Sawyer boasts that "I play with frogs so much that I've always got considerable many warts." But my top-line research didn't turn up any depictions of classroom-disrupting frogs before this point.
I wonder if the popularity of this meme — and the mischievous suburban boy meme, e.g., Hank Ketcham's Dennis the Menace comic strip (or, for that matter, the UK strip of the same title that also premiered in 1951) — near the end of and immediately following WWII was some sort of response to anxiety about suburban American boys being "feminized" or otherwise malformed because they weren't able to roam freely in nature, a la Tom Sawyer and Huck Finn?
See TV Tropes on the All-American Boy trope, and related tropes such as Babysitter's Nightmare, Brats With Slingshots, Hates Baths, Real Men Hate Affection, Soap Punishment, etc.
The trope Boys Like Creepy Critters is particularly pertinent. Dennis the Menace, for example, has a pet frog that he smuggles with him. (Calvin, of Calvin & Hobbes, will explain that he seeks frogs because "I must obey the inscrutable exhortations of my soul.") Bart Simpson, in one early episode, has a frog in his pants called Bart Jr. — a penis joke.
In a way, these impish children — beginning with Dennis in 1951 — are rapscallion frogs in human form, mischievously spreading chaos.
*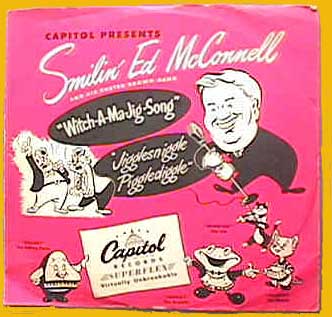 FROGGY THE GREMLIN: Froggy the Gremlin was created by radio host Smilin' Ed McConnell in the 1940s, then brought to TV in the 1950s on the Smilin' Ed's Gang show (and later Andy's Gang TV show, hosted by Andy Devine — see clip here). Froggy — glimpsed at the bottom center of the image above — is a rapscallion who plays practical jokes and disrupts the presentations of Smilin' Ed's guests. His catchphrase is: "Hiya, kids! Hiya hiya hiya hiya!"
PS: I recommend Kim Deitch's book The Search for Smilin' Ed.
PPS: Adam McGovern's encounter with Froggy the Gremlin (in the 1970s) via the Friday-night horror-movie host The Ghoul helps us understand the (ironic) afterlife of this once-iconic character.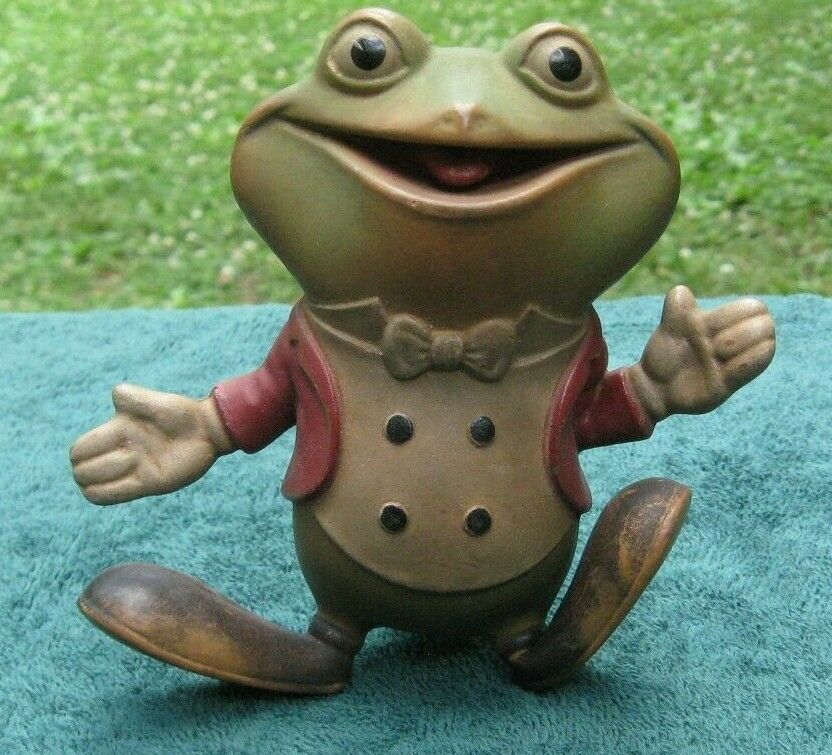 *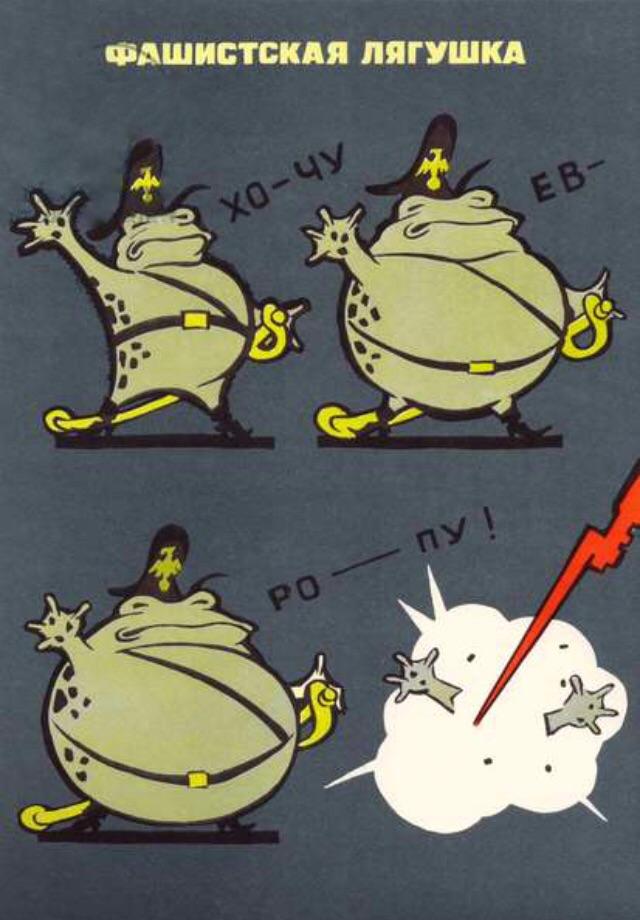 This Soviet Russia propaganda poster hearkens back to the WWI-era anti-Kaiser Wilhelm propaganda we saw in this installment's first "leg."
*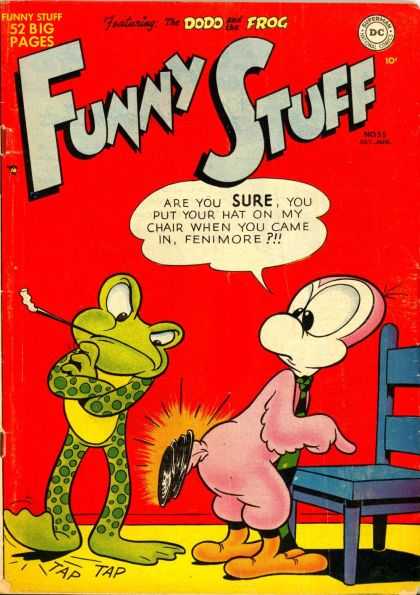 FENNIMORE FROG: Dunbar Dodo and Fennimore Frog made their first appearance in the February 1947 issue of DC's Funny Stuff. The duo — Dunbar was a fool; Fennimore was a straight man forever trying to take advantage of Dodo, but constantly being hoist by his own petard — would be on every Funny Stuff cover.*
Though he is a spiffy dresser like bumptious frogs we've seen from the past, Fennimore is a rapscallion — a prankster, trickster, con artist — not an example of bumptiousness.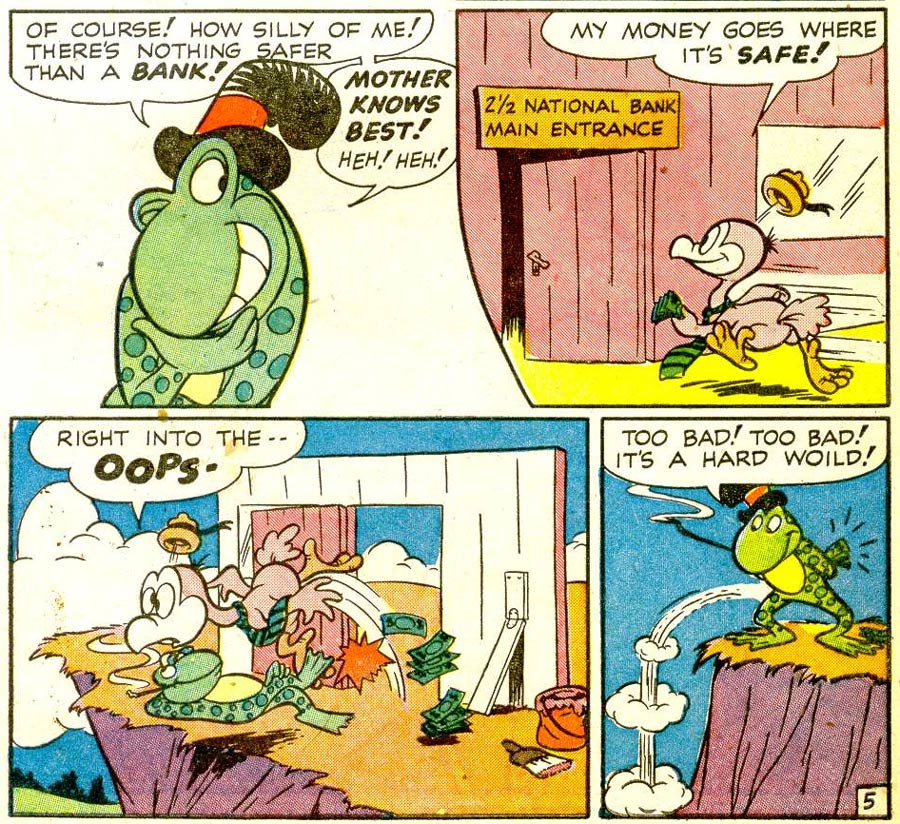 Fun fact: In 1982, Fennimore would be turned into a Godzilla-like monster for the silly DC comic Captain Carrot. Also, at the end of the February 2019 Teen Titans Go! episode "Nostalgia is Not a Substitute for an Actual Story," a parody of the Ubu Productions logo is seen, but with a frog wearing a top hat and the text reading "Fennimore Frog Productions."
* They also appeared in the title Comic Cavalcade. From October 1954 through its demise in November 1957, Funny Stuff was retitled The Dodo & the Frog.
*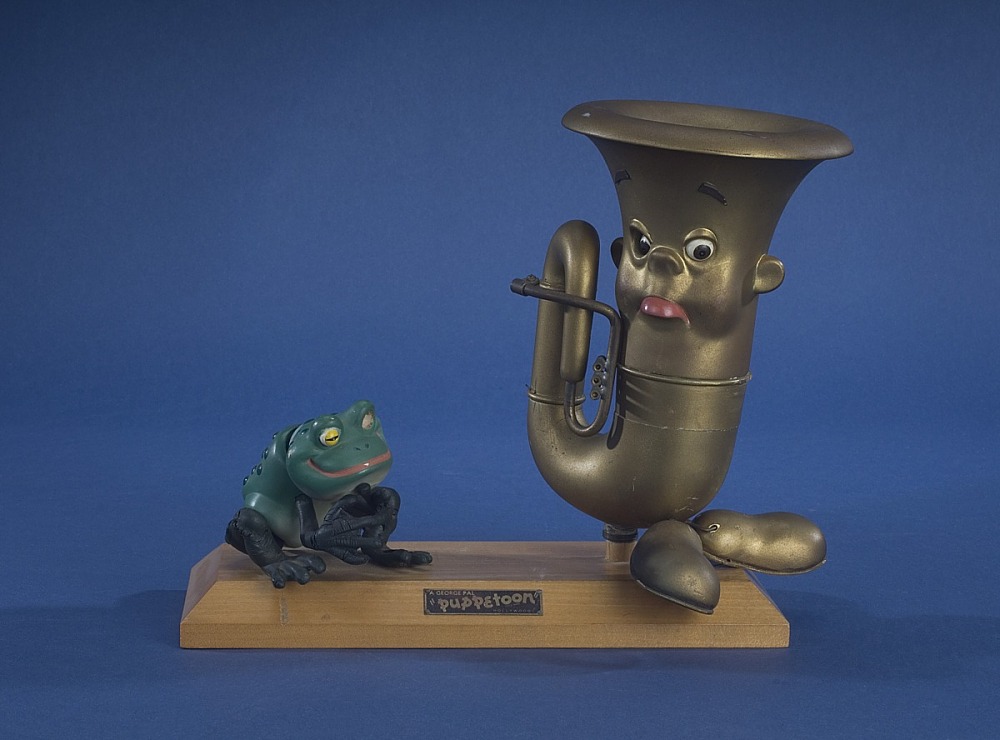 Tubby the Tuba is a 1947 American animated short film (a stop-motion "puppetoon") from Paramount Pictures, directed by George Pal, one of the pioneers of stop-frame animation.
This story takes place in an orchestra. Tubby, the orchestra's tuba, comments that he is tired of playing only the bass line; he is ridiculed. In a swamp, he meets a bullfrog (whose greeting reminds one of Froggy the Gremlin's "Hiya, kids! Hiya hiya hiya hiya!") who complains that no one pays any attention to his singing, either. When Tubby tries the frog's melody on the orchestra's new conductor, it's a success. When we last see the frog, he and Tubby are congratulating themselves on finally being heard.
I'd file this one under the MUSICAL FROGS footnote, from this installment's first "leg."
*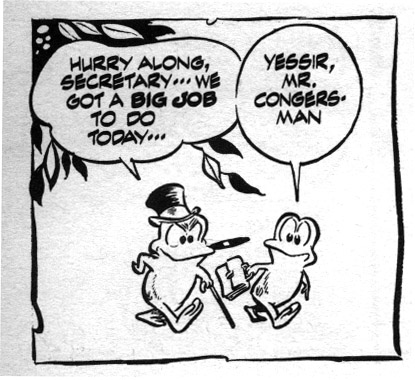 CONGERSMAN FROG: Walt Kelly's Pogo strip began in 1948. One of the minor characters is Congersman Jumphrey Frog, always shown accompanied by his secretary, Fenster Moop.
James Eric Black's book Walt Kelly and Pogo: The Art of the Political Swamp suggests that Congressman (sic) Frog, Mouldy Mort Frog, Original Picayune Frog, Moonshine Sonata (i.e., Frank Sinatra), and other Pogo frogs may have been inspired by Ub Iwerks's Flip the Frog… but he doesn't offer any compelling argument.
Kelly's Congersman Frog seems to be a call-back to the bumptious, bloviating, overly self-satisfied frogs of previous decades.
*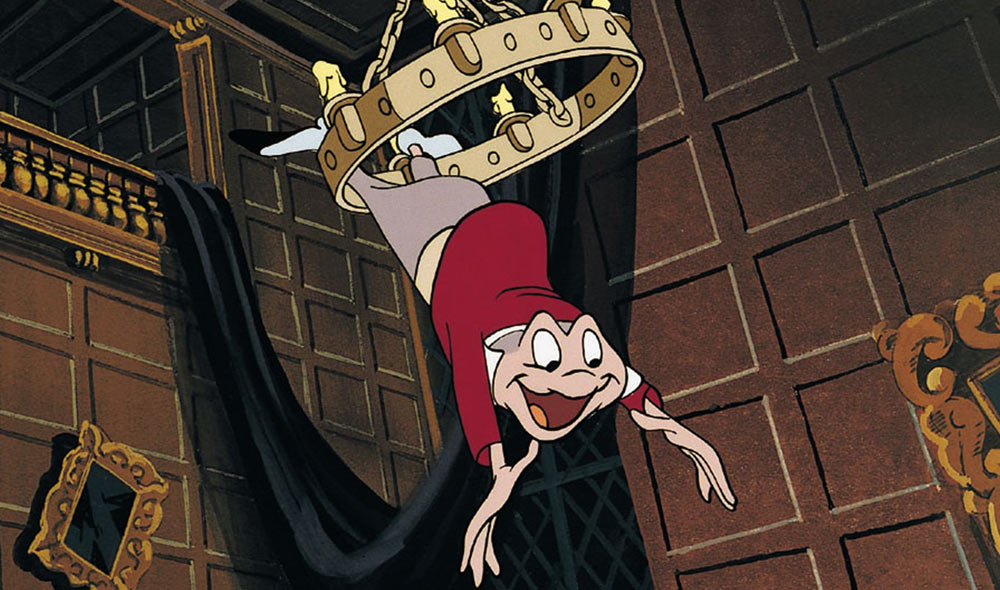 J. THADDEUS TOAD, ESQ.: Disney's 1949 animated movie The Adventures of Ichabod and Mr. Toad adapts (first) The Wind in the Willows and (second) The Legend of Sleepy Hollow. Basil Rathbone narrates. The Wind in the Willows segment, like A.A. Milne's theatrical adaptation, focuses solely on the adventures of Toad. J. Thaddeus Toad, Esq., a nattily dressed aristocrat with a "mania for fads."
As noted in this installment's first "leg," Mr. Toad was from the beginning both bumptious and a rapscallion… but the rapscallion dominates in Disney's adaptation.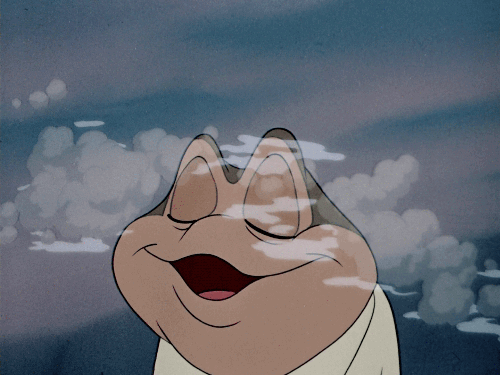 Mr. Toad has gone on to become one of Disney's most cherished characters. One of the 1955 opening-day attractions at Disneyland, for example, was the "dark ride" Mr. Toad's Wild Ride. In 1983, the original façade was updated to include the stately Toad Hall.
THE FIFTIES (1954–1963)
---
The rapscallion frog displaces the bumptious frog, during the Fifties — rapidly becoming a dominant meme.
*
Here's a handful of examples of the rapscallion frog meme from this era.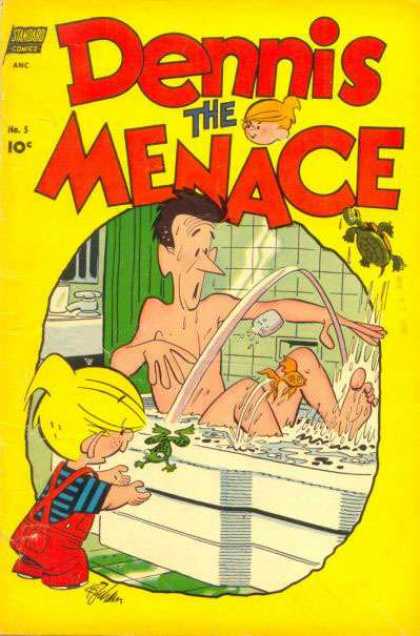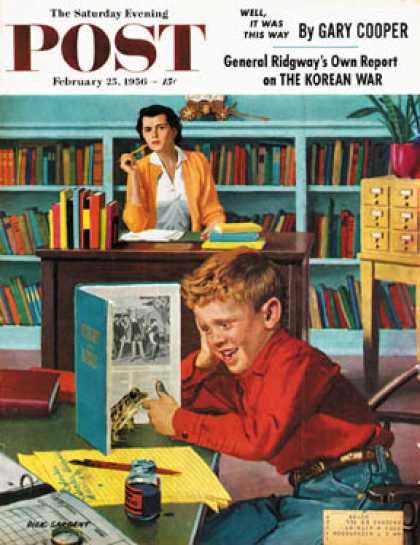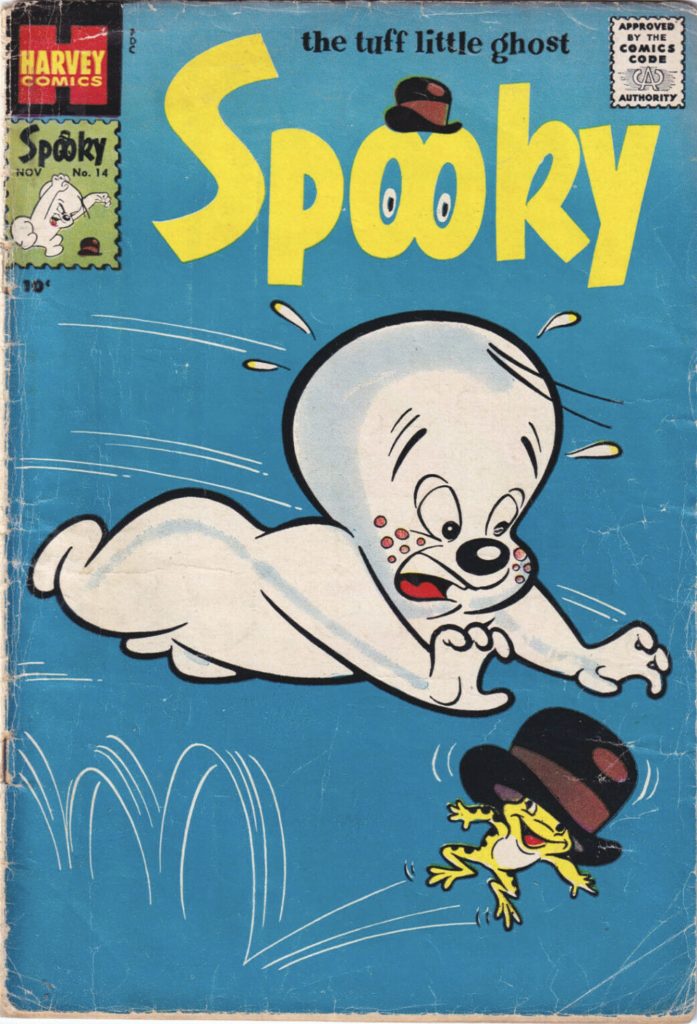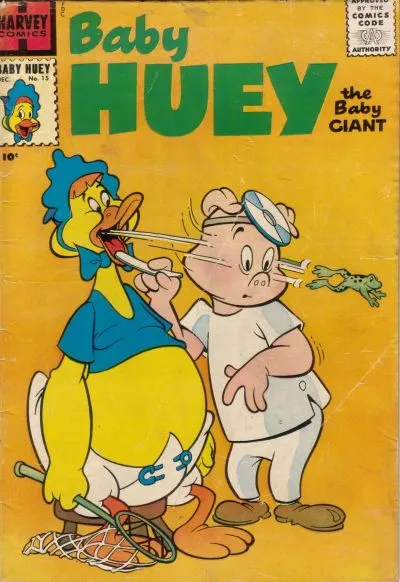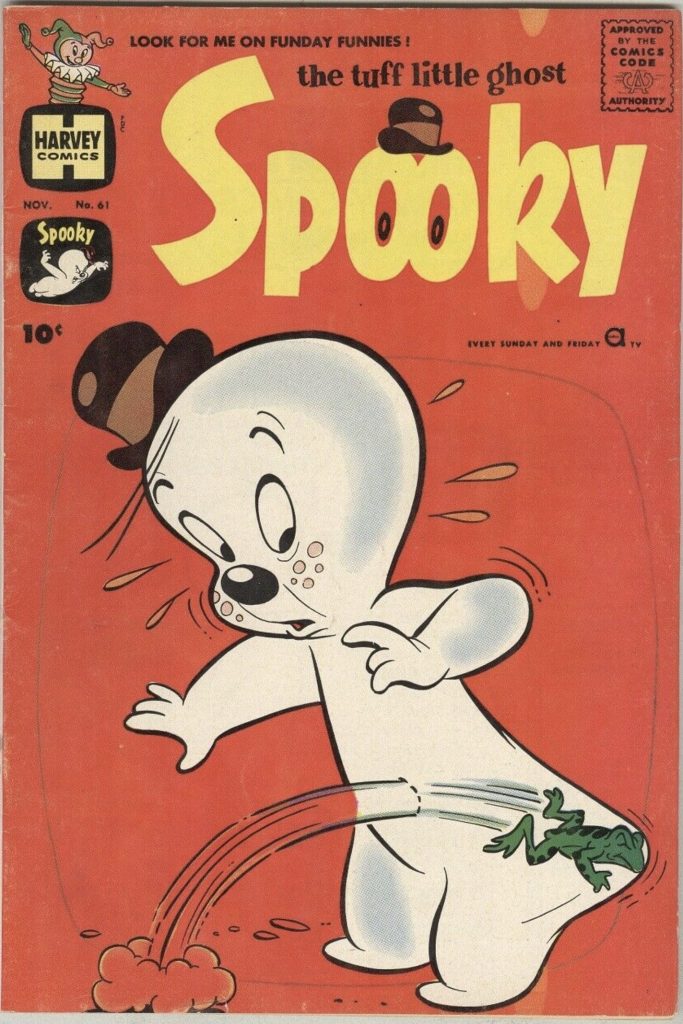 *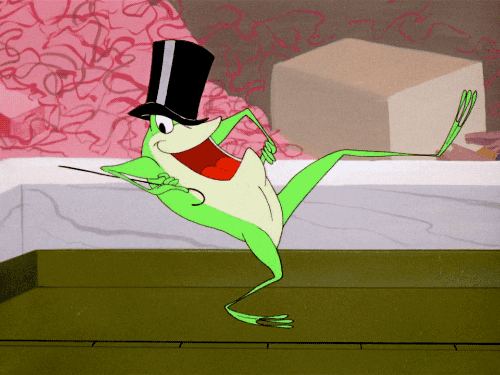 MICHIGAN J. FROG: In the 1955 Chuck Jones Merrie Melodies one-off short One Froggy Evening, we meet a vaudevillian frog who sports a top hat, dances, walks a tightrope, and belts out "Hello! Ma Baby" and "I'm Just Wild About Harry" (two Tin Pan Alley classics) and Figaro's aria from Il Barbiere di Siviglia. There's a nightmare logic to this film, as the frog's erstwhile manager encounters one mishap after another in actually presenting his incredible discovery to the public… one begins to wonder if Michigan J. Frog (who won't stop performing off-stage, but onstage merely squats and croaks) is just a figment of the hapless manager's imagination. There's a science-fictional ending…
This frog is a trickster — almost a mythical figure whose appearance in one's life leads to visions of fame and fortune but a reality of failure, squalor, and even imprisonment. A rapscallion, for sure.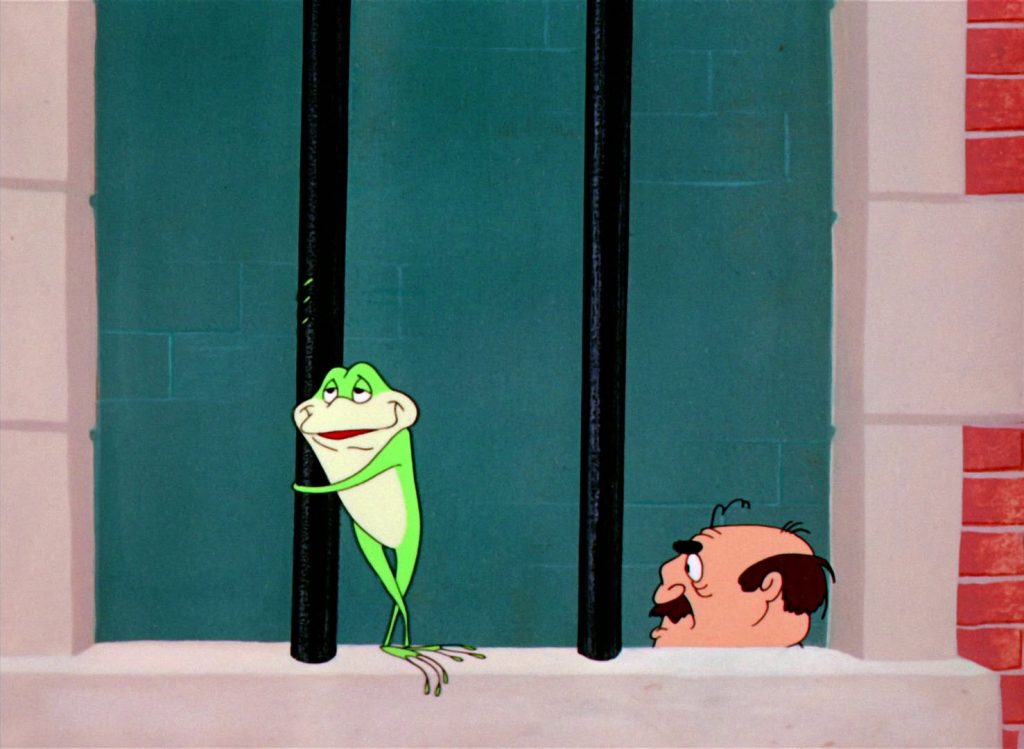 The cartoon pays homage to Once Upon a Time, a 1944 Cary Grant movie in which Grant is a showman who desperately needs money to save his theater… and bets everything on a dancing caterpillar. It also references Ol' Rip the Horned Toad (actually a lizard), who became famous in 1928 after supposedly being exhumed alive after spending 31 years inside the cornerstone of a building.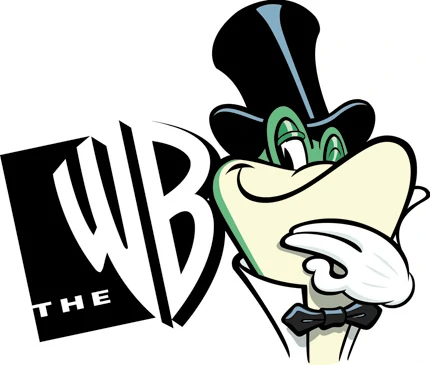 Steven Spielberg would call One Froggy Evening "the Citizen Kane of animated shorts"; and in 1994 it was voted No. 5 of The 50 Greatest Cartoons of all time by members of the animation field. From 1995 until 2006, Michigan J, Frog would be the mascot of The WB Television Network.
Fun fact: Michigan J. Frog isn't actually named in this short, though he does sing "The Michigan Rag" (an original song written by Jones, Michael Maltese, and musical director Milt Franklyn). He would receive his enduring moniker in the 1970s.
*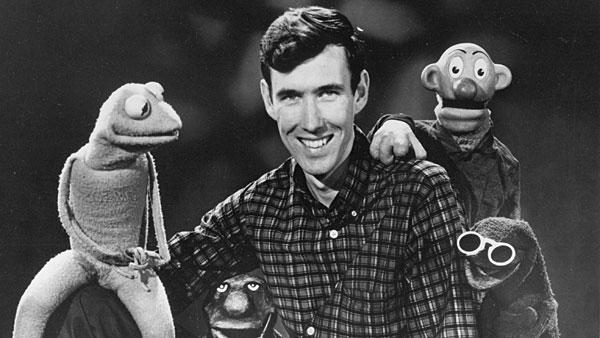 KERMIT THE FROG: The year 1955 is an epic one for pop-culture frog figures, giving us not only Michigan J. Frog but Kermit the Frog — who first appeared on television on May 9, 1955, in the premiere of WRC-TV's Sam and Friends. (As mentioned above, Toad's Wild Ride debuted at Disneyland in 1955, too.)
Created (from a turquoise coat and two ping pong ball halves) and performed by Jim Henson, Kermit was for over a decade a vague lizard-like creature. His status as a frog was established in Henson's 1969 television special Hey, Cinderella!. (This project was the first collaboration of future Sesame Street staffers Henson, Joe Raposo, and Jon Stone.)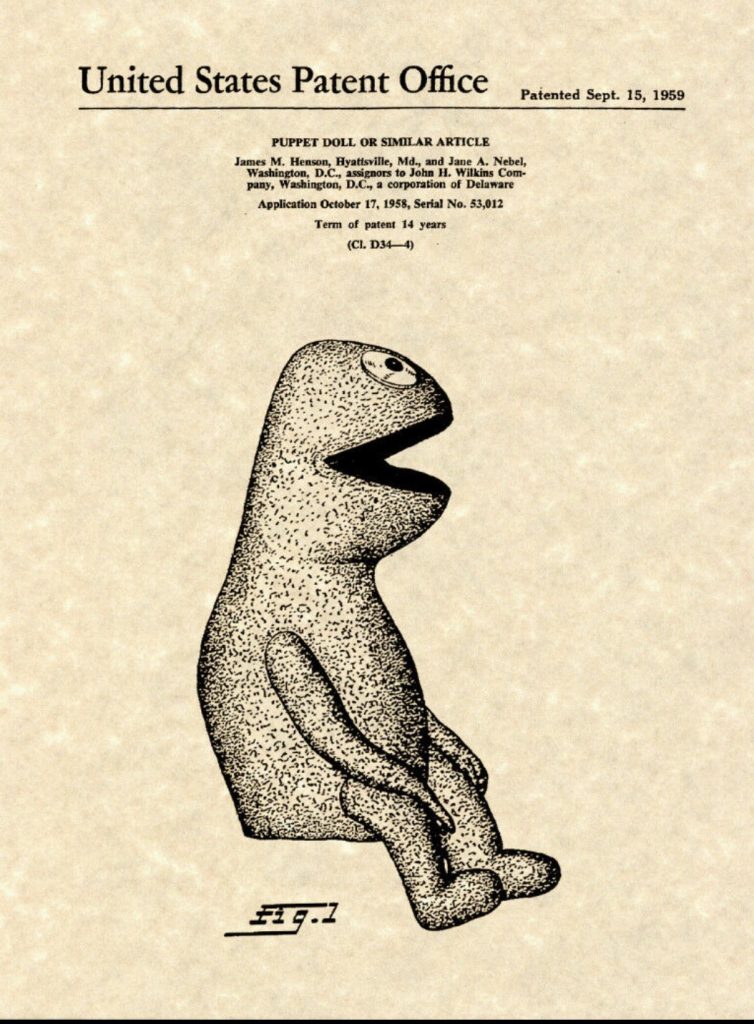 As we'll explore later, Kermit would go on to serve as the straight man protagonist of numerous Muppet productions, most notably Sesame Street and The Muppet Show, as well as in other television series, feature films, and specials.
Kermit is no rapscallion — instead, he's a gentle soul, a convener of talent, a wistful songster… much like his creator, Henson himself. He's a free spirit, waiting for the culture to catch up.
*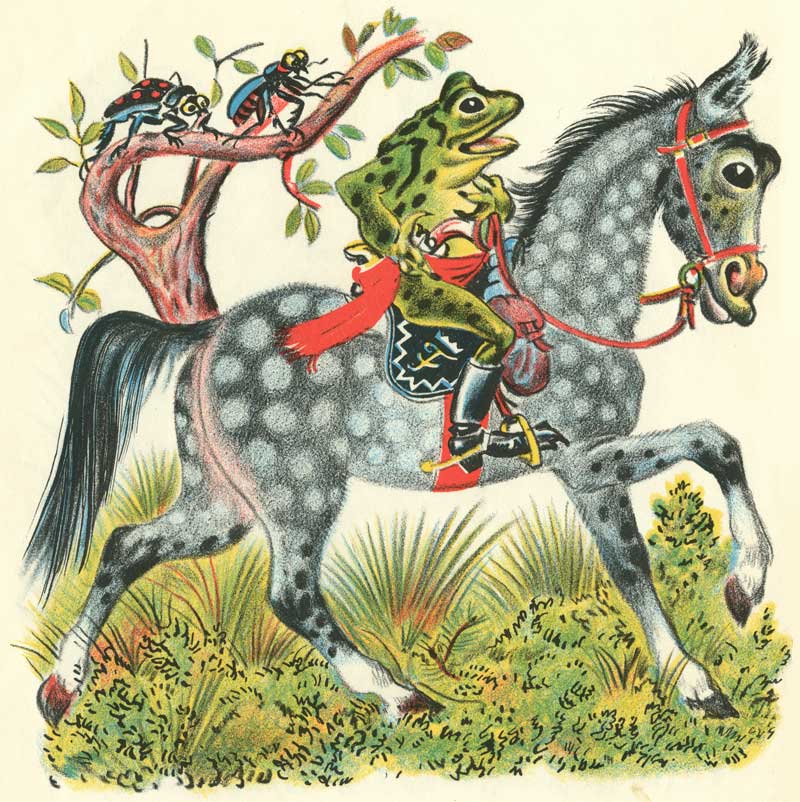 From Feodor Rojankovsky's 1956 Caldecott winning adaptation of Frog Went A-Courtin'.
*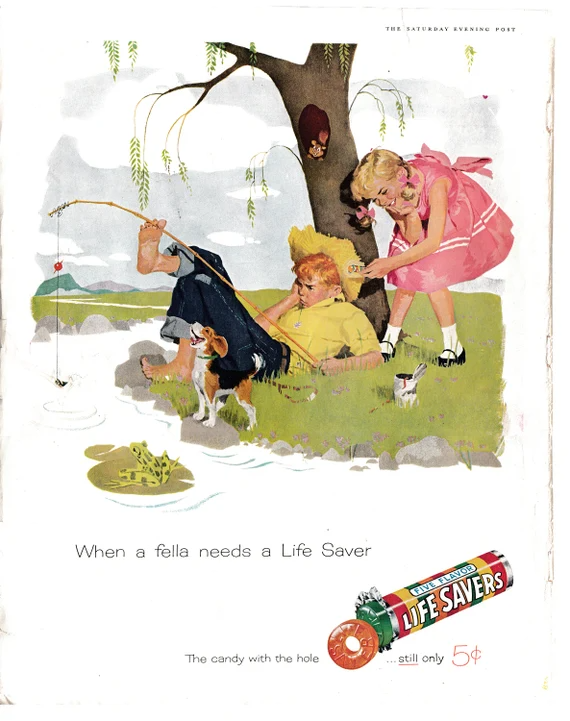 *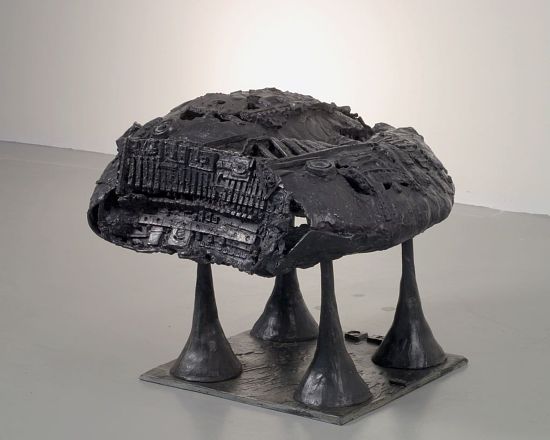 Note that in the 1950s the Pop Art pioneer Eduardo Paolozzi produced a number of grotesque, half-mechanized "frog" sculptures. For example, "Large Frog" (1958), which is at the Smithsonian. These are considered to be the artist's warnings about the mechanization and industrialization of the natural world.
*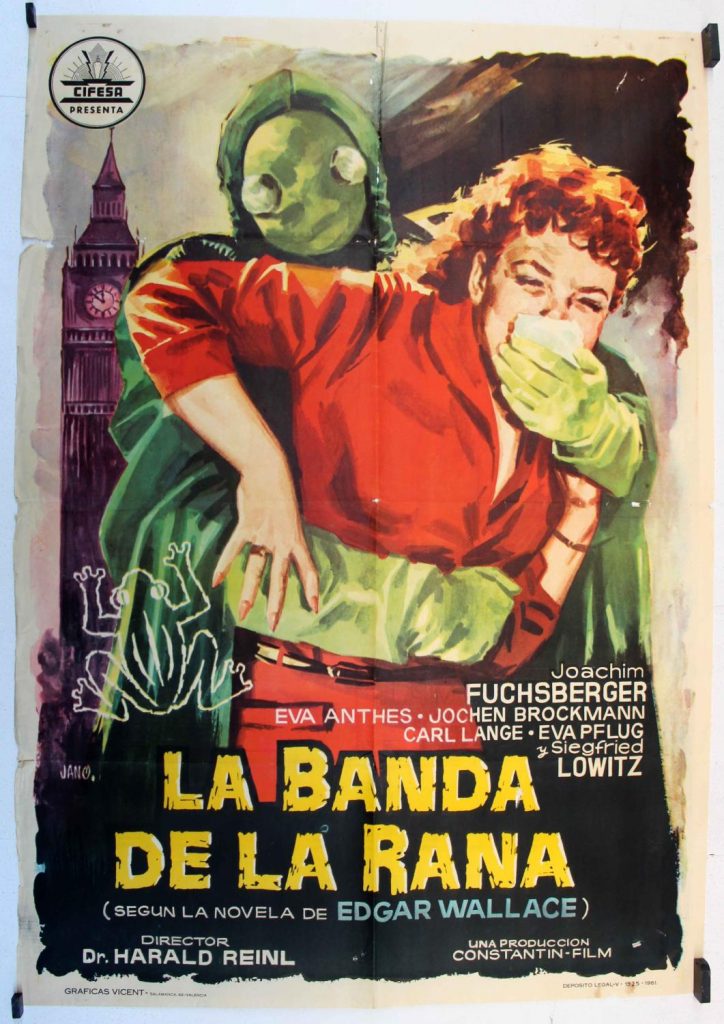 A 1959 movie based on Edgar Wallace's 1923 crime novel The Fellowship of the Frog.
*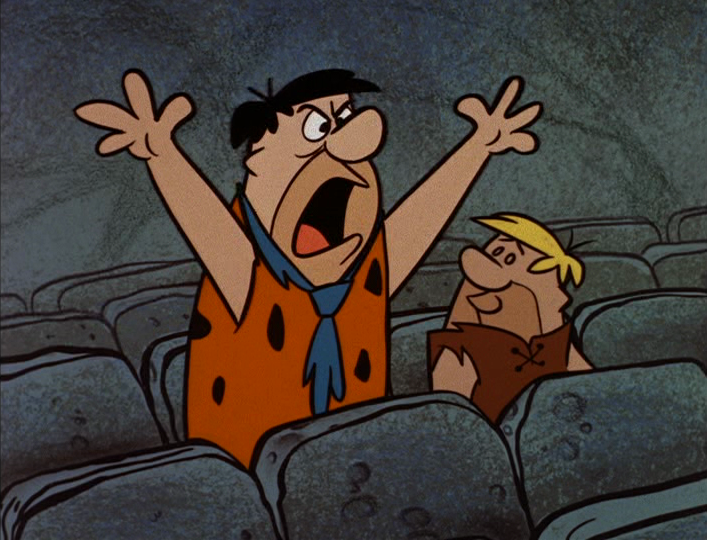 Adam McGovern has directed my attention to "Hollyrock, Here I Come," a 1960 episode of The Flintstones in which Fred — a bumptious frog in human form — is hired to voice over the loudmouthed, overbearing character "Frogmouth."
*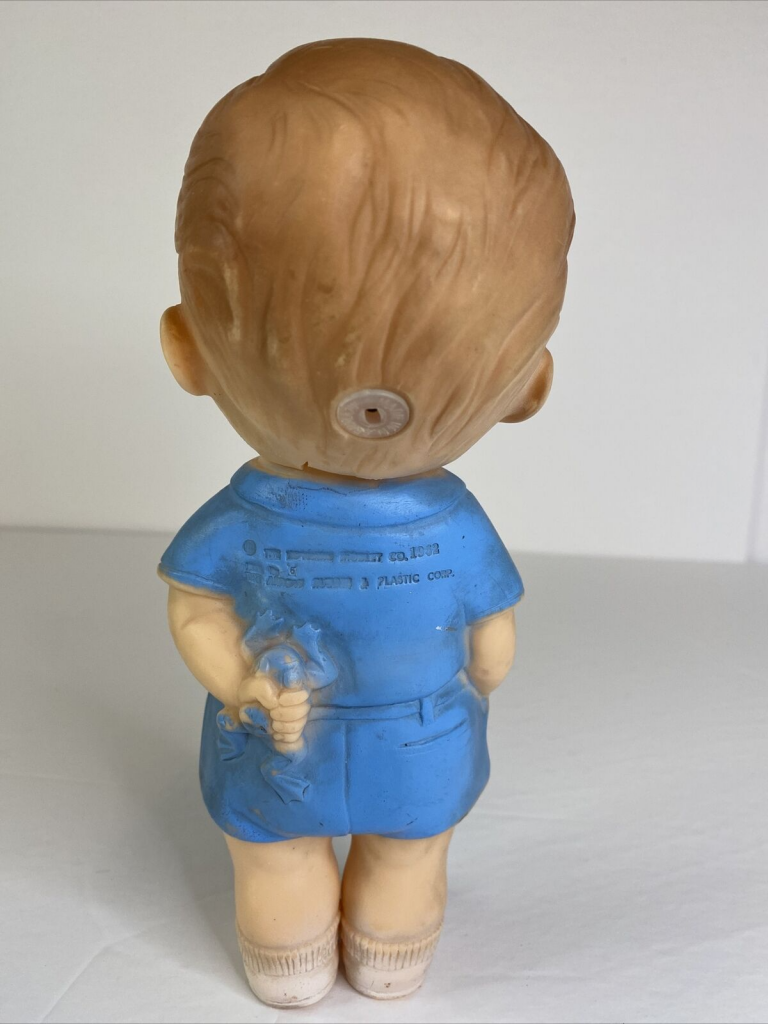 *
In 1963, Walter Scharf's soundtrack for Jerry Lewis's sci-fi comedy The Nutty Professor includes "Leap Frog," a 1945 Les Brown song that Lewis's character — a rapscallion frog in human form — cannot resist.
PS: "Where's Jerry Lewis when you need the man? / Where's Jerry Lewis when no one gives a damn?" Lyrics to a 1996 song by… The Frogs.
***
NEXT "LEG": 1964–1983.
***
INTRODUCTION by Matthew Battles: Animals come to us "as messengers and promises." Of what? | Matthew Battles on RHINO: Today's map of the rhinoceros is broken. | Josh Glenn on OWL: Why are we overawed by the owl? | Stephanie Burt on SEA ANEMONE: Unable to settle down more than once. | James Hannaham on CINDER WORM: They're prey; that puts them on our side. | Matthew Battles on PENGUIN: They come from over the horizon. | Mandy Keifetz on FLEA: Nobler than highest of angels. | Adrienne Crew on GOAT: Is it any wonder that they're G.O.A.T. ? | Lucy Sante on CAPYBARA: Let us gather under their banner. | Annie Nocenti on CROW: Mostly, they give me the side-eye. | Alix Lambert on ANIMAL: Spirit animal of a generation. | Jessamyn West on HYRAX: The original shoegaze mammal. | Josh Glenn on BEAVER: Busy as a beaver ~ Eager beaver ~ Beaver patrol. | Adam McGovern on FIREFLY: I would know it was my birthday / when…. | Heather Kapplow on SHREW: You cannot tame us. | Chris Spurgeon on ALBATROSS: No such thing as a lesser one. | Charlie Mitchell on JACKALOPE: This is no coney. | Vanessa Berry on PLATYPUS: Leathery bills leading the plunge. | Tom Nealon on PANDA: An icon's inner carnivore reawakens. | Josh Glenn on FROG: Bumptious ~ Rapscallion ~ Free spirit ~ Palimpsest. | Josh Glenn on MOUSE.