HADRON AGE SF (12)
By: Joshua Glenn
March 22, 2022
One in a series of posts about the 75 best sf adventures published during the genre's Hadron Age era (from 2004–2023, according to HILOBROW's periodization schema). For Josh Glenn's Hadron Age Sci-Fi 75 list (a work in progress), click here.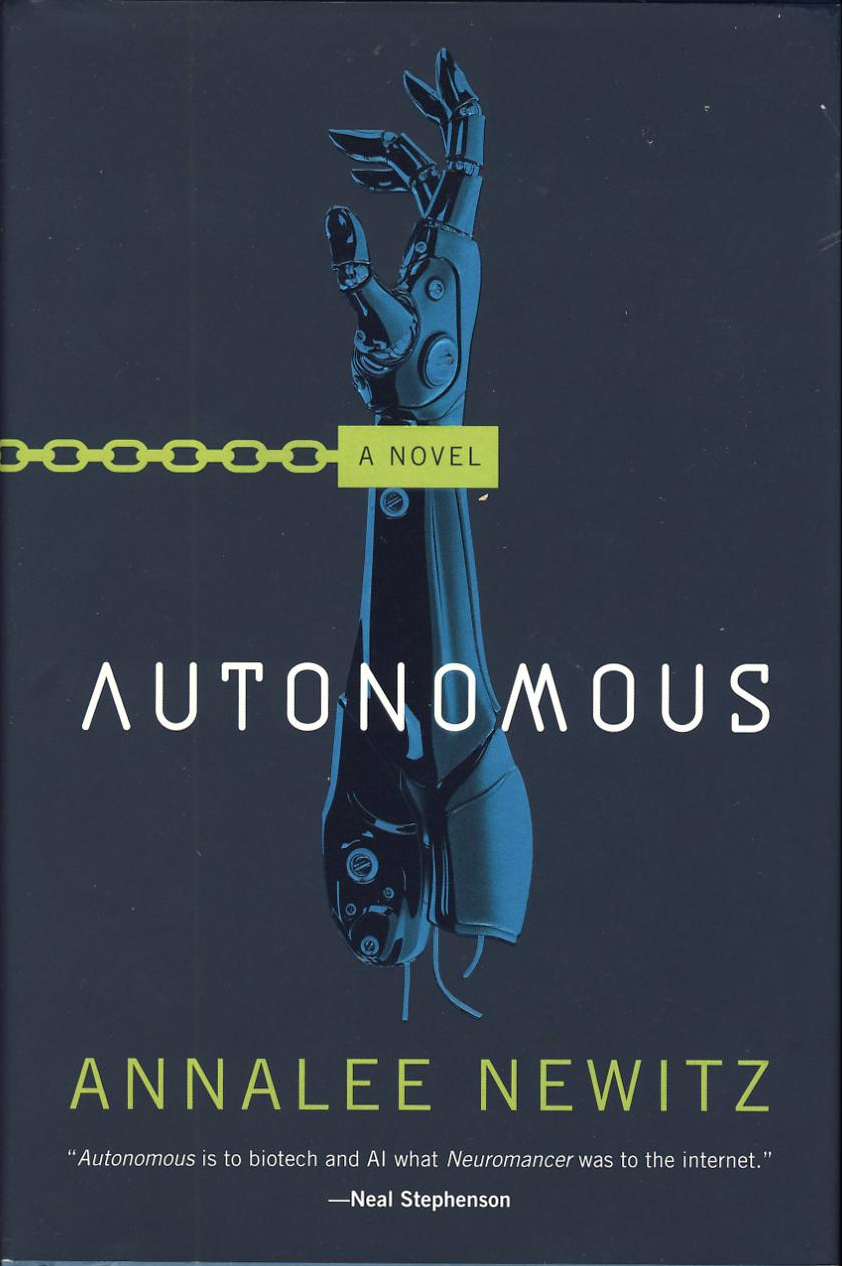 Annalee Newitz's Autonomous (2017).
In a mega-corporation-dominated future world, Judith "Jack" Chen, an idealistic piratical scientist, reverse-engineers prescription drugs and makes them available to those who need them most. To support her Robin Hood-esque (or perhaps I should say Nemo-esque, since she travels by private submarine) exploits, she also reverse-engineers entertainment drugs — including a new one, Zacuity, that makes one's work addictively enjoyable. When Jack's drug leads to a social crisis, the powers that be sic Paladin, a newly created military bot, on her; Paladin is accompanied by Eliasz, a driven Polish military agent. The novel's title is an ironic one; despite its programming, the bot is the most autonomous — and self-aware — of the book's characters. Persuaded that because she is subverting intellectual property law that can harm people, she must be one of the good guys, Jack fails to comprehend that indentured servitude — which in the future is legal — also destroys lives. So she exploits Threezed, an indentured human described as resembling one of the handsome submissive characters in yaoi manga, who is much younger than her — and not capable of saying no to her. Eliasz, meanwhile, does recognize that harmfulness of indenture… but he can't comprehend how intellectual property can also damage the defenseless. Also, Eliasz is a homophobe who can't engage in a loving sexual relationship with Paladin… until the genderless bot arbitrarily self-identifies as female. It's a complex chiasmus of a plot — and a rollicking hunted-woman adventure, at the same time. We're all culturally programmed, is the idea — can we ever deprogram ourselves?
Fun facts: Newitz's subsequent sf novel, The Future of Another Timeline (2019), is also excellent. (Note that one of their early sf stories, "The Great Oxygen Race," first appeared here at HILOBROW.) Please check out their nonfiction, too — including Pretend We're Dead: Capitalist Monsters in American Pop Culture (2006), Scatter, Adapt, and Remember (2013), and Four Lost Cities (2021).
***
JOSH GLENN'S *BEST ADVENTURES* LISTS: BEST 250 ADVENTURES OF THE 20TH CENTURY | 100 BEST OUGHTS ADVENTURES | 100 BEST RADIUM AGE (PROTO-)SCI-FI ADVENTURES | 100 BEST TEENS ADVENTURES | 100 BEST TWENTIES ADVENTURES | 100 BEST THIRTIES ADVENTURES | 75 BEST GOLDEN AGE SCI-FI ADVENTURES | 100 BEST FORTIES ADVENTURES | 100 BEST FIFTIES ADVENTURES | 100 BEST SIXTIES ADVENTURES | 75 BEST NEW WAVE SCI FI ADVENTURES | 100 BEST SEVENTIES ADVENTURES | 100 BEST EIGHTIES ADVENTURES | 75 BEST DIAMOND AGE SCI-FI ADVENTURES | 100 BEST NINETIES ADVENTURES | 75 BEST HADRON AGE SCI-FI ADVENTURES.