RADIUM AGE: UPDATE
By: HILOBROW
March 24, 2022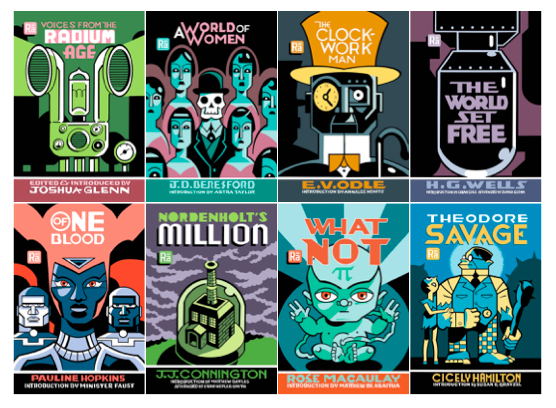 In 2019, HILOBROW's Josh Glenn started collaborating with The MIT Press on a new and improved version of the RADIUM AGE series of reissued proto-sf (c. 1900–1935) adventures that he first published (via HiLoBooks) in 2012–2013.
In March, the first two titles in MITP's brand-new series hit bookstore shelves:
Voices from the Radium Age, a collection of proto-sf stories by Rokeya Sakhawat Hossain, William Hope Hodgson, E.M. Forster, W.E.B. DuBois, and others, selected and introduced by Josh.
J.D. Beresford's 1913 proto-sf novel A World of Women, with an introduction by Astra Taylor.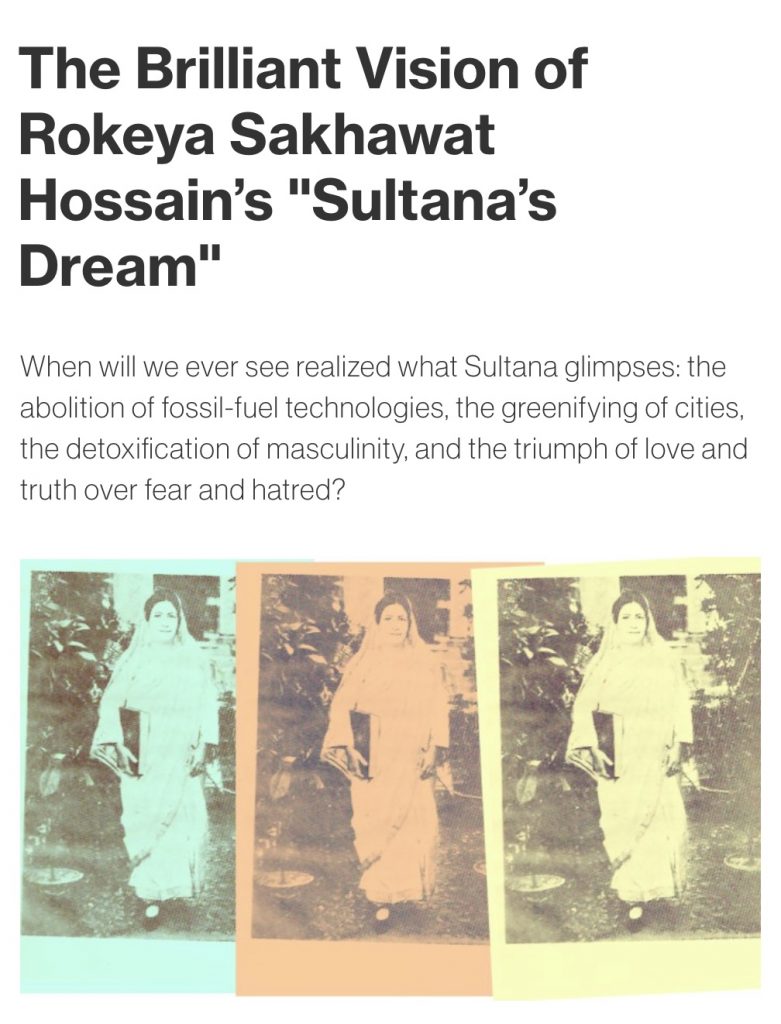 Earlier today, the MIT Press Reader — which publishes "thought-provoking excerpts, interviews, and original essays written for a general reader but backed by academic rigor" — ran an original essay by Josh on "The Brilliant Vision of Rokeya Sakhawat Hossain's 'Sultana's Dream'." ("Sultana's Dream" is one of the stories collected in Voices from the Radium Age.) Excerpt:
It's instructive to revisit the social ills that concerned Hossain, particularly since we've made so very little progress since then. The two-hour workday of Ladyland, for example, seems ever less possible for today's workers, who are not only exploited by their employers but bamboozled into believing that "the hustle" is what gives life meaning. And forget about flying cars. When will we ever see realized what Sultana glimpses: the abolition of fossil-fuel technologies, the greenifying of cities, the detoxification of masculinity, and the triumph of love and truth over fear and hatred?
*
The Radium Age series has received some nice publicity, so far. For example…
In February Publishers Weekly noted, in a review of Voices from the Radium Age, that "the significance of these seven stimulating early 20th-century tales as what editor Glenn terms 'proto-sf' lies in their foreshadowing of the golden age of science fiction, with both famous and obscure authors developing important science fiction tropes still popular today. […] For early SF buffs, this will be a substantial delight."

Andrew Liptak of Transfer Orbit dedicated the entire March 8 issue of his sf newsletter to the series. "[Glenn has] made a huge effort to help define a new era of science fiction," he writes. Excerpt:


The series is designed to shed light on an under-appreciated era of the literature, one that's largely been ignored or downplayed by genre scholars. Despite that lack of attention, it was an era of radical improvisation and experimentation on the part of the period's writers, and while many of those works contain inherent flaws of their times, they held plenty of influence for the works and authors that would follow.

Science journalist and sf author Annalee Newitz, whom Liptak interviewed, has this to say about proto-sf from 1900–1935: "People were already writing post-apocalyptic stories and thinking about cyborg consciousness back then. They were imagining feminist societies, and criticizing racism. All these themes that strike us as incredibly modern today were also modern then."

Also, in the March 1 issue of Transfer Orbit, Liptak said of Voices from the Radium Age and A World of Women, "These two books are the start to a really interesting-looking publishing project."

On March 15, Annalee (who has contributed an Introduction to one of the Spring 2022 Radium Age series titles, and who serves on the series' panel of advisors) and Josh chatted about MITP's new series — in a virtual event hosted by Chicago's indie bookstore Madison Street Books.

Michael Dirda reviewed our edition of A World of Women and the Radium Age series for the March 24 issue of The Washington Post. Excerpt:


Insightfully introduced by Astra Taylor, A World of Women opens with a complacent civilization in collapse. The cause? A deadly virus, albeit one that attacks only men. […] Beresford envisions a new society, based on communitarian principles, without the trammels of religion, class and female subservience to men. […] Even a century after its first appearance, A World of Women remains highly readable and still sadly pertinent."

Fun fact: Dirda, a fan of English adventure lit from this era, also reviewed HiLoBooks' edition of The Clockwork Man in 2019.

On March 23, the sf book-review site Popular Science described A World of Women as "a genuinely interesting SF novel with what was, for the period, particularly original thinking. It's a real asset to the series."
Two additional Radium Age titles will appear this spring — stay tuned.