HADRON AGE SF (3)
By: Joshua Glenn
January 18, 2022
One in a series of posts about the 75 best sf adventures published during the genre's Hadron Age era (from 2004–2023, according to HILOBROW's periodization schema). For Josh Glenn's Hadron Age Sci-Fi 75 list (a work in progress), click here.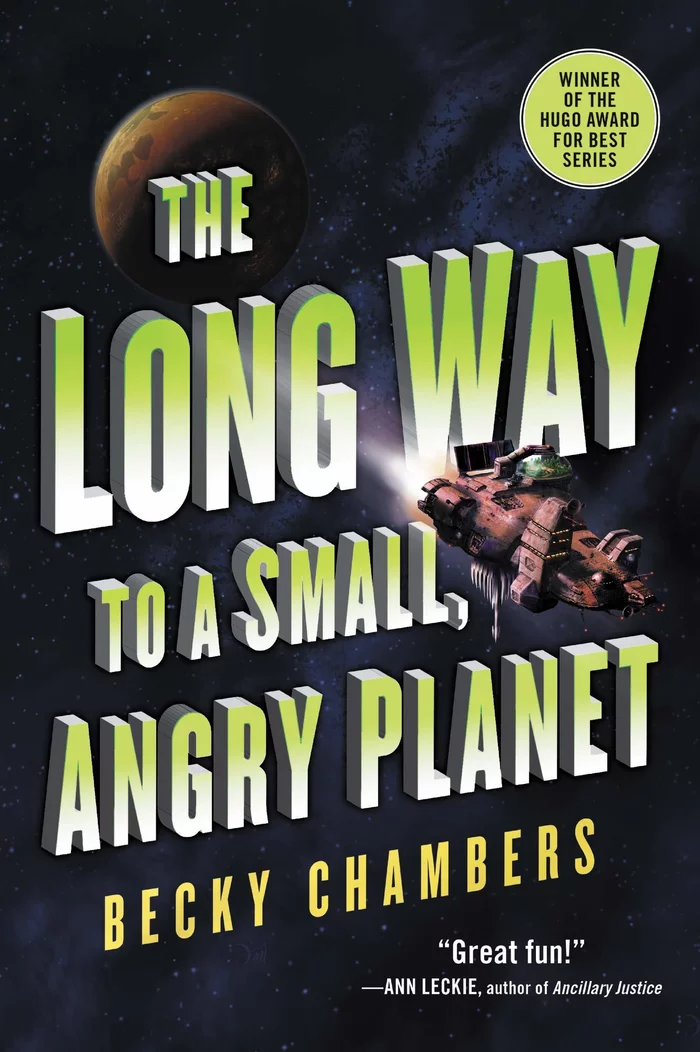 Becky Chambers's The Long Way to a Small, Angry Planet (2015).
When Rosemary, an introverted young human from Mars, signs up as clerk on the patched-up Wayfarer, all she wants is the opportunity to start over. She quickly proves her value to the ship's ragtag crew — Sissix, the female Aandrisk (reptilian) pilot; mech and comp techs Kizzy and Jenks; doctor and cook Dr. Chef; algaeist Artis; navigator Ohan; and Ashby, the ship's captain — when they're boarded by Akarak pirates. Later, when the the Wayfarer is offered the lucrative job of helping to build a hyperspace tunnel (allowing interstellar communications and transportation to commence) between two distant points in the galaxy, the crew thinks they've finally got it made… but can they survive their voyage across the war-torn galaxy? There are thrills and chills galore, here, but what makes this space opera so charming and re-readable is its characters, and specifically their generous open-mindedness regarding race, gender, sexuality, and species. The use of xe or they as pronouns is normalized, there are many formidable female characters, and perhaps most importantly we find within the Wayfarer an infectious spirit of optimism. ("It's as though Firefly and Guardians of the Galaxy had one hyperactive and excited baby," Andrew Liptak enthused in his review for io9.com.) And I haven't even mentioned Lovey, the ship's AI, who falls in love with Jenks… and vice versa!
Fun facts: Originally self-published, with the help of a Kickstarter campaign, Chambers's debut novel was included in the win for the 2019 Hugo Award for Best Series.
***
JOSH GLENN'S *BEST ADVENTURES* LISTS: BEST 250 ADVENTURES OF THE 20TH CENTURY | 100 BEST OUGHTS ADVENTURES | 100 BEST RADIUM AGE (PROTO-)SCI-FI ADVENTURES | 100 BEST TEENS ADVENTURES | 100 BEST TWENTIES ADVENTURES | 100 BEST THIRTIES ADVENTURES | 75 BEST GOLDEN AGE SCI-FI ADVENTURES | 100 BEST FORTIES ADVENTURES | 100 BEST FIFTIES ADVENTURES | 100 BEST SIXTIES ADVENTURES | 75 BEST NEW WAVE SCI FI ADVENTURES | 100 BEST SEVENTIES ADVENTURES | 100 BEST EIGHTIES ADVENTURES | 75 BEST DIAMOND AGE SCI-FI ADVENTURES | 100 BEST NINETIES ADVENTURES | 75 BEST HADRON AGE SCI-FI ADVENTURES.