HYPOCRITE IDLER 1Q2020
By: Joshua Glenn
March 30, 2020
To idle is to work on meaningful and varied projects — and to take it easy. The series title refers to this self-proclaimed idler's inability to take it easy.
HILOBROW is a noncommercial blog! The info below should not be construed as a vulgar advertisement for SEMIOVOX, UNBORED, THE ADVENTURER'S GLOSSARY, MIT PRESS's RADIUM AGE SERIES, SEMIOFEST SESSIONS, LOST OBJECTS, GO WEST, or any of my various more-or-less profitable projects. It is merely an update on my doings and undoings — in this case, during 1Q2020.
MORE HYPOCRISY: 2010 | 2011 | 2012 | 2013 | 2014 | 2015 | 2016 | 2017 | 2018 | 2019 | 2020 | 2021 | 2022 | 1Q2023 | 2Q2023 | 3Q2023 | 4Q2023.
***
---
SEMIOTICS
---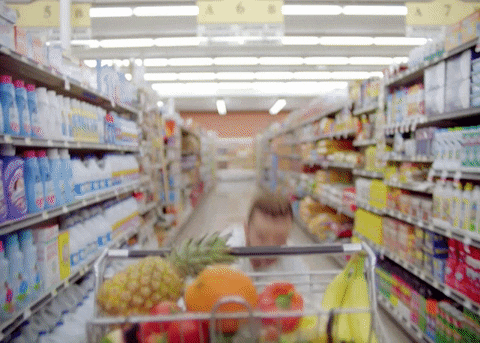 I'm co-founder of the semiotics-fueled brand consultancy SEMIOVOX, based in Boston and New York. Our work has been disrupted, like everyone else's, during 1Q2020 — but because our core business is largely desk-based research and analysis, we're still up and running. Projects are underway; we've been invited to submit proposals on several healthcare-related branding projects; and we're hard at work on a new SEMIOVOX website, featuring original content. Stay tuned!
---
HILOBROW
---
I'm the editor and publisher, here at HILOBROW. To see what our talented friends and contributors have written since January 1, please check out the HILOBROW 1Q2020 post. Here, I'll just mention one 1Q2020 series that I edited.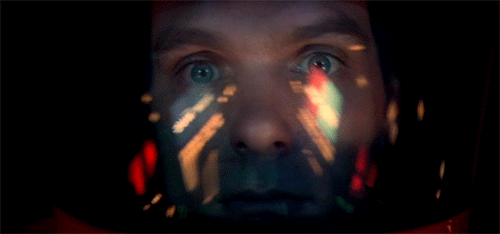 The weekly series, here at HILOBROW in 2020, is: KLAATU YOU. I've invited 52 of HILOBROW's friends and regular contributors to wax enthusiastic about pre-Star Wars sci-fi movies. Here's the 1Q2020 lineup:
INTRODUCTION by Josh Glenn | Matthew De Abaitua on ZARDOZ | Miranda Mellis on METROPOLIS | Rob Wringham on THE INVISIBLE MAN | Michael Grasso on THE ANDROMEDA STRAIN | Gordon Dahlquist on 2001: A SPACE ODYSSEY | Erik Davis on DARK STAR | Carlo Rotella on THE OMEGA MAN | Madeline Ashby on KISS ME DEADLY | Adam McGovern on SILENT RUNNING | Michael Lewy on THIS ISLAND EARTH | Josh Glenn on WILD IN THE STREETS | Mimi Lipson on BARBARELLA vs. SINS OF THE FLESHAPOIDS | Vanessa Berry on THE FLY.
I am very grateful to the series' contributors, many of whom have donated their fees to the ACLU.
---
UNBORED
---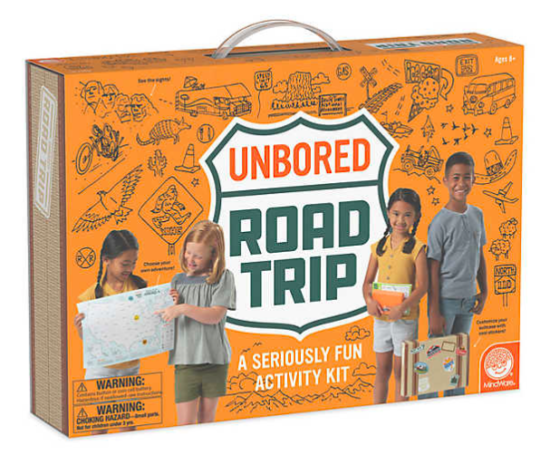 In January, the brainy toy and game company MindWare released the latest UNBORED activity kit: UNBORED ROAD TRIP. The goal was to help families pass the time, withut resorting to screens, on long car trips; but if you're sheltering in place, most of the kit's contents — and the games and activities described in the kit's "field guide" — will still come in handy.
The UNBORED ROAD TRIP kit's box transforms into a cardboard suitcase. The suitecase's contents include:
Road trip stickers, for decorating the suitcase
A customized pad featuring three drawing activities
A customized pad featuring three mapping activities
Six-color crayon, for use with the drawing and mapping pads
A customized pad featuring three Travel Bingo cards (plus Bingo stampers!)
Conversation-starting cards
An UNBORED STATES OF AMERICA fold-out map with multiple activities
More stickers, for use with the fold-out map
Mini-whiteboard, with erasable marker, for Hangman and other games
Also: clip-on book light, cinch backpack, souvenir tubes and organizer
ROAD TRIP FIELD GUIDE jam-packed with car game ideas
It's always a great pleasure to work with Elizabeth Foy Larsen, Tony Leone, Cara Ciardelli, and Mister Reusch on an UNBORED project!
---
GO WEST COWORKING
---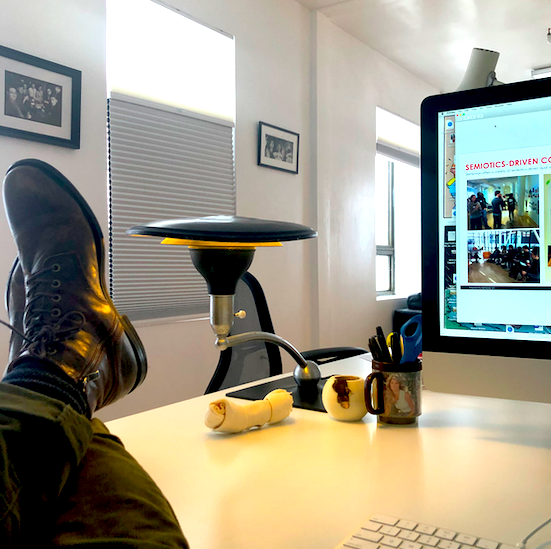 The coworking space I founded here in Boston's formerly sleepy West Roxbury neighborhood was booming, during early 1Q2020. As of March 1, we were completely full — at capacity — for the first time. As of mid-March, of course, we're all working from home. So far, none of our members have quit. We look forward to returning, hopefully in the not too distant future.
---
READING & WRITING
---
During 1Q2020, HILOBROW published my TAKING THE MICKEY, a series of 15 posts surfacing and dimensionalizing the unspoken norms and forms encoded in Walt Disney's Mickey Mouse character. Here's the lineup:
MINSTREL MICKEY | TRICKSTER MICKEY | A GOOD AMERICAN | HIGH-LOWBROW MICKEY | ICONIC MICKEY | NEOTONIC MICKEY | DONALD STEALS THE SHOW | MICKEY'S DORK AGE | FORTIES BACKLASH | DISNEY CO. MASCOT | FIFTIES BACKLASH | SIXTIES BACKLASH | "I'M THE MOUSE" | NOBROW MICKEY | TAKING THE MICKEY. Also see the series MOUSE: MOUSE (INTRO) | PRE-MICKEY MICE (1904–1913) | PRE-MICKEY MICE (1914–1923) | PRE-& POST-MICKEY MICE (1924–1933) | POST-MICKEY MICE (1934–1943) | POST-MICKEY MICE (1944–1953) | POST-MICKEY MICE (1954–1963) | POST-MICKEY MICE (1964–1973) | POST-MICKEY MICE (1974–1983) | POST-MICKEY MICE (1984–1993) | POST-MICKEY MICE (1994–2003)..
*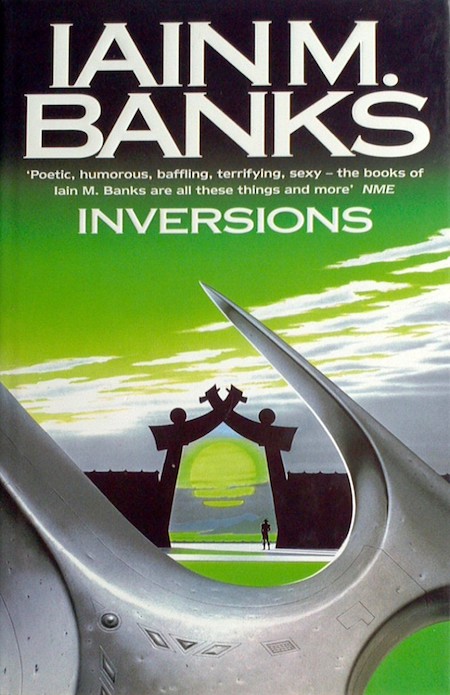 During 2020, HILOBROW is continuing to publish DIAMOND AGE 75, a lit-list series identifying my 75 favorite science-fiction novels published during the Eighties (1984–1993) and Nineties (1994–2003). Here's the 1Q2020 series lineup:
Ken MacLeod's THE STONE CANAL | Iain M. Banks's EXCESSION | William Gibson's IDORU | Molly Gloss's THE DAZZLE OF THE DAY | Warren Ellis's TRANSMETROPOLITAN | Jonathan Lethem's AS SHE CLIMBED ACROSS THE TABLE | Connie Willis's TO SAY NOTHING OF THE DOG | Jonathan Lethem's GIRL IN LANDSCAPE | Octavia E. Butler's PARABLE OF THE TALENTS | Iain M. Banks's INVERSIONS | Ken MacLeod's THE CASSINI DIVISION | Susan Price's THE STERKARM HANDSHAKE | Warren Ellis's PLANETARY.
The complete DIAMOND AGE 75 list (in progress) is here.
*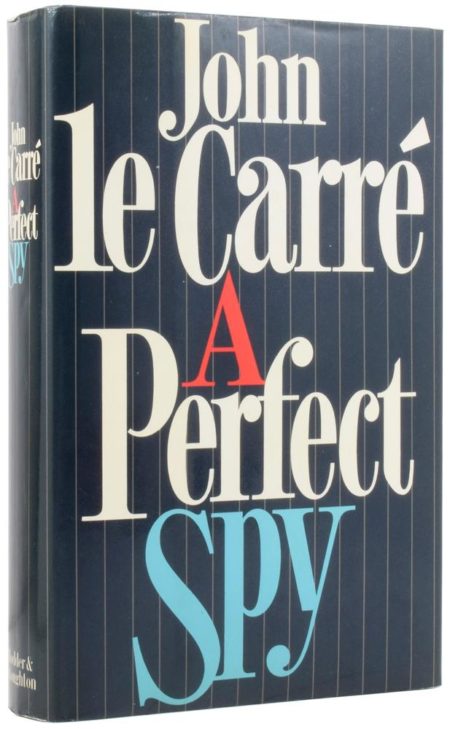 HILOBROW published five new installments in my BEST ADVENTURES project, which chronicles my ongoing effort to identify the 10 best adventures I've read from each year of the 20th century. Here's the 1Q2020 BEST ADVENTURES lineup:
Each BEST ADVENTURES installment was first published as 10 individual posts. I've also added a new BEST ADVENTURES series index page, during 1Q2020: BEST EIGHTIES ADVENTURE (1984–1993).
---
TAKING IT EASY
---
In the taking it easy department…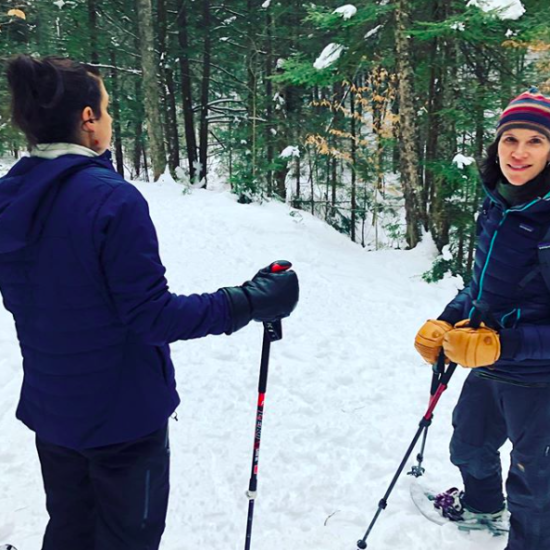 In January, Susan and I spent a couple of fun weekends in Waterville Valley, NH, cross-country skiing and snowshoeing with some of our oldest friends.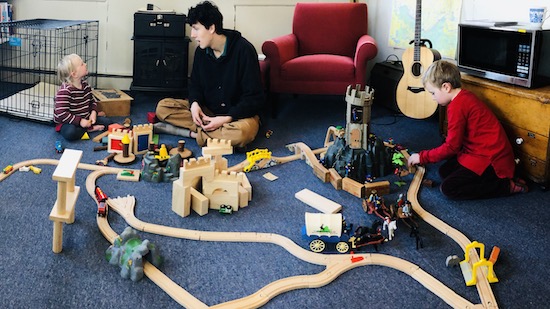 In February, while Sam was home for a brief visit, his young cousins Robin and Jane came over to play with our train set and Playmobils. Their new sister was born not long after this — welcome, Beatrice!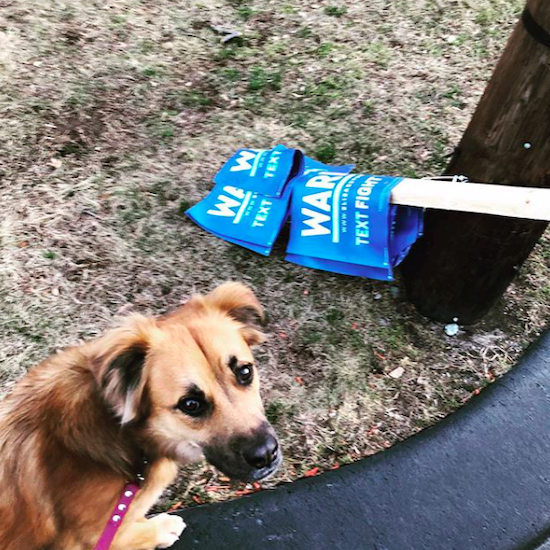 In March, my candidate — Elizabeth Warren — didn't make it. I was pessimistic about the future — and that was before the coronavirus arrived.
***
On to 2Q2020…
Courage!
MORE HYPOCRISY: 2010 | 2011 | 2012 | 2013 | 2014 | 2015 | 2016 | 2017 | 2018 | 2019 | 2020 | 2021 | 2022 | 1Q2023 | 2Q2023 | 3Q2023 | 4Q2023.