Radium Age 100 (31)
By: Joshua Glenn
September 16, 2015
One in a series of 100 posts about the best science fiction novels published from 1904–33. HILOBROW's Josh Glenn has named that era science fiction's Radium Age; more info here. The complete Radium Age 100 list can be found here.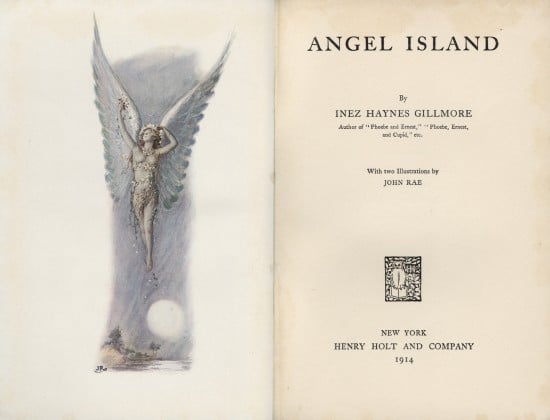 Inez Haynes Irwin's Angel Island (1914).
Shipwrecked on an uncharted island, five men encounter five winged women, rebels from their tribe who've decided to fly south instead of north. Frustrated by how aloof and skittish the women are, the men clip the women's wings. At first, four of the five women enjoy the attention — all but one, their leader, Julia — and marry four of the men. However, the domesticated women soon realize that married life is a form of servitude, and they lament their lost freedom. When they bear children (mostly wingless boys) and discover that the one winged girl-child will also have her wings clipped, the domesticated women take a stand. They demand rights for women — after which things change on the island. The women's wings are no longer clipped. Julia gets married: symbolically, her child is a winged boy.
Fun fact: Inez Haynes Irwin, who'd been active in the suffragist movement, was fiction editor of the left-wing periodical The Masses. She is best remembered as author of Maida's Little Shop (1910), Maida's Little House (1921), and other titles in a series about a rich girl who finds new purpose amidst misfit peers from a rough Boston neighborhood. In 1988, Angel Island in was republished as a classic of early feminist literature with an introductory essay by Ursula K. Le Guin.
***
MORE RADIUM AGE SCI FI ON HILOBROW: HiLoBooks homepage! | What is Radium Age science fiction? |Radium Age 100: 100 Best Science Fiction Novels from 1904–33 | Radium Age Supermen | Radium Age Robots | Radium Age Apocalypses | Radium Age Telepaths | Radium Age Eco-Catastrophes | Radium Age Cover Art (1) | SF's Best Year Ever: 1912 | Radium Age Science Fiction Poetry | Enter Highbrowism | Bathybius! Primordial ooze in Radium Age sf | War and Peace Games (H.G. Wells's training manuals for supermen) | Radium Age: Context series | J.D. Beresford | Algernon Blackwood | Edgar Rice Burroughs | Karel Čapek | Buster Crabbe | August Derleth | Arthur Conan Doyle | Hugo Gernsback | Charlotte Perkins Gilman | Cicely Hamilton | Hermann Hesse | William Hope Hodgson | Aldous Huxley | Inez Haynes Irwin | Alfred Jarry | Jack Kirby (Radium Age sf's influence on) | Murray Leinster | Gustave Le Rouge | Gaston Leroux | David Lindsay | Jack London | H.P. Lovecraft | A. Merritt | Maureen O'Sullivan | Sax Rohmer | Paul Scheerbart | Upton Sinclair | Clark Ashton Smith | E.E. "Doc" Smith | Olaf Stapledon | John Taine | H.G. Wells | Jack Williamson | Stanisław Ignacy Witkiewicz | S. Fowler Wright | Philip Gordon Wylie | Yevgeny Zamyatin