HYPOCRITE IDLER 1Q2019
By: Joshua Glenn
March 30, 2019
To idle is to work on meaningful and varied projects — and also to take it easy. If you're interested in my 1Q2019 projects, please keep reading; otherwise, don't. The title of this series of posts refers to this self-proclaimed idler's inability to take it easy.
MORE HYPOCRISY: 2010 | 2011 | 2012 | 2013 | 2014 | 2015 | 2016 | 2017 | 2018 | 2019 | 1Q2020 | 2Q2020 | 3Q2020 | 4Q2020 SNEAK PEEK.
***
---
SEMIOTICS
---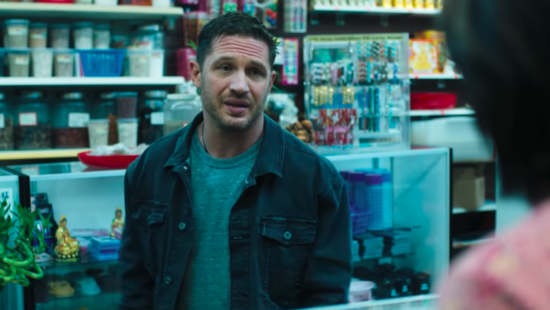 I'm co-founder of the semiotics-fueled brand consultancy SEMIOVOX, based in Boston and New York. During 1Q2019, Semiovox consulted to brands and agencies in categories including Pain Relief and Rum (I know, I know); and across a fascinating range of cultural territories. Our semiotic audits informed the strategic and tactical workshops that we ran for brand teams and agencies, which focused on everything from positioning and communications optimization to breakthrough pack design and new product innovation.
In the majority of our projects, we also validate and build on our audit's learnings via consumer research — whether conducted around the country or in leading global markets. My business partner, Ron Rentel, who is also head of the brand strategy, insight and innovation consultancy Consumer Eyes, continued to travel around the planet during 1Q2019, overseeing: consumer-led shop-alongs, cultural tours, livelogging, global immersions, in-the-moment ethnographies, and co-creation labs.
---
HILOBROW
---
I'm the editor and publisher, here at HILOBROW. To see what our many talented friends and contributors have written recently, please check out the HILOBROW 1Q2019 post. In this post, I'll just mention one 1Q2019 series that I edited.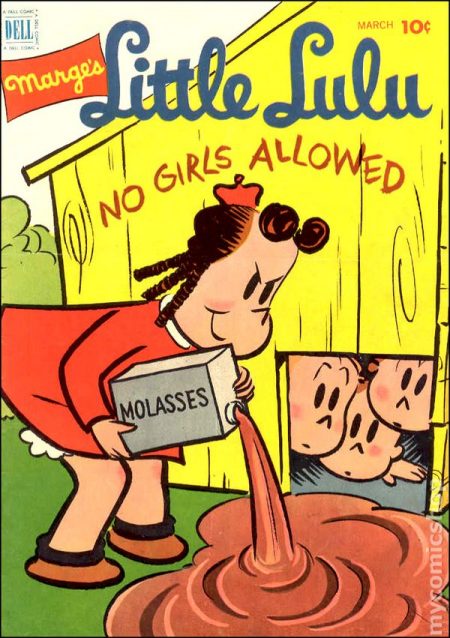 SERIOCOMIC is 2019's weekly ENTHUSIASM series, at HILOBROW. We've invited 52 of HILOBROW's friends and contributors to wax enthusiastic about some of their favorite comics books and strips. Here's the 1Q2019 series lineup:
Mimi Lipson on LITTLE LULU | Sara Ryan on AMPHIGOREY | Gary Panter on THE NUT BROS./THE SQUIRREL CAGE | Gordon Dahlquist on POGO | Robert Wringham on VIZ | Matthew De Abaitua on CAPTAIN BRITAIN | Jessamyn West on FUN HOME | Bradley Peterson on HELLBOY | Stephanie Burt on KITTY PRYDE RETURNS | Jenny Davidson on OOR WULLIE | Luc Sante on MARSUPILAMI | Susan Roe on BLOOM COUNTY | Marilyn Berlin Snell on CHARLES ADDAMS
I am very grateful to the SERIOCOMIC series contributors, many of whom have donated their fees to the ACLU.
---
READING & WRITING
---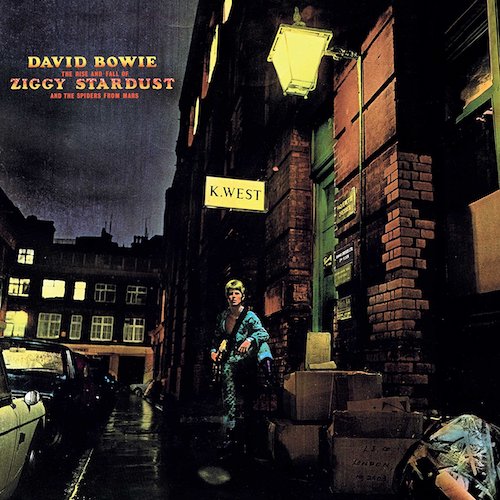 During 1Q2019, HILOBROW wrapped up NEW WAVE SCI-FI 75, a series that succeeded in identifying my 75 favorite science-fiction novels published during the Sixties (1964–1973) and Seventies (1974–1983). Here's the 1Q2019 series lineup:
Stanislaw Lem's THE FUTUROLOGICAL CONGRESS (1971) | John Sladek's RODERICK AT RANDOM (1983) | Octavia E. Butler's WILD SEED (1980) | Russell Hoban's RIDDLEY WALKER (1980) | David Bowie's ZIGGY STARDUST album (1972) | Philip K. Dick's VALIS (1981) | Alan Moore's graphic novel V FOR VENDETTA (1982–1989) | Brian Aldiss's GREYBEARD (1964) | Katsuhiro Otomo's graphic novel AKIRA (1982–1990) | James Tiptree Jr.'s UP THE WALLS OF THE WORLD (1978)
The complete NEW WAVE SCI-FI 75 list is here.
*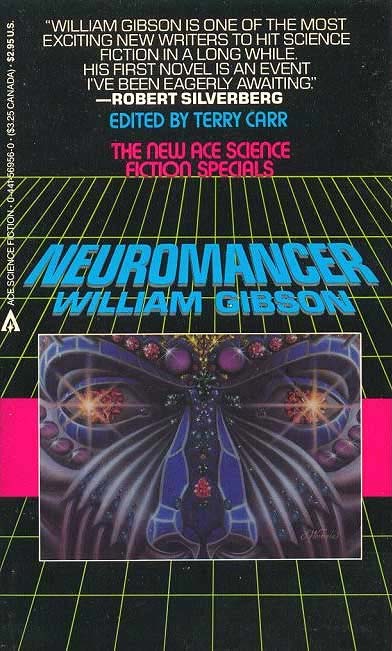 Earlier this month, HILOBROW began publishing DIAMOND AGE 75, a new lit-list series that aims to identify my 75 favorite science-fiction novels published during the Eighties (1984–1993) and Nineties (1994–2003). Here's the 1Q2019 series lineup:
William Gibson's NEUROMANCER (1984) | K.W. Jeter's DR. ADDER (1984) | Bruce Sterling's SCHISMATRIX (1985)
The complete DIAMOND AGE 75 list (very much a work in progress, obviously) is here.
*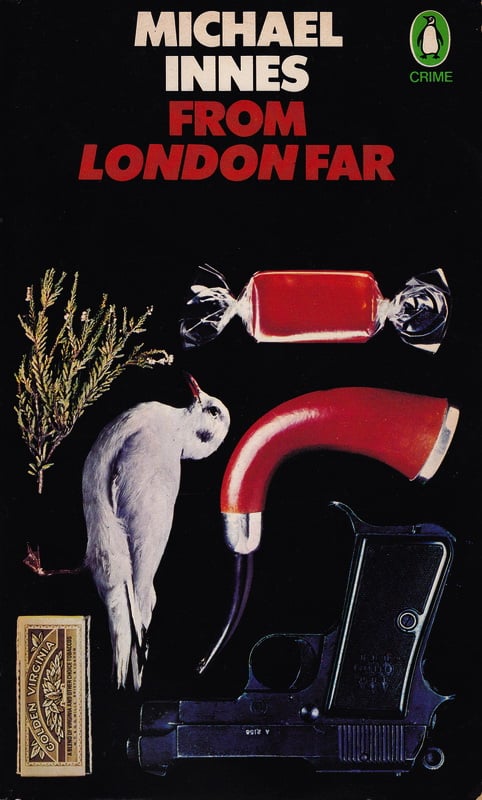 My new LISTEN, HOLLYWOOD! series, which debuted in 1Q2019 here at HILOBROW, offers free advice to Hollywood producers looking to adapt great, overlooked 20th-century adventure novels for movies or TV. Here's the 1Q2019 series lineup:
Michael Innes's FROM LONDON FAR | P.G. Wodehouse's LEAVE IT TO PSMITH | Peter Dickinson's CHANGES TRILOGY
*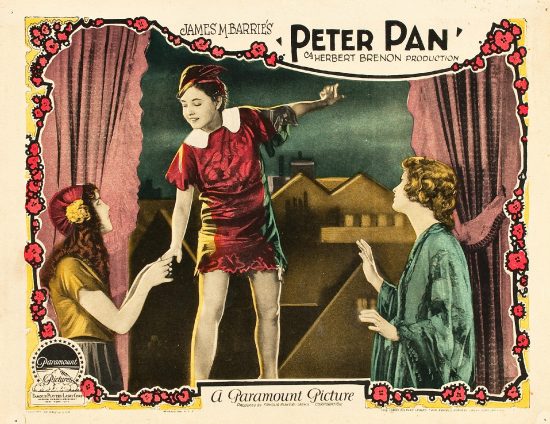 HILOBROW published four new installments in my BEST ADVENTURES project, which chronicles my ongoing, years-long attempt to identify the 10 best adventures I've read from each year of the 20th century. We're getting there — should be finished in early 2021, I think.
Here's the 1Q2019 BEST ADVENTURES lineup:
*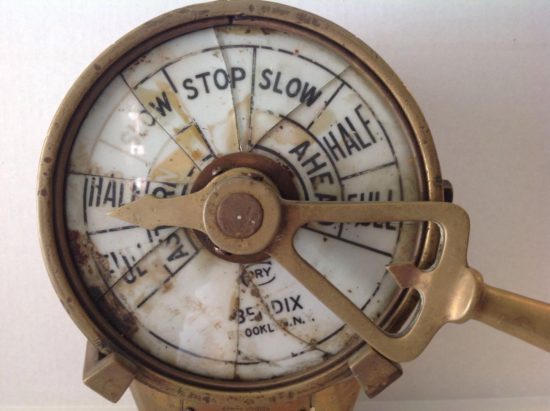 During 1Q2019, HILOBROW started publishing A IS FOR ADVENTURE, an irregular series featuring notes towards The Adventurer's Glossary, a work in progress which — like my previous books, The Idler's Glossary and The Wage Slave's Glossary — will smuggle ideology critique into a simple defining vocabulary or clavis.
Here's the 1Q2019 A IS FOR ADVENTURE series lineup: A-OK to AVENGER | BADASS to BUSHIDO.
*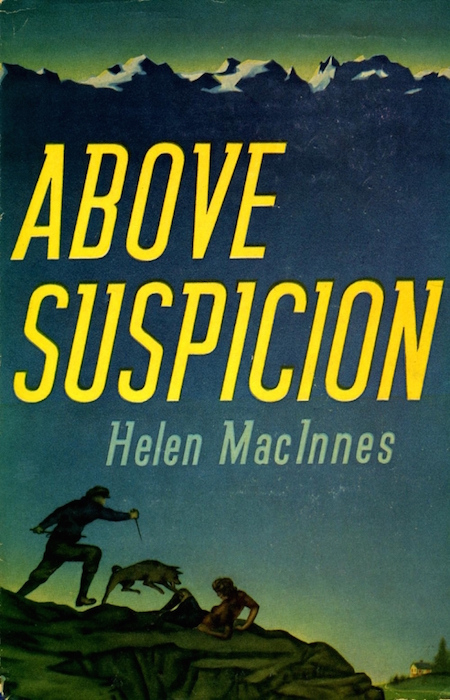 During 1Q2019, with the end of the BEST ADVENTURES project in sight, I grouped its various installments into the following handy pages, each of which will eventually list one decade's 100 best adventures:
100 BEST ADVENTURES OF THE OUGHTS (1904–1913) | 100 BEST ADVENTURES OF THE TEENS (1914–1923) | 100 BEST ADVENTURES OF THE TWENTIES (1924–1933) | 100 BEST ADVENTURES OF THE THIRTIES (1934–1943) | 100 BEST ADVENTURES OF THE FORTIES (1944–1953) | 100 BEST ADVENTURES OF THE FIFTIES (1954–1963) | 100 BEST ADVENTURES OF THE SIXTIES (1964–1973) | 100 BEST ADVENTURES OF THE SEVENTIES (1974–1983)
BEST ADVENTURES OF THE EIGHTIES (1984–1993) and NINETIES (1994–2003) pages to come at a later date. For the moment, however, there's this in-progress page.
---
GO WEST COWORKING
---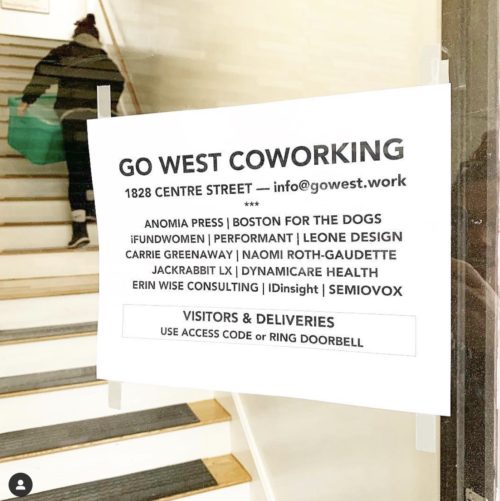 Last year, I cofounded GO WEST, a coworking space located in the business district of Boston's once-sleepy West Roxbury neighborhood. We're a vibrant community of entrepreneurs and remote workers hailing from a variety of fields, including: digital humanities, graphic design, educational software, branding, dog-training, boardgames, political organizing, NGOs, and crowdfunding. Eighteen of our twenty-three desks are now occupied — join us! Or just follow us on Instagram.
---
TAKING IT EASY
---
In the taking it easy department…
Susan and I cheered on Max as he competed in the Berklee High School Jazz Festival in January, and delivered a TED Talk-style presentation in February. Above: Max dropped his new track "Purity," feat. Cam M., Hannah Fortune, Alej, and Cole, in January.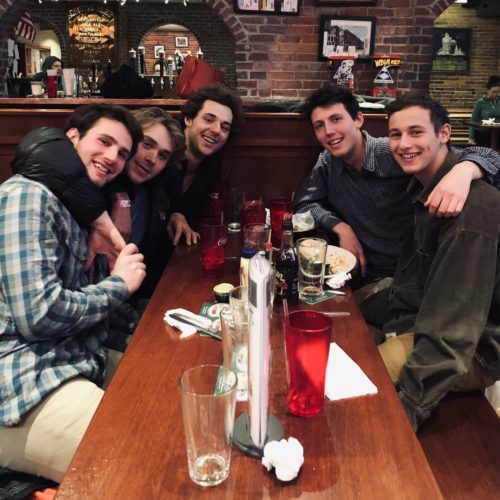 In February, we celebrated Sam's 21st birthday in Lewiston, Maine, with several of his Bates College friends. (Sam is second from right.) He's officially grown up, now!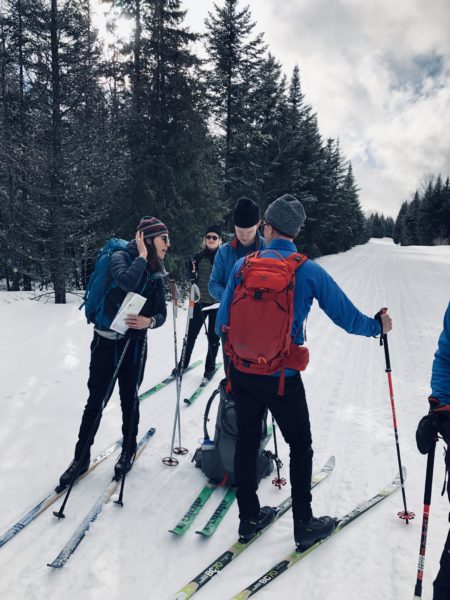 In January and February, Susan and I did some nordic skiing in Vermont and Maine — including a weekend jaunt that involved skiing to an AMC lodge in Maine's Hundred-Mile Wilderness, with two other couples. Above: Susan and our ski buddies.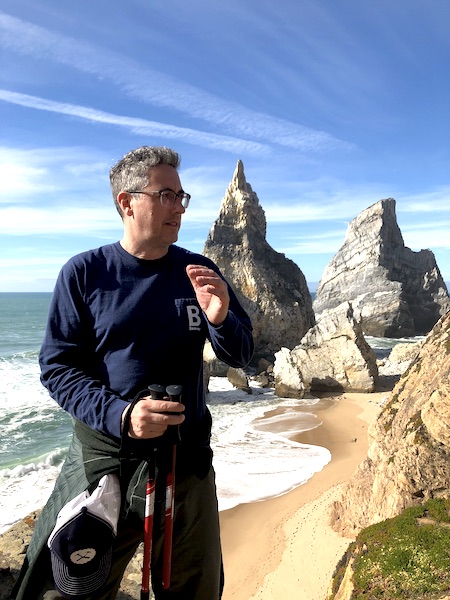 In March, Susan and I took a week-long trip to Portugal: Cascais, Sintra, Castelo de Monsaraz (in the Alentejo), and Lisbon. Above: Hiking above the remote beach Praia da Ursa, near Cabo da Roca — the most westerly point of mainland Europe. Fun!
***
On to 2Q2019…
MORE HYPOCRISY: 2010 | 2011 | 2012 | 2013 | 2014 | 2015 | 2016 | 2017 | 2018 | 2019 | 1Q2020 | 2Q2020 | 3Q2020 | 4Q2020 SNEAK PEEK.