New Wave Sci-Fi 75 (72)
By: Joshua Glenn
February 17, 2019
One in a series of posts about the 75 best science fiction novels published during the genre's New Wave era (from 1964–1983, according to HILOBROW's periodization schema). For Josh Glenn's complete New Wave Sci-Fi 75 list, click here.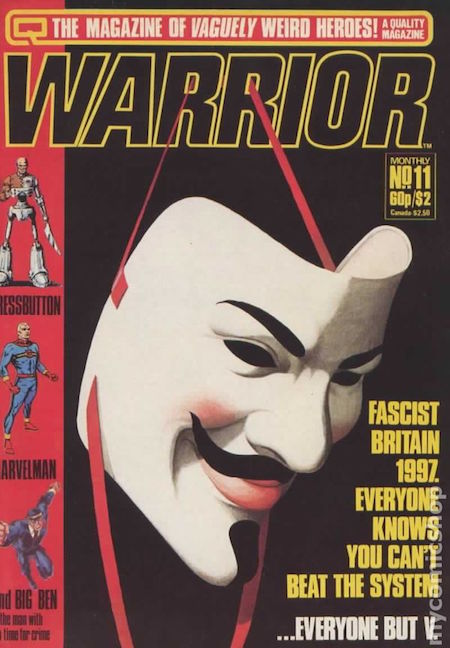 Alan Moore's dystopian graphic novel V for Vendetta (serialized 1982–1989). Illustrated by David Lloyd.
In the near future, following a nuclear war, the United Kingdom has become a fascist state run by the Norsefire Party. V, a flamboyant anarchist terrorist and vigilante whose face is never seen — he wears a Guy Fawkes mask — begins a campaign to bring down the government (and all governments); it's like Nineteen Eighty-Four with a happy ending. V, we discover over the course of the graphic novel, was imprisoned in a Norsefire concentration camp and experimented upon… which led him to develop superhuman strength, reflexes, and endurance. He blows up the Old Bailey and the CCTY surveillance buildings, kidnaps the propaganda minister, and murders a bishop — what will his final act be? He's pursued by Eric Finch, the secretly decent head of Norsefire's police. The Robin to V's Batman is Evey, a young woman whom he saves from a rapist and grooms as his successor — through very dubious methods.
Fun facts: Mostly published in black and white, in the British comics magazine Warrior; when the magazine folded, DC Comics reprinted and completed the story in color. In one of HILOBROW's most frequently viewed posts, Molly Sauter traces the adoption of the Guy Fawkes mask by Anonymous, following the marketing blitz for the (lame) 2006 film adaptation of the comic.
***
NEW WAVE SCI-FI at HILOBROW: 75 Best New Wave (1964–1983) Sci-Fi Novels | Back to Utopia: Fredric Jameson's theorizing about New Wave sci-fi | Douglas Adams | Poul Anderson | J.G. Ballard | John Brunner | William Burroughs | Octavia E. Butler | Samuel R. Delany | Philip K. Dick | Frank Herbert | Ursula K. Le Guin | Barry N. Malzberg | Moebius (Jean Giraud) | Michael Moorcock | Alan Moore | Gary Panter | Walker Percy | Thomas Pynchon | Joanna Russ | James Tiptree Jr. (Alice Sheldon) | Kurt Vonnegut | PLUS: Jack Kirby's Golden Age and New Wave science fiction comics.
JOSH GLENN'S *BEST ADVENTURES* LISTS: BEST 250 ADVENTURES OF THE 20TH CENTURY | 100 BEST OUGHTS ADVENTURES | 100 BEST RADIUM AGE (PROTO-)SCI-FI ADVENTURES | 100 BEST TEENS ADVENTURES | 100 BEST TWENTIES ADVENTURES | 100 BEST THIRTIES ADVENTURES | 75 BEST GOLDEN AGE SCI-FI ADVENTURES | 100 BEST FORTIES ADVENTURES | 100 BEST FIFTIES ADVENTURES | 100 BEST SIXTIES ADVENTURES | 75 BEST NEW WAVE SCI FI ADVENTURES | 100 BEST SEVENTIES ADVENTURES | 100 BEST EIGHTIES ADVENTURES | 75 BEST DIAMOND AGE SCI-FI ADVENTURES | 100 BEST NINETIES ADVENTURES (in progress) | 1994 | 1995 | 1996 | 1997 | 1998 | 1999 | 2000 | 2001 | 2002 | 2003 | NOTES ON 21st-CENTURY ADVENTURES.