Listen, Hollywood! (1)
By: Joshua Glenn
January 28, 2019
One in a series of 10 posts suggesting novels (from Josh Glenn's BEST ADVENTURES series) that really ought to be adapted for the big screen.
FROM LONDON FAR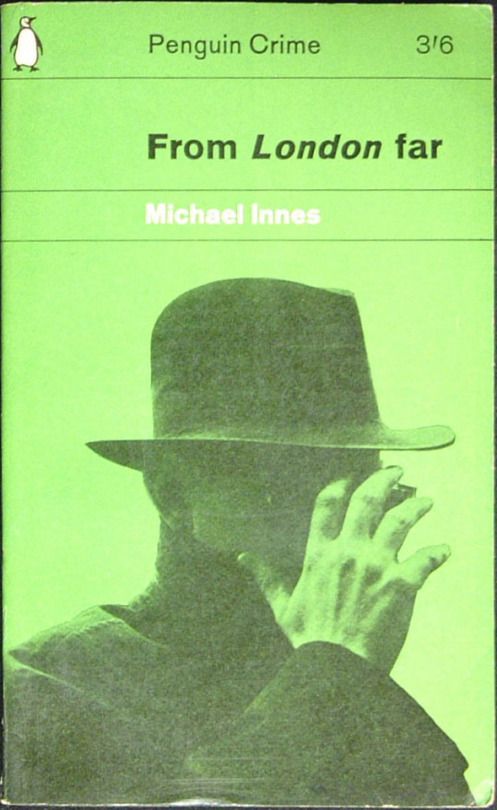 Michael Innes's crime adventure From London Far appeared on my list of the Best Adventures of 1946.
There's so much to like about this story: its characters (a middle-aged literature professor who's stuck in a rut, an adventurous young female archaeologist, an international gang of art smugglers, a deranged sex therapist, a creepy multi-millionaire, a dashing American pilot), its settings (a smugglers' den concealed beneath a London bookshop, a semi-ruined Scottish castle, a German submarine, a high-tech American mansion), its action sequences (impersonations, shootings, a wild cable car ride, a sinking submarine, an exploding swimming pool — full of sharks), its sardonic sense of humor (the author is poking fun at John Buchan-esque thrillers, donnish professors like himself, and proleptically, Ian Fleming's villains).
Alas, the author — Edinburgh-born J.I.M. Stewart, a professor of literature at the Queen's University of Belfast, and later Oxford, who'd write nearly fifty entertaining, hyper-literate crime novels and story collections under the pseudonym Michael Innes — hurries us through most of the best bits, while encouraging his characters to discourse upon art, and the psychology of art-collecting, for far too long. Worse, he doesn't give his very promising heroine enough to do. Overall, it's not one of Innes's most successful efforts. But Hollywood, we can overcome these problems!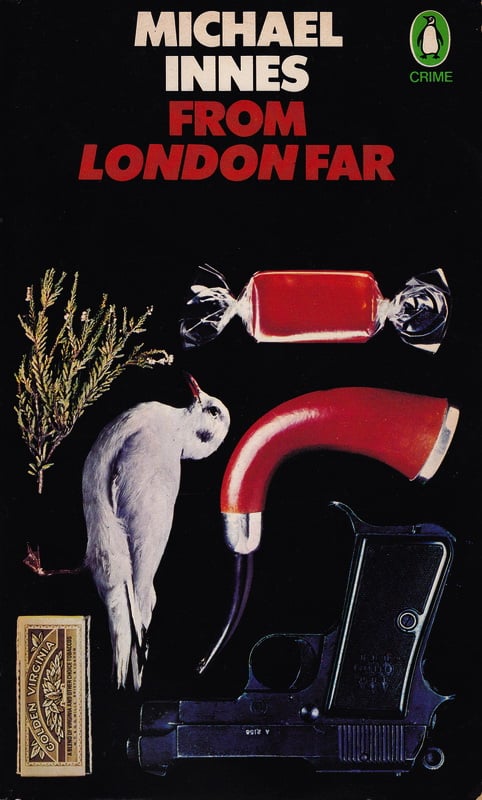 Elevator pitch:
When a mild-mannered art-history scholar and a younger, Indiana Jones-like female archaeologist discover that, under the cover of World War II's chaos, Europe's great art treasures are being stolen, they infiltrate the smugglers' gang in a desperate effort to recover the loot. From an underground London lair to an atmospheric Scottish island castle, to a sinking German U-boat and an American's high-tech pleasure palace, the unlikely duo gets themselves into and out of situations that are fantastical, thrilling, and more than a little absurd.
First act:
Richard Meredith, a middle-aged scholar, is a treasure-hunter, of sorts — researching Europe's art treasures via library research and dogged visits to the most exclusive homes and country estates on the continent. He is a rugged, passionate type, but he's sublimated his passion for adventure into scholarship. Michael Fassbender? Clive Owen? His super-power is his encyclopedic knowledge of European art, who owns what, where they keep it, etc. — all of which he is able to leverage, as demanded, to impersonate an art thief. He's also an accomplished linguist, which helps him assume the identity of various international baddies.
Dismayed that many important art works have been destroyed in bombing raids, Richard is both delighted and shocked to discover (when he accidentally gives a password, in a London bookshop, which opens the door to an underground warehouse), in fact, they've been stolen — by an international gang of thieves in the employ of a reclusive American multi-millionaire. Having stumbled upon this criminal operation, Richard relies on his mastery of languages and knowledge about the missing art to infiltrate the gang…. Which has comic aspects: I'm thinking of Dick Van Dyke and Edward G. Robinson in the 1968 comedic crime movie Never a Dull Moment. Also see the TV Trope "Impersonation Gambit."
But how can a mild-mannered scholar single-handedly sabotage this sophisticated criminal enterprise?
Enter Jean Halliwell, an athletic and resourceful young archaeologist, who — while doing a dig in Scotland — had stumbled upon a cache of the stolen art works. Apprehended by the criminal gang, she is rescued by Richard from the smuggler's London lair — there are shootings, a wild chase across the rooftops, and a massive explosion. She then persuades Richard, who is a far less adventuresome soul, to accompany her back to Scotland. Jean's super-power is physical courage and athleticism, as well as quick thinking: She keeps coming up with cover stories, which Richard isn't nearly so good at maintaining.
With this unlikely team-up, Innes was onto something that could have been terrific… however, in the end he doesn't give Jean nearly enough to do. (Same thing goes for Appleby's sister, in Innes's 1951 Inspector Appleby adventure, Operation Pax.) We'll give Jean more to do in the movie, though, Hollywood — right? I see Alicia Vikander in the role, say… but Felicity Jones or Keira Knightley would be great, too.
Note that Innes's "entertainments," as he called them, make fun of thrillers… and are really good thrillers, at the same time. The running joke in From London Far is the main characters' inability to maintain their various assumed identities for very long; one thinks of Robert Downey Jr.'s Sherlock Holmes and his laughable disguises. Yet like RDJ's Sherlock, Innes's characters aren't buffoons — they're smart, brave, passionate, and tough. The tonality of this move should be British, not American — walking that tightrope between self-aware, wised-up humor and mere farce.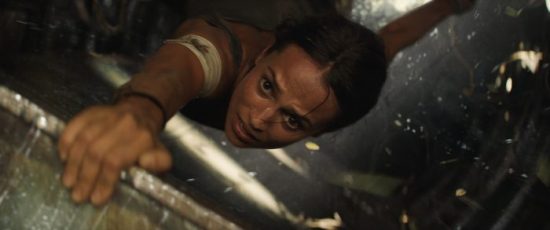 Note that in the first act, it will be important to get audiences to care about Europe's art treasures. We have to see the art through the eyes of Richard and Jean….
Second act:
Our next setting is a Scottish castle on an island whose deep harbor is the perfect place for a U-boat — deserters from the German Navy, who have joined forces with the art smugglers — to collect the stolen art works. A cable car travels from the mainland, above the castle, to the harbor; this intrusion of industry into a picaresque ruin was intended by Innes to shock and appall readers — so we'll want to retain that effect.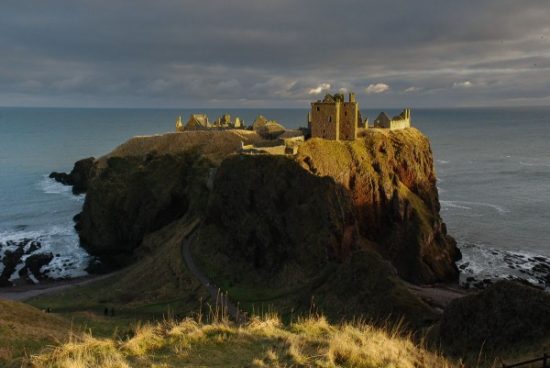 The castle is inhabited by elderly sisters who have trouble distinguishing the present from their family's medieval history; although Innes doesn't use this setting to its maximum possible effect, I imagine a siege sequence — for inspiration, see the siege in Innes's 1953 novel Christmas at Candleshoe — in which German sailors are repelled by, say, boiling oil. The smugglers have an outpost nearby — whose hoard Jean had discovered — and there's a Buchan-esque moment where Richard, who has been pretending to be a German art expert and smuggler, must leap out a window and escape his pursuers across the heath. He winds up in a gondola that is carrying the loot, over the sisters' castle, to the waiting U-boat — can he sabotage it in time?
Richard and Jean, along with the smugglers' horde, end up on the U-boat; they have adopted yet another false identity, and now appear to be Italian art experts working with the smugglers. Let's say — though this isn't exactly how it happens in the book — that the smugglers' horde has been successfully recaptured by Richard and Jean, and defended by the elderly sisters… but now Richard and Jean want to find out where the treasures have been going. They've smashed the European smugling operation — but they've discovered that Neff, a wealthy American, is the true mastermind of the operation. Our duo wants to see this through.
Innes only writes about the next sequence of events in retrospect, which is disappointing — but in the movie adaptation, I imagine that that the duo's true identities are once again revealed… but just as they're about to be killed, the submarine is attacked by the British navy and sunk. Richard and Jean are then rescued by Drummey, a dashing American pilot in a seaplane, who — it turns out — is in the employ of Neff. Robert Pattinson? Henry Cavill? Zac Efron would be a fun choice — I liked his brand of action comedy in Baywatch. I see this character as more than a deus ex machina, though he literally swoops in (twice) to save the day; let's give him bad-boy allure, make him interesting to Jean and irritating to Richard, and what his true motivation may be we'll discover later.
Drummey, like everyone else, sees through the duo's latest false identity… but it turns out that he's eager to help them out. In the book, this surprise twist is explained by Drummey's unwillingness to steal Europe's art treasures; in the movie, we're not sure what his motivation to help these fake art thieves is. That's something that will be revealed near the end of the third act.
Third act:
Our final setting is a Hearst-like mansion in California, an obscene architectural pile topped by a shark tank — the sort of effect that Ian Fleming wouldn't achieve until Live and Let Die (1954).
With the assistance of Drummey, Richard and Jean are introduced into Neff's household as European art experts. Although his description of the high-tech mansion, with conveyor belts everywhere, is fun — and leads to a climactic scene in which all of Neff's stolen art is rushed towards oblivion, only to be rescued at the last minute by Drummey and his seaplane — Innes spends way too much time on Richard and Jean's debates over Neff's psychological motivation. I'd avoid this.
Speaking of Neff, it's kind of amazing that the "final boss" of Innes's story — which must have been written during the final months of World War II — is not a German, but an American. Which seems to suggest that the ultimate threat to European civilization was not Hitler but rich philistines from California, plundering Europe's ruins. I see Billy Bob Thornton in the role. Think of BBT as the American president in Love, Actually — charismatic but cruel, a powerful man who assumes that he can get everything that he wants but still thinks of himself as a good person. He was a hybrid of Bill Clinton and George W. Bush — brilliant!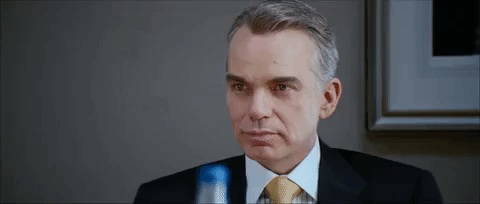 PS: In the novel, an egotistical, semi-crazy British sex therapist character pops up at this point. He proves to be nothing but a distraction; I suspect that Innes just wanted to mock some popular-science guru of the 1940s. I don't know what to do about this character — drop him?
The big reveal about Neff is that (spoiler alert) he's color-blind, and therefore can't possibly appreciate his stolen art. His staff has been concealing this fact from him, but Jean is brutally frank — at which point Neff decides to destroy his art collection, and his mansion. The final scene involves the sea plane full of treasure flying away, as the shark tank explodes and floods the mansion.
Although the reader expects Richard and Jean to fall in love, in fact sparks fly between her and Drummey. Which makes me think that we'd want to give him more to do, in the movie — he'd become a third main character. Perhaps he ends up playing a more active role in smashing Neff's operation, in the third act; also, perhaps we don't discover that he's an agent — we think he's a smuggler — for a bit. A dashing smuggler, but still a criminal.
*
I've done some violence to Innes's story, and ignored several characters — members of the European smugglers' operation, who think of themselves as participating in a great historical shift of power and influence, from Europe to America; Neff's majordomo; Richard's housekeeper, who is eager to facilitate what she believes to be his affair with Jean; the Scottish sisters' servant, and their sheep-conveying ship captain friend – whom the author considers more important to the action than I do. But you get the idea, Hollywood. Let's do this!
***
LISTEN, HOLLYWOOD: Michael Innes's FROM LONDON FAR | P.G. Wodehouse's LEAVE IT TO PSMITH | Peter Dickinson's CHANGES TRILOGY | Robert Heinlein's GLORY ROAD | Poul Anderson's THE HIGH CRUSADE | Edgar Rice Burroughs's TARZAN AND THE FOREIGN LEGION | G.K. Chesterton's THE NAPOLEON OF NOTTING HILL | Michael Innes's THE JOURNEYING BOY | Alfred Jarry's EXPLOITS AND OPINIONS OF DR. FAUSTROLL, PATAPHYSICIAN | André Gide's THE VATICAN CAVES [LAFCADIO'S ADVENTURES].
Also see Josh Glenn's SHOCKING BLOCKING series: It Happened One Night (1934) | The Man Who Knew Too Much (1934) | The Guv'nor (1935) | The 39 Steps (1935) | Young and Innocent (1937) | The Lady Vanishes (1938) | Mr. Smith Goes to Washington (1939) | The Big Sleep (1939) | The Little Princess (1939) | Gone With the Wind (1939) | His Girl Friday (1940) | The Diary of a Chambermaid (1946) | The Asphalt Jungle (1950) | The African Queen (1951) | A Bucket of Blood (1959) | Beach Party (1963) | For Those Who Think Young (1964) | Thunderball (1965) | Clambake (1967) | Bonnie and Clyde (1967) | Madigan (1968) | Wild in the Streets (1968) | Barbarella (1968) | Harold and Maude (1971) | The Mack (1973) | The Long Goodbye (1973) | Les Valseuses (1974) | Eraserhead (1976) | The Bad News Bears (1976) | Breaking Away (1979) | Rock'n'Roll High School (1979) | Escape from Alcatraz (1979) | Apocalypse Now (1979) | Caddyshack (1980) | Stripes (1981) | Blade Runner (1982) | Tender Mercies (1983) | Monty Python's The Meaning of Life (1983) | Repo Man (1984) | Buckaroo Banzai (1984) | Raising Arizona (1987) | RoboCop (1987) | Goodfellas (1990) | Candyman (1992) | Dazed and Confused (1993) | Pulp Fiction (1994) | The Fifth Element (1997) | Nacho Libre (2006) | District 9 (2009).
JOSH GLENN'S *BEST ADVENTURES* LISTS: BEST 250 ADVENTURES OF THE 20TH CENTURY | 100 BEST OUGHTS ADVENTURES | 100 BEST RADIUM AGE (PROTO-)SCI-FI ADVENTURES | 100 BEST TEENS ADVENTURES | 100 BEST TWENTIES ADVENTURES | 100 BEST THIRTIES ADVENTURES | 75 BEST GOLDEN AGE SCI-FI ADVENTURES | 100 BEST FORTIES ADVENTURES | 100 BEST FIFTIES ADVENTURES | 100 BEST SIXTIES ADVENTURES | 75 BEST NEW WAVE SCI FI ADVENTURES | 100 BEST SEVENTIES ADVENTURES | 100 BEST EIGHTIES ADVENTURES | 75 BEST DIAMOND AGE SCI-FI ADVENTURES | 100 BEST NINETIES ADVENTURES (in progress) | 1994 | 1995 | 1996 | 1997 | 1998 | 1999 | 2000 | 2001 | 2002 | 2003 | NOTES ON 21st-CENTURY ADVENTURES.