New Wave Sci-Fi 75 (67)
By: Joshua Glenn
January 13, 2019
One in a series of posts about the 75 best science fiction novels published during the genre's New Wave era (from 1964–1983, according to HILOBROW's periodization schema). For Josh Glenn's complete New Wave Sci-Fi 75 list, click here.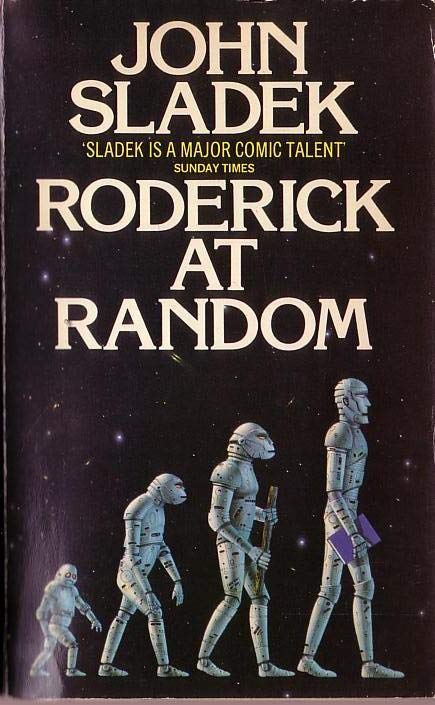 John Sladek's New Wave science fiction adventure Roderick at Random (1983).
In the sequel to Sladek's Roderick, or The Education of a Young Machine (1980), our Candide-like robot protagonist takes a low-paying job and attempts to navigate such human, all-too-human institutions as academia, government, the military, the media, the art world, the publishing industry, and above all, religion. Thanks to Roderick's hard-wired objectivity, this is a darkly satirical take-down of everything from trendy Zen Buddhism and a Scientology-like celebrity "church" to humankind's propensity to fear, reject, and persecute those who don't go along to get along. Life itself, Roderick discovers, is absurd; there is no inherent meaning in the world, no overarching purpose to our lives. Computers, meanwhile, are developing their own consciousness — which doesn't make Roderick feel any less alone; in fact, he's scared of the emerging AIs. If the book's human characters are two-dimensional, and its narrative structure Rube Goldberg-like, it's largely because Sladek was experimenting with the Oulipian possibilities of artificial constraints and mathematical possibilities. In the end, Roderick is revealed as the most truly human character in the story.
Fun facts: Sladek was closely involved with the UK New Wave sci-fi movement in the 1960s–1970s; for example, he co-edited the short lived poetry magazine Ronald Reagan, where work by J.G. Ballard, Thomas M. Disch and other sci-fi writers appeared. The two Roderick books were intended to be parts of a single novel; and in 2001, they were published in one volume as The Complete Roderick.
***
NEW WAVE SCI-FI at HILOBROW: 75 Best New Wave (1964–1983) Sci-Fi Novels | Back to Utopia: Fredric Jameson's theorizing about New Wave sci-fi | Douglas Adams | Poul Anderson | J.G. Ballard | John Brunner | William Burroughs | Octavia E. Butler | Samuel R. Delany | Philip K. Dick | Frank Herbert | Ursula K. Le Guin | Barry N. Malzberg | Moebius (Jean Giraud) | Michael Moorcock | Alan Moore | Gary Panter | Walker Percy | Thomas Pynchon | Joanna Russ | James Tiptree Jr. (Alice Sheldon) | Kurt Vonnegut | PLUS: Jack Kirby's Golden Age and New Wave science fiction comics.
JOSH GLENN'S *BEST ADVENTURES* LISTS: BEST 250 ADVENTURES OF THE 20TH CENTURY | 100 BEST OUGHTS ADVENTURES | 100 BEST RADIUM AGE (PROTO-)SCI-FI ADVENTURES | 100 BEST TEENS ADVENTURES | 100 BEST TWENTIES ADVENTURES | 100 BEST THIRTIES ADVENTURES | 75 BEST GOLDEN AGE SCI-FI ADVENTURES | 100 BEST FORTIES ADVENTURES | 100 BEST FIFTIES ADVENTURES | 100 BEST SIXTIES ADVENTURES | 75 BEST NEW WAVE SCI FI ADVENTURES | 100 BEST SEVENTIES ADVENTURES | 100 BEST EIGHTIES ADVENTURES | 75 BEST DIAMOND AGE SCI-FI ADVENTURES | 100 BEST NINETIES ADVENTURES (in progress) | 1994 | 1995 | 1996 | 1997 | 1998 | 1999 | 2000 | 2001 | 2002 | 2003 | NOTES ON 21st-CENTURY ADVENTURES.