New Wave Sci-Fi 75 (70)
By: Joshua Glenn
February 3, 2019
One in a series of posts about the 75 best science fiction novels published during the genre's New Wave era (from 1964–1983, according to HILOBROW's periodization schema). For Josh Glenn's complete New Wave Sci-Fi 75 list, click here.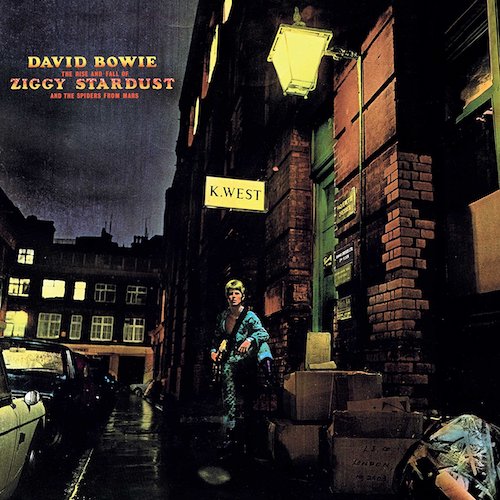 David Bowie's The Rise and Fall of Ziggy Stardust and the Spiders from Mars (1972).
Bowie's fifth studio effort wasn't originally intended to be a concept album, but over the course of its recording the idea of "Ziggy Stardust" — an androgynous rock star who may or may not be an extraterrestrial — metastasized from a single song into first a publicity stunt and then, ultimately, an enduring mythos. The album's tremendous first track, "Five Years," announces the imminent destruction of Earth; "Moonage Daydream" introduces a "space invader" who preaches a cosmo-religious message of sex, love, and rock'n'roll; and the "Over the Rainbow"-ish "Starman" describes a teenager's discovery — via late-night radio — that a starman waiting in the sky approves of youthful rebellion and pleasure-seeking. On side two, we meet Ziggy Stardust himself: Is this kabuki cat truly "the Naz" (Lenny Bruce's hipster slang for Jesus), or merely a Vince Taylor-esque teen idol who (in his band's estimation, anyway) has developed delusions of grandeur? The album's bricolage mythography encourages us to actively participate in parsing the Ziggy myth for ourselves. Philip K. Dick, whose 1981 novel VALIS features a Ziggy-inspired character, took Bowie up on the challenge; so did the inspired prankster who's recently pointed out that Kanye West, whose name seems to float above Bowie's head on the cover of Ziggy Stardust, was born five years after the release of "Five Years." Yes!
Fun facts: The album features contributions from the Spiders from Mars, Bowie's backing band: Mick Ronson, Trevor Bolder, and Mick Woodmansey. A "Ziggy Stardust" concert film, directed by D. A. Pennebaker, was recorded in 1973; it's well worth viewing.
***
NEW WAVE SCI-FI at HILOBROW: 75 Best New Wave (1964–1983) Sci-Fi Novels | Back to Utopia: Fredric Jameson's theorizing about New Wave sci-fi | Douglas Adams | Poul Anderson | J.G. Ballard | John Brunner | William Burroughs | Octavia E. Butler | Samuel R. Delany | Philip K. Dick | Frank Herbert | Ursula K. Le Guin | Barry N. Malzberg | Moebius (Jean Giraud) | Michael Moorcock | Alan Moore | Gary Panter | Walker Percy | Thomas Pynchon | Joanna Russ | James Tiptree Jr. (Alice Sheldon) | Kurt Vonnegut | PLUS: Jack Kirby's Golden Age and New Wave science fiction comics.
JOSH GLENN'S *BEST ADVENTURES* LISTS: BEST 250 ADVENTURES OF THE 20TH CENTURY | 100 BEST OUGHTS ADVENTURES | 100 BEST RADIUM AGE (PROTO-)SCI-FI ADVENTURES | 100 BEST TEENS ADVENTURES | 100 BEST TWENTIES ADVENTURES | 100 BEST THIRTIES ADVENTURES | 75 BEST GOLDEN AGE SCI-FI ADVENTURES | 100 BEST FORTIES ADVENTURES | 100 BEST FIFTIES ADVENTURES | 100 BEST SIXTIES ADVENTURES | 75 BEST NEW WAVE SCI FI ADVENTURES | 100 BEST SEVENTIES ADVENTURES | 100 BEST EIGHTIES ADVENTURES | 75 BEST DIAMOND AGE SCI-FI ADVENTURES | 100 BEST NINETIES ADVENTURES (in progress) | 1994 | 1995 | 1996 | 1997 | 1998 | 1999 | 2000 | 2001 | 2002 | 2003 | NOTES ON 21st-CENTURY ADVENTURES.