New Wave Sci-Fi 75 (68)
By: Joshua Glenn
January 20, 2019
One in a series of posts about the 75 best science fiction novels published during the genre's New Wave era (from 1964–1983, according to HILOBROW's periodization schema). For Josh Glenn's complete New Wave Sci-Fi 75 list, click here.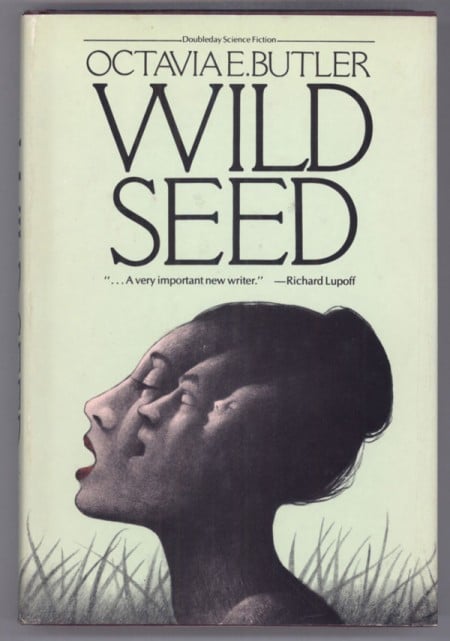 Octavia E. Butler's New Wave sci-fi adventure Wild Seed (1980).
In this prequel to Butler's Patternist epic, a 1976–1984 series of novels recounting the rise of a mutant species of networked telepaths who will — in the far future — come to enslave "mute" humankind (while struggling against the Clayarks, a species of extraterrestrial plague-mutated humanoids), our protagonist is Anyanwu, a 350-year-old shapeshifter living peacefully in Africa… until she meets Doro, a telepathic spirit so powerful that he can possess any body. Doro, who was born in Egypt during the reign of the Pharaohs, intends to breed a race of telepaths under his control; he has been collecting people with unusual abilities and breeding them, and Anyanwu is his next target. Although she vehemently disagrees with Doro's contemptuous, utilitarian treatment of his experimental subjects, Anyanwu is persuaded to leave her home for America… where she will struggle to rebel against Doro's manipulative coercion. The book's timeline begins in the late 17th century and ends in the early 19th century, and Anyanwu and Doro take the Middle Passage to the New World aboard a slave ship… yet Butler complicates this quasi-slave narrative by showing how Doro protects his "seeds" from Indian attacks and White racism alike. In the end, it's a book about a woman who fights to protect her family from a cruel, paternalistic man — using love and self-sacrifice, not violence.
Fun facts: The other Patternist books, in order of publication, are Patternmaster (1976), Mind of My Mind (1977), Survivor (1978), and Clay's Ark (1984).
***
NEW WAVE SCI-FI at HILOBROW: 75 Best New Wave (1964–1983) Sci-Fi Novels | Back to Utopia: Fredric Jameson's theorizing about New Wave sci-fi | Douglas Adams | Poul Anderson | J.G. Ballard | John Brunner | William Burroughs | Octavia E. Butler | Samuel R. Delany | Philip K. Dick | Frank Herbert | Ursula K. Le Guin | Barry N. Malzberg | Moebius (Jean Giraud) | Michael Moorcock | Alan Moore | Gary Panter | Walker Percy | Thomas Pynchon | Joanna Russ | James Tiptree Jr. (Alice Sheldon) | Kurt Vonnegut | PLUS: Jack Kirby's Golden Age and New Wave science fiction comics.
JOSH GLENN'S *BEST ADVENTURES* LISTS: BEST 250 ADVENTURES OF THE 20TH CENTURY | 100 BEST OUGHTS ADVENTURES | 100 BEST RADIUM AGE (PROTO-)SCI-FI ADVENTURES | 100 BEST TEENS ADVENTURES | 100 BEST TWENTIES ADVENTURES | 100 BEST THIRTIES ADVENTURES | 75 BEST GOLDEN AGE SCI-FI ADVENTURES | 100 BEST FORTIES ADVENTURES | 100 BEST FIFTIES ADVENTURES | 100 BEST SIXTIES ADVENTURES | 75 BEST NEW WAVE SCI FI ADVENTURES | 100 BEST SEVENTIES ADVENTURES | 100 BEST EIGHTIES ADVENTURES | 75 BEST DIAMOND AGE SCI-FI ADVENTURES | 100 BEST NINETIES ADVENTURES (in progress) | 1994 | 1995 | 1996 | 1997 | 1998 | 1999 | 2000 | 2001 | 2002 | 2003 | NOTES ON 21st-CENTURY ADVENTURES.