Diamond Age 75 (3)
By: Joshua Glenn
March 31, 2019
One in a series of posts about the 75 best science fiction novels published during the genre's Diamond Age era (from 1984–2003, according to HILOBROW's periodization schema). For Josh Glenn's complete Diamond Age Sci-Fi 75 list, click here.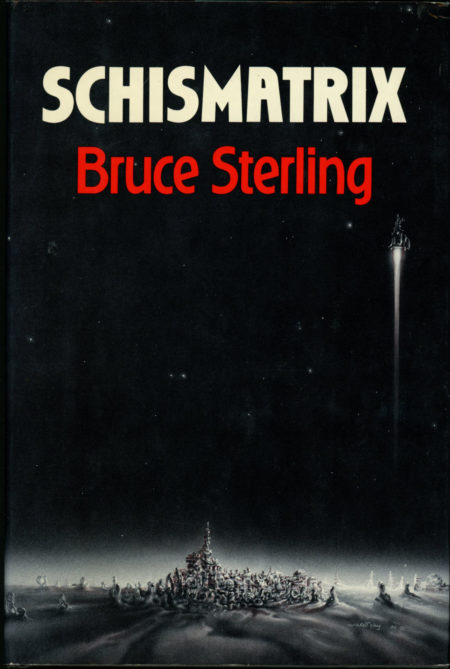 Bruce Sterling's Shaper/Mechanist adventure Schismatrix (1985).
Humankind — now dwelling in off-world colonies, around the Solar System, far from their ruined home planet — has divided into two warring schisms. Shapers evolve themselves via genetic modification and mental training, Mechanists through cyborgian upgrades; together, these factions make up the Schismatrix: extraterrestrial humanity. Our protagonist, Abelard Lindsay, is an aristocratic Mechanist who has received Shaper training; seeking to preserve Earth-bound human culture, he and his friends lead a rebellion against the Mechanists. Lindsay is exiled to a lunar colony populated by criminals, dissidents, nomads, and "wireheads" who ignore or abandon their physical bodies in favor of virtual reality; this is the most cyberpunk part of the story, which otherwise is a Foundation-like, semi-psychedelic space opera taking place over the course of nearly two centuries. When an assassin comes after Lindsay, sent by a former insurgent comrade, he is rescued by Mechanist pirates. There is much more to the plot: espionage, murder, sabotage, not to mention the arrival of the "Investors," an alien race who are only interested in making a profit off of humankind. There is also a Robinsonade plot — of the Unalienated Work variety — in which Lindsay works for decades to develop the richest and most powerful state in the solar system. And much more — for better and worse this is a sprawling, Asimovian novel of ideas. Many ideas!
Fun facts: Sterling wrote five Shaper/Mechanist stories before this novel; together, they were collected in a 1996 edition entitled Schismatrix Plus.
***
DIAMOND AGE SCI-FI at HILOBROW: William Gibson | Bruce Sterling | Margaret Atwood | Ann Nocenti | Frank Miller | Alan Moore | Octavia E. Butler | Iain M. Banks | Grant Morrison | Neal Stephenson | Jonathan Lethem | Charles Burns | China Miéville.
JOSH GLENN'S *BEST ADVENTURES* LISTS: BEST 250 ADVENTURES OF THE 20TH CENTURY | 100 BEST OUGHTS ADVENTURES | 100 BEST RADIUM AGE (PROTO-)SCI-FI ADVENTURES | 100 BEST TEENS ADVENTURES | 100 BEST TWENTIES ADVENTURES | 100 BEST THIRTIES ADVENTURES | 75 BEST GOLDEN AGE SCI-FI ADVENTURES | 100 BEST FORTIES ADVENTURES | 100 BEST FIFTIES ADVENTURES | 100 BEST SIXTIES ADVENTURES | 75 BEST NEW WAVE SCI FI ADVENTURES | 100 BEST SEVENTIES ADVENTURES | 100 BEST EIGHTIES ADVENTURES | 75 BEST DIAMOND AGE SCI-FI ADVENTURES | 100 BEST NINETIES ADVENTURES (in progress) | 1994 | 1995 | 1996 | 1997 | 1998 | 1999 | 2000 | 2001 | 2002 | 2003 | NOTES ON 21st-CENTURY ADVENTURES.