New Wave Sci-Fi 75 (69)
By: Joshua Glenn
January 27, 2019
One in a series of posts about the 75 best science fiction novels published during the genre's New Wave era (from 1964–1983, according to HILOBROW's periodization schema). For Josh Glenn's complete New Wave Sci-Fi 75 list, click here.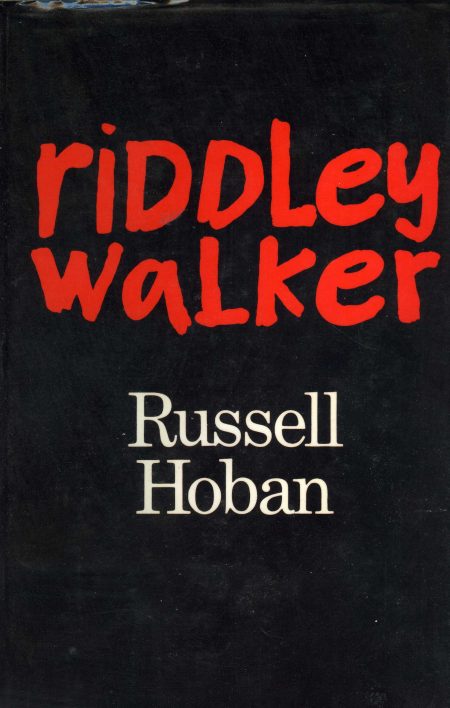 Russell Hoban's Riddley Walker (1980).
"Our woal life is a idear we dint think of nor we dont know what it is." Although its degraded dialect is not to every reader's taste, and although it's not particularly action-packed, Riddley Walker is one of the greatest of all post-apocalyptic adventures — and a brilliant, deep, mysterious, tragicomic piece of writing that amply rewards re-reading. When twelve-year-old Riddley's father dies, he becomes his community's "connexion man" — tasked with teasing out the social, religious, and political implications of the ever-evolving puppet shows staged — in primitive towns across "Inland" (England) — by church/government propagandists. A cataclysm happened, a couple of thousand years ago, reducing the world to an Iron Age level of technology — leaving nothing but myths, turns of phrase ("hes getting his serkits jus that little bit over loadit"), and artifacts to be puzzled over by inquisitive types. A power struggle is going on, we discover — one whose outcome may lead to humankind's progress forward out of the ashes, or to utter ruin. The chance finding of an ancient relic gets Riddley involved in this momentous struggle… and sends him on the run! Though it's often compared to A Clockwork Orange and A Canticle for Leibowitz, I'd describe Riddley Walker as a sequel to Cicely Hamilton's Theodore Savage, and a companion-piece to John Crowley's Engine Summer.
Fun facts: Harold Bloom included this book in his list of works comprising the Western Canon; and George Miller's 1985 movie Mad Max Beyond Thunderdome pays homage to Riddley Walker. Hoban is best known as the author of Bedtime for Frances (1960, ill. Garth Williams) and sequels, as well as for the older children's novel The Mouse and His Child (1967).
***
NEW WAVE SCI-FI at HILOBROW: 75 Best New Wave (1964–1983) Sci-Fi Novels | Back to Utopia: Fredric Jameson's theorizing about New Wave sci-fi | Douglas Adams | Poul Anderson | J.G. Ballard | John Brunner | William Burroughs | Octavia E. Butler | Samuel R. Delany | Philip K. Dick | Frank Herbert | Ursula K. Le Guin | Barry N. Malzberg | Moebius (Jean Giraud) | Michael Moorcock | Alan Moore | Gary Panter | Walker Percy | Thomas Pynchon | Joanna Russ | James Tiptree Jr. (Alice Sheldon) | Kurt Vonnegut | PLUS: Jack Kirby's Golden Age and New Wave science fiction comics.
JOSH GLENN'S *BEST ADVENTURES* LISTS: BEST 250 ADVENTURES OF THE 20TH CENTURY | 100 BEST OUGHTS ADVENTURES | 100 BEST RADIUM AGE (PROTO-)SCI-FI ADVENTURES | 100 BEST TEENS ADVENTURES | 100 BEST TWENTIES ADVENTURES | 100 BEST THIRTIES ADVENTURES | 75 BEST GOLDEN AGE SCI-FI ADVENTURES | 100 BEST FORTIES ADVENTURES | 100 BEST FIFTIES ADVENTURES | 100 BEST SIXTIES ADVENTURES | 75 BEST NEW WAVE SCI FI ADVENTURES | 100 BEST SEVENTIES ADVENTURES | 100 BEST EIGHTIES ADVENTURES | 75 BEST DIAMOND AGE SCI-FI ADVENTURES | 100 BEST NINETIES ADVENTURES (in progress) | 1994 | 1995 | 1996 | 1997 | 1998 | 1999 | 2000 | 2001 | 2002 | 2003 | NOTES ON 21st-CENTURY ADVENTURES.