New Wave Sci-Fi 75 (73)
By: Joshua Glenn
February 24, 2019
One in a series of posts about the 75 best science fiction novels published during the genre's New Wave era (from 1964–1983, according to HILOBROW's periodization schema). For Josh Glenn's complete New Wave Sci-Fi 75 list, click here.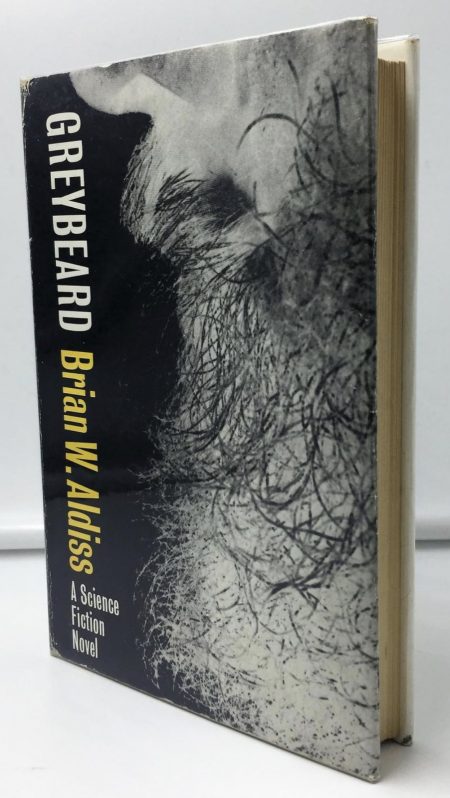 Brian Aldiss's Greybeard (1964).
At age 56, Algy Timberlane — our titular greybeard, is one of the world's youngest men. At the beginning of this story, he and his wife, Martha, are living in an isolated community, in fairly primitive conditions, somewhere in southern England; a violent incident sends them fleeing along the Thames towards London — which they never reach. Along the way, Algy and Martha and their companions pass through the ruins of twentieth-century civilization, encounter various cults and communes populated by elderly survivors, and struggle — intellectually, emotionally — to comprehend the end of humanity. Via flashbacks, we discover that a nuclear-testing accident, a half century earlier, in 1981, has sterilized most higher mammals on the planet. Stoats have become a menace! Aldiss, who coined the term "cosy catastrophe" to describe post-apocalyptic novels in which the survivors are contented with their lot, because there are abundant resources for the taking, and the mechanized, organized, deodorized modern world has given way to a rural, human-scale one, has his characters debate whether or not they should mourn their fate. Algy broods over his bitter memories of civilization's rapid decline, after the Accident — martial law, famine and disease, anarchy — but ultimately hopes that humankind will not die off.
Fun facts: Michael Moorcock has described Greybeard as one of the first British New Wave sci-fi novels. When P.D. James's novel The Children of Men was published in 1992, many sci-fi fans noted that the points of similarity between the novels are astonishing.
***
NEW WAVE SCI-FI at HILOBROW: 75 Best New Wave (1964–1983) Sci-Fi Novels | Back to Utopia: Fredric Jameson's theorizing about New Wave sci-fi | Douglas Adams | Poul Anderson | J.G. Ballard | John Brunner | William Burroughs | Octavia E. Butler | Samuel R. Delany | Philip K. Dick | Frank Herbert | Ursula K. Le Guin | Barry N. Malzberg | Moebius (Jean Giraud) | Michael Moorcock | Alan Moore | Gary Panter | Walker Percy | Thomas Pynchon | Joanna Russ | James Tiptree Jr. (Alice Sheldon) | Kurt Vonnegut | PLUS: Jack Kirby's Golden Age and New Wave science fiction comics.
JOSH GLENN'S *BEST ADVENTURES* LISTS: BEST 250 ADVENTURES OF THE 20TH CENTURY | 100 BEST OUGHTS ADVENTURES | 100 BEST RADIUM AGE (PROTO-)SCI-FI ADVENTURES | 100 BEST TEENS ADVENTURES | 100 BEST TWENTIES ADVENTURES | 100 BEST THIRTIES ADVENTURES | 75 BEST GOLDEN AGE SCI-FI ADVENTURES | 100 BEST FORTIES ADVENTURES | 100 BEST FIFTIES ADVENTURES | 100 BEST SIXTIES ADVENTURES | 75 BEST NEW WAVE SCI FI ADVENTURES | 100 BEST SEVENTIES ADVENTURES | 100 BEST EIGHTIES ADVENTURES | 75 BEST DIAMOND AGE SCI-FI ADVENTURES | 100 BEST NINETIES ADVENTURES (in progress) | 1994 | 1995 | 1996 | 1997 | 1998 | 1999 | 2000 | 2001 | 2002 | 2003 | NOTES ON 21st-CENTURY ADVENTURES.