New Wave Sci-Fi 75 (74)
By: Joshua Glenn
March 3, 2019
One in a series of posts about the 75 best science fiction novels published during the genre's New Wave era (from 1964–1983, according to HILOBROW's periodization schema). For Josh Glenn's complete New Wave Sci-Fi 75 list, click here.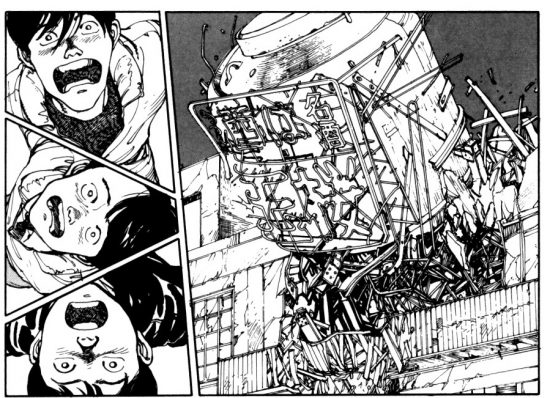 Katsuhiro Otomo's manga series Akira (1982–1990).
Some forty years after after "a new type of bomb" has supposedly exploded over Tokyo, in 1982, triggering World War III, vocational school student and bōsōzoku gang leader Kaneda gets caught up in a struggle between Neo-Tokyo's military leader, Colonel Shikishima, and a resistance movement who've discovered that Shikishima's scientists are secretly developing a super-weapon of some kind: "Akira." While Kaneda and Kei, a female member of the resistance, investigate the Akira project, which may in fact have caused the 1982 destruction of Tokyo, Tetsuo — an already unstable member of Kaneda's gang — develops powerful telekinetic abilities after a motorcycle crash. Tetsuo becomes leader of a rival gang, the Clowns, who start a violent citywide turf war; Shikishima then persuades Tetsuo to join his secret project — which involves wizened young "espers" with equally powerful abilities. All of which happens in the first action-packed volume of the Akira series — there are six, in total. What will happen when the increasingly deranged Tetsuo encounters the other espers — not to mention Akira? Can Kaneda and Kei prevent Shikishima from unleashing greater destruction? Who or what is Akira?
Fun fact: Serialized in Japan's weekly Young Magazine from 1982–1990. The full 2,000-page series was translated, colored, and published in the US by Marvel/Epic from 1988–1995. The 1988 animated movie, directed by Katsuhiro Otomo, is considered one of the greatest animated films of all time. I saw it on the big screen, in '89 — it was mid-blowing, at the time.
***
NEW WAVE SCI-FI at HILOBROW: 75 Best New Wave (1964–1983) Sci-Fi Novels | Back to Utopia: Fredric Jameson's theorizing about New Wave sci-fi | Douglas Adams | Poul Anderson | J.G. Ballard | John Brunner | William Burroughs | Octavia E. Butler | Samuel R. Delany | Philip K. Dick | Frank Herbert | Ursula K. Le Guin | Barry N. Malzberg | Moebius (Jean Giraud) | Michael Moorcock | Alan Moore | Gary Panter | Walker Percy | Thomas Pynchon | Joanna Russ | James Tiptree Jr. (Alice Sheldon) | Kurt Vonnegut | PLUS: Jack Kirby's Golden Age and New Wave science fiction comics.
JOSH GLENN'S *BEST ADVENTURES* LISTS: BEST 250 ADVENTURES OF THE 20TH CENTURY | 100 BEST OUGHTS ADVENTURES | 100 BEST RADIUM AGE (PROTO-)SCI-FI ADVENTURES | 100 BEST TEENS ADVENTURES | 100 BEST TWENTIES ADVENTURES | 100 BEST THIRTIES ADVENTURES | 75 BEST GOLDEN AGE SCI-FI ADVENTURES | 100 BEST FORTIES ADVENTURES | 100 BEST FIFTIES ADVENTURES | 100 BEST SIXTIES ADVENTURES | 75 BEST NEW WAVE SCI FI ADVENTURES | 100 BEST SEVENTIES ADVENTURES | 100 BEST EIGHTIES ADVENTURES | 75 BEST DIAMOND AGE SCI-FI ADVENTURES | 100 BEST NINETIES ADVENTURES (in progress) | 1994 | 1995 | 1996 | 1997 | 1998 | 1999 | 2000 | 2001 | 2002 | 2003 | NOTES ON 21st-CENTURY ADVENTURES.