New Wave Sci-Fi 75 (66)
By: Joshua Glenn
January 6, 2019
One in a series of posts about the 75 best science fiction novels published during the genre's New Wave era (from 1964–1983, according to HILOBROW's periodization schema). For Josh Glenn's complete New Wave Sci-Fi 75 list, click here.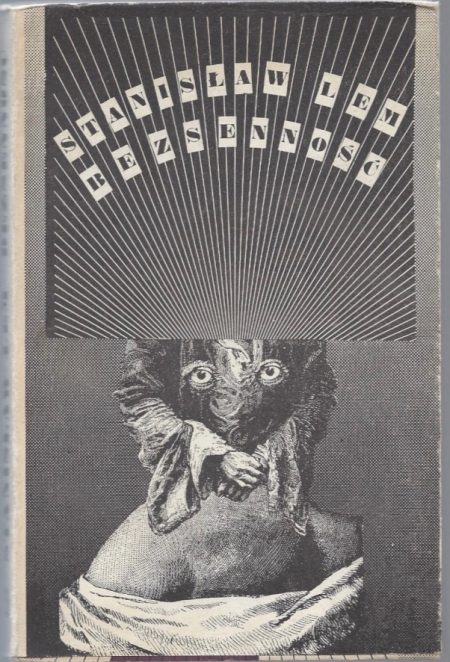 Stanislaw Lem's's Ze wspomnien Ijona Tichego Kongres futurologiczny (The Futurological Congress, 1971).
A tall tale in which the space explorer Ijon Tichy, whose previous exploits Lem chronicled in The Star Diaries (1957), attends a shambolic World Futurological Congress held at an absurdly luxurious hotel in San Jose, Costa Rica. As riots break out in the streets, the government introduces psychoactive drugs into the drinking water; Tichy escapes to the sewers beneath the hotel, only to be evacuated several times — each of which turns out to be a hallucination — and then shot, and placed by doctors into a cryogenic coma. He wakes up in a transformed world; Lem is affectionately parodying H.G. Wells's 1899 technocratic utopian novel When the Sleeper Wakes, here. Tichy is introduced to this brave new world — in which most people take a drug that instills a strong work-ethic, not to mention drugs that mask the true nature of reality; and the inhabitants of which speak a language he can't understand — in stages. Has the world become an overpopulated hellscape threatened by a new Ice Age? Or is this, too, all one of Tichy's hallucinations?
Fun facts: First published along with a collection of short stories (shown above). If you think about The Futurological Congress vis-a-vis The Matrix (1999), it's a good example of first-time-as-comedy-second-time-as-tragedy. PS: Ari Folman's 2013 live-action/animated sci-fi movie The Congress, starring Robin Wright, was a pretty great adaptation.
***
NEW WAVE SCI-FI at HILOBROW: 75 Best New Wave (1964–1983) Sci-Fi Novels | Back to Utopia: Fredric Jameson's theorizing about New Wave sci-fi | Douglas Adams | Poul Anderson | J.G. Ballard | John Brunner | William Burroughs | Octavia E. Butler | Samuel R. Delany | Philip K. Dick | Frank Herbert | Ursula K. Le Guin | Barry N. Malzberg | Moebius (Jean Giraud) | Michael Moorcock | Alan Moore | Gary Panter | Walker Percy | Thomas Pynchon | Joanna Russ | James Tiptree Jr. (Alice Sheldon) | Kurt Vonnegut | PLUS: Jack Kirby's Golden Age and New Wave science fiction comics.
JOSH GLENN'S *BEST ADVENTURES* LISTS: BEST 250 ADVENTURES OF THE 20TH CENTURY | 100 BEST OUGHTS ADVENTURES | 100 BEST RADIUM AGE (PROTO-)SCI-FI ADVENTURES | 100 BEST TEENS ADVENTURES | 100 BEST TWENTIES ADVENTURES | 100 BEST THIRTIES ADVENTURES | 75 BEST GOLDEN AGE SCI-FI ADVENTURES | 100 BEST FORTIES ADVENTURES | 100 BEST FIFTIES ADVENTURES | 100 BEST SIXTIES ADVENTURES | 75 BEST NEW WAVE SCI FI ADVENTURES | 100 BEST SEVENTIES ADVENTURES | 100 BEST EIGHTIES ADVENTURES | 75 BEST DIAMOND AGE SCI-FI ADVENTURES | 100 BEST NINETIES ADVENTURES (in progress) | 1994 | 1995 | 1996 | 1997 | 1998 | 1999 | 2000 | 2001 | 2002 | 2003 | NOTES ON 21st-CENTURY ADVENTURES.