New Wave Sci-Fi 75 (75)
By: Joshua Glenn
March 10, 2019
One in a series of posts about the 75 best science fiction novels published during the genre's New Wave era (from 1964–1983, according to HILOBROW's periodization schema). For Josh Glenn's complete New Wave Sci-Fi 75 list, click here.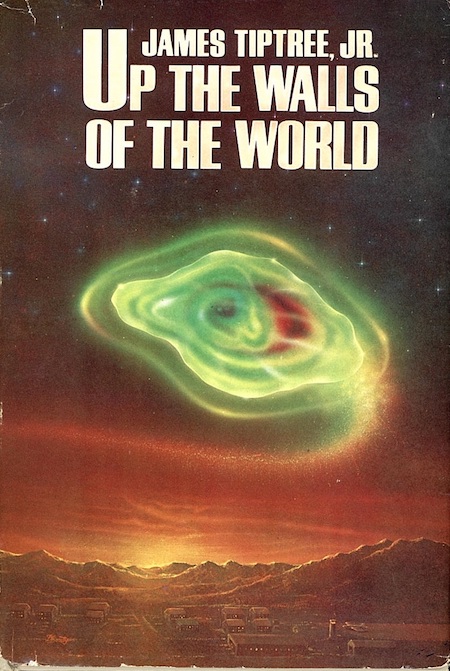 James Tiptree Jr.'s Up the Walls of the World (1978).
Where to begin? Here on Earth, a group of troubled men and women with telepathic abilities are being studied like lab rats by the (paranoid, drug-addicted) Dr. Dann, as part of a US Navy experiment; Dr. Omaili, with whom Dr. Dann falls in love, is a computer scientist of African descent who has been unable to make meaningful connections since her teens, due to a ritual cliterodectomy administered by her stepfather. Meanwhile, Tivonel, a manta ray-like young female on a far-off planet (Tyree), resents the males of her powerfully psionic species — who are charged with the all-important task of parenting, while the females freely sail the air currents; she is more concerned, however, when Tyree's scientists report that a wave of death is spreading across the galaxy and headed their way. And then there's The Destroyer, a solar system-sized, network-structured, sentient inhabitant of deep space, which muses sadly (IN ALL CAPS) on its solitude and inability to fulfill its mysterious duty… while absent-mindedly destroying the galaxy. In an effort to save her species, Tivonel "invades" Earth — telepathically. The minds of Dr. Dann, Dr. Omaili, and their test subjects are transported into the bodies of Tivonel's inhabitants… where they are uniquely able to flourish. But what can they do to stop the Destroyer?
Fun facts: "James Tiptree Jr." was the pen name of pioneering female sci-fi author Alice Sheldon. In the 1940s, she was an officer in the Air Force's photo-intelligence group; in the '50s and '60s, she earned a doctorate in Experimental Psychology. Already well-known for her sci-fi stories, Up the Walls of the World was her first novel.
***
NEW WAVE SCI-FI at HILOBROW: 75 Best New Wave (1964–1983) Sci-Fi Novels | Back to Utopia: Fredric Jameson's theorizing about New Wave sci-fi | Douglas Adams | Poul Anderson | J.G. Ballard | John Brunner | William Burroughs | Octavia E. Butler | Samuel R. Delany | Philip K. Dick | Frank Herbert | Ursula K. Le Guin | Barry N. Malzberg | Moebius (Jean Giraud) | Michael Moorcock | Alan Moore | Gary Panter | Walker Percy | Thomas Pynchon | Joanna Russ | James Tiptree Jr. (Alice Sheldon) | Kurt Vonnegut | PLUS: Jack Kirby's Golden Age and New Wave science fiction comics.
JOSH GLENN'S *BEST ADVENTURES* LISTS: BEST 250 ADVENTURES OF THE 20TH CENTURY | 100 BEST OUGHTS ADVENTURES | 100 BEST RADIUM AGE (PROTO-)SCI-FI ADVENTURES | 100 BEST TEENS ADVENTURES | 100 BEST TWENTIES ADVENTURES | 100 BEST THIRTIES ADVENTURES | 75 BEST GOLDEN AGE SCI-FI ADVENTURES | 100 BEST FORTIES ADVENTURES | 100 BEST FIFTIES ADVENTURES | 100 BEST SIXTIES ADVENTURES | 75 BEST NEW WAVE SCI FI ADVENTURES | 100 BEST SEVENTIES ADVENTURES | 100 BEST EIGHTIES ADVENTURES | 75 BEST DIAMOND AGE SCI-FI ADVENTURES | 100 BEST NINETIES ADVENTURES (in progress) | 1994 | 1995 | 1996 | 1997 | 1998 | 1999 | 2000 | 2001 | 2002 | 2003 | NOTES ON 21st-CENTURY ADVENTURES.