ILLICIT OBJECTS (21)
By: Miranda Mellis
September 11, 2017
One in a 25-part series of nonfiction stories about objects of illicit significance. This is the third volume in the PROJECT:OBJECT series. Please subscribe to the P:O newsletter; and purchase P:O apparel and accessories — all profits will be donated to the ACLU!
*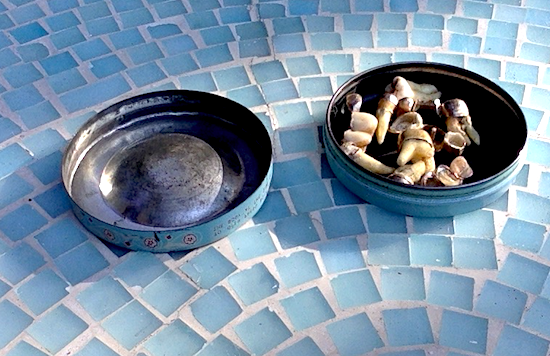 In the top drawer of my dresser sits a light blue tin. It reads Dressmakers' Steel Pins in arcing letters along the top circular edge and D.F. Taylor & Co. along the bottom. It does not contain a dressmaker's shiny steel pins, though. Rather it contains a different set of metallic objects equally quotidian and archaic, everyday and mysterious: a handful of gold-capped teeth small as pebbles and forked, or if you like, footed.
On a website about gold teeth I read, "It's only logical to assume that these items are worth something. After all, why else would your dentist have given them to you?" But my dentist didn't give them to me. I've always had a sweet tooth but I've never had a gold one. The truth is I can't remember exactly how I came into possession of them.
Whenever I chance to open this box (on rare occasion) I get a distinctly sinking feeling they've fallen into the wrong hands. Who had they belonged to? How did they get away? But my syntax implies that the teeth have agency: They escape, they get loose, they go places. Like Kafka's Odradek in the story "The Cares of a Family Man." Odradek is an uneasy-making nonesuch, a sort of spool with uncertain provenance, who nevertheless talks and outlives you.
I learn from the site that dentists are likely to have "long standing relationships with a scrap gold buyer to whom they will regularly sell metal grindings, floor sweeps, and even floor carpeting from around the area where restorations are made." Here the dentist appears as a kind of resourceful, frugal recycler, an improvising alchemist, maybe a tad bit unscrupulous. There is something unseemly about teeth fallen out of the head that thinks itself, bones disaggregated.
Who am I to be trusted with remains? And yet we are composed of them — your hair will grow on without you; your metatarsals may be from an ancient coral reef. Your pituitary is decidedly planetary. Over seven thousand years ago, the Sumerians told a story of creation in which Tiamat, Mesopotamian chaos-dragon, goddess of the sea, was dismembered. Her parts formed the heavens and earth.
*
ILLICIT OBJECTS series: INTRODUCTION | Kio Stark on PEEPSHOW TOKEN | Sari Wilson on TOMBSTONE PARTS | Annalee Newitz on CAR-BOMB REMNANT | Tito Bottitta on MOONINITE DEVICE | Eric Bennett on DIRTY MAGAZINE | Natalie Kestecher on EROTIC RECORDING (audio) | Wayne Chambliss on RADIOACTIVE TRINITITE | Julian Hoeber on PIG HAMMER | Catherine Newman on HOARDED VICODIN | Josh Glenn on JAY-PEE SLUGGER | Nicole Pasulka on SHROOMS (audio) | Paul Lukas on STOLEN CORKSCREW | Shelby El Otmani on OCCULT CANDLE (audio) | Sam Dingman on HACK DOCUMENTS (audio) | Andrew Leland on GUIDE CANE (audio) | Douglas Rushkoff on LEARY'S STASH BOX | Kalila Holt on BURNT UNDERWEAR (audio) | William Gibson on RACIST BOOK | Alison Fensterstock on FUNERAL FLOWER | Julia Barton on PREGNANCY TEST (audio) | Miranda Mellis on GOLD TEETH | Katie Notopoulos on COPULATING PIGS | Ramona Martinez on STOLEN REMNANT (audio) | Wesley Stace on TOM WAITS NOTE | Mike Montiero on BO DEREK CARDS.
TALISMANIC OBJECTS series: INTRODUCTION | Veda Hille on CROCHET SHEEP | Gary Panter on DINOSAUR BONES | Jami Attenberg on SELENITE CRYSTAL | Annie Nocenti on MINIATURE DICE | Wayne Curtis on CLOCK WINDING KEY | & 20 MORE.
POLITICAL OBJECTS series: INTRODUCTION | Luc Sante on CAMPAIGN PAMPHLETS | Lydia Millet on PVC POLAR BEAR | Ben Greenman on MATCHBOX CAR | Rob Baedeker on PRESIDENTS PLACEMAT | L.A. Kauffman on WHEATPASTE POSTER | & 20 MORE.
SIGNIFICANT OBJECTS at HILOBROW: PROJECT:OBJECT homepage | PROJECT:OBJECT newsletter | PROJECT:OBJECT objects (Threadless shop — all profits donated to the ACLU) | POLITICAL OBJECTS series (1Q2017) | TALISMANIC OBJECTS series (2Q2017) | ILLICIT OBJECTS series (3Q2017) | LOST OBJECTS vol. 1 series (4Q2017) | FLAIR series (2Q2018) | FOSSIL series (4Q2018). 12 DAYS OF SIGNIFICANCE | 12 MORE DAYS OF SIGNIFICANCE | 12 DAYS OF SIGNIFICANCE (AGAIN) | ANOTHER 12 DAYS OF SIGNIFICANCE . ALSO SEE: SIGNIFICANT OBJECTS website | SIGNIFICANT OBJECTS collection, ed. Rob Walker and Josh Glenn (Fantagraphics, 2012) | TAKING THINGS SERIOUSLY, ed. Josh Glenn (Princeton Architectural Press, 2007) | TAKING THINGS SERIOUSLY excerpts.