ILLICIT OBJECTS (8)
By: Julian Hoeber
July 18, 2017
One in a 25-part series of nonfiction stories about objects of illicit significance. This is the third volume in the PROJECT:OBJECT series. Please subscribe to the P:O newsletter; and purchase P:O apparel and accessories — all profits will be donated to the ACLU!
*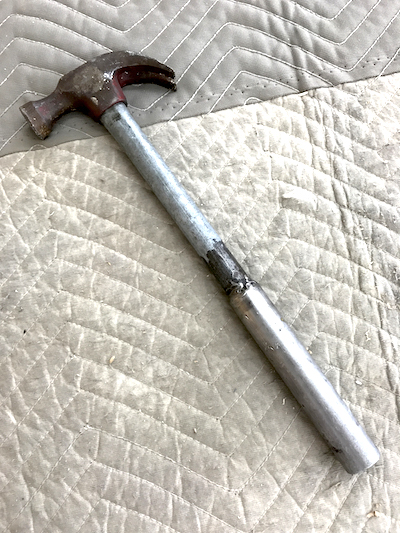 If you watch someone inexperienced use a hammer you will often notice that they choke up on the handle. The closer one's hand is to the head of the hammer, the better control one has when striking. However, just as when a baseball player sacrifices power for accuracy when choking up on his bat, the impact is weak. Driving a nail this way requires dozens of feeble little taps. Grabbing the handle near the bottom turns the tool into a lever to increase force. Without the long handle we could just beat nails into boards with rocks like cavemen. Or bludgeon heads with rocks. Like cavemen.
The hammer I use at work has a typical claw hammer head weighing 16 ounces with a smooth striking face and a custom steel pipe handle that is 14" long. Typically a handle this long, meant to increase leverage, is paired with a framing hammer head weighing 22 ounces and designed with a waffle pattern on the enlarged striking face of the hammer. The pattern ensures that it will not slip off the head of the nail as it hits. That is all good and practical design for a hammer meant to drive nails or strike small targets, but the hammer I use was made for killing pigs by hitting them in the skull. A smaller striking face increases force per square inch, thereby increasing the capacity to penetrate bone. And the waffle pattern face is harder to clean of hair and skin. Although it is an imperfect tool for the light carpentry I do, it has sentimental value.
The hammer was an exhibit in a legal case involving workers at a well-known ham manufacturer. When the case was closed the hammer was pilfered from evidence and given to me by a close friend. It is a standard manufactured object that has been specially customized by an individual to meet the demands of a specific job. Stanley doesn't make pig-killing hammers, so pig killers need to have ingenuity to make this specific tool of their trade. A pipe handle won't break like a wood one. A longer handle gives leverage. A thicker pipe welded on to the end makes for a more ergonomic grip. A bare metal handle is easier to sterilize than wood or rubber grips. Brains can be smashed in with maximum efficiency, because we are civilized and can do better than using rocks. It is our ability to use tools that separates us from the animals after all.
*
ILLICIT OBJECTS series: INTRODUCTION | Kio Stark on PEEPSHOW TOKEN | Sari Wilson on TOMBSTONE PARTS | Annalee Newitz on CAR-BOMB REMNANT | Tito Bottitta on MOONINITE DEVICE | Eric Bennett on DIRTY MAGAZINE | Natalie Kestecher on EROTIC RECORDING (audio) | Wayne Chambliss on RADIOACTIVE TRINITITE | Julian Hoeber on PIG HAMMER | Catherine Newman on HOARDED VICODIN | Josh Glenn on JAY-PEE SLUGGER | Nicole Pasulka on SHROOMS (audio) | Paul Lukas on STOLEN CORKSCREW | Shelby El Otmani on OCCULT CANDLE (audio) | Sam Dingman on HACK DOCUMENTS (audio) | Andrew Leland on GUIDE CANE (audio) | Douglas Rushkoff on LEARY'S STASH BOX | Kalila Holt on BURNT UNDERWEAR (audio) | William Gibson on RACIST BOOK | Alison Fensterstock on FUNERAL FLOWER | Julia Barton on PREGNANCY TEST (audio) | Miranda Mellis on GOLD TEETH | Katie Notopoulos on COPULATING PIGS | Ramona Martinez on STOLEN REMNANT (audio) | Wesley Stace on TOM WAITS NOTE | Mike Montiero on BO DEREK CARDS.
TALISMANIC OBJECTS series: INTRODUCTION | Veda Hille on CROCHET SHEEP | Gary Panter on DINOSAUR BONES | Jami Attenberg on SELENITE CRYSTAL | Annie Nocenti on MINIATURE DICE | Wayne Curtis on CLOCK WINDING KEY | & 20 MORE.
POLITICAL OBJECTS series: INTRODUCTION | Luc Sante on CAMPAIGN PAMPHLETS | Lydia Millet on PVC POLAR BEAR | Ben Greenman on MATCHBOX CAR | Rob Baedeker on PRESIDENTS PLACEMAT | L.A. Kauffman on WHEATPASTE POSTER | & 20 MORE.
SIGNIFICANT OBJECTS at HILOBROW: PROJECT:OBJECT homepage | PROJECT:OBJECT newsletter | PROJECT:OBJECT objects (Threadless shop — all profits donated to the ACLU) | POLITICAL OBJECTS series (1Q2017) | TALISMANIC OBJECTS series (2Q2017) | ILLICIT OBJECTS series (3Q2017) | LOST OBJECTS vol. 1 series (4Q2017) | FLAIR series (2Q2018) | FOSSIL series (4Q2018). 12 DAYS OF SIGNIFICANCE | 12 MORE DAYS OF SIGNIFICANCE | 12 DAYS OF SIGNIFICANCE (AGAIN) | ANOTHER 12 DAYS OF SIGNIFICANCE . ALSO SEE: SIGNIFICANT OBJECTS website | SIGNIFICANT OBJECTS collection, ed. Rob Walker and Josh Glenn (Fantagraphics, 2012) | TAKING THINGS SERIOUSLY, ed. Josh Glenn (Princeton Architectural Press, 2007) | TAKING THINGS SERIOUSLY excerpts.