ILLICIT OBJECTS (9)
By: Catherine Newman
July 22, 2017
One in a 25-part series of nonfiction stories about objects of illicit significance. This is the third volume in the PROJECT:OBJECT series. Please subscribe to the P:O newsletter; and purchase P:O apparel and accessories — all profits will be donated to the ACLU!
*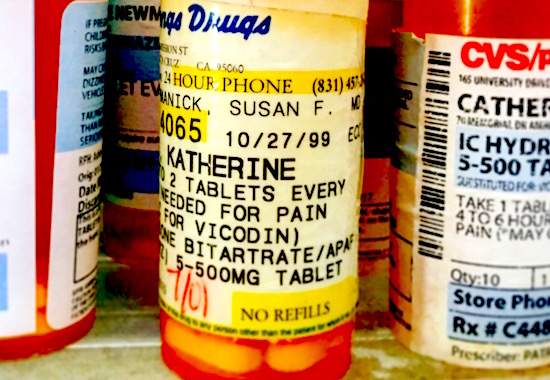 I have all the usual non-narcotic keepsakes too, I swear: the thimble-sized hats knit by old-lady volunteers; the smudgily footprinted certificates; the actual children, now giraffe-legged teenagers. I have the memories of a downy milk-scented head in the crook of my elbow while a gentle oblivion rolled in like fog.
But also I have the two amber bottles of Vicodin from 2003 and 1999. They're not in the shoebox, though, with the snipped-off hospital bracelets and t-shirts the size of postage stamps. They're in the medicine cabinet. Because on any given night, I might consider taking one. I might actually take one.
They are large and white, these old pills — lovely and smooth. Swallow one and wait for it. Swallow one and the neurotic whirring stove-fan of your noisy psyche will flip off into sudden, heavenly silence. Swallow one and you will still be a marionette in an anxious puppet show about bills and deadlines and Trump and death, but your strings will go slack, your wooden arms dangling peacefully by your sides while you laugh and laugh through a dumb Paul Rudd movie. Swallow one and bloop, bloop, bloop down to the ocean floor to dream among the crabs and flounder and resurface only ten hours later, one groggy meter at a time.
One or two ancient Vicodin a year does not constitute an actionable situation. But I hoard it; I know it's there; I hide it when the house is full of teenagers, because surely they will recognize my old stash for the magical bounty that it is. And I come by it honestly, the extreme modesty of my addiction. "Be careful," my 85-year-old dad stage-whispered to me at the high-school production of Pirates of Penzance. He'd passed me his tin of mints. "There's a hearing-aid battery somewhere in there! Oh, and a valium."
*
ILLICIT OBJECTS series: INTRODUCTION | Kio Stark on PEEPSHOW TOKEN | Sari Wilson on TOMBSTONE PARTS | Annalee Newitz on CAR-BOMB REMNANT | Tito Bottitta on MOONINITE DEVICE | Eric Bennett on DIRTY MAGAZINE | Natalie Kestecher on EROTIC RECORDING (audio) | Wayne Chambliss on RADIOACTIVE TRINITITE | Julian Hoeber on PIG HAMMER | Catherine Newman on HOARDED VICODIN | Josh Glenn on JAY-PEE SLUGGER | Nicole Pasulka on SHROOMS (audio) | Paul Lukas on STOLEN CORKSCREW | Shelby El Otmani on OCCULT CANDLE (audio) | Sam Dingman on HACK DOCUMENTS (audio) | Andrew Leland on GUIDE CANE (audio) | Douglas Rushkoff on LEARY'S STASH BOX | Kalila Holt on BURNT UNDERWEAR (audio) | William Gibson on RACIST BOOK | Alison Fensterstock on FUNERAL FLOWER | Julia Barton on PREGNANCY TEST (audio) | Miranda Mellis on GOLD TEETH | Katie Notopoulos on COPULATING PIGS | Ramona Martinez on STOLEN REMNANT (audio) | Wesley Stace on TOM WAITS NOTE | Mike Montiero on BO DEREK CARDS.
TALISMANIC OBJECTS series: INTRODUCTION | Veda Hille on CROCHET SHEEP | Gary Panter on DINOSAUR BONES | Jami Attenberg on SELENITE CRYSTAL | Annie Nocenti on MINIATURE DICE | Wayne Curtis on CLOCK WINDING KEY | & 20 MORE.
POLITICAL OBJECTS series: INTRODUCTION | Luc Sante on CAMPAIGN PAMPHLETS | Lydia Millet on PVC POLAR BEAR | Ben Greenman on MATCHBOX CAR | Rob Baedeker on PRESIDENTS PLACEMAT | L.A. Kauffman on WHEATPASTE POSTER | & 20 MORE.
SIGNIFICANT OBJECTS at HILOBROW: PROJECT:OBJECT homepage | PROJECT:OBJECT newsletter | PROJECT:OBJECT objects (Threadless shop — all profits donated to the ACLU) | POLITICAL OBJECTS series (1Q2017) | TALISMANIC OBJECTS series (2Q2017) | ILLICIT OBJECTS series (3Q2017) | LOST OBJECTS vol. 1 series (4Q2017) | FLAIR series (2Q2018) | FOSSIL series (4Q2018). 12 DAYS OF SIGNIFICANCE | 12 MORE DAYS OF SIGNIFICANCE | 12 DAYS OF SIGNIFICANCE (AGAIN) | ANOTHER 12 DAYS OF SIGNIFICANCE . ALSO SEE: SIGNIFICANT OBJECTS website | SIGNIFICANT OBJECTS collection, ed. Rob Walker and Josh Glenn (Fantagraphics, 2012) | TAKING THINGS SERIOUSLY, ed. Josh Glenn (Princeton Architectural Press, 2007) | TAKING THINGS SERIOUSLY excerpts.