ILLICIT OBJECTS (25)
By: Mike Monteiro
September 26, 2017
One in a 25-part series of nonfiction stories about objects of illicit significance. This is the third volume in the PROJECT:OBJECT series. Please subscribe to the P:O newsletter; and purchase P:O apparel and accessories — all profits will be donated to the ACLU!
*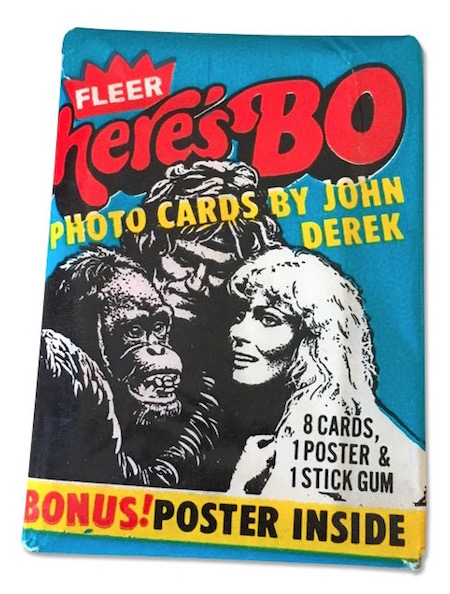 It's 1981. Reagan is sworn in. Iran releases 52 American hostages. Pope John Paul II is shot. The CDC acknowledges the first five cases of AIDS. Sandra Day O'Conner is appointed to the Supreme Court. Mark David Chapman is sentenced to twenty years in prison for killing John Lennon. Anwar Sadat is assassinated. And all I can think of are Bo Derek's breasts.
It is July. I am 14 years old, and standing in a grocery store. My mother is two doors down at the laundromat. We are immigrants living in Philadelphia. We didn't have our own washer and dryer. Once a week, usually on Saturday, but sometimes on Sunday, my mother gathers all the laundry in the house, loads up the rolly cart, picks whichever son has done the shittiest job of hiding from her, and we walk the four blocks to the closest laundromat.
My job is to deal with any English-speaking interactions along the way, as well as helping with the laundry itself. My mother refuses to learn English. She also refuses to learn how to drive. Later, in therapy, I'll find out this is her way of staving off loneliness, and dealing with depression. But I don't know that yet. I'm still 14. I also don't know she's passed the depression along. Just another bag of dirty family laundry passed in my direction which I'm supposed to sort through and wash.
As she's loading the rest of the laundry she hands me a five dollar bill and sends me to the grocery store to get detergent.
"Can I get a candy bar?"
"If there's change."
I find the detergent and walk up to the counter. I do the math in my head. There's enough for a candy bar. And as I'm making my choice I see her. Mixed in with the candy bars. Trading cards. Bo Derek trading cards.
Bo exploded into the national consciousness, and into several million young boys' gym socks, three years earlier with the movie 10. I was eleven at the time so I hadn't seen the actual movie, but I'd seen the trailer. With Bo running in slow motion. Her legs moving like I'd never seen a woman's legs move. Certainly not on the Jersey shore. Cornrows bouncing up and down. (We didn't know what cornrows were until we saw Bo wearing them.) And those breasts. Those breasts were amazing. To a 14-year-old boy they were mythical. Except they existed. And every time I saw her on television there was the anticipation that those breasts would pop out of her dress. Which I imagined often.
Bo was beautiful and she was everywhere. Magazine covers. Television shows. Advertising. There were rumors she was naked in the movie, but this was before the internet. We had to work for our nudity. And as yet, none of the boys at Holy Child catholic school had managed to see the movie, although Tim Green, who'd sprouted a foot in the summer between seventh and eighth grade, had managed to sneak into Caligula.
"Just the detergent?"
"And these cards."
I walked out of the grocery store, opened the pack of cards, shoved the nasty stick of gum that came with them in my mouth, pushed the cards as deep into my front pocket as I could and headed back to the laundromat.
"Did you get a candy bar?"
"I got gum."
*
ILLICIT OBJECTS series: INTRODUCTION | Kio Stark on PEEPSHOW TOKEN | Sari Wilson on TOMBSTONE PARTS | Annalee Newitz on CAR-BOMB REMNANT | Tito Bottitta on MOONINITE DEVICE | Eric Bennett on DIRTY MAGAZINE | Natalie Kestecher on EROTIC RECORDING (audio) | Wayne Chambliss on RADIOACTIVE TRINITITE | Julian Hoeber on PIG HAMMER | Catherine Newman on HOARDED VICODIN | Josh Glenn on JAY-PEE SLUGGER | Nicole Pasulka on SHROOMS (audio) | Paul Lukas on STOLEN CORKSCREW | Shelby El Otmani on OCCULT CANDLE (audio) | Sam Dingman on HACK DOCUMENTS (audio) | Andrew Leland on GUIDE CANE (audio) | Douglas Rushkoff on LEARY'S STASH BOX | Kalila Holt on BURNT UNDERWEAR (audio) | William Gibson on RACIST BOOK | Alison Fensterstock on FUNERAL FLOWER | Julia Barton on PREGNANCY TEST (audio) | Miranda Mellis on GOLD TEETH | Katie Notopoulos on COPULATING PIGS | Ramona Martinez on STOLEN REMNANT (audio) | Wesley Stace on TOM WAITS NOTE | Mike Montiero on BO DEREK CARDS.
TALISMANIC OBJECTS series: INTRODUCTION | Veda Hille on CROCHET SHEEP | Gary Panter on DINOSAUR BONES | Jami Attenberg on SELENITE CRYSTAL | Annie Nocenti on MINIATURE DICE | Wayne Curtis on CLOCK WINDING KEY | & 20 MORE.
POLITICAL OBJECTS series: INTRODUCTION | Luc Sante on CAMPAIGN PAMPHLETS | Lydia Millet on PVC POLAR BEAR | Ben Greenman on MATCHBOX CAR | Rob Baedeker on PRESIDENTS PLACEMAT | L.A. Kauffman on WHEATPASTE POSTER | & 20 MORE.
SIGNIFICANT OBJECTS at HILOBROW: PROJECT:OBJECT homepage | PROJECT:OBJECT newsletter | PROJECT:OBJECT objects (Threadless shop — all profits donated to the ACLU) | POLITICAL OBJECTS series (1Q2017) | TALISMANIC OBJECTS series (2Q2017) | ILLICIT OBJECTS series (3Q2017) | LOST OBJECTS vol. 1 series (4Q2017) | FLAIR series (2Q2018) | FOSSIL series (4Q2018). 12 DAYS OF SIGNIFICANCE | 12 MORE DAYS OF SIGNIFICANCE | 12 DAYS OF SIGNIFICANCE (AGAIN) | ANOTHER 12 DAYS OF SIGNIFICANCE . ALSO SEE: SIGNIFICANT OBJECTS website | SIGNIFICANT OBJECTS collection, ed. Rob Walker and Josh Glenn (Fantagraphics, 2012) | TAKING THINGS SERIOUSLY, ed. Josh Glenn (Princeton Architectural Press, 2007) | TAKING THINGS SERIOUSLY excerpts.