ILLICIT OBJECTS (10)
By: Joshua Glenn
July 25, 2017
One in a 25-part series of nonfiction stories about objects of illicit significance. This is the third volume in the PROJECT:OBJECT series. Please subscribe to the P:O newsletter; and purchase P:O apparel and accessories — all profits will be donated to the ACLU!
*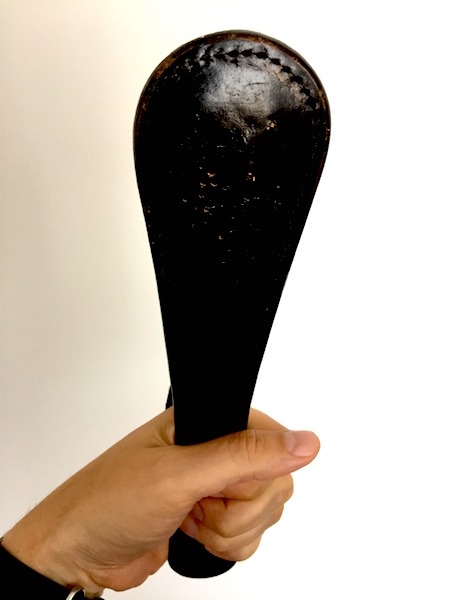 At some point in the mid-1980s, while cutting through the "Arbs," a park in Jamaica Plain, the now-gentrified, then-marginal Boston neighborhood in which we'd both grown up and at that point still lived, my friend John Dooley stumbled upon a sinister, potentially illegal, altogether excellent object. Measuring eleven inches from the end of its handle to its weighted tip, this "impact device" (to employ the studiously bland terminology of the purveyors of such things) is encased in fetish-worthy black leather. Stamped into the face of its business end is a legend: "Jay-Pee Long Slugger."
Dooley's discovery made him the envy of his peers, not least because our neighborhood is colloquially called "J.P.," so who wouldn't want a Jay-Pee Slugger? (In fact, as I figured out years later, Jay-Pee was a manufacturer of leather police equipment.) Dooley resisted every offer of cash or barter… but I had something he wanted. My grandfather, a chaplain on the U.S.S. Alabama during WWII, had — despite having served in the Pacific, not the European Theater of Operations — somehow acquired a German Iron Cross medal. How did he get it? I'll never know. I've never been interested in family heirlooms — and he died a long time ago.
So although I should regret trading Grandpa Les's war memento, I don't. I love the Jay-Pee Slugger. Whenever I've handled it, over the past three decades, I've enjoyed imagining that I'm prepared for violence. I've handled it often. (Too often?) As a teen, I was an asthmatic, four-eyed bookworm who could barely clench a fist; I fantasized about getting violent revenge against bullies and muggers. Although I've handled switchblades, butterfly knives, brass knuckles, throwing stars, nunchaku, even a "Saturday night special" handgun, none of these truly fired my imagination. Since the Reagan administration, though, this slugger has figured prominently in my violent reveries.
"Slugger," by the way, is a brand name. Generically, I've learned (by holding my nose and browsing sociopathic internet forums), a flattish leather blackjack like mine is known as a "slapper." A rounded blackjack, on the other hand, is known as a "convoy." (A "slapjack," meanwhile, is a slapper with a spring handle, like a blackjack's.) Although the convoy is preferred for knocking people out and breaking collarbones, when the occasion calls for numbing someone's arm and rendering it useless — by cracking them smartly on the shoulder — a slapper is what you want.
I don't want to kill anybody! I just want to use the Jay-Pee Slugger to slap a baddie decisively on the shoulder — or elbow, or kneecap, or perhaps across the neck or nose. One of these days.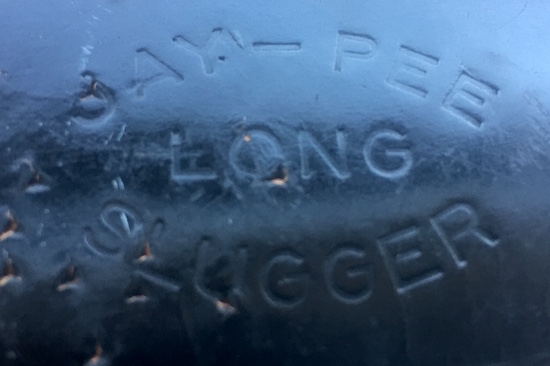 *
ILLICIT OBJECTS series: INTRODUCTION | Kio Stark on PEEPSHOW TOKEN | Sari Wilson on TOMBSTONE PARTS | Annalee Newitz on CAR-BOMB REMNANT | Tito Bottitta on MOONINITE DEVICE | Eric Bennett on DIRTY MAGAZINE | Natalie Kestecher on EROTIC RECORDING (audio) | Wayne Chambliss on RADIOACTIVE TRINITITE | Julian Hoeber on PIG HAMMER | Catherine Newman on HOARDED VICODIN | Josh Glenn on JAY-PEE SLUGGER | Nicole Pasulka on SHROOMS (audio) | Paul Lukas on STOLEN CORKSCREW | Shelby El Otmani on OCCULT CANDLE (audio) | Sam Dingman on HACK DOCUMENTS (audio) | Andrew Leland on GUIDE CANE (audio) | Douglas Rushkoff on LEARY'S STASH BOX | Kalila Holt on BURNT UNDERWEAR (audio) | William Gibson on RACIST BOOK | Alison Fensterstock on FUNERAL FLOWER | Julia Barton on PREGNANCY TEST (audio) | Miranda Mellis on GOLD TEETH | Katie Notopoulos on COPULATING PIGS | Ramona Martinez on STOLEN REMNANT (audio) | Wesley Stace on TOM WAITS NOTE | Mike Montiero on BO DEREK CARDS.
TALISMANIC OBJECTS series: INTRODUCTION | Veda Hille on CROCHET SHEEP | Gary Panter on DINOSAUR BONES | Jami Attenberg on SELENITE CRYSTAL | Annie Nocenti on MINIATURE DICE | Wayne Curtis on CLOCK WINDING KEY | & 20 MORE.
POLITICAL OBJECTS series: INTRODUCTION | Luc Sante on CAMPAIGN PAMPHLETS | Lydia Millet on PVC POLAR BEAR | Ben Greenman on MATCHBOX CAR | Rob Baedeker on PRESIDENTS PLACEMAT | L.A. Kauffman on WHEATPASTE POSTER | & 20 MORE.
SIGNIFICANT OBJECTS at HILOBROW: PROJECT:OBJECT homepage | PROJECT:OBJECT newsletter | PROJECT:OBJECT objects (Threadless shop — all profits donated to the ACLU) | POLITICAL OBJECTS series (1Q2017) | TALISMANIC OBJECTS series (2Q2017) | ILLICIT OBJECTS series (3Q2017) | LOST OBJECTS vol. 1 series (4Q2017) | FLAIR series (2Q2018) | FOSSIL series (4Q2018). 12 DAYS OF SIGNIFICANCE | 12 MORE DAYS OF SIGNIFICANCE | 12 DAYS OF SIGNIFICANCE (AGAIN) | ANOTHER 12 DAYS OF SIGNIFICANCE . ALSO SEE: SIGNIFICANT OBJECTS website | SIGNIFICANT OBJECTS collection, ed. Rob Walker and Josh Glenn (Fantagraphics, 2012) | TAKING THINGS SERIOUSLY, ed. Josh Glenn (Princeton Architectural Press, 2007) | TAKING THINGS SERIOUSLY excerpts.