ILLICIT OBJECTS (18)
By: William Gibson
August 28, 2017
One in a 25-part series of nonfiction stories about objects of illicit significance. This is the third volume in the PROJECT:OBJECT series. Please subscribe to the P:O newsletter; and purchase P:O apparel and accessories — all profits will be donated to the ACLU!
*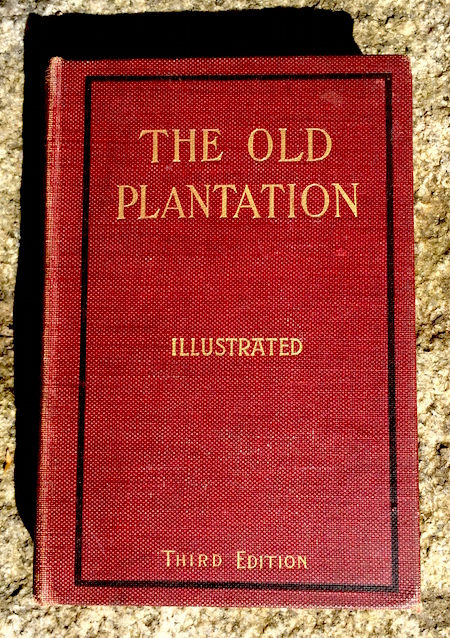 In our house, the single most repugnant object, the very worst example of humanity's potential for evil, is a copy of The Old Plantation (How We Lived In Great House And Cabin Before The War), by James Battle Avirett, third edition, F. Tennyson Neely Co., New York, 1901, signed by the author to my maternal grandmother in Buena Vista, Virginia, on October 18, 1903.
This skin-crawlingly smug work of revisionist nostalgia for the warm-hearted and deeply humane institution of southern slavery, prior to the Civil War, may well not be the worst of its kind (I've not read another) but it never fails to appall.
Even its dedication does the trick for me, and in fact I seldom get further: "THIS VOLUME IS GRATEFULLY AND AFFECTIONATELY DEDICATED TO THE MEMORY OF THE OLD PLANTER AND HIS WIFE — THE ONLY REAL SLAVES ON THE OLD PLANTATION OF MANY OVERGROWN CHILDREN, SERVANTS ON THE ESTATE, FROM 1817 TO 1865 — THE FATHER AND MOTHER OF THE AUTHOR."
So there you have the essence of the work: that the Aviretts, prior to the Recent Unpleasantness, had been saddled with the care and feeding of many childlike negroes, an onerous and ongoing responsibility but one they never shirked, though this became impossible after the pesky Yankees butted in, grotesquely accusing the old planter and his wife of owning and breeding human beings in order to profit from their unpaid labor and the sale of their offspring.
I inherited this volume in a stack of mostly more military apologist Confederate histories, via my mother's side of the family, and somehow missed reading it until a few years ago. I don't think I've encountered another author I've come to loathe quite so viscerally as Mr. Avirett, which seems a shame, in that he's really quite a poor writer, even by the flowery standard of his day, and I'd prefer to detest someone more talented.
I invariably, however pettily, take pleasure in the unhappiness evident in the printed slip glued within the inside front cover: "It is a matter of serious regret that the book binder in the Volume omitted the engraved likeness of the Author and that of Dr. Hunter McGuire. In consequence the price of the former editions was $1.50, now reduced to $1.25." Since the front of the binding declares the work to be Illustrated, I can only hope that this would have been a source of ongoing embarrassment.
I wish that I could assume that my grandmother, in 1902, thought Mr. Avirett as much an asshole as I do, though I knew her as a child, and that seems unlikely.
*
ILLICIT OBJECTS series: INTRODUCTION | Kio Stark on PEEPSHOW TOKEN | Sari Wilson on TOMBSTONE PARTS | Annalee Newitz on CAR-BOMB REMNANT | Tito Bottitta on MOONINITE DEVICE | Eric Bennett on DIRTY MAGAZINE | Natalie Kestecher on EROTIC RECORDING (audio) | Wayne Chambliss on RADIOACTIVE TRINITITE | Julian Hoeber on PIG HAMMER | Catherine Newman on HOARDED VICODIN | Josh Glenn on JAY-PEE SLUGGER | Nicole Pasulka on SHROOMS (audio) | Paul Lukas on STOLEN CORKSCREW | Shelby El Otmani on OCCULT CANDLE (audio) | Sam Dingman on HACK DOCUMENTS (audio) | Andrew Leland on GUIDE CANE (audio) | Douglas Rushkoff on LEARY'S STASH BOX | Kalila Holt on BURNT UNDERWEAR (audio) | William Gibson on RACIST BOOK | Alison Fensterstock on FUNERAL FLOWER | Julia Barton on PREGNANCY TEST (audio) | Miranda Mellis on GOLD TEETH | Katie Notopoulos on COPULATING PIGS | Ramona Martinez on STOLEN REMNANT (audio) | Wesley Stace on TOM WAITS NOTE | Mike Montiero on BO DEREK CARDS.
TALISMANIC OBJECTS series: INTRODUCTION | Veda Hille on CROCHET SHEEP | Gary Panter on DINOSAUR BONES | Jami Attenberg on SELENITE CRYSTAL | Annie Nocenti on MINIATURE DICE | Wayne Curtis on CLOCK WINDING KEY | & 20 MORE.
POLITICAL OBJECTS series: INTRODUCTION | Luc Sante on CAMPAIGN PAMPHLETS | Lydia Millet on PVC POLAR BEAR | Ben Greenman on MATCHBOX CAR | Rob Baedeker on PRESIDENTS PLACEMAT | L.A. Kauffman on WHEATPASTE POSTER | & 20 MORE.
SIGNIFICANT OBJECTS at HILOBROW: PROJECT:OBJECT homepage | PROJECT:OBJECT newsletter | PROJECT:OBJECT objects (Threadless shop — all profits donated to the ACLU) | POLITICAL OBJECTS series (1Q2017) | TALISMANIC OBJECTS series (2Q2017) | ILLICIT OBJECTS series (3Q2017) | LOST OBJECTS vol. 1 series (4Q2017) | FLAIR series (2Q2018) | FOSSIL series (4Q2018). 12 DAYS OF SIGNIFICANCE | 12 MORE DAYS OF SIGNIFICANCE | 12 DAYS OF SIGNIFICANCE (AGAIN) | ANOTHER 12 DAYS OF SIGNIFICANCE . ALSO SEE: SIGNIFICANT OBJECTS website | SIGNIFICANT OBJECTS collection, ed. Rob Walker and Josh Glenn (Fantagraphics, 2012) | TAKING THINGS SERIOUSLY, ed. Josh Glenn (Princeton Architectural Press, 2007) | TAKING THINGS SERIOUSLY excerpts.