ILLICIT OBJECTS (24)
By: Wesley Stace
September 23, 2017
One in a 25-part series of nonfiction stories about objects of illicit significance. This is the third volume in the PROJECT:OBJECT series. Please subscribe to the P:O newsletter; and purchase P:O apparel and accessories — all profits will be donated to the ACLU!
*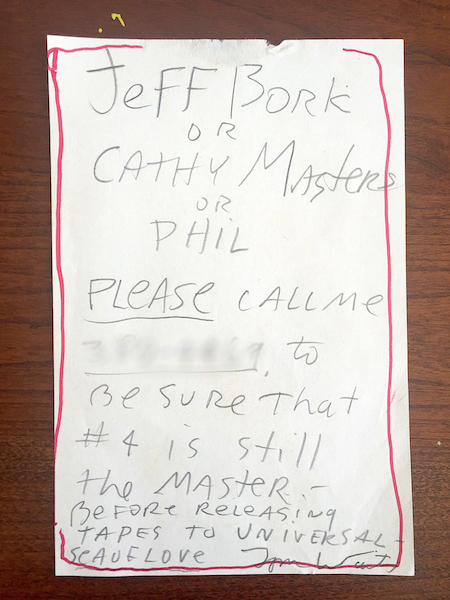 1989: my very first trip to America to record my first studio album at Sunset Sound Factory in Los Angeles.
The studio was just south of Hollywood Boulevard on Selma, around the corner from the Ivar Theater, once a burlesque theater, a fact I was thrilled to know from Tom Waits' song "Emotional Weather Report" in which it's "colder than a ticket taker's smile at the Ivar Theater." My love for Tom Waits was at its peak and that was peak Waits. I knew his catalog inside out. My busking set comprised songs from throughout his career, from early Rowlf to later Weimar Beefheart.
My situation at Sunset Sound was impossibly glamorous: Dave Alvin arrived in a long white Cadillac to add a guitar solo; T-Bone Burnett tried to persuade me that U2's "I Still Haven't Found What I'm Looking For" was a much wiser thought than Sinead O'Connor's "I Do Not Want What I Haven't Got" as though they were in competition; a young lady took me to the hills to meet her "boyfriend", a horse. I was confident, safe in the hands of a caring producer, and way out of my depth.
One night I was smoking in the studio courtyard, when my presence was acknowledged in the darkness: FUCK ME! Tom Waits! We were cordial, sharing that same space as though we were equals going about our equally important recording business, said nothing of note, and soon went back to work. The possibility of our long friendship unspooled before me.
Later that night, I went to photocopy some lyrics in the deserted studio office. On the receptionist's desk was a handwritten note in a charming mix of cases bordered with red Sharpie: "JeFF Bork OR CATHY MAsteRs or PHiL – PLeASe cALL me [XXX-XXXX, redacted in the unlikely possibility that it's still operative] to Be suRe That #4 is still the MASteR – BeFORe ReLeASiNg TAPES TO UNiVERSAL – SeA OF LOVE, (signed, Tom Waits)".
Handwritten. Right there. (Hindsight informs us he was recording a cover of Phil Phillips' Sea of Love for the Al Pacino/Ellen Barkin movie.)
Weighing up my options – and I speak as someone who can't remember stealing anything else ever, even candy from a baby – the perfect crime presented itself. I'd photocopy the note, remove the original and leave the copy. Why not? All Mr Waits wanted to do was convey this vital information, so I could actually help by enlarging the handwritten note (4" by 6") to full A4 size: now it wouldn't be missed. And no chance of a stiff breeze blowing it off the desk in to the bin or out of the door! I was doing everyone a favour.
But of course I wasn't doing anyone a favour. In fact, my subconscious buried the evidence: the note disappeared for at least ten years, only finally popping up in the dust cover of a secondhand book where I'd forgotten I'd put it for safekeeping.
So I now apologize to everyone, particularly to Tom Waits. It felt right at the time: I was happier with something for my scrapbook than pretending to be a professional, or anything other than a fan.
*
ILLICIT OBJECTS series: INTRODUCTION | Kio Stark on PEEPSHOW TOKEN | Sari Wilson on TOMBSTONE PARTS | Annalee Newitz on CAR-BOMB REMNANT | Tito Bottitta on MOONINITE DEVICE | Eric Bennett on DIRTY MAGAZINE | Natalie Kestecher on EROTIC RECORDING (audio) | Wayne Chambliss on RADIOACTIVE TRINITITE | Julian Hoeber on PIG HAMMER | Catherine Newman on HOARDED VICODIN | Josh Glenn on JAY-PEE SLUGGER | Nicole Pasulka on SHROOMS (audio) | Paul Lukas on STOLEN CORKSCREW | Shelby El Otmani on OCCULT CANDLE (audio) | Sam Dingman on HACK DOCUMENTS (audio) | Andrew Leland on GUIDE CANE (audio) | Douglas Rushkoff on LEARY'S STASH BOX | Kalila Holt on BURNT UNDERWEAR (audio) | William Gibson on RACIST BOOK | Alison Fensterstock on FUNERAL FLOWER | Julia Barton on PREGNANCY TEST (audio) | Miranda Mellis on GOLD TEETH | Katie Notopoulos on COPULATING PIGS | Ramona Martinez on STOLEN REMNANT (audio) | Wesley Stace on TOM WAITS NOTE | Mike Montiero on BO DEREK CARDS.
TALISMANIC OBJECTS series: INTRODUCTION | Veda Hille on CROCHET SHEEP | Gary Panter on DINOSAUR BONES | Jami Attenberg on SELENITE CRYSTAL | Annie Nocenti on MINIATURE DICE | Wayne Curtis on CLOCK WINDING KEY | & 20 MORE.
POLITICAL OBJECTS series: INTRODUCTION | Luc Sante on CAMPAIGN PAMPHLETS | Lydia Millet on PVC POLAR BEAR | Ben Greenman on MATCHBOX CAR | Rob Baedeker on PRESIDENTS PLACEMAT | L.A. Kauffman on WHEATPASTE POSTER | & 20 MORE.
SIGNIFICANT OBJECTS at HILOBROW: PROJECT:OBJECT homepage | PROJECT:OBJECT newsletter | PROJECT:OBJECT objects (Threadless shop — all profits donated to the ACLU) | POLITICAL OBJECTS series (1Q2017) | TALISMANIC OBJECTS series (2Q2017) | ILLICIT OBJECTS series (3Q2017) | LOST OBJECTS vol. 1 series (4Q2017) | FLAIR series (2Q2018) | FOSSIL series (4Q2018). 12 DAYS OF SIGNIFICANCE | 12 MORE DAYS OF SIGNIFICANCE | 12 DAYS OF SIGNIFICANCE (AGAIN) | ANOTHER 12 DAYS OF SIGNIFICANCE . ALSO SEE: SIGNIFICANT OBJECTS website | SIGNIFICANT OBJECTS collection, ed. Rob Walker and Josh Glenn (Fantagraphics, 2012) | TAKING THINGS SERIOUSLY, ed. Josh Glenn (Princeton Architectural Press, 2007) | TAKING THINGS SERIOUSLY excerpts.