KILL YOUR ENTHUSIASM (3)
By: Miranda Mellis
October 8, 2022
One in a series of 25 enthusiastic posts, contributed by 25 HILOBROW friends and regulars, on the topic of favorite killed-off TV characters. Series edited by Heather Quinlan.
*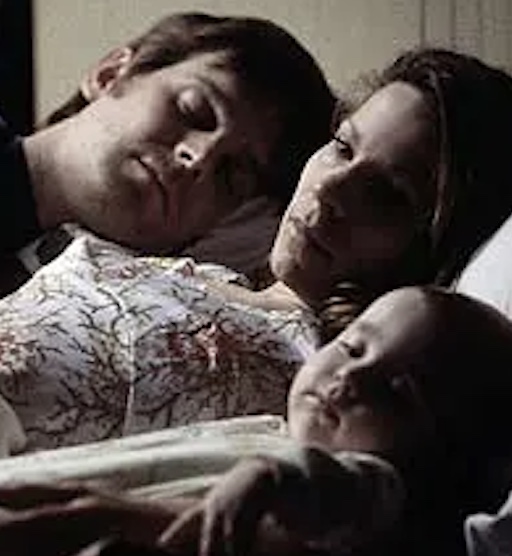 LISA KIMMEL FISHER | SIX FEET UNDER
Lisa Kimmel Fisher had longed for Nate ever since they had been roommates in Seattle. Finally, her dream came true, she got to marry Nate and they had a child together. But as he pointed out, he couldn't live up to her fantasy of him. Like everyone else, Lisa was under the illusion that once she had attained what she desired, lifelong happiness would be her reward. Unrequited love seeks a fix, but form doesn't equal sense and the poem of marriage is unfixable.
Their relationship was supposed to be dysfunctional, problematic, but really it was ordinary. They fought, repeated themselves, were tender, compared themselves unfavorably to other people, were jealous, couldn't agree, had sex or failed to, took care of their child, and said "I love you" to each other.
Viewers considered Lisa a vicious hippie. She emanated a neurotic, manipulative, controlling forcefield that enveloped those who came within its scope. She was exacting in inexact ways, and it was easy to cross her moral lines without knowing it. For example, Nate dared take their baby to the funeral of the father of an ex. How could he not realize what a betrayal it was, to show their baby to her? She asks, outraged, "Did you let her hold the baby?" Her desperation is familiar. Each person has their book of rules, of commandments. They get made up on the spot, sometimes, as an alibi for hysteria.
Lisa leaves the marriage and the child, without intending to. That is, she goes on a trip and never comes back. When Lisa's return is delayed, we wait and worry, with Nate, for her call. As we wait, something uncanny (the valence of Lili Taylor) is coming into view. Her disappearance might have been caused by Nate's ambivalence about her, or ours. But no, it seems she has been having an affair with her brother-in-law. When she tries to end things, he murders her. The manner of her death, though tragically realistic, comes a shock. Now we see how her compulsive need to concoct betrayals is a deflection, a cover. Because stories are interpretations, the future gives rise to the past. The forking path leads backwards.
Even Lili Taylor didn't know the fate of her character. When Taylor acted Lisa's departure, she assumed she would return. She said she would have performed differently had she known. Like Lisa Kimmel Fisher, that alternate performance also went missing; what would it have changed? It is the element of reality in the fiction, the place in the psyche where the actress, the character, and the rest of us merge: believing the story will continue.
***
KILL YOUR ENTHUSIASM: INTRODUCTION by Heather Quinlan | Max Alvarez on LANE PRYCE | Lynn Peril on PETE DUEL | Miranda Mellis on LISA KIMMEL FISHER | Trav SD on COL. HENRY BLAKE | Russ Hodge on DET. BOBBY SIMONE | Kathy Biehl on PHIL HARTMAN| Jack Silbert on MARTY FUNKHOUSER | Catherine Christman on MRS. LANDINGHAM | Kevin J. Walsh on YEOMAN JANICE RAND | Heather Quinlan on DERMOT MORGAN | Adam McGovern on LT. TASHA YAR | Nick Rumaczyk on BEN URICH | Josh Glenn on CHUCKLES THE CLOWN | Bart Beaty on COACH | Krista Margies Kunkle on JOYCE SUMMERS | Kelly Jean Fitzsimmons on DENNY DUQUETTE | Marc Weidenbaum on SGT. PHIL ESTERHAUS | Michael Campochiaro on GORDON CLARK | Fran Pado on EDITH BUNKER | Mark Kingwell on OMAR LITTLE | Bridget Bartolini on ALEX KAMAL | David Smay on VANESSA IVES | Tom Nealon on JOSS CARTER | Michele Carlo on FREDDIE PRINZE | Crockett Doob on AUNT LOUISE.
MORE ENTHUSIASM at HILOBROW
MÖSH YOUR ENTHUSIASM (1Q2024): ENTER SANDMAN | MILQUETOAST | CHRISTBAIT RISING | GOING BLIND | HERE COME THE COPS | & 20 other Eighties (1984–1993) Metal songs. STOOGE YOUR ENTHUSIASM (4Q2023): MOVE ON FAST | 96 TEARS | SHE CRACKED | WHAT A WAY TO DIE | PSYCHOTIC REACTION | & 20 other Sixties (1964–1973) proto-punk songs. CURVE YOUR ENTHUSIASM (3Q2023): PIZZA PURISM | BOY BANDS | THE '86 METS | LOVE ISLAND UK | ELTON JOHN | & 20 other reconsidered enthusiasms. TEEN YOUR ENTHUSIASM (2Q2023): ANDY GIBB | VALERIE BERTINELLI | KIM WILDE | ARLO GUTHRIE | MIKE PATTON | & 20 other heartthrobs from our adolescences. DOLLY YOUR ENTHUSIASM (1Q2023): WE FOUND IT | TOGETHER AGAIN | SUNDAY MORNIN' COMIN' DOWN | BAD CASE OF THE BLUES | FANCY | & 20 other Sixties (1964–1973) Country records. KILL YOUR ENTHUSIASM (4Q2022): LT. TASHA YAR | JOYCE SUMMERS | COL. HENRY BLAKE | MRS. LANDINGHAM | ALEX KAMAL | & 20 other TV deaths. BLURB YOUR ENTHUSIASM (3Q2022): LEFT-CORNER BRICK | JOY IS RESISTANCE | THE FUTURE IS PASSÉ | EVERY MINUTE AN OCEAN | SHUT UP, HE EXPLAINED | & 20 other apothegms to live by. KOJAK YOUR ENTHUSIASM (2Q2022): ARK II | WKRP IN CINCINNATI | BUCK ROGERS | THE WHITE SHADOW | POLICE WOMAN | & 20 other Seventies (1974–1983) TV shows. KICK YOUR ENTHUSIASM (1Q2022): KUILL | CATO | COSMO | TRIXIE | VOLSTAGG | & 20 other sidekicks. NERD YOUR ENTHUSIASM (4Q2021): TIME | THE POST OFFICE | ARDUIN | DOUBT | SUMMATIONS | & 20 other nerdy passions. SWERVE YOUR ENTHUSIASM (3Q2021): WARHOL'S WALT WHITMAN | 70, GIRLS, 70 | TYRAEL'S MIGHT | SHIRATO SANPEI | THE LEON SUITES | & 20 other never-realized cultural productions. FIVE-O YOUR ENTHUSIASM (2Q2021): DARK SHADOWS | MANNIX | GET SMART | THE ADDAMS FAMILY | I DREAM OF JEANNIE | & 20 other Sixties (1964–1973) TV shows. FERB YOUR ENTHUSIASM (1Q2021): STEVEN UNIVERSE | TOP CAT | REN & STIMPY | SHE-RA AND THE PRINCESSES OF POWER | DRAGON BALL Z | & 20 other animated series. CARBONA YOUR ENTHUSIASM (2020): "Sex Bomb" | "Going Underground" | "Soft South Africans" | "Typical Girls" | "Human Fly" | & 20 other Seventies (1974–1983) punk singles. KLAATU YOU (2020 weekly): ZARDOZ | METROPOLIS | DARK STAR | SINS OF THE FLESHAPOIDS | SOLARIS | & dozens of other pre-STAR WARS sci-fi movies. CONVOY YOUR ENTHUSIASM (2019): THE TAKING OF PELHAM ONE TWO THREE | ROLLERBALL | BLACK SUNDAY | SORCERER | STRAIGHT TIME | & 20 other Seventies (1974–1983) action movies. SERIOCOMIC (2019 weekly): LITTLE LULU | VIZ | MARSUPILAMI | ERNIE POOK'S COMEEK | HELLBOY | & dozens of other comics. TUBE YOUR ENTHUSIASM (2018): LOONEY TUNES | THREE STOOGES | THE AVENGERS | ROCKY & BULLWINKLE | THE TWILIGHT ZONE | & 20 other Fifties (1954–1963) TV shows. WOWEE ZOWEE (2018 weekly): UNISEX | UNDER THE PINK | DUMMY | AMOR PROHIBIDO | HIPS AND MAKERS | & dozens of other Nineties (1994–2003) albums. KLUTE YOUR ENTHUSIASM (2017): THE KILLERS | BANDE À PART (BAND OF OUTSIDERS) | ALPHAVILLE | HARPER | BLOW-UP | & 20 other Sixties (1964–1973) neo-noir movies. #SQUADGOALS (2017 weekly): THE WILD BUNCH | BOWIE'S BAND | THE BLOOMSBURY GROUP | THE HONG KONG CAVALIERS | VI ÄR BÄST! & dozens of other squads. GROK MY ENTHUSIASM (2016 weekly): THE THEORY AND PRACTICE OF LUNCH | WEEKEND | MILLION YEAR PICNIC | LA BARONNE EMILE D'ERLANGER | THE SURVIVAL SAMPLER | & dozens more one-off enthusiasms. QUIRK YOUR ENTHUSIASM (2016): "Tainted Love" | "Metal" | "Frankie Teardrop" | "Savoir Faire" | "Broken English" | & 20 other Seventies (1974–1983) new wave singles. CROM YOUR ENTHUSIASM (2015): DARKER THAN YOU THINK | THE SWORD IN THE STONE | OUT OF THE SILENT PLANET | THIEVES' HOUSE | QUEEN OF THE BLACK COAST | & 20 other Thirties (1934–1943) fantasy novels. KERN YOUR ENTHUSIASM (2014): ALDINE ITALIC | DATA 70 | TORONTO SUBWAY | JOHNSTON'S "HAMLET" | TODD KLONE | & 20 other typefaces. HERC YOUR ENTHUSIASM (2013): "Spoonin' Rap" | "Rapper's Delight" | "Rappin' Blow" | "The Incredible Fulk" | "The Adventures of Super Rhyme" | & 20 other Seventies (1974–1983) hip-hop songs. KIRK YOUR ENTHUSIASM (2012): Justice or vengeance? | Kirk teaches his drill thrall to kiss | "KHAAAAAN!" | "No kill I" | Kirk browbeats NOMAD | & 20 other Captain Kirk scenes. KIRB YOUR ENTHUSIASM (2011): THE ETERNALS | BLACK MAGIC | DEMON | OMAC | CAPTAIN AMERICA | & 20 other Jack Kirby panels.