ILLICIT OBJECTS (22)
By: Katie Notopoulos
September 14, 2017
One in a 25-part series of nonfiction stories about objects of illicit significance. This is the third volume in the PROJECT:OBJECT series. Please subscribe to the P:O newsletter; and purchase P:O apparel and accessories — all profits will be donated to the ACLU!
*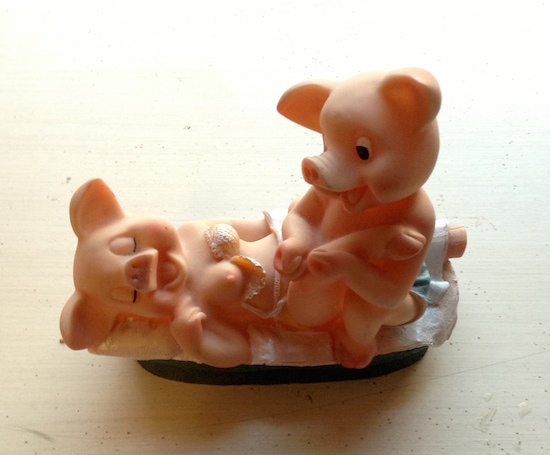 I acquired this statue of two pigs fucking in 2007 from a deli near the Fung Wah bus depot in New York's Chinatown. I went in to get some snacks for my bus ride, and spotted this magnificent figurine of porcine ecstasy on a dusty shelf. As a lover of junk, I've seen many hideous figurines at yard sales and thrift stores in my day. But never had I gazed on something as terrifyingly unerotic as anthropomorphic pigs having sex. I had to have it.
The statue is about 8 inches wide, made of a sturdy, inflexible plastic. There is a male pig, sitting upright, presumably plowing (we can't actually see penetration) into Mrs. Pig, who is lying on her back. Mrs. Pig — I assume they are married because I'm only comfortable with the idea of conventional marital pig sex — is glowing and smiling in ecstasy. Her lacy nightgown is pulled down off her pork shoulders, exposing her breasts, which are inexplicably human breasts.
My dear husband does not share my enthusiasm for ironically tacky knickknacks. He's been generously tolerant of most of them, but the fucking pigs were just too much. I conceded the statue was too crude for the living room, so it stayed in our bedroom. For years, it migrated back and forth from one dresser top to another, to the windowsill, depending on what level of tidiness I was attempting.
"It's funny!" I'd insist. "To who?" my husband would say. He had a point. When I bought it, I imagined showing it off to my friends, guests coming over and howling at this ridiculous item. Everyone would laugh and say, "Oh Katie, you're hilarious! What a find!" But guests almost never went into our bedroom, so the piglust only ever had an audience of two.
During a recent Kon Mari sweep to make room for our new baby, I bid the pigs farewell. I put them on the sidewalk in a box with some other stuff, hoping someone might take it. An hour later, I decided that I couldn't bear to give up the pigs. It was too late. When I checked the box, the fucking-pigs statue was the only thing someone had already taken. I hope it brings them much joy.
*
ILLICIT OBJECTS series: INTRODUCTION | Kio Stark on PEEPSHOW TOKEN | Sari Wilson on TOMBSTONE PARTS | Annalee Newitz on CAR-BOMB REMNANT | Tito Bottitta on MOONINITE DEVICE | Eric Bennett on DIRTY MAGAZINE | Natalie Kestecher on EROTIC RECORDING (audio) | Wayne Chambliss on RADIOACTIVE TRINITITE | Julian Hoeber on PIG HAMMER | Catherine Newman on HOARDED VICODIN | Josh Glenn on JAY-PEE SLUGGER | Nicole Pasulka on SHROOMS (audio) | Paul Lukas on STOLEN CORKSCREW | Shelby El Otmani on OCCULT CANDLE (audio) | Sam Dingman on HACK DOCUMENTS (audio) | Andrew Leland on GUIDE CANE (audio) | Douglas Rushkoff on LEARY'S STASH BOX | Kalila Holt on BURNT UNDERWEAR (audio) | William Gibson on RACIST BOOK | Alison Fensterstock on FUNERAL FLOWER | Julia Barton on PREGNANCY TEST (audio) | Miranda Mellis on GOLD TEETH | Katie Notopoulos on COPULATING PIGS | Ramona Martinez on STOLEN REMNANT (audio) | Wesley Stace on TOM WAITS NOTE | Mike Montiero on BO DEREK CARDS.
TALISMANIC OBJECTS series: INTRODUCTION | Veda Hille on CROCHET SHEEP | Gary Panter on DINOSAUR BONES | Jami Attenberg on SELENITE CRYSTAL | Annie Nocenti on MINIATURE DICE | Wayne Curtis on CLOCK WINDING KEY | & 20 MORE.
POLITICAL OBJECTS series: INTRODUCTION | Luc Sante on CAMPAIGN PAMPHLETS | Lydia Millet on PVC POLAR BEAR | Ben Greenman on MATCHBOX CAR | Rob Baedeker on PRESIDENTS PLACEMAT | L.A. Kauffman on WHEATPASTE POSTER | & 20 MORE.
SIGNIFICANT OBJECTS at HILOBROW: PROJECT:OBJECT homepage | PROJECT:OBJECT newsletter | PROJECT:OBJECT objects (Threadless shop — all profits donated to the ACLU) | POLITICAL OBJECTS series (1Q2017) | TALISMANIC OBJECTS series (2Q2017) | ILLICIT OBJECTS series (3Q2017) | LOST OBJECTS vol. 1 series (4Q2017) | FLAIR series (2Q2018) | FOSSIL series (4Q2018). 12 DAYS OF SIGNIFICANCE | 12 MORE DAYS OF SIGNIFICANCE | 12 DAYS OF SIGNIFICANCE (AGAIN) | ANOTHER 12 DAYS OF SIGNIFICANCE . ALSO SEE: SIGNIFICANT OBJECTS website | SIGNIFICANT OBJECTS collection, ed. Rob Walker and Josh Glenn (Fantagraphics, 2012) | TAKING THINGS SERIOUSLY, ed. Josh Glenn (Princeton Architectural Press, 2007) | TAKING THINGS SERIOUSLY excerpts.