Radium Age 100 (93)
By: Joshua Glenn
March 19, 2016
One in a series of 100 posts about the best science fiction novels published from 1904–33. HILOBROW's Josh Glenn has named that era science fiction's Radium Age; more info here. The complete Radium Age 100 list can be found here.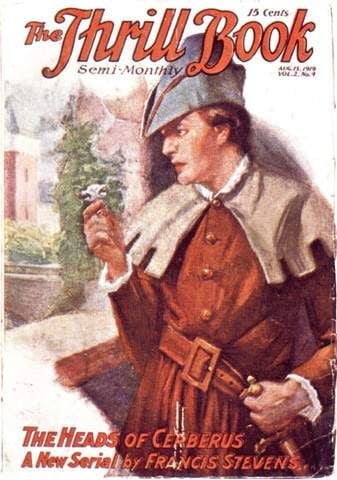 Francis Stevens's The Heads of Cerberus (serialized in Thrill Book, 1919; as a book, 1952).
In this proto-PKD epistemological thriller, three Philadelphians accidentally inhale dust from an ancient vial (whose cap is shaped like the mythological three-headed dog Cerberus, hence the story's title). It turns out that the dust is not ancient; it was invented by a scientist who has discovered parallel universes. Our heroes are transported into a strange land populated by supernatural beings, then whisked back to Philadelphia… which has changed. It is now the year 2118, and Philadelphia has become a dystopian nation-state ruled by the "Penn Service." Ordinary citizens are numbered, not named; the Liberty Bell has become an object of veneration — it is is believed that the land will dissolve if it is ever rung. Is this Philadelphia real? Are they somehow creating it? What is reality? And what will really happen if they ring the bell?
Fun fact: Gertrude Barrows Bennett (1883–1948), who published under the pseudonym Francis Stevens, was a pioneering American female writer of fantasy and science fiction. She has been described as "the woman who invented dark fantasy."
***
MORE RADIUM AGE SCI FI ON HILOBROW: HiLoBooks homepage! | What is Radium Age science fiction? |Radium Age 100: 100 Best Science Fiction Novels from 1904–33 | Radium Age Supermen | Radium Age Robots | Radium Age Apocalypses | Radium Age Telepaths | Radium Age Eco-Catastrophes | Radium Age Cover Art (1) | SF's Best Year Ever: 1912 | Radium Age Science Fiction Poetry | Enter Highbrowism | Bathybius! Primordial ooze in Radium Age sf | War and Peace Games (H.G. Wells's training manuals for supermen) | Radium Age: Context series | J.D. Beresford | Algernon Blackwood | Edgar Rice Burroughs | Karel Čapek | Buster Crabbe | August Derleth | Arthur Conan Doyle | Hugo Gernsback | Charlotte Perkins Gilman | Cicely Hamilton | Hermann Hesse | William Hope Hodgson | Aldous Huxley | Inez Haynes Irwin | Alfred Jarry | Jack Kirby (Radium Age sf's influence on) | Murray Leinster | Gustave Le Rouge | Gaston Leroux | David Lindsay | Jack London | H.P. Lovecraft | A. Merritt | Maureen O'Sullivan | Sax Rohmer | Paul Scheerbart | Upton Sinclair | Clark Ashton Smith | E.E. "Doc" Smith | Olaf Stapledon | John Taine | H.G. Wells | Jack Williamson | Stanisław Ignacy Witkiewicz | S. Fowler Wright | Philip Gordon Wylie | Yevgeny Zamyatin