Radium Age 100 (44)
By: Joshua Glenn
October 25, 2015
One in a series of 100 posts about the best science fiction novels published from 1904–33. HILOBROW's Josh Glenn has named that era science fiction's Radium Age; more info here. The complete Radium Age 100 list can be found here.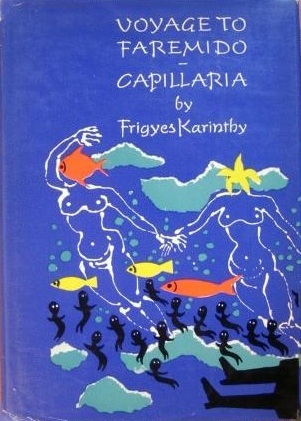 Frigyes Karinthy's Voyage to Faremido: Gulliver's Fifth Voyage (1916).
It's 1914, and Jonathan Swift's Lemuel Gulliver is eager to go to sea again. He signs on as a surgeon on a British ship, only to be torpedoed, then picked up by a UFO and transported to Faremido, a planet ruled by intelligent machine-folk. They regard organic life as a loathsome disease of matter, so they're pleased that the Great War looks likely to exterminate humankind. Agreeing that the Faremidoans (whose society is peaceful, and whose fa-re-mi-do language is musical) are superior beings, Gulliver accepts an injection of their own brain-matter — quicksilver and minerals — into his head. Now a proto-cyborg himself, Gulliver is sent back to England, where he finds it difficult to adjust to the irrational horrors of everyday life.
Fun fact: The sequel to this Hungarian novella is Capillária (1921), in which Gulliver gains insight into sexual politics when he visits a submarine civilization whose women dominate and eat their menfolk.
***
MORE RADIUM AGE SCI FI ON HILOBROW: HiLoBooks homepage! | What is Radium Age science fiction? |Radium Age 100: 100 Best Science Fiction Novels from 1904–33 | Radium Age Supermen | Radium Age Robots | Radium Age Apocalypses | Radium Age Telepaths | Radium Age Eco-Catastrophes | Radium Age Cover Art (1) | SF's Best Year Ever: 1912 | Radium Age Science Fiction Poetry | Enter Highbrowism | Bathybius! Primordial ooze in Radium Age sf | War and Peace Games (H.G. Wells's training manuals for supermen) | Radium Age: Context series | J.D. Beresford | Algernon Blackwood | Edgar Rice Burroughs | Karel Čapek | Buster Crabbe | August Derleth | Arthur Conan Doyle | Hugo Gernsback | Charlotte Perkins Gilman | Cicely Hamilton | Hermann Hesse | William Hope Hodgson | Aldous Huxley | Inez Haynes Irwin | Alfred Jarry | Jack Kirby (Radium Age sf's influence on) | Murray Leinster | Gustave Le Rouge | Gaston Leroux | David Lindsay | Jack London | H.P. Lovecraft | A. Merritt | Maureen O'Sullivan | Sax Rohmer | Paul Scheerbart | Upton Sinclair | Clark Ashton Smith | E.E. "Doc" Smith | Olaf Stapledon | John Taine | H.G. Wells | Jack Williamson | Stanisław Ignacy Witkiewicz | S. Fowler Wright | Philip Gordon Wylie | Yevgeny Zamyatin