Radium Age 100 (28)
By: Joshua Glenn
September 7, 2015
One in a series of 100 posts about the best science fiction novels published from 1904–33. HILOBROW's Josh Glenn has named that era science fiction's Radium Age; more info here. The complete Radium Age 100 list can be found here.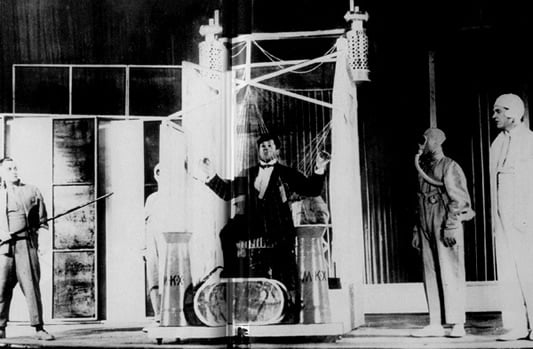 Vladimir Mayakovsky's The Bedbug (1929).
Delivered — via inadvertent suspended animation — to a future (1979) Soviet society, the worker Prissiypkin discovers that there's no place for him in a socialist utopia… except, perhaps, as a zoo exhibit. Mayakovsky's satirical play is directed against the routinization and mechanization of life in an engineered social order; extreme emotions, not to mention love itself, have been superseded. When Prissiypkin plays his guitar and croons, he starts an epidemic of dancing and romance; when he smokes cigarettes and drinks beer, the fumes send hundreds of Russians — who now live sterile, abstemious lives — to the hospital. The play's humor derives from the earthy, all-too-human responses of Prissiypkin to the new Russia; before his suspended animation, however, Prissiypkin himself — a philistine with boorish manners and poor taste — was the butt of the joke.
Fun fact: The play's 1929 production was directed by Vsevolod Meyerhold, the scenery developed and built by Aleksandr Rodchenko, and the music composed by the young Dmitri Shostakovich. The play was bitterly condemned by the Soviet authorities; Mayakovsky killed himself in 1930. The play is strongly reminiscent of Woody Allen's Sleeper, and Stanislaw Lem's Return from the Stars.
***
MORE RADIUM AGE SCI FI ON HILOBROW: HiLoBooks homepage! | What is Radium Age science fiction? |Radium Age 100: 100 Best Science Fiction Novels from 1904–33 | Radium Age Supermen | Radium Age Robots | Radium Age Apocalypses | Radium Age Telepaths | Radium Age Eco-Catastrophes | Radium Age Cover Art (1) | SF's Best Year Ever: 1912 | Radium Age Science Fiction Poetry | Enter Highbrowism | Bathybius! Primordial ooze in Radium Age sf | War and Peace Games (H.G. Wells's training manuals for supermen) | Radium Age: Context series | J.D. Beresford | Algernon Blackwood | Edgar Rice Burroughs | Karel Čapek | Buster Crabbe | August Derleth | Arthur Conan Doyle | Hugo Gernsback | Charlotte Perkins Gilman | Cicely Hamilton | Hermann Hesse | William Hope Hodgson | Aldous Huxley | Inez Haynes Irwin | Alfred Jarry | Jack Kirby (Radium Age sf's influence on) | Murray Leinster | Gustave Le Rouge | Gaston Leroux | David Lindsay | Jack London | H.P. Lovecraft | A. Merritt | Maureen O'Sullivan | Sax Rohmer | Paul Scheerbart | Upton Sinclair | Clark Ashton Smith | E.E. "Doc" Smith | Olaf Stapledon | John Taine | H.G. Wells | Jack Williamson | Stanisław Ignacy Witkiewicz | S. Fowler Wright | Philip Gordon Wylie | Yevgeny Zamyatin