Radium Age 100 (18)
By: Joshua Glenn
July 12, 2015
One in a series of 100 posts about the best science fiction novels published from 1904–33. HILOBROW's Josh Glenn has named that era science fiction's Radium Age; more info here. The complete Radium Age 100 list can be found here.
*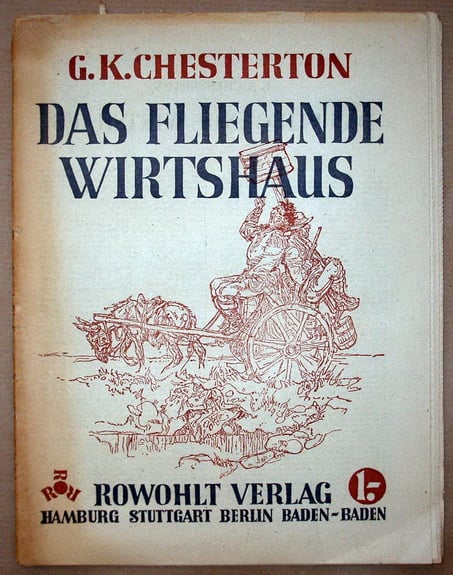 G.K. Chesterton's The Flying Inn (1914).
When a British politician, Lord Ivywood, sets out to Islamize Great Britain — so that he can enjoy the benefits of polygamy — he cleverly enlists the assistance of the nation's "smart set," who are all too eager to embrace trendy, "Eastern" fads like Islam. Among other changes, Ivywood pushes through laws requiring that alcohol only be sold by an inn displaying a sign… and banning inn signs. Patrick Dalroy, a hard-drinking Irishman, and Humphrey Pump, dispossessed landlord of one of the shuttered English inns, take to roaming the countryside with a cart (later, a motorcar) full of rum. Meanwhile, we discover that Ivywood is a pseudo-Nietzschean figure bent on destroying Christianity and Western culture… and that he is smuggling a Turkish army into England!
Fun fact: According to some critics, Chesterton makes this book's reader complicit in an architecture of unquestioned privilege and received prejudice.
***
MORE RADIUM AGE SCI FI ON HILOBROW: HiLoBooks homepage! | What is Radium Age science fiction? |Radium Age 100: 100 Best Science Fiction Novels from 1904–33 | Radium Age Supermen | Radium Age Robots | Radium Age Apocalypses | Radium Age Telepaths | Radium Age Eco-Catastrophes | Radium Age Cover Art (1) | SF's Best Year Ever: 1912 | Radium Age Science Fiction Poetry | Enter Highbrowism | Bathybius! Primordial ooze in Radium Age sf | War and Peace Games (H.G. Wells's training manuals for supermen) | Radium Age: Context series | J.D. Beresford | Algernon Blackwood | Edgar Rice Burroughs | Karel Čapek | Buster Crabbe | August Derleth | Arthur Conan Doyle | Hugo Gernsback | Charlotte Perkins Gilman | Cicely Hamilton | Hermann Hesse | William Hope Hodgson | Aldous Huxley | Inez Haynes Irwin | Alfred Jarry | Jack Kirby (Radium Age sf's influence on) | Murray Leinster | Gustave Le Rouge | Gaston Leroux | David Lindsay | Jack London | H.P. Lovecraft | A. Merritt | Maureen O'Sullivan | Sax Rohmer | Paul Scheerbart | Upton Sinclair | Clark Ashton Smith | E.E. "Doc" Smith | Olaf Stapledon | John Taine | H.G. Wells | Jack Williamson | Stanisław Ignacy Witkiewicz | S. Fowler Wright | Philip Gordon Wylie | Yevgeny Zamyatin