RADIUM AGE EMANATIONS
By: HILOBROW
May 16, 2022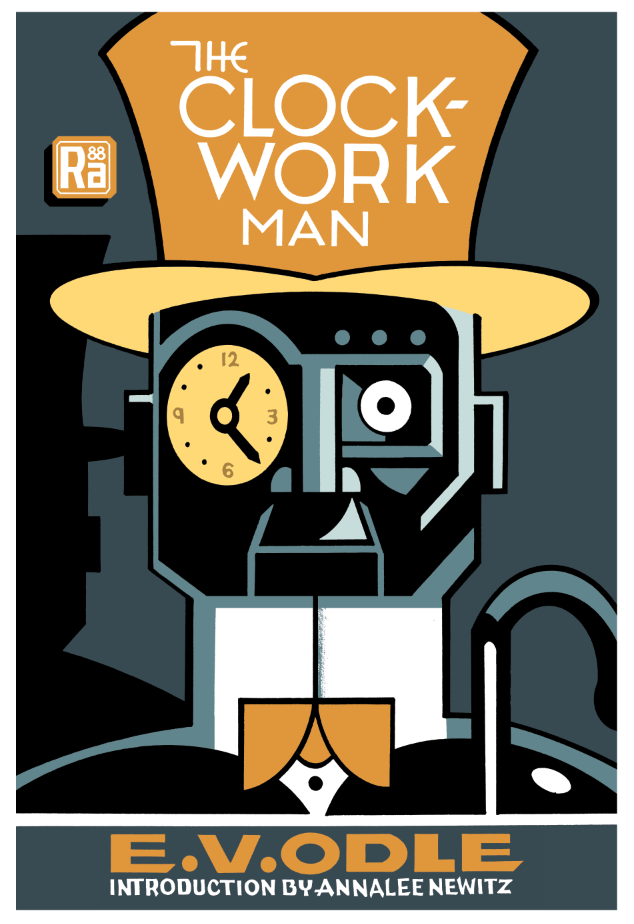 As HILOBROW readers are aware, since March the MIT Press's Radium Age series — under the direction of HILOBROW's Josh Glenn — has begun reissuing notable proto-sf stories from the genre's under-appreciated 1900–1935 era.
The series has received some nice publicity during the past few months. Here's a roundup. Please note that because HILOBROW is a noncommercial blog, we have not provided links out to these (easy to find) reviews.
In February Publishers Weekly noted, in a review of Voices from the Radium Age, that "the significance of these seven stimulating early 20th-century tales as what editor Glenn terms 'proto-sf' lies in their foreshadowing of the golden age of science fiction, with both famous and obscure authors developing important science fiction tropes still popular today. […] For early SF buffs, this will be a substantial delight."

Andrew Liptak of Transfer Orbit dedicated the entire March 8 issue of his sf newsletter to the series. "[Glenn has] made a huge effort to help define a new era of science fiction," he writes. Excerpt:


The series is designed to shed light on an under-appreciated era of the literature, one that's largely been ignored or downplayed by genre scholars. Despite that lack of attention, it was an era of radical improvisation and experimentation on the part of the period's writers, and while many of those works contain inherent flaws of their times, they held plenty of influence for the works and authors that would follow.

Science journalist and sf author Annalee Newitz, whom Liptak interviewed, has this to say about proto-sf from 1900–1935: "People were already writing post-apocalyptic stories and thinking about cyborg consciousness back then. They were imagining feminist societies, and criticizing racism. All these themes that strike us as incredibly modern today were also modern then."

Michael Dirda reviewed MITP's new edition of A World of Women and the Radium Age series for the March 24 issue of The Washington Post. Excerpt:


Insightfully introduced by Astra Taylor, A World of Women opens with a complacent civilization in collapse. The cause? A deadly virus, albeit one that attacks only men. […] Beresford envisions a new society, based on communitarian principles, without the trammels of religion, class and female subservience to men. […] Even a century after its first appearance, A World of Women remains highly readable and still sadly pertinent."

On March 23, the sf book-review site Popular Science described A World of Women as "a genuinely interesting SF novel with what was, for the period, particularly original thinking. It's a real asset to the series."

The April 25 issue of MAXIMUM SHELF, a weekly feature for booksellers published by Shelf Awareness, was devoted entirely to our edition of E.V. Odle's The Clockwork Man. "By republishing the little-known British author E.V. Odle's The Clockwork Man, among other neglected classics," writes Hank Stephenson, "Glenn and the MIT Press have made an excellent start at showcasing the strange wonders offered by the Radium Age." Stephenson also writes:


The Clockwork Man is an excellent example of the promise of the Radium Age series, giving deserved attention to a hilarious and prescient work of science fiction that has almost been forgotten. Those interested in the preoccupations of science fiction will be amazed to see some of its most familiar and compelling tropes introduced in a book well before the advent of modern computers, while others will find a tremendously entertaining novel with a witty, absurdist bent.

There's also a short Q&A with Josh.

Tor.com's list of Can't Miss Indie Press Speculative Fiction for May and June 2022 announced that "The MIT Press's new Radium Age series is in the midst of releasing new editions of a host of under-discussed classics of the genre. This includes E.V. Odle's The Clockwork Man — complete with a new introduction by Annalee Newitz. Odle's novel tells the story of a time traveling cyborg who arrives in the 1920s, deconstructing gender roles along the way."
On May 2, Andrew Liptak of Transfer Orbit had the following to say about our new edition of The Clockwork Man. "This edition features an introduction by io9 co-founder Annalee Newitz, which is worth the price of admission alone."
On May 3, The Financial Times described the Radium Age series like so: "Neglected classics of early 20th-century sci-fi in spiffily designed paperback editions."

On May 12, the Toronto Star said of Voices from the Radium Age:


This first volume is a great launch, containing a good mix of stories from some big names (E.M. Forster, Arthur Conan Doyle, Jack London, W.E.B. Du Bois) and a few that should be better known (Rokeya Sakhawat Hossain, William Hope Hodgson and Neil R. Jones). The nature of the Radium Age, and whether these works can or should be read as proto-SF or something else, is a matter fans can debate. But even if you're just looking for old-school adventure mixed with still trenchant social allegory this is a lineup full of winners. The rest of the series promises to be a just as big a treat and, with cover designs by Guelph artist Seth, they're nice to look at too.

On May 16, Scott Bradfield — author of The History of Luminous Motion — contributed a thoughtful writeup of the Radium Age series to the Los Angeles Times. Excerpt:


Long live the Radium Age, which was (at the very least) a good deal less horrific and disquieting than the one we're in now. Back then, the future possessed an almost mystical glow of strangeness that wasn't simply terrifying; and while it often promised calamities or even a halfway decent apocalypse, these sudden shifts could potentially open up the world to refreshed and invigorating possibilities.
Josh is very grateful for the kind words about the series!
***
MORE RADIUM AGE SCI FI ON HILOBROW: HiLoBooks homepage! | What is Radium Age science fiction? |Radium Age 100: 100 Best Science Fiction Novels from 1904–33 | Radium Age Supermen | Radium Age Robots | Radium Age Apocalypses | Radium Age Telepaths | Radium Age Eco-Catastrophes | Radium Age Cover Art (1) | SF's Best Year Ever: 1912 | Radium Age Science Fiction Poetry | Enter Highbrowism | Bathybius! Primordial ooze in Radium Age sf | War and Peace Games (H.G. Wells's training manuals for supermen) | Radium Age: Context series | J.D. Beresford | Algernon Blackwood | Edgar Rice Burroughs | Karel Čapek | Buster Crabbe | August Derleth | Arthur Conan Doyle | Hugo Gernsback | Charlotte Perkins Gilman | Cicely Hamilton | Hermann Hesse | William Hope Hodgson | Aldous Huxley | Inez Haynes Irwin | Alfred Jarry | Jack Kirby (Radium Age sf's influence on) | Murray Leinster | Gustave Le Rouge | Gaston Leroux | David Lindsay | Jack London | H.P. Lovecraft | A. Merritt | Maureen O'Sullivan | Sax Rohmer | Paul Scheerbart | Upton Sinclair | Clark Ashton Smith | E.E. "Doc" Smith | Olaf Stapledon | John Taine | H.G. Wells | Jack Williamson | Stanisław Ignacy Witkiewicz | S. Fowler Wright | Philip Gordon Wylie | Yevgeny Zamyatin